Many people may choose to sign up for Spotify using their Facebook account because it makes the login process easier and faster. However, you may find that when Spotify is connected to Facebook, your activity on Spotify, such as songs you listen to, or artists you follow, may be automatically shared on Facebook. This can be a good way to show your friends what you like, but it can also be a privacy hazard. Thus, in order to protect your privacy, you may wonder how to disconnect Spotify from Facebook.
To help you fast-track the issue, this article provides you with 2 ways to easily disconnect Spotify from Facebook, either on Spotify or on Facebook. Keep reading and check it out!
TuneFab Spotify Music Converter
Batch convert Spotify to MP3 320kbps in lossless quality
CONTENTS
Disconnect Spotify from Facebook via Spotify Desktop App
The first method needs to work on Spotify side. The following part will show you how to disconnect Spotify from Facebook via the Spotify desktop app. Follow these simple steps and operate on your computer!
Note:
Attention please, you can only disconnect Spotify from Facebook on Spotify's desktop app, and neither the mobile app nor the Spotify web player can do it!
Step 1. Open the Spotify App on your computer and log in to your Spotify account.
Step 2. Click the arrow to the right of your account name, then click Settings to enter the setting page.
Step 3. Scroll down until you get to the Social section. In this section, click the DISCONNECT FROM FACEBOOK button.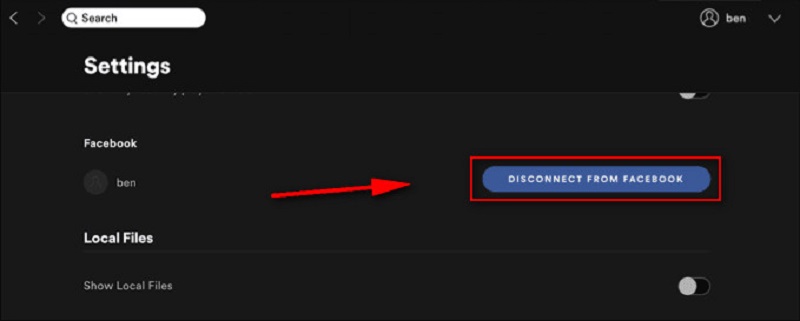 Now, your Spotify should have successfully disconnected from Facebook!
Disconnect Spotify from Facebook via Facebook
If you don't have a desktop Spotify app and don't want to go through the hassle of downloading one, then disconnecting from the Facebook side might be a good option. Go ahead and try the second method. This time, you can disconnect from Facebook on any device, and there are just subtle differences in operation.
Step 1. Open Facebook on your computer or phone and make sure you have logged in.
Step 2. Click your profile icon and choose Settings & Privacy, then click Settings.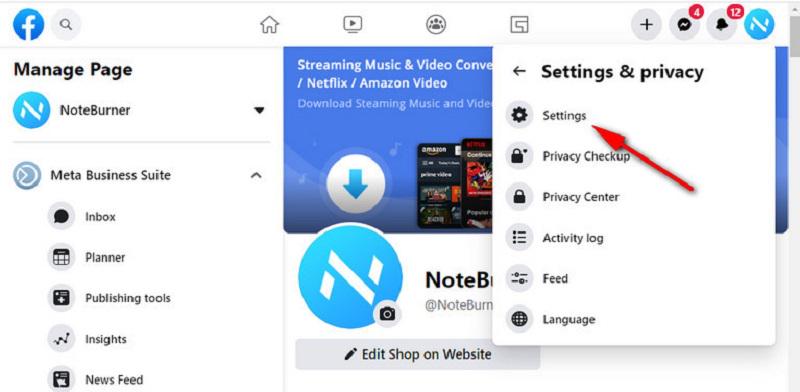 Step 3. On the Settings page, select Apps and Websites from the sidebar.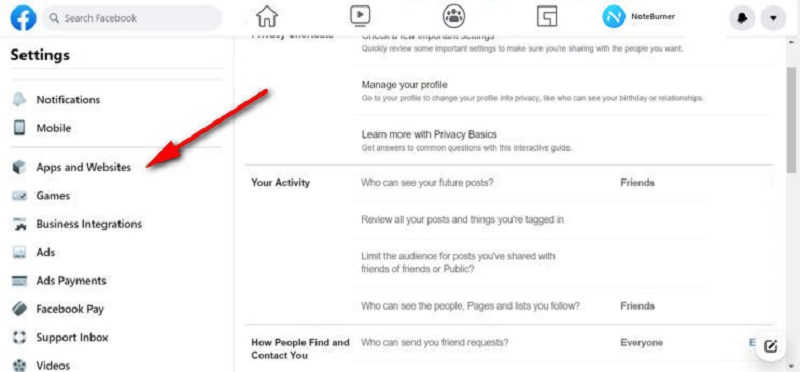 Step 4. Find Spotify and choose Remove.
Note:
For mobile users, there is a slight difference. After logging into Facebook, tap Menu and choose Settings & Privacy. Then hit Settings. Under Settings, scroll down to the Permissions section and tap Apps and Websites.
FAQs About Disconnecting Spotify from Facebook
Can I Log Into Spotify Without Facebook?
Sure. In addition to logging in through Facebook, you can also sign up and log in to Spotify through your Apple ID, Google account, and email. Facebook is not the only choice to log into Spotify, you can choose your preferred way.
Can I Change My Spotify Account from Facebook to Email?
Yes, it is feasible to switch from a Facebook login to an email login for Spotify.
Step 1. You need to log out of your Spotify account on the Spotify website.
Step 2. Head to the Spotify login page and tap "Forgot your password?", thus you will navigate to a page to reset passwords.
Step 3. In the "Email address or username" section, type the email address associated with your Facebook account, and reset your password.
Step 4. Next, disconnect your Spotify from Facebook as shown in the previous part of the article. Now, you will be able to log into Spotify by reset password and email instead of by Facebook.
What Does Connecting Spotify to Facebook Do?
When you connect your Spotify account to Facebook, you can log in to Spotify using your Facebook account. This will make your login process simpler. And once you're connected to Facebook, your Spotify profile will show your real name and Facebook profile picture. So you can easily find, follow, and share with your Facebook friends and vice versa. Of course, if you disconnect, that information will disappear.
Conclusion
By now, you must have mastered the methods of disconnecting Spotify from Facebook. As connecting to Facebook may reveal personal information, lots of people want to disconnect Spotify from it without compromising privacy. Whether you do it from the Spotify side or from the Facebook side, you can easily unlink Facebook from your Spotify account through this detailed guide.
TuneFab Spotify Music Converter
Batch convert Spotify to MP3 320kbps in lossless quality
Was this information helpful?
TrustScore 5 | 49
Copyright © 2022 TuneFab Software Inc. All rights reserved.