Both YouTube Red and Spotify are famous music streaming services. Which one do you think is the winner? YouTube Red, a paid streaming subscription service, was originally launched in November 2014 as Music Key by YouTube, providing only ad-free streaming music and videos from participating labels on YouTube and Google Play Music. But on Oct. 31, 2015, Music Key was revised and relaunched as YouTube Red, expanding its scope to offer ad-free access to all YouTube videos. YouTube Red provides access to ad-free music streaming through Google Play Music and "YouTube Red Original" series and films. While Spotify is a music, podcast, and video streaming service, providing DRM-protected content from record labels and media companies.
CONTENTS
Part 1. YouTube vs Spotify: What's the Difference?
Which one is the winner? YouTube Red or Spotify?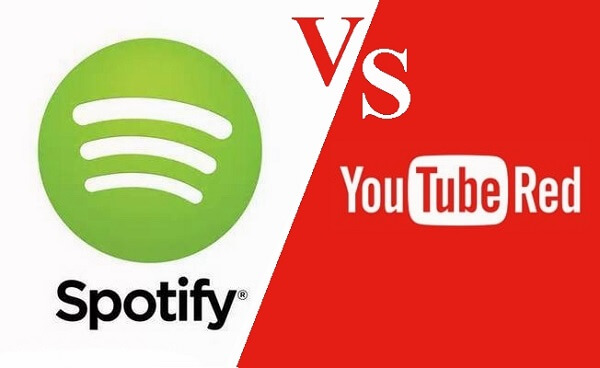 Music Library
There is no doubt that YouTube Red has a large music catalog as it provides access to all the music currently licensed to appear on YouTube and Google's own content library of 30 million tracks. In addition to that, YouTube Red is also optimized to have a lot of collection of addition options - from live convert footage to karaoke tracks with embedded lyrics to instructional videos on how to play that bass line - which you can't find on Spotify.
Spotify has a huge music library with more than 30 million songs. Besides, it adds more than 20 thousand new songs every day. However, its size of music catalog varies by region due to licensing restrictions. Besides, as Spotify pays royalties based on the number of artists' streams as a proportion of total songs streamed on the service, it has faced criticism from artists and producers including Taylor Swift and Thom Yorke of Radiohead who argued that it unfairly compensate musicians.
Function
YouTube Red includes free access to Google Play Music, providing users who purchase the paid subscribes to several nifty features such as ad-free music and video, background play and the ability to save videos offline. Besides, it also allows you to listen to videos on your phone or tablet through speakers or headphone when you are in another app or while your screen is off, which is especially useful for music videos if you just want to hear the audio while doing something else. For parents, you may be excited about that YouTube Red works with the YouTube Kids app, too. So you can save videos for offline viewing to keep your kids entertained on long road trips.
The signature feature for YouTube Red subscribers is Offline Mixtape. It will reward you by providing a "go-to playlist" based on your preferences without the need to be connected or to use data.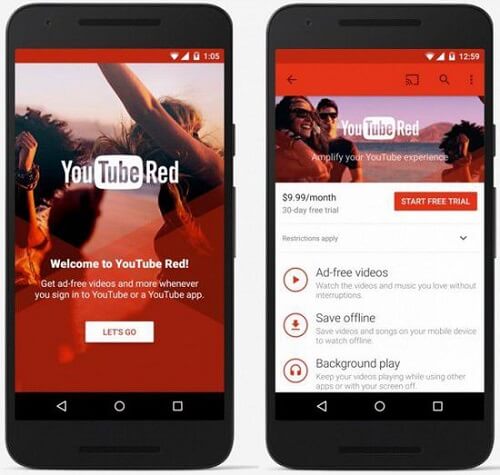 Spotify users can share individual songs, full albums, and playlists to their friends via special links that target the Spotify application itself, which has led some third-party websites to use Spotify links as a method to legally share music. Besides Spotify has a featured series called Secret Genius which enables fans of pop music to listen to the songwriters behind some of their favorite hits.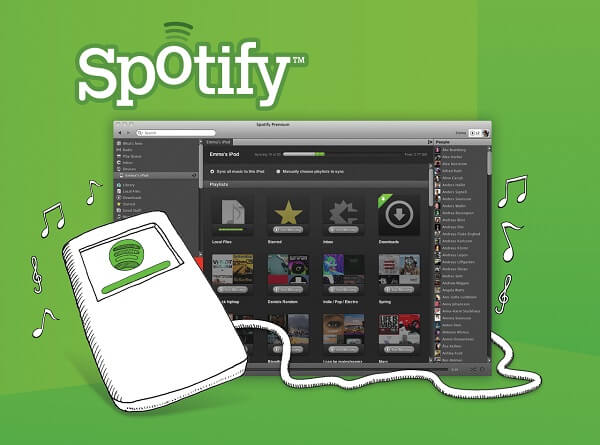 Available Area
Both two music streaming services are only available in some areas. YouTube Red can be used in the United States, Australia, Mexico, New Zealand and South Korea. In 2017, YouTube Red is slated to launch for British consumers, but first, it had to negotiate deals with music labels and related rights holders. While Spotify is available in more countries including most of Europe, most of America, Australia, New Zealand and part of Asia.
Price
YouTube Red is $9.99 per month upgrade to YouTube which includes a subscription to Google Play Music. If you have already subscribed to Google Play Music, you also get access to Red automatically for free. You will not have to pay for both services separately.
Spotify is a freemium service. Most of the songs are free, but Spotify put restrictions on non-paying users, some songs are only available for premium users. To purchase the paid subscribes, you need to pay $9.99 (or $4.99 for students or $14.99 for a 6-account family deal) per month. But you can use the free trial version first which can are available for 30 days.
Also Read: Spotify Free vs. Premium: Should I Pay for It
Part 2. Summary: YouTube is the Winner
As you can see above, both YouTube Red and Spotify are powerful music streaming services, but which is the winner? I believe that now you already have your own answer. In my opinion, YouTube is better than Spotify as it is as cheap as Spotify but much more powerful than Spotify. YouTube Red users can only pay for YouTube Red or Google Music Play, then they can access both services to save YouTube videos and Google music offline, while Spotify users can just save music in Spotify music library. What's more, Spotify's OGG format is not common and Spotify provides DRM-protected content from record labels and media companies. Therefore, the battle between YouTube and Spotify, I would say YouTube Red is the winner.
For big fans of Spotify, you may look for a professional Spotify music converter to download and convert Spotify music to common audio formats such as MP3, M4V. I would like to introduce a professional Spotify music converter to you, TuneFab Spotify Music Converter which is designed to convert the songs, playlists, albums in Spotify to DRM-free MP3, M4V, WAV and FLAC without losing quality. What's more, it allows you to download any songs from Spotify for free without worrying about whether you have subscribed for the premium version. TuneFab Spotify Music Converter is really worthy of downloading for Spotify users.
Was this information helpful?
TrustScore 5 | 49