Although Spotify is taking up a large market share of the streaming music industry, YouTube Red is still a considerable choice for many users. If you are also considering selecting YouTube Red and Spotify to stream music online, this comprehensive comparison of them can be your reference. Now, follow the blog and compare YouTube Red and Spotify to select the better one for yourself!
CONTENTS
What Is YouTube Red and YouTube Premium
You may probably get confused about YouTube Red and YouTube Premium. Actually, YouTube Red is the former name of YouTube Premium. Since 2018, YouTube has integrated YouTube Red with Google Play Music, and the combination of these two services has been renamed as YouTube Music Premium, which is widely known today. Today, YouTube Music has also been one of the most mainstream music streaming platforms, available for users to access music of all categories and play them online whenever or wherever they are.
The rich music resources, nice streaming experience, and friendly in-app controls all make YouTube Music more competitive, being a strong competitor to take up a large proportion of the market share occupied by Spotify. For many users who just start considering selecting an online music streaming platform, the comparison between YouTube Red and Spotify is inevitable. Hence, the following parts will go in-depth to evaluate different aspects, helping you to select the most appropriate platform to enjoy music streaming online. Now, get started and check!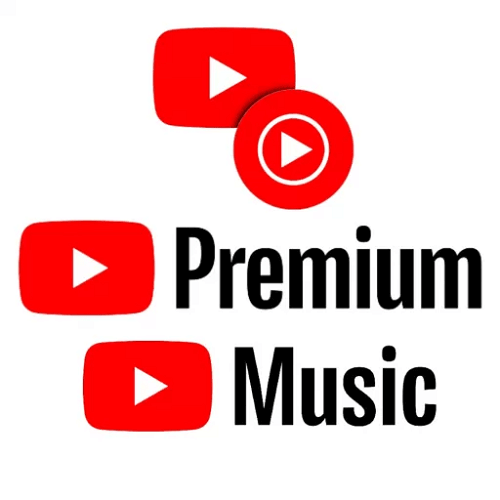 YouTube Red VS Spotify: Easy of Use
Winner: Spotify is better for its navigation feature, while YouTube Red performs better in music filtering
From the interface design, you can notice that both YouTube Red and Spotify are developed with a dark theme, with some trending or recommended music playlists listed on the main feed. Both platforms provide a handy search function, enabling users to quickly access any content from the music library without hassle.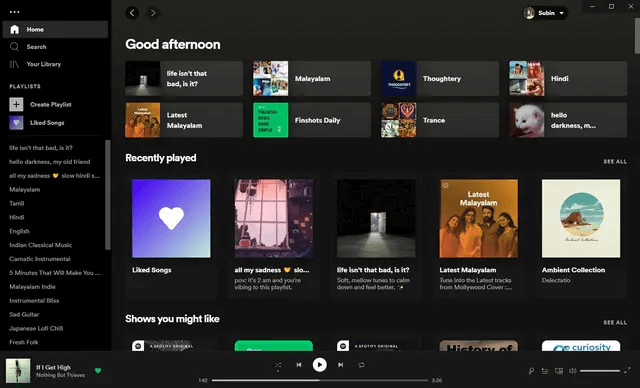 As for the navigation feature, Spotify provides a stationary sidebar aside, helping you to quickly access the exact sections regardless of how far you go down from the first banner. Instead, YouTube Red only offers a hamburger-like menu to access certain features such as the filter function and open the liked songs playlist. It would be a bit more inconvenient for users to navigate among different sections compared with Spotify. But still, thanks to YouTube Red's filter function, it would be easier for you to sort out the results you desire to see very quickly, which is more competitive than Spotify.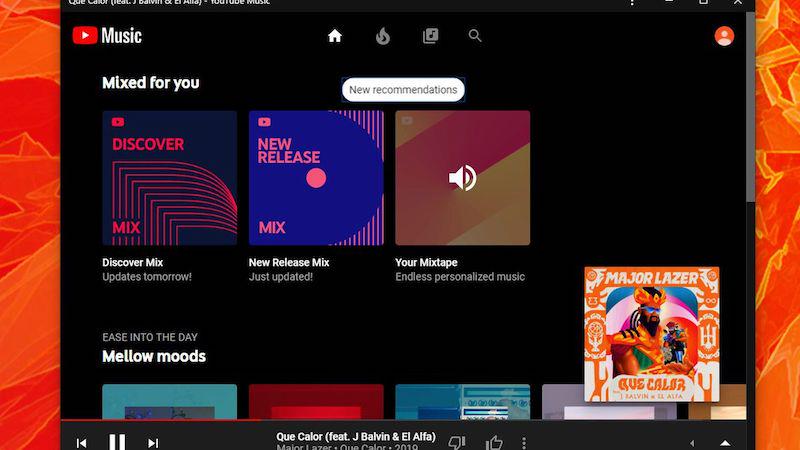 YouTube Red VS Spotify: Music Library
Winner: Both YouTube Red and Spotify provide 100 million songs in the music library, but Spotify wins for its podcast streaming ability
For both YouTube Red and Spotify, they offer over 100 million songs in their up-to-date music library, covering all music categories. No matter the latest trending tracks or some classic songs and live shows, you are able to discover them.
However, for Spotify, it is also a palace for podcast streamers. The music streaming platforms also provide both official and individual podcast channels for users to stream. Many Spotify users would use it as a way to grasp new knowledge or daily affairs. This is also a more competitive advantage that Spotify can bring.
YouTube Red VS Spotify: Streaming Quality
Winner: YouTube Red offers a higher bitrate in lower quality setting options, but Spotify can reach the highest 320kbps audio effect
Most of you would also care a lot about streaming music quality, too. For both YouTube Red and Spotify, they offer 5 similar levels to select to play music in the quality you like, including automatic, low, normal, high, and very high. The exact bitrate for each level is listed here for you to compare more easily:
| | | |
| --- | --- | --- |
| Quality Settings | YouTube Red | Spotify |
| Automatic | N/A | N/A |
| Low | 48kbps | 24kbps |
| Normal | 128kbps | 96kbps |
| High | 256kbps | 160kbps |
| Very High | 256kbps | 320kbps |
By comparison, you can easily notice that for the lower quality settings, YouTube Red offers better bitrate (high quality) to stream. But for the highest option, Spotify can reach 320kbps at max, while YouTube Red only offers 256kbps as the best choice.
In conclusion, if you consider grasping the highest and lossless music quality, Spotify is your ideal pick. If not, YouTube Red is able to provide better streaming quality for you.
YouTube Red VS Spotify: Limitations for Free Accounts
Winner: YouTube Red offers a better streaming experience for even free accounts, while Spotify has much stricter rules
When both YouTube Red and Spotify apply certain music streaming limitations on their free users, their rules will be different. Here is a chart to compare what these two platforms would add to limit online music playback without subscribing to the premium plans:
| | | |
| --- | --- | --- |
| Features | YouTube Red | Spotify |
| Ads skip | After 5 seconds | No |
| Song skip | Yes | 6 songs per hour |
| Background play | Web player only | Yes |
| Offline mode | No | No |
| Video mode | Yes | No |
| Quality options | 2 | 4 |
| Best audio quality | 128kbps | 160kbps |
YouTube Red VS Spotify: Pricing and Plans
Winner: Both YouTube Red and Spotify deliver the same pricing and features for subscribers
As introduced, YouTube Red and Spotify offer premium subscription plans for users to access the best music streaming experience without the hassle. They will deliver the following features for subscribers:
● Access the best quality to stream music online;
● Remove all ads to enjoy the playback without any interruption;
● Available to download songs for offline streaming.

In addition, the pricing plans offered by them are nearly the same:
| | | |
| --- | --- | --- |
| Pricing Plans | YouTube Red | Spotify |
| Individual plan | US$9.99 | US$9.99 |
| Family plan | US14.99 | US14.99 |
| Student plan | US$4.99 | US$4.99 |
Apart from these basic plans, Spotify offers an additional premium plan, which is named Spotify Duo, enabling two people living at the same address to share premium accounts at only US$12.99, which can be more economical than one single individual plan.
Bonus Tip: How to Enjoy Ad-free Music Streaming Without Premium Subscription
No matter you are a Spotify or YouTube Music users, the disturbing ads would be the most annoying thing affecting your streaming experience. Instead of subscribing to the premium plans offered by Spotify or YouTube Music, you get an alternative way to bypass these ads and enjoy a smoother music playback offline - using third-party professional music downloaders to help. Software like TuneFab Spotify Music Converter and TuneFab YouTube Music Converter are both very reliable tools, which are embedded with official web players and work to remove DRM from all the streaming media provided in Spotify and YouTube Music.
Also, if you desire to switch the music streaming provider from Spotify to YouTube Music, or conversely back from YouTube to Spotify, these two software can help you download the full music library and process the transition without hassle. They are actually helping to boost a more enjoyable and limitation-free music streaming experience in daily life!
Although both YouTube Red (now YouTube Premium) and Spotify deliver nice on-demand music streaming experience, they contain differences and these may affect your music playback experience to some extent. Hence, just compare them and select your ideal one according to requirements, then to have a better digital life in the future!
Was this information helpful?
TrustScore 5 | 2