Using Apple Watch to enjoy high quality music is becoming a trend for youngsters. With Apple Watch, users can avoid taking a large size iPhone when they are doing some strenuous exercises such as running, climbing, doing gym, etc. So, how can users listen to music on Apple Watch without their iPhone nearby? Actually, there are two main methods.
CONTENTS
Part 1. Download Music Streaming Program on Apple Watch Directly
Downloading music streaming program on Apple Watch would be the most direct way for users to enjoy music streaming just using an Apple Watch without an iPhone. There 3 programs are recommended for you.
#1. 8tracks Playlist Radio
8tracks playlist radio is compatible with Apple Watch and offers a wide range kinds of music playlists such as hip hop, EDM, dubstep, etc., which is nearly 2 millions playlists. 8tracks playlist radio also integrates with YouTube and SoundCloud, offering you a better music experience. The new released version makes users be able to view the animated playlists on Apple Watch, and users are also able to review the playlists or glance through upcoming playlists.

#2. Shazam
Shazam is also an amazing music streaming program for Apple Watch. You can acquire the wonderful music streaming experience with this great program on Apple Watch without your iPhone. Shazam is highly user-friendly for you can instantly find the song which you are playing on Apple Watch. You can also buy songs on iTunes and catch up with videos.
#3. Overcast
Overcast is now compatible with Apple Watch. Users can stream music with Overcast on Apple Watch directly. In Overcast, you can browser new podcasts which you are interested in. Also, you will get recommendations from Twitter or regarding podcasts. Overcast has Smart Speed, Voice Boost, and Smarter Playlists, etc. With these features, you are able to enjoy music more convenient.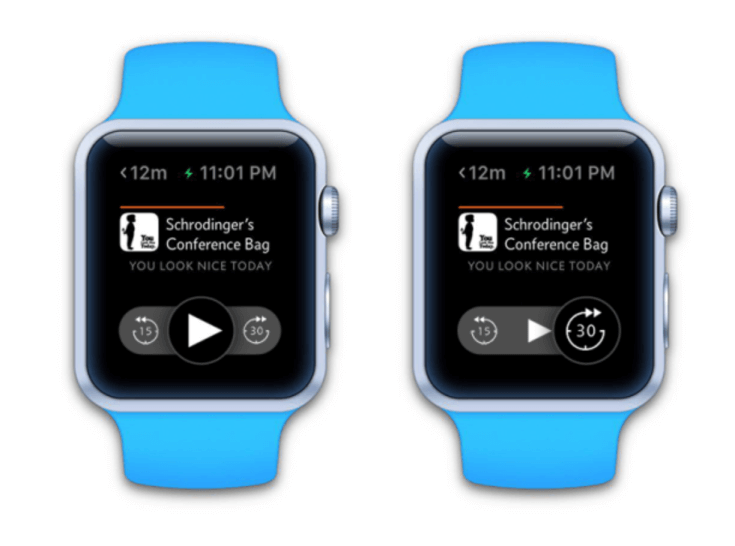 Part 2. Transfer Music from iPhone to Apple Watch
The 2nd solution for you to enjoy music on Apple Watch freely without iPhone is to transfer the music you want to enjoy from iPhone to Apple Watch. This can be easily done using the Bluetooth function on your iPhone. Let's see the procedures.
Create New Music Playlist on iPhone
Step 1. Open Music app on iPhone
Step 2. Click on "Playlists", then "New Playlist"
Step 3. Add songs to the new-created playlist
Step 4. Click on "Done" on the upper right to finish adding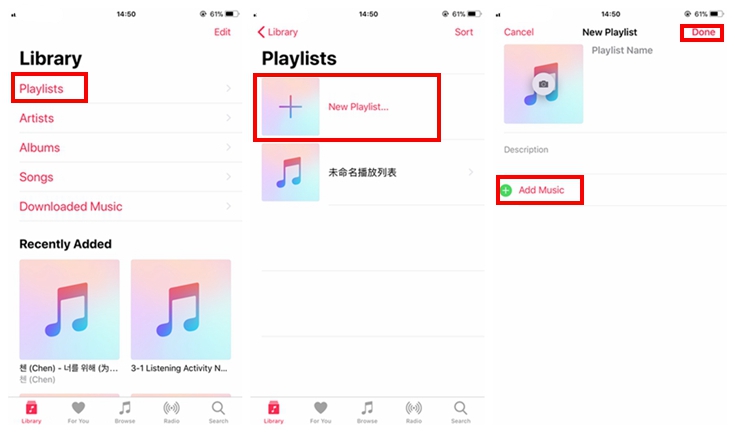 Sync the New Created Playlist to Apple Watch
Step 1. Open Bluetooth on iPhone, and make sure your Apple Watch is in charge.
Step 2. Open Apple Watch app on iPhone, then tap on My Watch.
Step 3. Tap Music > Add Music.
Step 4. Choose the playlist you add in the above step and sync to Apple Music.
Note: You need to download the music from the cloud, such as songs from Apple Music, and iTunes to your iPhone before you sync the songs to Apple Watch.
Then you are able to transfer the music on your iPhone to Apple Watch. And you are free to enjoy them on Apple Watch even your iPhone is not taken by you. When you are able to enjoy the songs on Apple Watch, you can equip yourself with a Bluetooth Earphone, which is wireless and more convenient comparing to the traditional earphones. Hope you can get wonderful experience of streaming music on Apple Watch without your iPhone nearby!
Related reading:
How to Play Audible Audiobooks on Apple Watch Without iPhone Nearby?
Was this information helpful?
TrustScore 1 | 1