Has it ever happened to you that you want to share iTunes movies with your families and friends or devices but failed to do it? No matter if it is an iTunes rented movie or an iTunes purchased movie, actually it is practical to give your families access to your iTunes movies and download rentals and purchases. Are you curious about how to share iTunes rented movies or purchases? Now you've come to the right place! And all of these matters can be perfectly solved. Before learning the steps of sharing the iTunes rented movies, here is some background knowledge you are supposed to learn first.
CONTENTS
Part 1. How Does iTunes Movie Rental Work?
Apple allows users to buy or rent movies from the iTunes Store or from Apple TV supported devices using their Apple account. Normally, an iTunes movie costs you approximately $2.99 - $6.99 for renting and $9.99 - $19.99 or so for purchasing. Also, each iTunes movie is provided two versions including an HD version and an SD version. HD is short for high definition while SD means standard definition. Both versions of iTunes movies feature subtitles, soundtracks, and so on. All your iTunes movie rentals stay on the Rentals tab of the Movies section of the iTunes Library or of the iTunes app. But macOS 10.15 or above version should go to the Apple TV app.
When it comes to sharing iTunes movies, iTunes purchased movies can be easily shared with your families and friends with the Family Sharing feature enabled. And the following are some quick steps to share iTunes movie purchases using Family Sharing. However, problems occur when you want to share. But no worry, part 3 will introduce a powerful tool that enables you to share your iTunes Movie rentals.
Part 2. How to Share iTunes Movie Purchases and Download Family Members' Purchases?
With purchase sharing, you can give your family members access to each other's movie purchases, TV shows, music, apps, and books and download items from the purchase history. Besides, you can download music, movies, TV shows, and books on up to 10 of your devices, 5 of which can be computers. Learn how to download iTunes movie purchases from family members with these steps.
How to Download Shared iTunes Movie Purchases on Mac or Windows PC?
#1. If you are not signed in, sign in with your Apple ID.
#2. Open the store app that you want to download content from, then go to the Purchased page. To download shared iTunes movie purchases, you can go to the Apple TV app, from the menu bar, choose Account > Family Purchases.
#3. From the menu to the right of Purchased, choose a family member's name to view their content.
#4. Download or play the items that you want.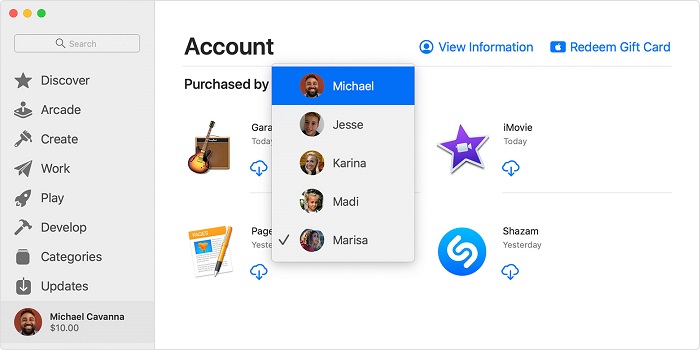 How to Download Shared iTunes Movie from the Apple TV App on iPhone?
#1. Open the Apple TV app.
#2. Tap Library, tap Family Sharing, then choose a family member.
#3. Tap a category (for example, TV Shows or Movies) or a genre, tap a purchased item, then tap the Download button to download it.
Part 3. How to Kill the Copy Protection of the iTunes Movies?
To share iTunes rented movies, things will become a bit tricky because you need to unlock the DRM protection of iTunes movies. Luckily, all you need is a powerful yet handy iTunes movie converter that converts DRM-protected M4V videos to a common format.
Under this situation, you may confuse what kind of converter can exactly work for you, especially when there are so many converter programs on the internet. To deal with this situation, I am going to introduce a professional tool to you - TuneFab M4V Converter. It helps you convert iTunes Movies to MP4 and make it convenient to share your iTunes rentals with your friends.
This program allows you to unencrypt your DRM protected iTunes Movies to an unprotected MP4 video. Both your iTunes movie purchases and rentals can be converted to MP4 in batches at a 30X faster speed. Also, while transcoding your 1080/720 HD iTunes movies, the converter produces a resultant video with 100% original quality preserved. Most importantly, you can choose your needed language subtitles and audio tracks for your output video.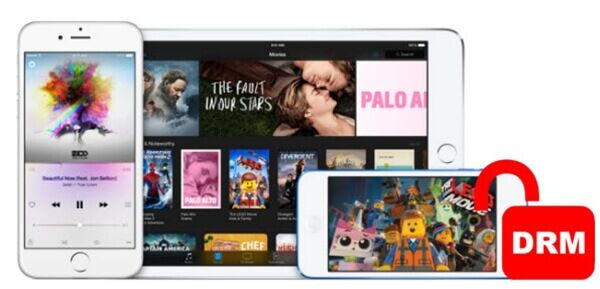 TuneFab M4V Converter - Save and Watch iTunes Movies on Different Devices
● Unlock the DRM protection of the iTunes Movies;
● Convert iTunes Movies into several kinds of movies format in batches;
● 1080/720 HD output videos with 100% original quality maintained;
● Compatible with both Windows and Mac.
With TuneFab M4V Converter, even your iTunes movie rentals can be shared with families and friends in a go-as-you-please way. Even if you are not savvy about computer software, I am certain that you can quickly command how to use this amazing converter.
Note: Windows users need to wait for the updated version because the convert iTunes movie rental feature only works on the Mac version.
Was this information helpful?
TrustScore 5 | 49