Watching movies are, undoubtedly, the most common leisure activity that helps you relax and ease your pressure, especially in today's fast-paced life. If you are a major film buff and a dedicated iPad Pro user, you will want to learn how to watch shows and movies from the Apple TV app, or sync iTunes rented movies from your laptop to iPad Pro.
However, the problem is that the rented movies will expire within a certain time limit as soon as you play them, causing inconvenience sometimes. Hence, you also need to know the way to download and save the purchased or rented movies for unlimited playback no matter anytime and anywhere. TuneFab M4V Converter makes it possible to watch wirelessly when out of rental service. Let's see how you can rent and download to iPad Pro and even for offline watching forever.
Rent and Download Movies on Apple TV App on iPad Pro
Apple TV App is an all-in-one app that brings thousands of movies and TV episodes to Apple customers in over 100 countries across the world. With the app, subscribers can play, rent or buy original films and television shows for both online and offline watching. Having the Apple TV App on your iPad Pro is the most ordinary way for you to download and watch movies. Just take the following steps.
Step 1. Open the Apple TV app, then search for your favorite movie or show.
Step 2. Click Buy or Rent on the movie's page to confirm your rental or purchase.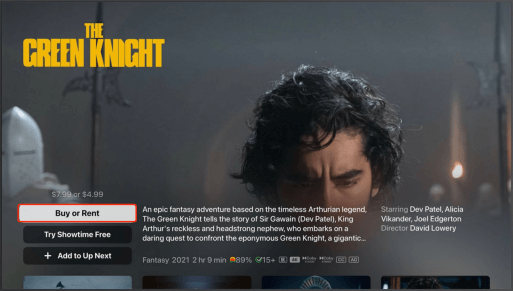 Step 3. Tap Rentals under Library, and select the film you want to start downloading it.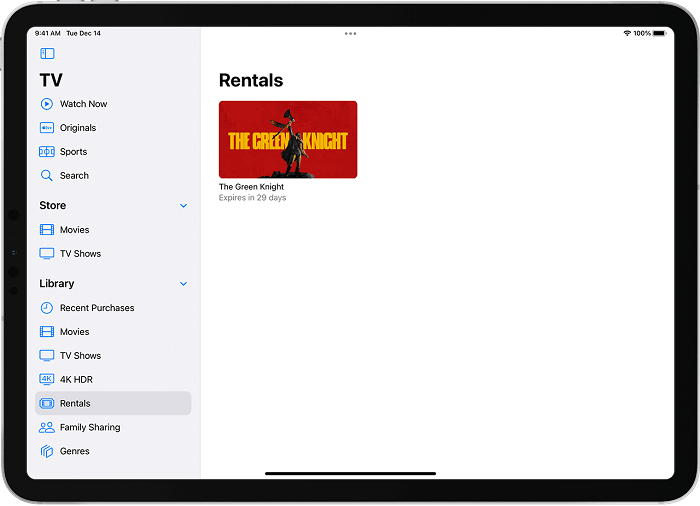 Rent and Download iTunes Movies to iPad Pro from PC
iTunes not only enables you to rent movies for playing online, but also supports you to transfer the downloaded movie to a mobile Apple device like iPad, iPhone or iPod touch, and view it via the installed Apple TV app on these products.
In this way, you can watch the rental purchase offline to kill time and boredom if you are on a long journey way. However, there are 30 days available for you from the moment you have rented the film. You must finish watching it in 24 hours (in the US) or 48 hours (elsewhere) before it is deleted once you have started.
A Tip: If you want to stockpile the rented films and shows from iTunes offline forever, you can find the solution from the 3rd part of the article to transfer these movies into MP4 format to be viewed freely on all your portable devices.
Step 1. Launch iTunes on PC, and click Store on the top, then select Movies from the menu in the upper-left corner.
Step 2. Search for the desired movie, then select it.
Step 3. Tap on Rent to get the movie and confirm your Apple ID. You now are allowed to download the movie.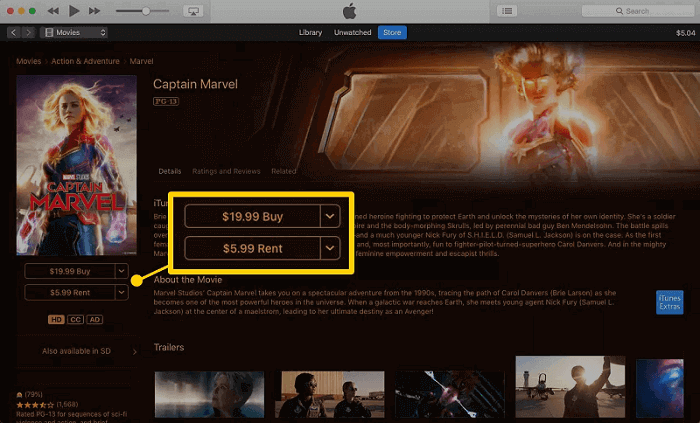 Step 4. Connect your iPad Pro to your PC, then click the Device icon in the top-left corner.
Step 5. Click Movies from the sidebar, then select the content rental to move to your iPad pro.
Is It Possible to Keep the Rented iTunes Movies Forever?
Yes. You absolutely can obtain rented iTunes movies for offline playback endlessly. But what you need is an awesome tool that can strip DRM protection off from iTunes-purchased or rented movies, and transfer DRM M4V to lossless DRM-free MP4 file.
With a simple and intuitive interface and advanced processing technology, TuneFab M4V Converter is making itself a professional solution to convert iTunes movies to MP4 with the original quality retained. What's more, the never-ending playback capability which comes in handy when the internet is inaccessible is also a big highlight of it.
Key Features:
● Convert purchased and rented movies into non-DRM MP4 in 3 steps
● MP4 output format viewable on non-Apple devices
● Auto-reserve subtitles, AD, Closed Captions and Dolby 5.1 Soundtracks
● Audio tracks and subtitles optional
● 1080p Full HD or 720p HD original output quality with quick conversion speed
● Batch convert multiple tasks simultaneously
● 7 languages supported for better worldwide use

Understanding the benefits of TuneFab M4V Converter, let's see how it works to relieve you from the time constraint on iTunes rentals and save them as long as you wish so just keep reading.
Note: To begin with, find out the location where your iTunes files are stored in:
Step 1. Open iTunes, then select Movies from the menu in the upper-left corner and click Library.
Step 2. Right-click on the selected movie and go for "Show in Windows Explorer" or "Show in Finder" to find its storage location.
Once you know the current location of your iTunes M4V files, you can start to convert them into device-friendly MP4 by using TuneFab M4V Converter in 3 easy steps below.
Step 1: Import iTunes Files
Click Add Files, then select the downloaded iTunes files you want under Library on the left sidebar, and either click on Add or Add All.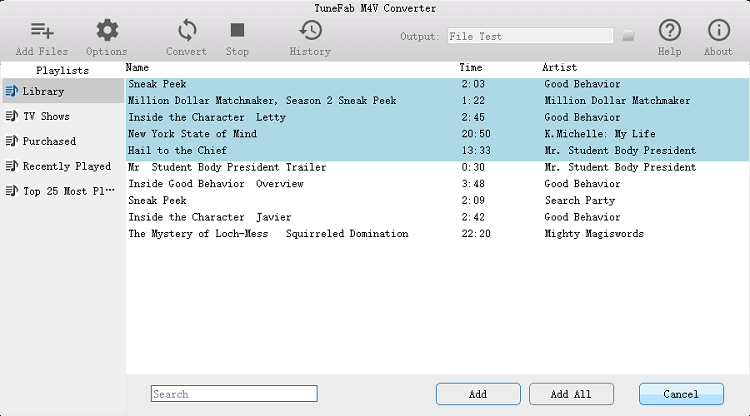 Step 2: Set Audio and Subtitle
Hit the Gear icon of each item to change the audio and subtitle you like.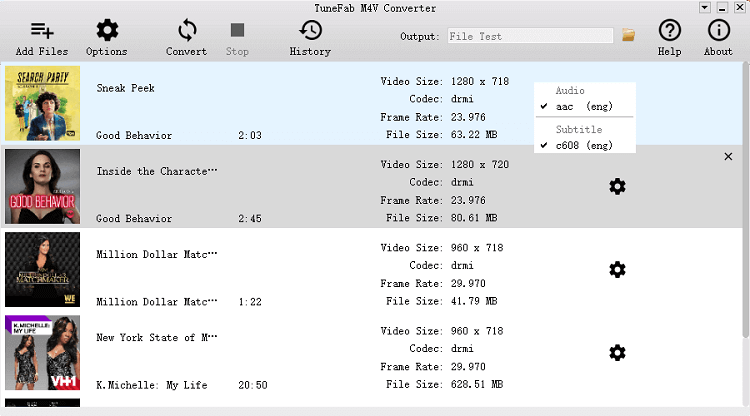 Step 3: Ready for Conversion
Click Convert and the software will begin automatically converting M4V files to MP4. After it is done, copy the converted video to your desired device.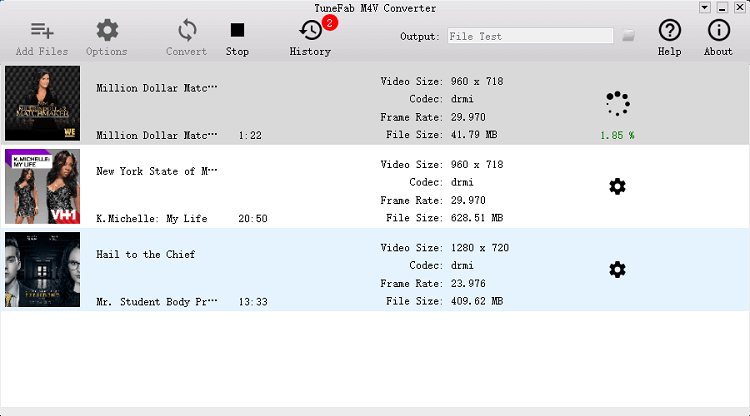 Step 4. Transfer to iPad Pro
After getting your converted iTunes video from the output file folder, you can transfer it to your iPad Pro. If you don't know how to transfer your videos to iPad, here is the guidance.
Guidance: How to Transfer Videos from PC to iPad
Conclusion
Based on your specific requirements, you can decide which above is the most proper solution to save the movies you've already purchased or rented from iTunes on iPad Pro. Nevertheless, for you who prefer DRM-free iTunes videos for continuing ownership, TuneFab M4V Converter should be your most reliable M4V converter which is able to convert the encoded iTunes movies to be watchable offline on various devices with minimum rent charge and effort.
Was this information helpful?
TrustScore 5 | 49