Up to 2022, the total sales of Sony's PlayStation 4 console had exceeded 116 million units. As a PlayStation 4 owner, you may have asked this question: What else can I do with my PS4 console except for playing games? PlayStation states it could provide users with incredible games as well as non-stop entertainment. That means you can use your PS4 console not only to play games but also to stream movies, TV programs, and music.
And of course, if you are an Apple device user, possibly you have purchased some movies and TVs from iTunes. But when you want to play iTunes video content on PS4, you will find that the iTunes M4V videos are not compatible with your PS4 player. You may wonder: how can I play iTunes Movies on PS4?
In this article, we are going to provide you with 2 easy but helpful methods for How to Play iTunes Movies on PS4! You can either use Movies Anywhere or a reliable TuneFab M4V Converter. And the latter could even remove DRM protections from iTunes and convert iTunes M4V videos to MP4 for convenient offline playback.
CONTENTS
Can I Watch iTunes Movies on PS4 Directly?
Unfortunately, the answer may fail to satisfy you.
Without a doubt, PS4 can also serve as a player for streaming videos and music, and it supports common video formats like MP4, AVI, and MPEG. However, because Apple is using encryption technology, DRM (Digital Rights Management), to encode all contents sold from iTunes Store, all TVs, and movies you purchased from iTunes Store will be saved and downloaded in the DRM-protected M4V format. With such DRM protection, you are only allowed to play iTunes TVs and movies on designated Apple software and devices.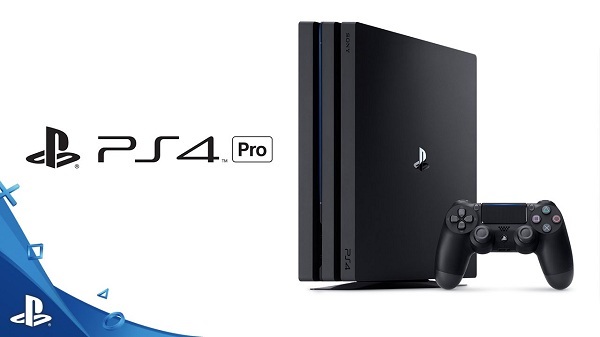 So, is it really impossible for you to play iTunes movies on PS4? Of course NO! As mentioned above, in this article, we are going to provide you with 2 easy but helpful methods for playing iTunes movies on PS4.
Let's get started!
Method 1. Watch iTunes Movies on PS4 via Movies Anywhere
You may register accounts in more than one streaming service. And chances are you will purchase movies from different sources like iTunes Store, Google Play Store, YouTube, Amazon Prime Video... So, you will find that your purchased movies are on different media platforms. Sometimes it is annoying to remember from which platform you purchased the movie.
Movies Anywhere is created to solve this problem. It supports mainstream services like iTunes, VUDU, Microsoft Movies&TV, Amazon Prime Video, and Google Play. Movies Anywhere enable users to connect their digital retail accounts together and provides a synced collection of all their movies.
By using Movies Anywhere, you can play iTunes movies on PS4. Follow these steps:
Step 1. Go to Movies Anywhere Official Website, log in, or sign up for an account in case you do not have one.
Step 2. Tap the arrow in the upper-right corner next to your Profile icon, then choose Settings.
Step 3. Scroll down to find Digital Retailers, tap Manage Retailers.
Step 4. Find the logo of Google Play and iTunes, tap the Connect icon next to them, and follow the instructions to complete the process.
Note: you need to install the iTunes desktop app on your PC/Mac before connecting to your Movies Anywhere account.
After successfully connecting your Google Play and iTunes account, go to your PS4 console and download a YouTube app. Open the YouTube app, log in with your Google Play ID connected to Movie Anywhere, and you will find all your purchased iTunes movies!
It is an easy solution for playing iTunes movies on PS4. But Movies Anywhere still have some restrictions. The service is only open to U.S. residents and only movies from Sony Pictures Entertainment Inc., Universal Pictures, Warner Bros. Entertainment Inc., and The Walt Disney Studios (Twentieth Century Film is included) can be synced to your collection.
Method 2. Play iTunes Movies on PS4 via M4V Converter
Movies Anywhere is convenient for U.S. residents, but worldwide users of PS4 may then wonder what will be the solution for them. No worries! Actually, if you remove DRM protection from iTunes, and convert the M4V format videos to other common video formats, all PS4 users can effortlessly watch iTunes movies on PS4 offline. All you need is a TuneFab M4V Converter.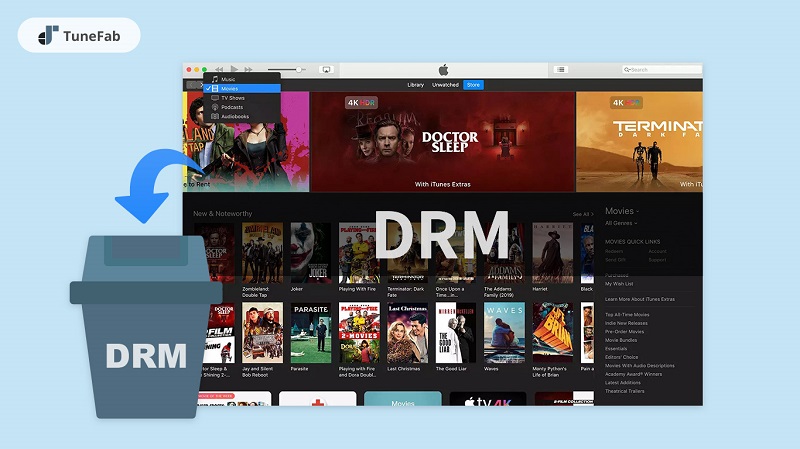 Highlights of TuneFab M4V Converter
● Convert DRM-protected iTunes movies to DRM-free MP4 videos with ease.
● Keeps the HD 720p and full HD 1080p video quality in sync with the original video quality.
● Supports batch conversion, supports up to 5X faster speed conversion.
● Support watching iTunes movies on various portable devices.
● Retains the original Dolby Digital 5.1 track and multilingual subtitles, and allows users to choose the available audio track and subtitles.

How to Play iTunes Movies/TV shows on PS4
Just follow the simple instructions:
Step 1. Add iTunes M4V Files
Launch the installed TuneFab M4V Converter, and tap the Add Files button in the upper-left corner.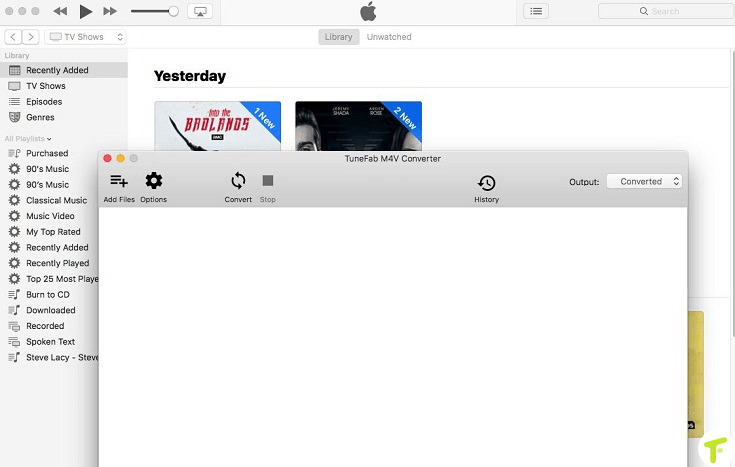 Once you click the Add Files button, all your purchased iTunes M4V media contents will be listed. Select your desired iTunes video, and tap the Add button in the lower-right corner.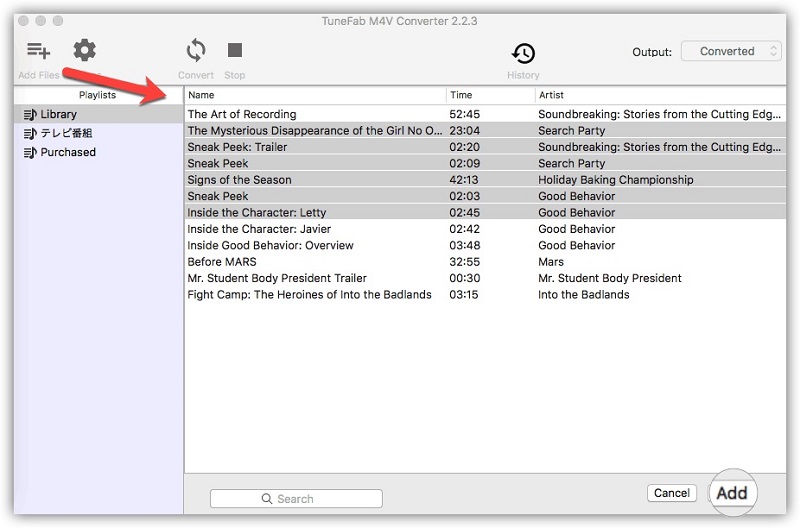 Note: Please first make sure the iTunes desktop app is already installed on your PC/Mac, and the iTunes M4V videos to be converted have been downloaded from your iTunes Library to your computer.
Step 2. Select Subtitles and Audio Tracks
Click on the Gear icon next to the movies you want to convert, and you will find the available Audio Tracks and Subtitles. Choose your preferred Audio and Subtitles option. Or you can just keep the default settings.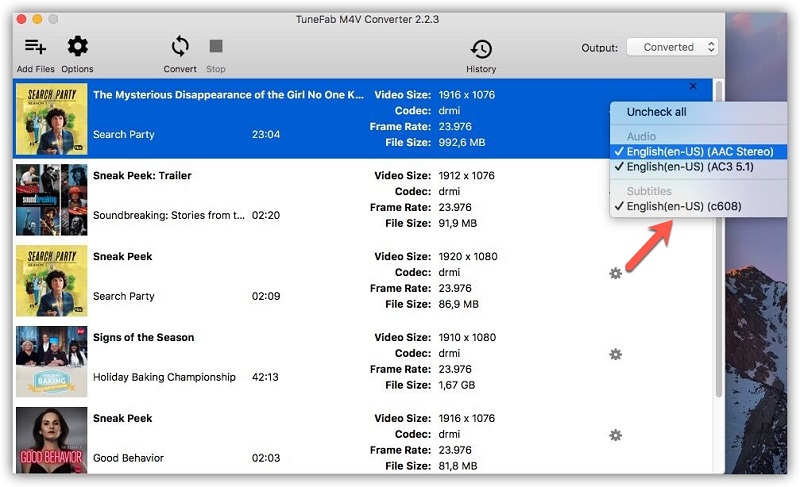 Note: the converted media files will be in high-quality MP4 format by default.
Step 3. Remove DRM from iTunes Video in One-Click
Just Tap the Convert button on the upper menu bar, and fast batch conversion will begin. Tap the History button to find your converted MP4 files.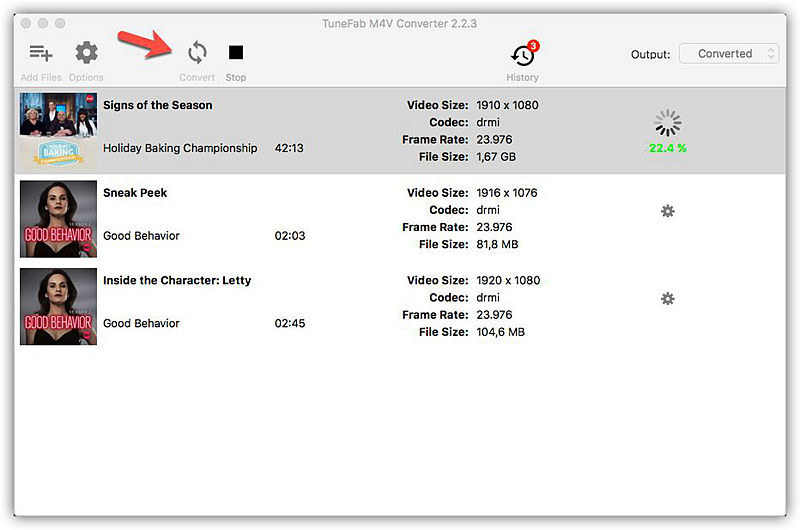 Step 4. Transfer the Converted MP4 Files to PS4 Console
Now you have converted the DRM-protected M4V files to MP4, all you need is a USB drive to transfer the converted files to your PS4 console.
Put the converted MP4 format movies in the USB drive attached to your computer, and then connect the USB to your PS4 console. In order to help your PS4 console to read and recognize the files, please put all the video files in a folder named VIDEO in the root directory. From the Content area, choose Media Player, and you will find your attached USB listed on the screen. Choose the USB drive to show the contents, and you are free to enjoy your favorite movies now!
Conclusion
In this article, we have introduced to you 2 easy and helpful solutions for How to Play iTunes Movies on PS4. Movies Anywhere enable you to link your Google Play account and iTunes account, then you can watch iTunes movies online through YouTube conveniently. But it is available only for people living in the United States and it only supports movies from certain film production companies.
In comparison with Movies Anywhere, a reliable TuneFab M4V Converter will be more helpful for most PS4 users. The TuneFab M4V Converter enables you to easily convert your purchased or rent iTunes movies from a DRM-protected M4V format to the common MP4 format without losing any sound quality. It supports batch conversion to improve efficiency and keeps the original Dolby Digital 5.1 track. The converted MP4 files can be watched offline on PS4 and other media players.
Try your best M4V converter and enjoy the iTunes movie playing on your PS4 console now!
Was this information helpful?
TrustScore 5 | 49