Deezer is a popular music platform providing abundant music resources for users. It contains board range of musicians and music styles. You can download music from Deezer to your smartphone/PC if you are a premium user. However, the music downloaded from Deezer is just cached on your device, and since the music is protected by DRM, you can only play it within the Deezer app.
If you want to literally own Deezer music or stream it to other devices to play, you should find tools to help you to rip music from Deezer. Here we have picked two brilliant tools from millions. And we are going to show you how to rip music from Deezer with the tools. Just scroll down to grasp!
CONTENTS
Can You Rip Music from Deezer?
Is it possible to rip music from Deezer? The answer is "YES". But you need the help of some Deezer rippers.
So what does "rip" means? As we have mentioned above that, the music downloaded from Deezer is just a cached file and can be played through Deezer only. Ripping music from Deezer means we are going to make music independent from Deezer, and realize the goal of playing Deezer music on any device. So how can you rip music from Deezer? Take it easy! The following parts will present the methods of ripping music from Deezer in detail.
Method 1: Rip Music from Deezer with TuneFab Deezer Music Converter
The first method to rip music from Deezer is using the tool TuneFab Deezer Music Converter. After trying many music-ripping tools, we believe that TuneFab Deezer Music Converter is one of the best and easiest tools to use. You can find the home page of the product and try it for free.
Features of Deezer Ripper
TuneFab Deezer Music Converter has significant features that can satisfy your different kinds of needs. It helps you convert music into forms that fit all kinds of devices, as well as having multiple functions that let you convert ideal music. Beyond that, TuneFab Deezer Music Converter also allows you to:
● Convert music as soon as possible. The marvelous speed makes the conversion smooth and fast. Your music will be converted in just a while!
● Adjust the formats and parameters. The customized options make the music format flexible! You can choose MP3, M4A, WAV, or FLAC based on your needs and create your ideal music by changing the parameters.
● Convert music in batches. With his function, you will save a lot of time when downloading music. Just click the button for batch conversion, then you will have all the music at once.
● Remove DRM from Deezer. It makes your music "free" from the protection of DRM and matched with different devices.
● Convert diverse contents. The conversion is not limited to music but to other audio files. You will be allowed to convert your favorite podcasts and so on.

With the help of the tool, you will be able to download Deezer music on your local device to enjoy it. Next, all you have to do is just follow the tutorials to rip the music from Deezer!
Detailed Tutorial to Rip Deezer Songs to MP3
TuneFab Deezer Music Converter is a user-friendly tool, so the ripping steps are easy for user to understand. It provides you with Windows and MAC versions. You can install the converter on your PC, and do with the tutorials below.
Step 1. Enter Deezer Web Player
The very first thing to do is to launch the installed app, and insert the Deezer Web Player into the app. If you have no account, just sign up for a free account first, and then log into it. After logging into your account. The front page of Deezer Web Player will be shown to you.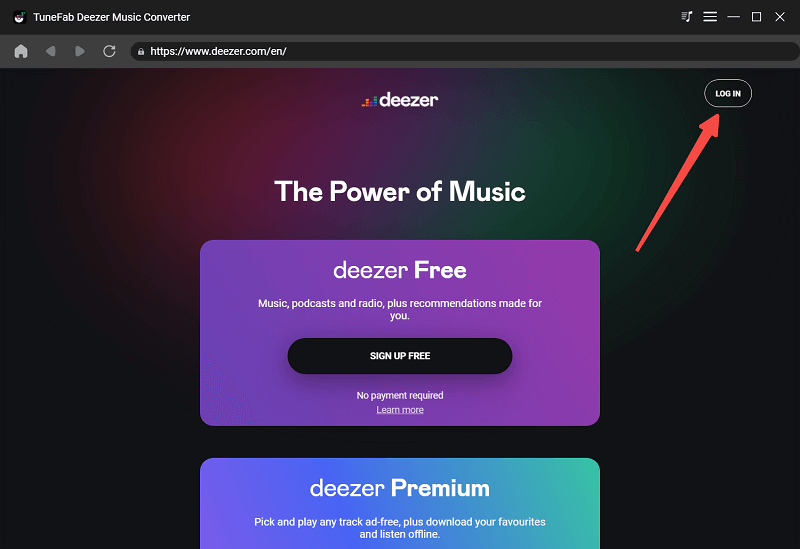 Step 2. Select Deezer Songs or Playlists to Rip
Find your favorite music on the search engine at the top of the web player. Below the search frame, there are also singers and music styles for you to select. Just select your favorite songs, playlist, or album, and drag them to the green icon on the right side. You can convert the songs one by one, or use batch conversion to convert the whole list at once.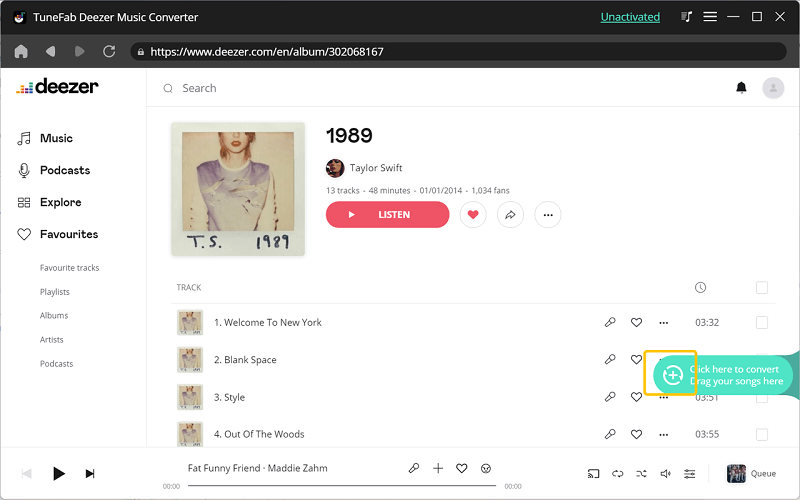 Step 3. Select Output Format as MP3
On the right side of each song, there are four options for output formats. You can select MP3 as the output format.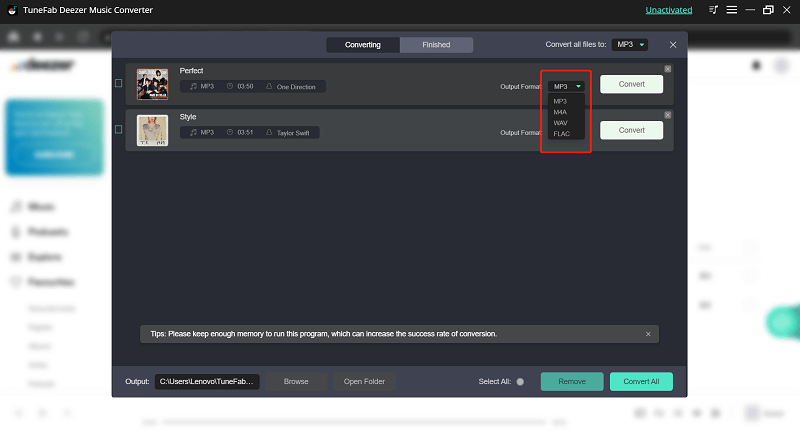 From the "Preference" window, you can click "Advanced" to change the bitrate and sample rate according to your requirement.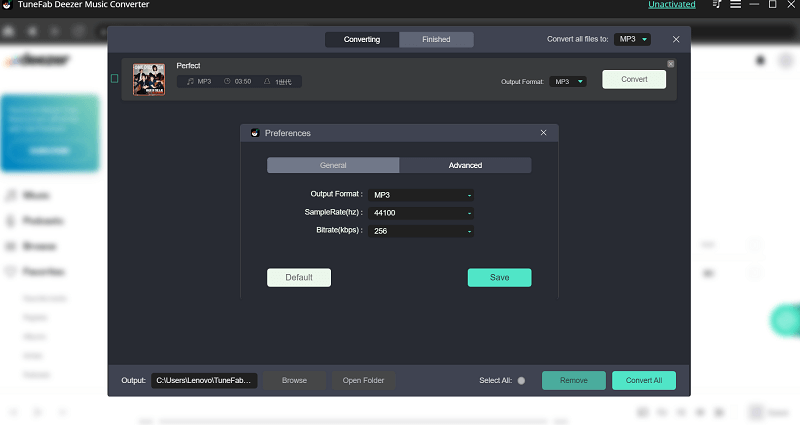 Step 4. Begin Ripping Deezer Music
After setting up your preference, just click "Convert" one by one to rip the songs from Deezer. Of course, the more convenient way would be to click "Convert All" to rip the music altogether.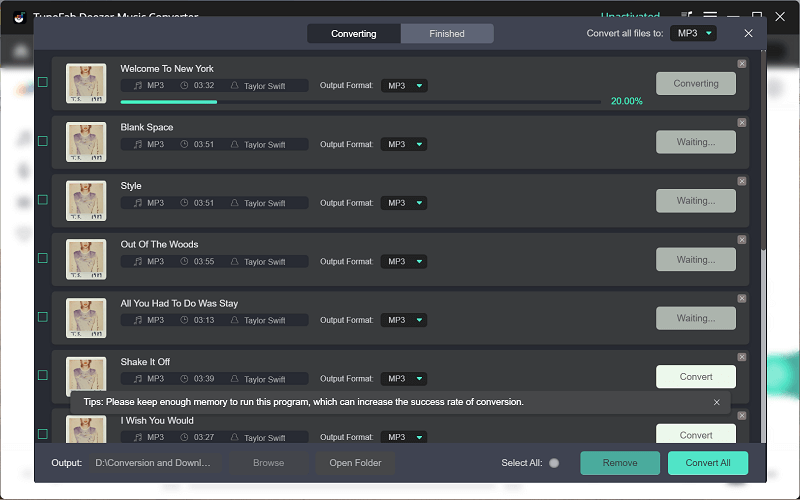 When the conversion has been done, click "View Output File" to find the downloaded songs. Now all the music has been ripped from Deezer, saving it on your local device in MP3 format. You can stream the music to any app or device to listen to.
Method 2: Rip Deezer Music Using Screen Recording Software
The second method to rip Deezer music is using recording tools, such as Audicable Audio Recorder. It can help you record Deezer music to mainstream formats, like MP3. Audicable Music Recorder is a well-reviewed audio recorder that can help you record and rip music from Deezer, Spotify, Apple Music, and so on. You can rip Deezer songs, playlists, podcasts, and even stations to popular formats with ID3 tags preservation.
Step-by-Step Guide to Rip Songs from Deezer by Recording
It is a mature music ripper for music lovers. It can be the second option for you to rip music from Deezer. Now you may want to know how to use it. Here it is.
Step 1. Download and run Audicable Audio Recorder on your computer. Then click on "Setting" in the upper right corner to choose the Output Format you like.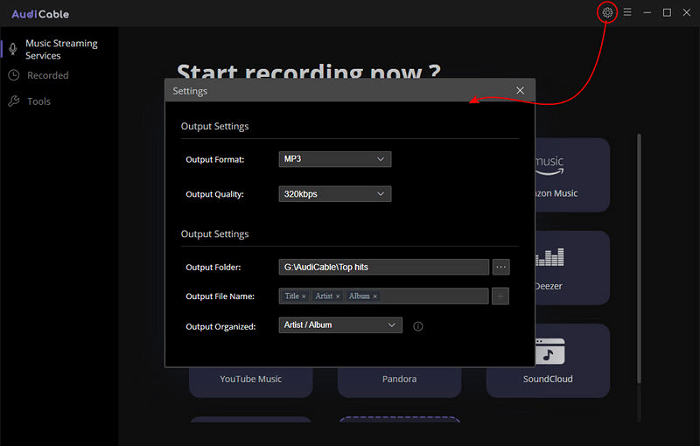 Step 2. From the main interface of AudiCable Audio Recorder, choose the player that you want to use (here you need to choose Deezer). Then sign into your Deezer account.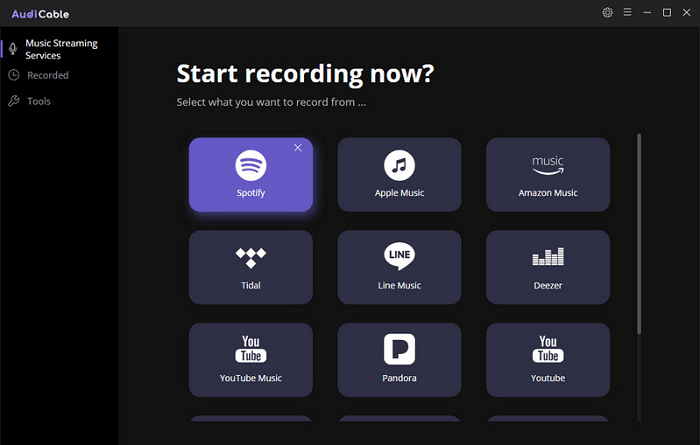 Step 3. After logging in, search for the Deezer song you like to rip, then start playing the song. AudiCable will start recording music automatically. After finishing playing the songs, just click the "Stop" button to stop recording.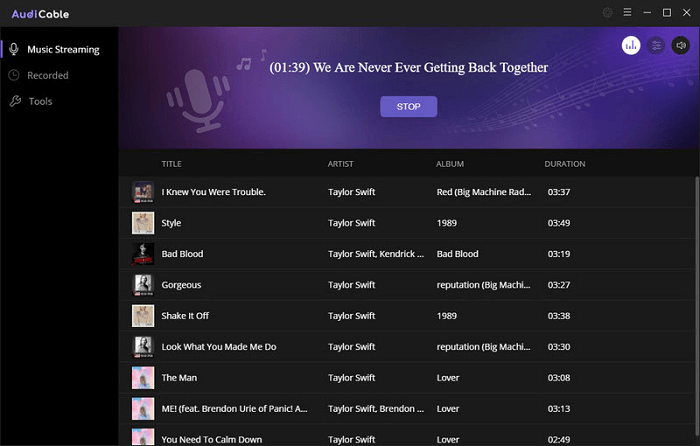 Note: Compared with TuneFab Deezer Music Converter, the functions of Audicable Music Recorder are limited. It does not support batch conversion, and the recording quality will be impacted by system sounds.
Conclusion
After presenting the functions and usage of two music-ripping tools, we are sure that the ideal helper for ripping music from Deezer will definitely be TuneFab Deezer Music Converter. Though Audicable Audio Recorder can achieve the same goal, the limited functionality makes it weak in some aspects, such as not being able to do batch conversion and so on.
Being different from Audicable Music Recorder, TuneFab Deezer Music Converter supports you to convert the music in batches and lets you customize the output. And its steady speed enables you to take several minutes to get what you want. So do not wait anymore. You should have TuneFab Deezer Music Converter on your PC right now! Enjoy your music in a delightful way!
Was this information helpful?
TrustScore 2 | 4