Since Apple Music is available on Android now, many Android users would like to enjoy music from Apple Music. Unfortunately, they might get a message says "Unable to Download Songs" when they try to download Apple Music tracks.
Why is Apple Music not downloading music on Android? Well, it can happen because of various reasons, but don't worry, here comes several efficient solutions for fixing your issue.
TuneFab Apple Music Converter
One click to convert Apple Music to MP3
CONTENTS
Solution 1. Check if Your Wi-Fi or Cellular Data is Available
If you find Apple Music not downloading on Android, what you need to do first is to check whether your Wi-Fi or Cellular data is available, because network connection is indispensable for downloading Apple Music songs on Android.
Check Cellular data: Go to "Settings", if you see "Mobile data is off" under your name, then tap "TRUN ON" under the sentence. If you don't see that sentence, then that means you have successfully turned on your cellular data.
Check Wi-Fi connection: As for Wi-Fi, go to "Settings" > "Wireless & network" and select an available Wi-Fi.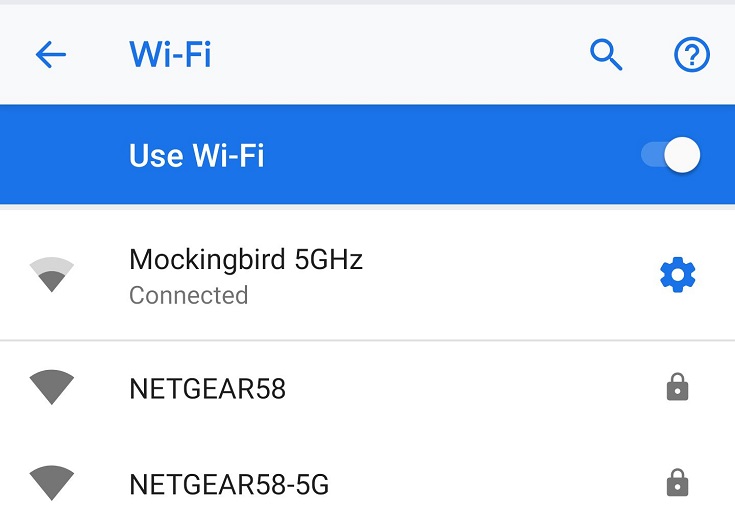 Solution 2. Check Apple Music App Permissions
If the issue of Apple Music not downloading music on Android still exits after checking your network connection, then next you should check Apple Music app permissions.
Step 1: On your Android device, tap "Settings" > "Apps" > "Permissions", then scroll down to select "Apple Music" option from the list.
Step 2: Now you should see all permissions that Apple Music app asks to grant, including Contacts, Storage and Telephone. Just let Apple Music app grants all these permissions by sliding these switches to ON position.
Step 3: Open Apple Music again and try to see if you can download music for offline playback now.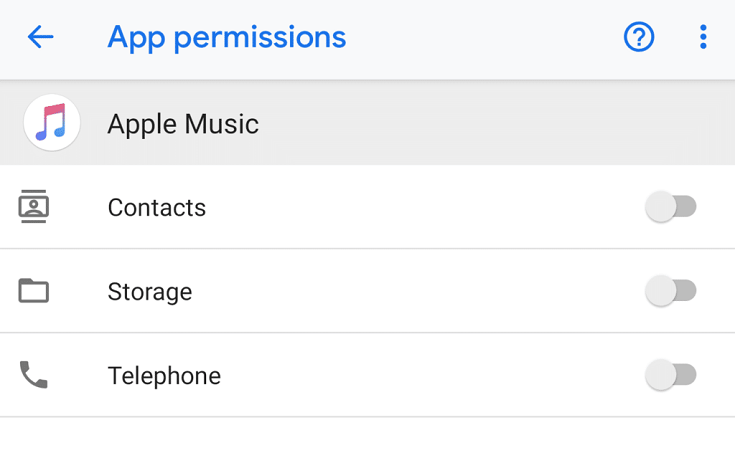 Solution 3. Restart Apple Music App or Android Device
If the above solutions aren't able to help you solve your issue, then you can try to restart Apple Music app or your Android device, which can solve many Apple Music issues.
Just tap the square icon on the bottom of your screen and slide up the Apple Music app to turn it off, then launch Apple Music on the main screen to restart Apple Music. In addition to that, you can also try to restart your Android device.
Solution 4. Update Apple Music App
Apple continues to improve Apple Music app to make it more and more perfect. Therefore, why not update Apple Music app when you find Apple Music not downloading songs on Android?
Go to Google Play store, then find Apple Music app and see if it can be updated or not. If so, update Apple Music app to the latest version. You can try to search for Apple Music in Google Play store and tap "Install" to re-install Apple Music.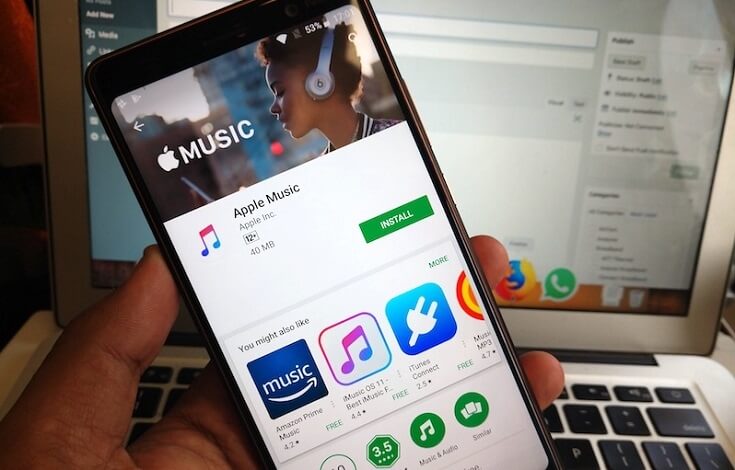 Solution 5. Delete and Re-install Apple Music App
Downloading Apple Music app from unofficial channels could lead to Apple Music not downloading songs on Android, so if you have that problem, then you can try to remove Apple Music app and then download it from Google Play or Apple website.
Solution 6. Update Android Version
As now Apple Music is only compatible with Android devices running version 4.3 or later, so those who find Apple Music not downloading music on Android need to check your Android version.
In order to update Android version, just go to "Settings" > "System"> "Software update" and tap "CHECK FOR UPDATES" to let your device analyze if you need to update or not. If prompted, don't hesitate to update device software.
Solution 7. Make Sure You've Added Apple Music Songs Before Downloading
In order to download Apple Music songs, you need to make sure you've added them, so that you can find them in your library.
To add contents, you need to open Apple Music app on your Android device and find the song that you want to add, then tap "+" icon to add a single song or "+ADD" to add an entire album, playlist or video content. After that, you can start to download these songs.
Solution 8. Contact Apple Support for Help
The last recommended method is to contact Apple Support for help. No matter what problem you meet when using Apple product, you can contact Apple Support for help, Apple's employees will help you to solve your problems.
Step 1. Go to Apple Support webpage by clicking on the link, then click on "Music" > "Apple Music" > "Saving & Playing Songs".
Step 2. Now you can see two options, including "Talk to Apple Support Now" and "Schedule a Call". Just choose either of them and enter your contact information.
Now what you need to do is to wait for calling from Apple's employees.
Conclusion
Actually, Apple Music not downloading songs on Android is a normal issue, so when you have that issue, just try above efficient solutions to fix your issue. Though I believe most of you can solve the issue after following these methods, I'd like to give you an extra tip, that is: using a third-party program, like TuneFab Apple Music Converter, to remove DRM from downloaded Apple Music songs so that you can keep these songs permanently even after canceling your subscription.
Was this information helpful?
TrustScore 1 | 1