Apple Music, the company's official music player, has a massive music library that includes nearly every major music source available. Apple Music is also widely used as a primary music player by Apple users. However, like all other official Apple software, Apple Music prohibits the playback of local music sources on devices that are not officially licensed by the IOS system. Fortunately, files on Apple Music can be converted or recorded to playable formats on some third-party tools. Here are three simple ways to convert or record music from Apple Music to MP3.
CONTENTS
Best Alternative to Record Apple Music to MP3
Many websites recommend using a music recorder to convert songs from Apple Music to MP3 format. The best thing about music recorders is that they support both audio and video recording, but the disadvantage is also obvious:
● The quality of the music is unstable as the recorder can't distinguish well between the environmental noise and the song itself during the recording process.
● Moreover, many music recorders do not support batch audio conversion, which will waste your valuable time doing repetitive actions.
Therefore, a recommended alternative to playing your favorite apple music on other devices is using a music converter. It not only avoids the disadvantages of a music recorder, but also provides the quickest and easiest music conversion experience.
TuneFab Apple Music Converter is the most convenient music converter you can find because it can integrate directly into Apple Music's web player, making converting your favorite music into MP3 as simple as a click.
Major Features:
● No iTunes Installation Required: Just download the TuneFab app music converter once and you can operate all the music downloads and conversions at the same time. As the app has a built-in Apple Music web player, you can just open your playlist and drag all your music files to convert.
● High-Quality Music Output: With TuneFab's embedded web player, you can find and save your favorite artist's entire discographies from Apple Music with lossless quality. The output quality of all music files is guaranteed to be the same as the quality of Apple music.
● Customized Output Options: TuneFab not only keeps the original quality of the music with its outstanding audio compression method, but also automatically detects and fills in all the ID3 tags and metadata such as title, artist, album, and cover artwork of all the output files. So you can have your own music library with a clean playlist outside the Apple Music app.
● Accelerate to 5X Speed - Convert Music Almost Instantly: During the conversion process, TuneFab's conversion time is 5 times faster than other music converters available. With a better network, the conversion time can be accelerated to up to 10 times faster.
● Multiple formats are available: The TuneFab app's music converter supports common output formats including MP3, M4A, WAV, and FLAC for cross-platform compatibility, which gives you the freedom to enjoy your music on different devices.
It is easy to convert Apple Music to MP3 via TuneFab Apple Music Converter, just following these steps :
Step 1. Launch TuneFab Apple Music Converter and Sign in
To begin, download and launch TuneFab Apple Music Converter. After signing in with your Apple ID, click "Open the Apple web player" to access the main interface of the Apple Music Web Player.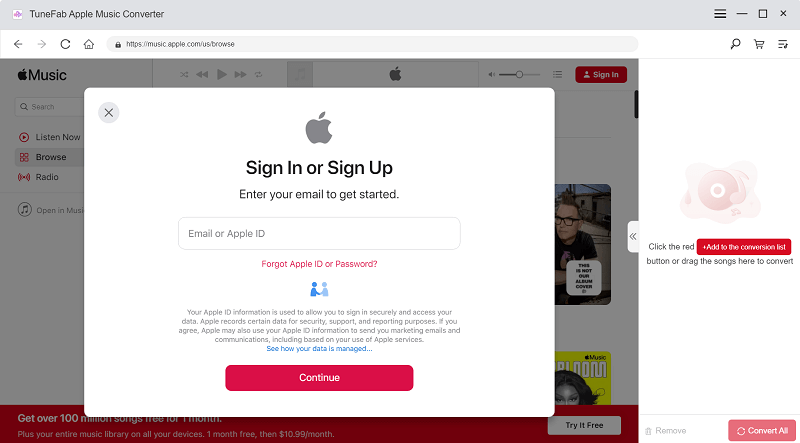 Step 2. Choose Songs You Want to Convert
Simply drag and drop the songs you want to remove DRM from to the red "Add" button after signing into the web player, then TuneFab Apple Music Converter will be ready to convert the songs for you.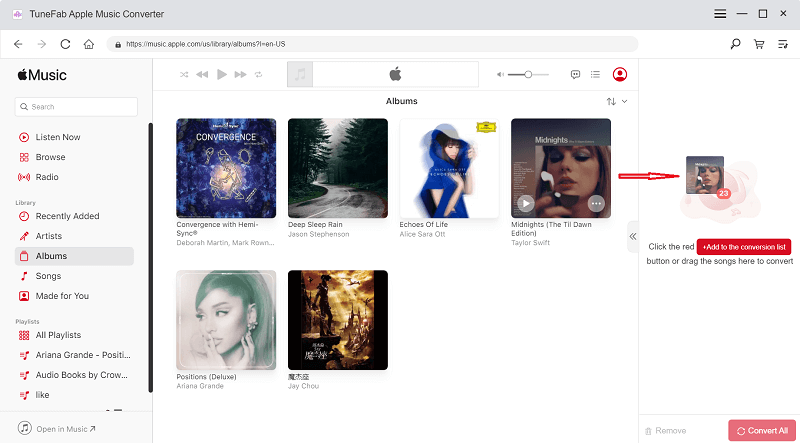 Step 3. Reset Output Parameters as You Like
TuneFab Apple Music Converter provides many customization options before exporting your music files. You can change the output format, bit rate, and sample rate in the "Advanced" section. The output folder can be specified in the "General" section.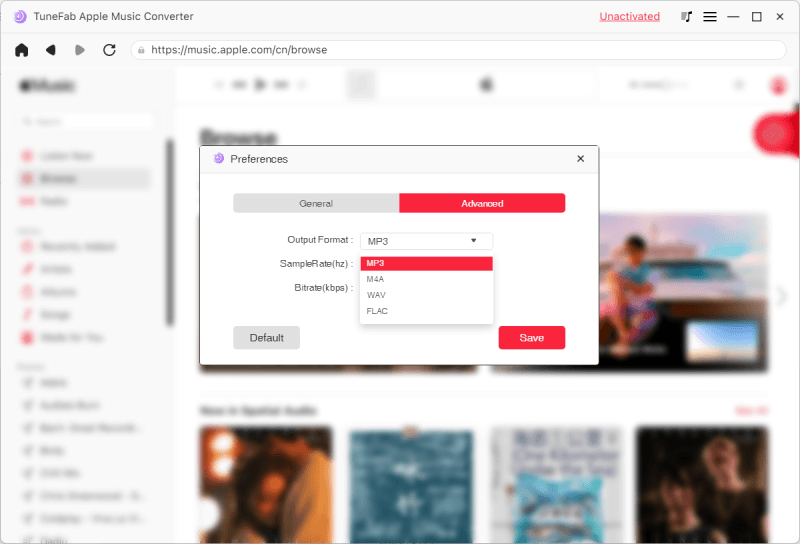 Step 4. Convert Apple Music to MP3 Format
This program will start converting your songs to common formats after you click the "Convert" button. The conversion time varies depending on the number and length of songs, but you won't have to wait long because TuneFab Apple Music Converter is 5X faster than any other music converter. After the conversion is complete, the files containing your DRM-free Apple Music songs will open automatically.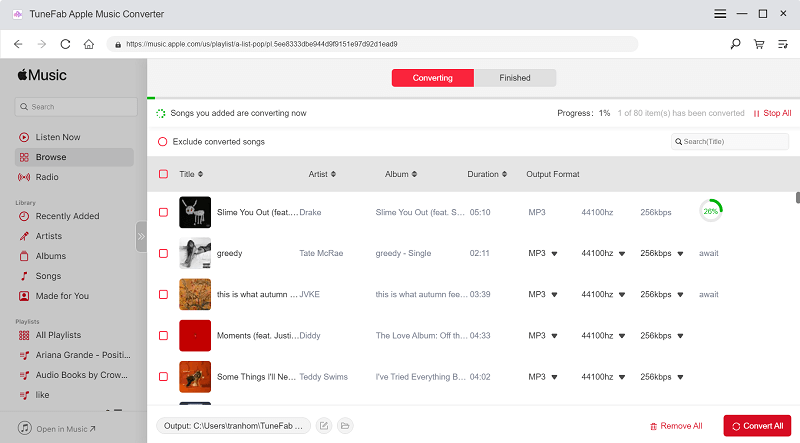 Record Songs from Apple Music with Audacity
Audacity is another ideal tool to make your apple music songs playable on other devices. It is a free music recorder commonly used on Windows, Mac OS X, GNU/Linux, and other operating systems. As open-source audio editing and recording software, Audacity can record audio from various media in both physical and digital formats. It allows you to operate multiple audio tracks in various formats at the same time. So you can use it to record Apple Music songs and save them as MP3 files.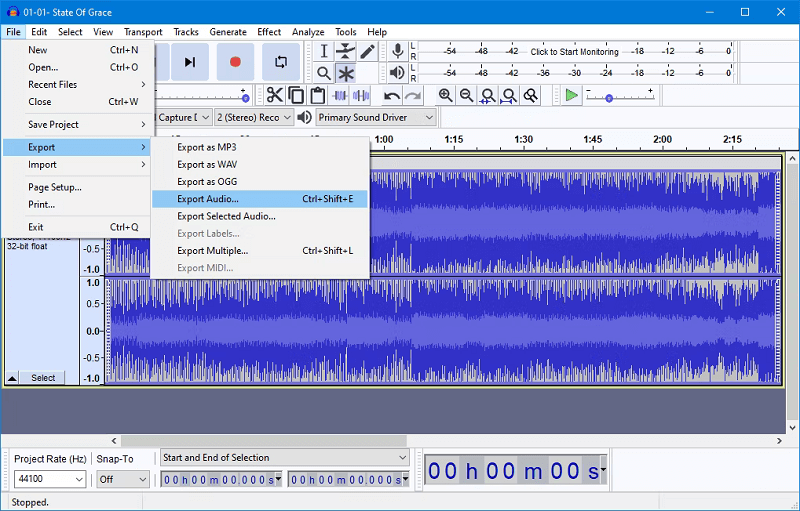 Following these simple steps so you can save your apple music in MP3 formats,
Step 1: Download and install Audacity through its official website, then open it on your computer.
Step 2: Open the Apple Music app and play the song you want to record as MP3.
Step 3: Return to Audacity and press the red-dot button, it will start recording the music playing on your computer.
Step 4: Once finished, press the stop button on the left to end the recording. Under the 'file' section, choose 'export' and pick an output folder to save your music.
Record Apple Music via Apowersoft Online Audio Recorder
If you have no need for multiple audio sources for recording and editing, but just want to record your songs on Apple music as audio files as quickly as possible, Apowersoft is your choice.
Apowersoft is a free screen recorder that allows you to capture various browser activities on both screens and webcams. It is also a web-based recorder, which means you can start recording without installing any software on your computer. With the support of cloud platform uploading and saving, you can manage your music files without taking up valuable hard disk space.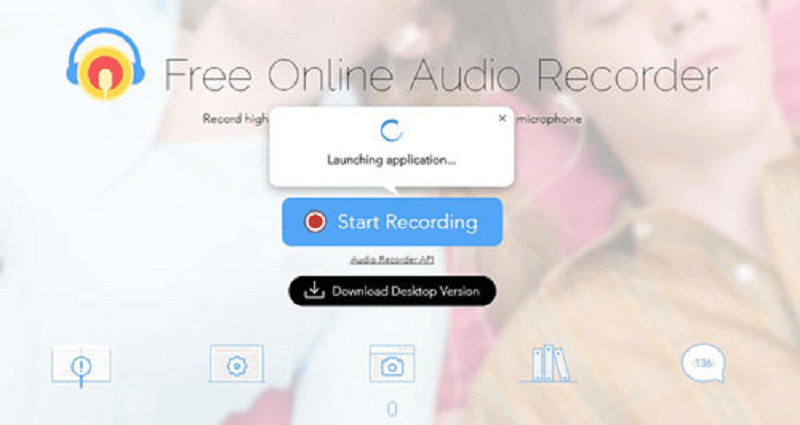 Step 1: Navigate to the Apowersoft Free Online Audio Recorder official website.
Step 2: Click the 'Start Recording' button to install the tool and enable the launcher in your browser.
Step 3: In the pop-up window, select 'System sound', then press the 'Start' button to begin playing the music.
Step 4: Once the recording is complete, navigate to the 'Recording list'. Then select 'Open folder' to access the previously recorded Apple Music songs.
Wrapping Up
This post has introduced you to three methods to record your songs from Apple Music to MP3. Screen recorders such as Audacity and Apowersoft are free to use for music recording, but sometimes, the output quality of your music cannot be guaranteed. TuneFab Apple Music Converter, a music converter that can provide you with faster music conversion as well as lossless sound quality, maybe the best option for listening to Apple Music on other devices.
Was this information helpful?
TrustScore 1 | 1