"Fairly new to Kodi in general. I am a paid subscriber to Spotify and just want to know how to get the Spotify app on my Kodi Device. I found an add-on on Google and it has the Spotify logo. But it's in another language and it doesn't load well. In addition, my device doesn't have the Spotify App and I do not think I can get it on the device either. Any help would be great!"
I found this thread on Reddit. Kodi is a powerful software which can help you consolidate all your media – videos, music and photos in one place. And then you can access them from anywhere.
However, for Spotify users, things are not so easy. Not like the common MP3 music files, songs from Spotify premium are in protected OGG format. So you need some extra steps to get Spotify on Kodi. If you don't familiar with Kodi, you may waste a lot of time to figure it out. So, I wrote this post to help these people who don't know how to listen to Spotify music on Kodi.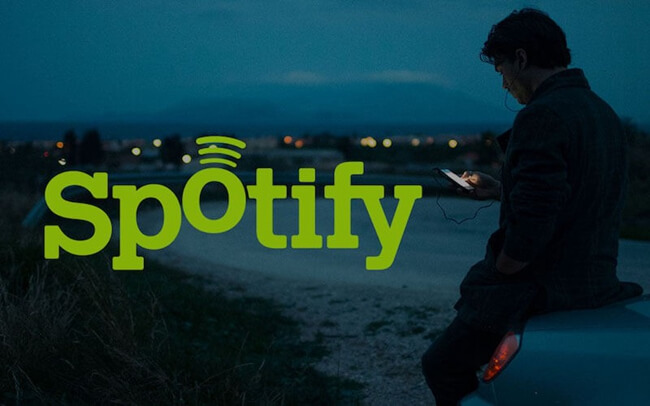 CONTENTS
Part 1. Getting Spotify on Kodi in adding plug-ins ways
In order to get Spotify Music, you must need an add-on installed within Kodi thus to enjoy Spotify music on Kodi. If you search the Spotify Kodi add-on on Google, you can find there are a lot of free choices as well as paid choices. I hereby to recommend what the most popular and effective Spotify add-on for playing on Kodi is SPOTIMC. You can keep reading to know how to install SPOTIMC on your Kodi and then listen to Spotify Music.
What You'll Need
• Some devices with Kodi installed
• A premium account from Spotify
• The SPOTIMC Zip file
Steps to Install SPOTIMC
1. Open Kodi and go to SYSTEM and then SETTINGS.
2. Select Add-ons.
3. Choose Install from the zip file.
4. Navigate to where you downloaded the zip file and select it.
5. Wait for the notification saying it was successfully installed. From here we can go back to the Kodi home screen and browse to the Music menu. Choose the Add-ons submenu.
6. Click this add-on to open it. A login screen should show up where you need to input the Spotify username and password.
7. Wait a minute and you can see the SPOTIMC add-on screen if you succeed.
8. Now you can browse and play all of your music from Spotify on Kodi.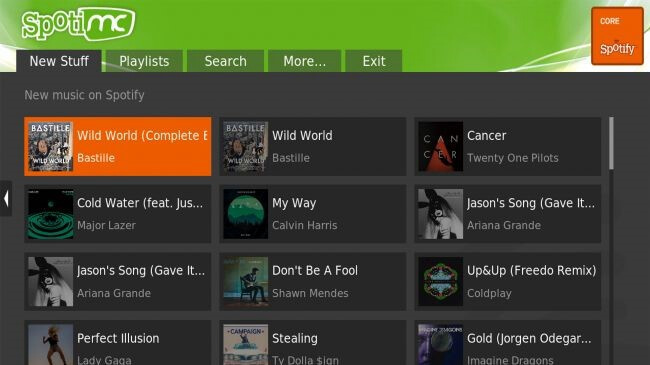 However, with so complicated operation to installing an add-on on Kodi, is there is an easy way to making Spotify Music available on Kodi? There is indeed an easy way to streaming Spotify Music on Kodi and I am going to share with you with this way in the following part.
Part 2. Listening to Spotify on Kodi in Converting Ways
To listen to Spotify Music on Kodi in an easy way is in need of converting your Spotify Music to the common format, like MP3, which is also compatible with Kodi. Yes, you didn't hear it wrong. You can convert Spotify Music to Kodi compatible format with a converter. With so many converters existed, you may puzzle about which is the best converter? Here, I am going to share a powerful and easy-to-use converter for converting Spotify Music to Kodi's compatible format, that is, TuneFab Spotify Music Converter
TuneFab Spotify Music Converter is specialized converting Spotify Music in multiple formats, like MP3, FLAC, WAV, M4A. Beside this, it is easy to operate by merely dragging and dropping your playlists to convert. Moreover, you can select your bitrate for streaming Spotify Music
Step by Step to Streaming Spotify Music on Kodi
Step 1. Launch TuneFab Spotify Music Converter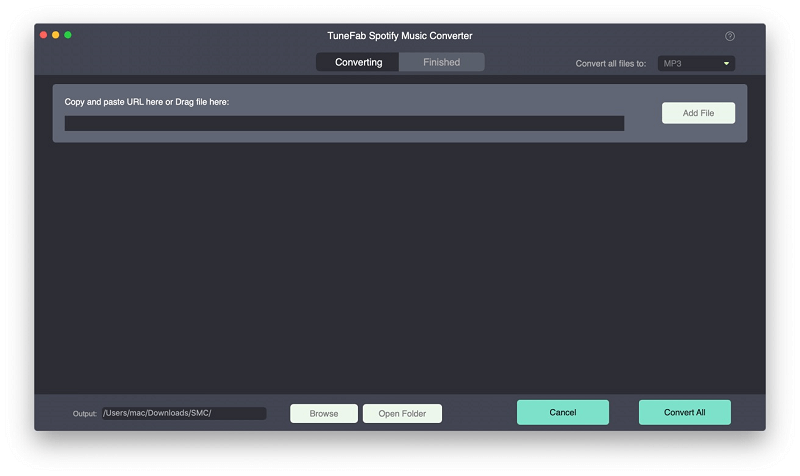 Note: This converter at present just have Mac Version come into the Market. Wait for the following Windows Version coming.
Step 2. Drag the Songs you want to stream on Kodi
When 2 software, Spotify, and converter, are on, your Spotify Music Library will appear and you can drag and drop the songs which you want to stream on Kodi.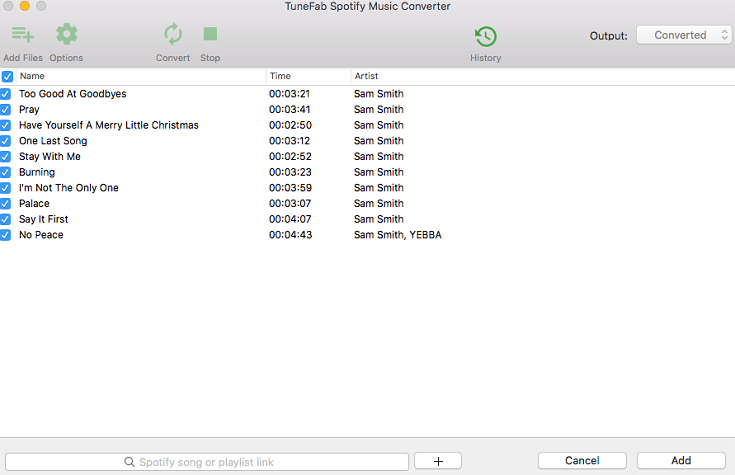 Step 3. Select the output format
After adding songs by dragging and dropping music, it is time for you to select your output format. Clicking "Options > Advanced" and choosing MP3 as the output format to get ready for converting.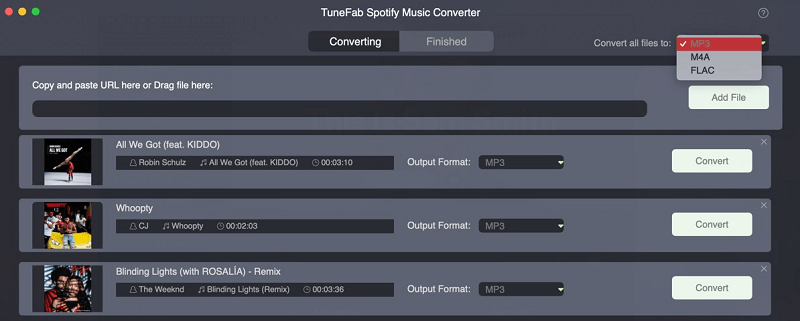 Note: You can select the output folder by clicking "Options" > "General" to change your output folder.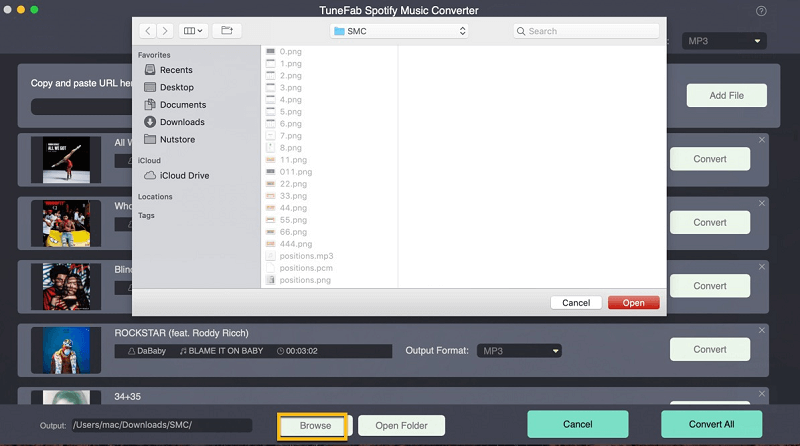 Step 4. Click Convert Button To Get the Converted Kodi Compatible Files
Click "Convert" button to convert Spotify Music to MP3 to get your files which you want to stream on Kodi.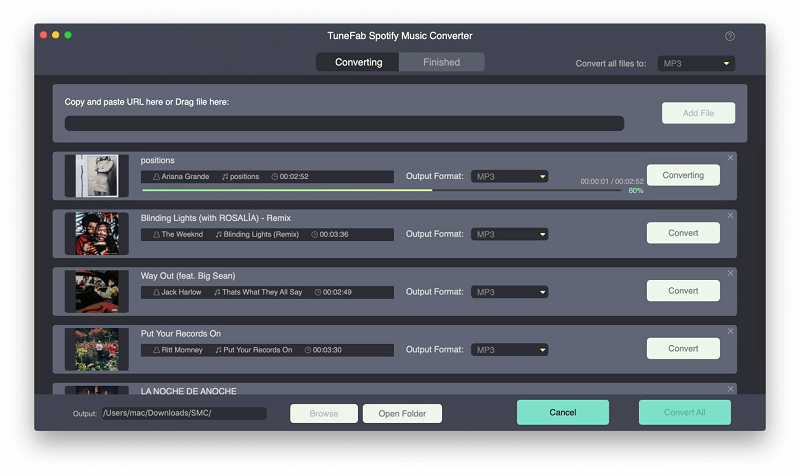 After getting your converted files, you can just click on the folder to find out your output file folder to loading your Spotify Music so as to enjoy Spotify Music on Kodi.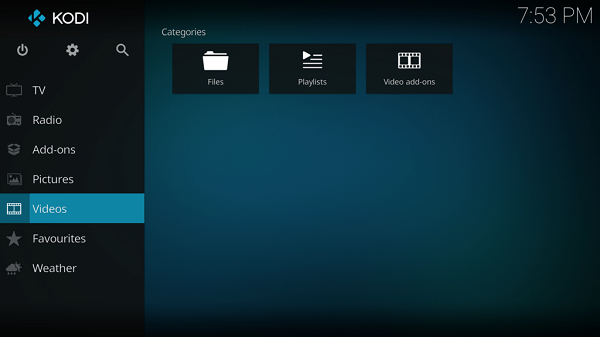 A video for all conversion step!
Spotify users can find some useful add-on to get Spotify on Kodi (XBMC). But for Apple Music user, it's really disappointing because of there no add-ons that allow Apple Music streaming in Kodi. I also got a solution below. You can use it or share it with someone who needs to access Apple Music on Kodi.

• Also Read: A Creative Way to Access Apple Music on Kodi
That's all the terminal guidance for streaming Spotify Music on Kodi. Choose the way you want to enjoy Spotify Music on Kodi right here right now! Enjoy Spotify Music playing on Kodi.
Part 3. Know More About Kodi
Kodi is a free and open-source software which is designed especially with home entertainment in mind – and it's perfect if you want to enjoy movies, sports, films, TV show or music at home. It was originally intended for the Microsoft Xbox and was called the Xbox Media Center (XBMC). But over the years, Kodi has evolved and grown well beyond its original purpose due to its open-source nature.
Kodi can turn any computer, smartphone or tablet into a digital set-top box or streamer, giving users the ability to stream files from the internet, a home network and local storage. It a really nice software to help people get better enjoyment. And there's also a huge library of third-party add-ons available within Kodi which provide access to a range of streaming services.
What is a Kodi add-on? You may feel puzzled. Actually, you can think of a Kodi Add-on as a small application that extends the functionality of the core software. With literally thousands of add-ons installed, Kodi will turn into an online streaming beast.
Kodi provides a list of add-ons through its official repository but actually, there are lots of add-ons available through different sources on the Internet. Some of good Kodi add-ons enables you to access to free movies, television shows, live TV streams, live sports and pay per view events. These add-ons have the ability to search the Internet for media content and serve the video or audio streams through Kodi.
Was this information helpful?
TrustScore 5 | 49