CONTENTS
Q1. Are there closed captions or subtitles in iTunes movies?
Some movies do have subtitles and/or closed captioning. In other words, some movies might have no closed captions. Movies containing subtitles will be noted either in the movie title, or within the Plot Summary of the movie. Those that have closed captioning will have the Closed Captioning logo on the movie page: CC.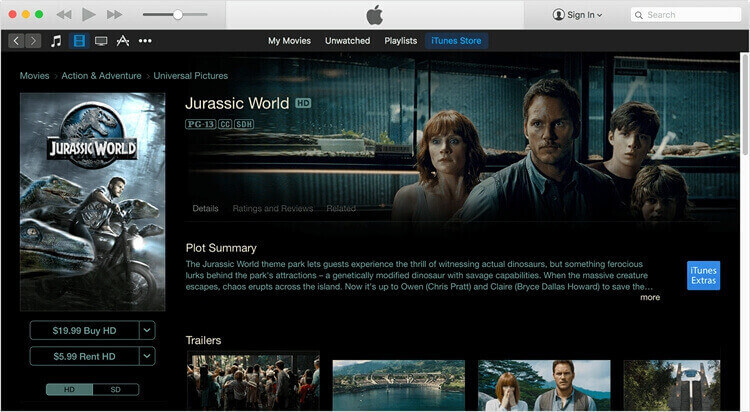 Q2. What is the logo "CC" (Closed Caption) mean?
CC (Closed captions) are a text version of the spoken part of a television, movie, or computer presentation. It was developed to aid hearing-impaired people.
Closed captioning VS Subtitles: Closed captions refers to subtitles for every sound (even falling objects and onomatopoeias), while subtitles refer to spoken words only.
Q3. My downloaded itunes movie doesn't have subtitles?
Nowadays, most iTunes movies have subtitles, except for trailers. If you don't see any subtitles in your movies, please follow Q4 to check if you have turn on subtitles.
Q4. How to enable iTunes movie subtitles?
On iTunes:
1. Launch iTunes on your computer.
2. Click "Edit" > "Preferences" > "Playback."
3. Click the "Subtitle Language" pull-down menu and then click a language. Click "OK" to save the change. Now subtitles will appear when you play a video in iTunes that comes with subtitles.
4. Move the pointer over a movie while it is playing and hold it until the iTunes controls appear, and then click the "Subtitles" button to toggle subtitles on and off.


On iPhone/iPad:
1. Open the Videos app.
2. Select the movie that you want to watch with subtitles.
3. Tap the Play button.
4. Touch the speech bubble at the lower-right corner of the screen. If you do not see it, tap the screen to bring up the on-screen menu.
5. Scroll down, select your preferred language for subtitles, then tap the Done button at the top-right corner of the screen.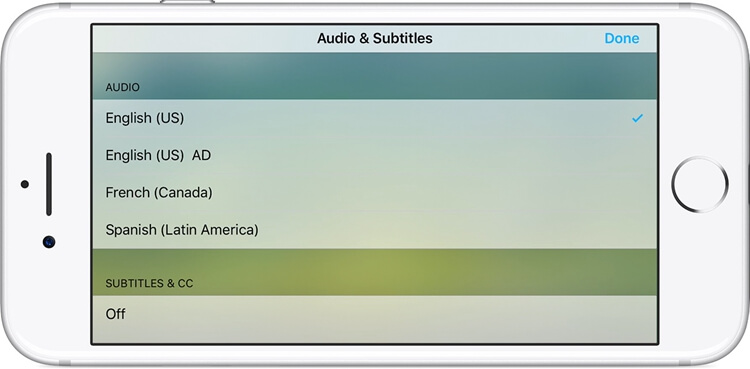 On Apple TV:
To turn on captions or subtitles for all your Apple TV media using the Remote App (or the physical Apple TV remote), simply navigate to Settings on the home screen, then click through to General. Once there, navigate down to Accessibility, then click on Closed Captions + SDH. When you click, it will go from OFF to ON. Now your visuals will have some captioning.
Q5. How to turn on iTunes movie's closed captions on different devices?
On Mac/PC:
1. For Mac: Choose iTunes > Preferences, For Windows: Choose Edit > Preferences
2. Click the Playback tab.
3. Enable "Show closed captioning when available. "and click "OK"
On iPhone/iPad
To enable the Closed captions on your iPhone or iPad, just go to Settings > General > Accessibility > Subtitles & Captioning, then tap the switch next to Closed Captions + SDH.
On Apple TV
Go to Settings > General > Accessibility > Closed Captions + SDH > Style. You can also choose one of the predefined styles: Default, Large Text, or Classic.
Q6. How to add subtitles to iTunes movies?
Sorry, there is no official way to add subtitles to iTunes Movies. The alternative way is to convert iTunes M4V videos to MP4 first and then add subtitles to it. Why can't you directly add subtitles to iTunes movies? That's because almost all iTunes movies, TV shows and music videos are encrypted with DRM protection. Common program cannot recognize or import the video for adding subtitles. So convert iTunes movies to MP4 with an iTunes movies DRM removal first.
Q7. How to convert iTunes movies with subtitles?
Many people have the need to convert iTunes movies to other common format, such as MP4 and MOV to make the movies playable on Non-apple device. If you are one in the group, you can use TuneFab M4V Converter. This software is able to convert iTunes M4V to MP4 and convert iTunes movies or TV shows with all subtitles (including closed caption) kept. Meanwhile, it could produce converted iTunes videos with all audio tracks retained, even including AC3 5.1 track.
Was this information helpful?
TrustScore 1 | 1