Spotify is a popular music streaming platform where you can enjoy millions of music, playlists, albums, and original podcasts. However, songs from Spotify are all protected by DRM and users are only permitted to listen to music on its official app or web page. If you want to download your favorite Spotify songs, you should resort to some third-party software. SpotifyDownloader is a great option for downloading Spotify music for free without installing the Spotify app.
But it shows certain shortcomings, such as a large number of advertisements, low security, and frequent failures to download. If you want to use a better tool, TuneFab Spotify Music Converter is a professional one that can download, extract, and convert your Spotify songs to MP3, M4A, FLAC, or WAV audio in incredible quality.
CONTENTS
Overview of SpotifyDownloader
SpotifyDownloader is one of the best music converters that allows you to download Spotify songs as MP3 files. It supports both free and paid users to save their desired songs and transfer them to mobile devices for offline playback. The operating process is user-friendly. All you need to do is copy-paste the URL of Spotify Music or type the name to search. Then, SpotifyDownloader will display a list of songs for choice.
Considering the features of downloading, apart from single songs, you are also allowed to download the entire playlist and album in ZIP format to your computers. ID3 information such as artists, cover images, and release dates can be added and modified in your downloaded MP3 files. However, it should be noted that this tool does not support downloading podcasts and shows.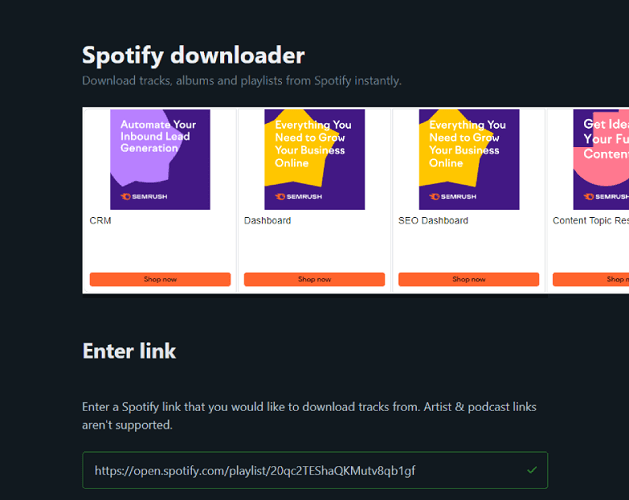 Detailed Review of SpotifyDownloader
In this section, we will show you a detailed review of SpotifyDownloader, so that you can have a thorough understanding of this tool and choose whether to use it or not. The review will be conducted in four aspects, ease of use, sound quality, output format and download speed.
Ease of Use
SpotifyDownloader is an easy-to-grasp tool requiring no installation and registration. Because it is a web-based program and you just need to open it on your browser to use it. Once you open its web page, there is a blank bar for you to submit a Spotify URL that you would like to download tracks. After submitting, SpotifyDownloader will do the rest for you.
Despite a simple operating interface, non-stop advertisements, especially those pop-ups, can be an annoying factor. They may disturb you by searching for songs. Besides, after you find a song and want to download it, you still have to spend 15 seconds watching commercials. It will definitely waste your time.
Sound Quality
The sound quality of downloaded songs can not be customized in SpotifyDownloader. The defined output bitrate is only 128kbps, while other downloaders on the market such as TuneFab Spotify Music Converter can support 128kbps, 256kbps and 320kbps. In that sense, if you want to enjoy the original lossless quality of Spotify songs, SpotifyDownloader may not fulfill your needs at best.
Output Format
SpotifyDownloader only supports MP3 as the output format for Spotify songs. MP3 is a widely compatible audio format that can be played on a majority of devices. Apart from SpotifyDownloader, other tools like TuneFab Spotify Music Converter can also help to convert Spotify music to MP3 files. However, the MP3 format may compress the audio data and reduce sound quality. For those pursuing excellent sound quality, MP3 would probably disappoint you.
Download Speed
Because SpotifyDownloader is an online tool, its download speed is largely decided by the internet connection and server status. When you have a stable network, you can download your favorite songs smoothly and swiftly. But some delays or interruptions during the downloading process are also common. Besides, SpotifyDownloader does not provide batch conversion or hardware acceleration service to promote the download speed.
Is SpotifyDownloader Free and Safe?
Surprisingly, SpotifyDownloader is free to use. But if you want to skip human verification, you may need to buy a premium key costing $19.98 annually. When it comes to the safety of this tool, it can not be guaranteed. Some pop-up advertisements might direct you to some insecure web pages that contain malicious information. Hence, you should be cautious of multiple pop-ups and links while using SpotifyDownloader.
Alternative to SpotifyDownloader
After having a thorough review of SpotifyDownloader, we find it quite convenient to use. However, it also shows some limitations that degrade the user experience. For example, a large number of advertisements can always interfere with the downloading process and affect web application security. It only supports MP3 as an output format and your needs for other formats can not be satisfied. Besides, its download speed relies too much on the network and further services like batch downloading are not supported.
If you wish for a better downloader with higher output quality, more output formats and download efficiency, we highly recommend you try TuneFab Spotify Music Converter. It is a professional, efficient and 100% secure software that runs on Mac/Windows computers. It is designed to remove DRM applied to Spotify songs, playlists, albums, and podcasts, and download them to audio formats including MP3, M4A, WAV and FLAC. After conversion, you are able to enjoy tracks offline anywhere and anytime you want without Spotify premium. In order to improve your user experience, TuneFab also provides a 30-day free trial and allows you to convert the first three minutes of your songs.
Here are some key features of the TuneFab Spotify Music Converter.
Support Embedded Spotify Web Player
With Spotify Web Player embedded in TuneFab, you just need to log in to your Spotify account directly on this program. In doing so, you don't need to install the Spotify app to occupy your computer storage. Then, you can browse songs in the library and drag-and-drop songs to facilitate the subsequent downloading process.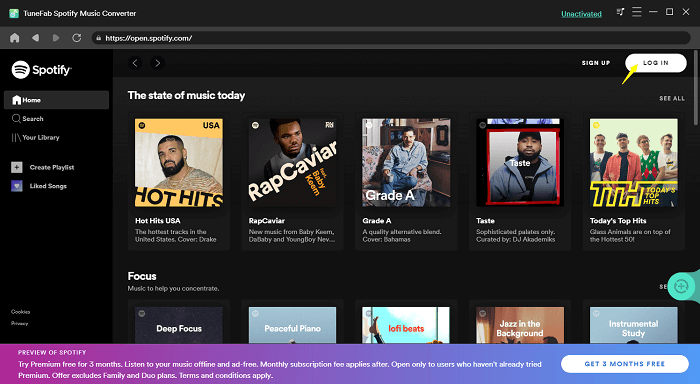 Ensure Lossless Conversion Quality
TuneFab Spotify Music Converter can ensure nearly 100% lossless sound quality for offline listening after conversion. By default, the sample rate is set to be 44.1kHz and the bitrate 256 kbps. But TuneFab Spotify Music Converter can provide you with the highest sample rate of 44.8kHz and the highest bitrate of 320 kbps.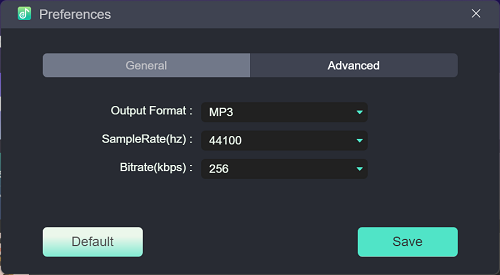 Flexible and Customized Output Setting
It provides you with a variety of output formats for no-limit playback, including MP3, M4A, WAV and FLAC. These formats can fulfil your needs to transfer Spotify songs to any device.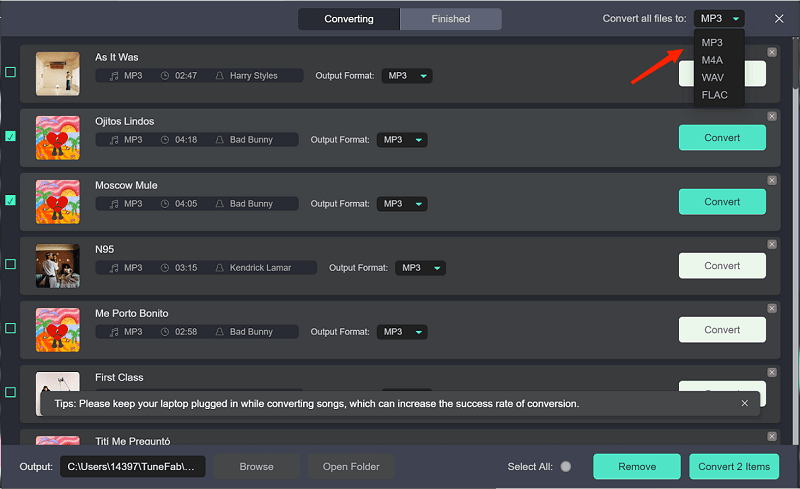 High efficiency in conversion
To boost conversion and download efficiency, its speed can be maintained at least 5X faster. With one simple click, you can conduct batch conversion to save a lot of time.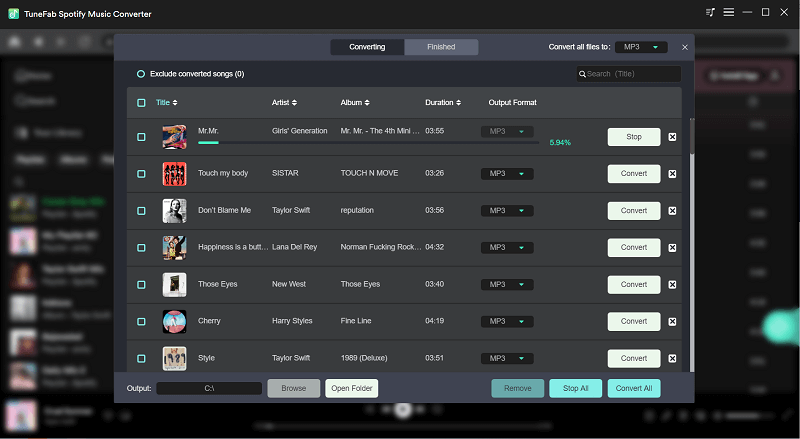 Keep original ID3 tags and metadata information
During the conversion, the ID3 tags and media metadata information such as titles, artists, albums, cover artworks and track IDs can be saved. Hence, you could manage the music collection with ease after downloading.
Conclusion
In conclusion, SpotifyDownloader is a convenient and user-friendly online tool for converting Spotify songs to MP3 audio files. But after a detailed review, we find it displays certain shortcomings, such as distracting and unsafe advertisements, fixed output format and changing download speed. Therefore, to help you overcome these drawbacks, we introduce a professional alternative, TuneFab Spotify Music Converter. Its features are clearly explained in this post. You can compare them and choose an optimal tool for yourself.
Was this information helpful?
TrustScore 1.4 | 10