As one of the most popular online live-streaming platforms, there are many people, especially those working in the gaming, music, or video industries to use Twitch for doing live streaming. When this need grows, there are also more people who want to know whether they can directly play Spotify on Twitch so that they could make their live streaming to be more attractive. If you are one of them, check this article which provides a simple method you can try to make Spotify playback on Twitch also possible.
1. Can You Play Spotify on Twitch?
Playing music while doing live streaming on Twitch is a common situation. Many streamers would do so to make their streaming more attractive. However, not all Spotify songs are available to be played while you have the live streams, especially when Twitch announced the DMCA takedowns in 2018. From then on, Twitch only allows streamers to play those copyright-free Spotify songs when doing live streaming.
Types of Songs You Can Play
Your own music - The songs that are recorded or created by yourself.
Songs with permission to use - If you have gained permission from the original authors to use the songs, then you can play them during the live streams on Twitch.
Twitch Sings Performance - The music captured in the Twitch Sings gameplay can also be directly used for Twitch streaming without breaking the copyright law.
What Will Happen If I Used Copyrighted Songs
If streamers still choose to ignore the rules and continue playing Spotify songs they have no rights to, Twitch would immediately take measures to punish your behavior against the copyright law, including the following ones:
Your uploaded streams would be warned with the content claim and muted to remove the audios that have violated the copyright law.
Your whole channel may face a ban from 24 hours to 7 days.
How to Avoid Being Detected by Twitch
Instead of directly connecting to Spotify and playing the songs during the live streaming process on Twitch, it would be better to avoid breaking the copyright law by downloading Spotify songs offline and playing Spotify on Twitch through VLC Media Player. In the following part, you can know how to do it exactly.
However, if you want to play Spotify songs using VLC to avoid being banned by Twitch, you need to download Spotify Music at first and move outside Spotify for saving offline.
2. How to Play Spotify While Streaming on Twitch (in 4 Steps)
To do it, you need the help of a Spotify Music Downloader. Here recommends you TuneFab Spotify Music Converter, which allows people to directly sign in to the in-built Spotify Web Player to download any Spotify playlists and songs offline.
It offers common and popular output video formats, such as MP3, M4A, WAV, and FLAC to keep the music files on computers, then people can directly use VLC or other media players to play the downloaded Spotify songs while starting the Twitch live streaming. Through this method, Twitch won't detect the Spotify playback and you will not be considered as breaking the copyright law.
Key Features:
● Signs in the in-built Spotify Web Player to download all Spotify Music offline easily
● Converts Spotify songs to MP3 with the best 320kbps audio quality
● Keeps the music information such as the ID3 tags for the converted Spotify songs to easily manage offline
● Supports up to 5X faster speed to download Spotify Music
● Provides customized settings to set audio parameters to download Spotify songs based on users' needs
Steps to Download Spotify to Stream on Twitch
Step 1. Sign in TuneFab Spotify Music Converter Web Player
When TuneFab Spotify Music Converter is installed on your Windows/Mac computer, open the software and then click the "Open the Spotify web player" to enter the in-built Spotify Web Player to sign in with your Spotify account.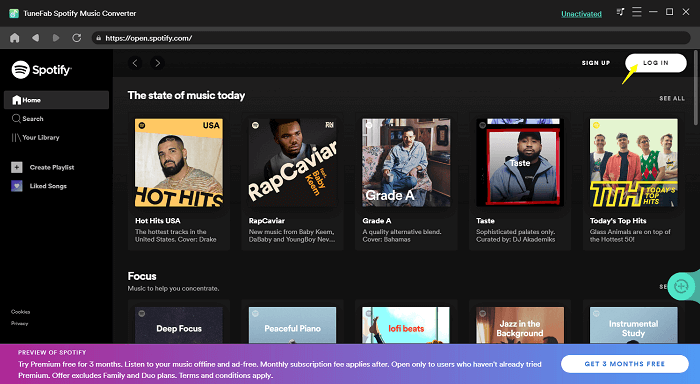 Step 2. Select Spotify Music to Download Offline
Once you have signed in to the web player in TuneFab Spotify Music Converter, select the Spotify songs to convert by dragging them to the "+" button. After this, also select the output format in the "Convert all files to" to save the Spotify songs that are going to download.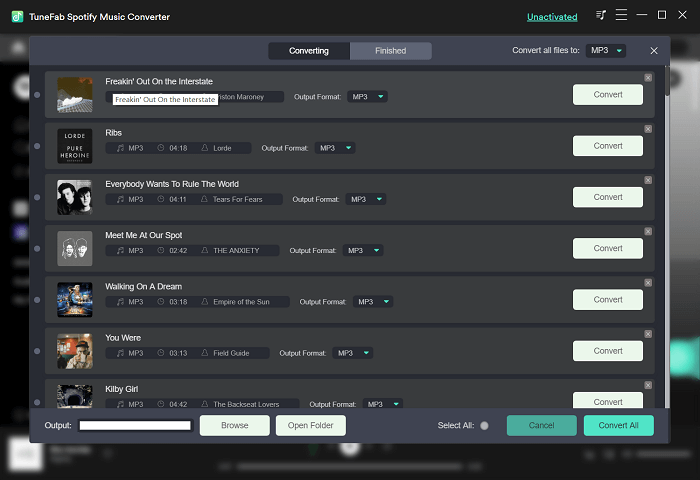 Step 3. Start Downloading Spotify Songs on Computers
Finally, simply by pressing the "Download" button, TuneFab Spotify Music Converter will start downloading the selected Spotify songs offline. When the conversion gets started, you just need to wait for it to be finished.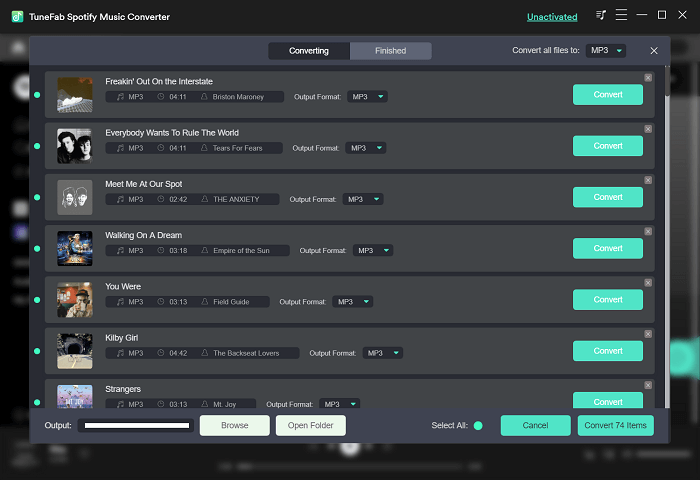 Step 4. Play Spotify Songs on Twitch Using VLC
After getting the Spotify songs downloaded offline, you can create a music playlist for the downloaded Spotify songs in VLC. Then, launch OBS and click the "Source" button to select "VLC Video Source" to make Twitch play the created Spotify playlist from VLC.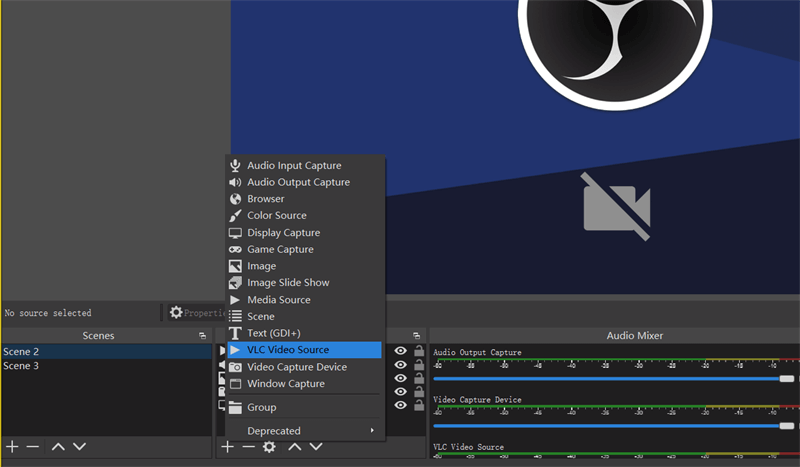 3. FAQs on Using Spotify for Twitch Live Streaming
Q1. Why Can't I See VLC Video Source on OBS When Connecting Spotify Music to Twitch?
If you fail to find the "VLC Video Source" option in OBS software while trying to connect Spotify to Twitch, you should make sure two things:
Whether you are using a Windows computer
Whether you have installed the right VLC version. For example, if you are using a 64-bit Windows system, you should install VLC of the Windows 64-bit version.
After double-checking these two things, you can go to VLC's official site to re-install VLC on the computer and try to connect Spotify to Twitch in OBS again.
Tip: To check the system version of your Windows, you need to press "Win + R" and enter "dxdiag", then press the "Enter" key.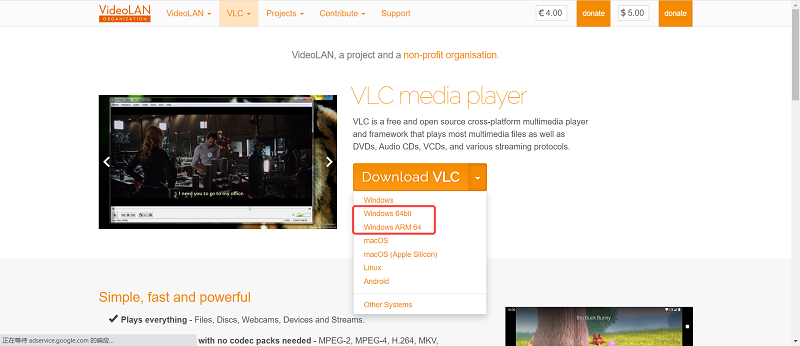 Q2. Is There a Way to Sync Spotify on Twitch?
Instead of downloading Spotify songs to your local folder on your computer, then playing the songs on Twitch while doing live streaming, a Reddit user has developed a Twitch-approved extension, called SpotifySynchronizer, which allows people to directly sync Spotify on Twitch for playing Spotify songs on live streams without breaking the copyright law at all.
But to enable the function, it has to make sure that both the Twitch streamer and audiences have installed the extension and sign in to Spotify in the extension's channel.
Q3. Is There Spotify Copyright Free Music for Twitch?
Of course, Spotify also offers some copyright-free music that is available for free use. You can access these copyright-free songs here while you need to stream them on Twitch.
In Conclusion
You need to pay attention that you should not directly play the copyrighted Spotify songs on Twitch as you would be recognized for breaking the rules and your channel would be punished. To realize playing Spotify on Twitch, try downloading Spotify songs offline or using the personal-developed extension by the Reddit user to do it. Try these methods when you need them.
Was this information helpful?
TrustScore 4 | 6