With an Apple TV, you can stream your favorite Spotify songs directly on it, which can add a lot of fun to a home party. However, if you find yourself struggling to connect Spotify to your Apple TV despite countless attempts, the initial excitement might turn into an upset.
Relax. In this article, I will guide you through the process of playing Spotify tunes on your Apple TV. The only initial step is to find out the generation of your Apple TV. For people with Apple TV 4K or later products, the process is easier, while for users with earlier versions, it will be a little more complicated.
CONTENTS
How to Play Spotify Music on Apple TV [For All Generations]
If you are confused on how to figure out your Apple TV model, or you need a method that can 100% stream all your songs, here is a perfect 2-part solution. Part 1, download your Spotify songs onto your local device in MP3. Part 2, upload the downloaded songs to your iTunes and then stream them on Apple TV via Home Sharing. In this way, you will need the help of TuneFab Spotify Music Converter.
TuneFab Spotify Music Converter can help you download all your songs in original quality and keep them permanently, with no limitation of Apple TV generations. With its user-friendly interface and built-in web player, batch downloading becomes a breeze, allowing you to convert an artist's entire discography in just one click on Windows and Mac OS. For songs, albums, playlists, podcasts, and audiobooks, TuneFab can help you download everything to MP3 at an incredible 35X speed, ensuring a nearly 100% conversion success rate.
Part 1. Download and Convert Spotify Music to MP3
STEP 1. Install TuneFab Spotify Music Converter on Window/Mac computer. Launch it and log in to your Spotify account.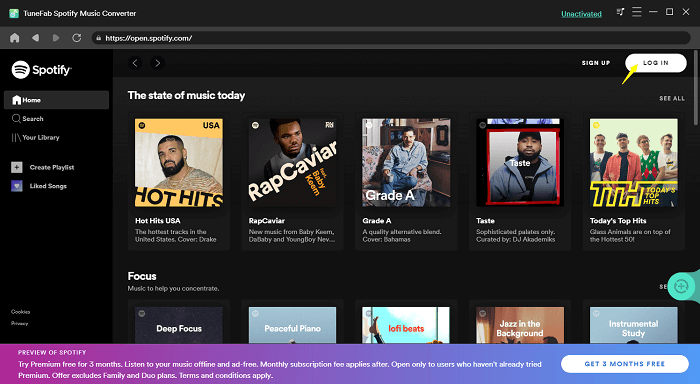 STEP 2. Select the tracks you wish to download by dragging and dropping them onto the green "+" button.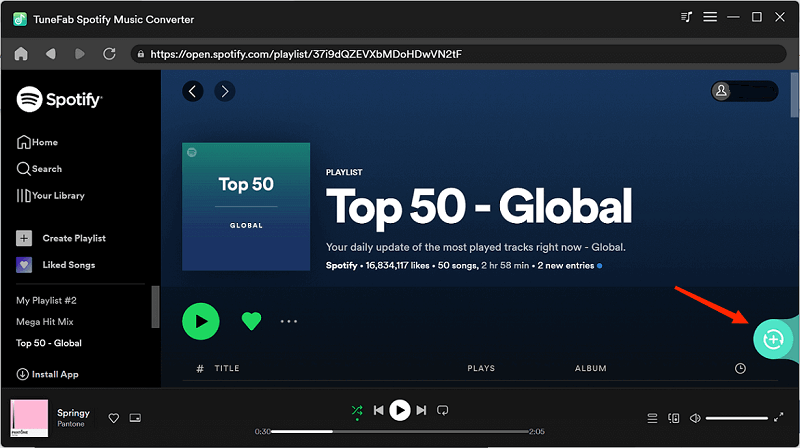 STEP 3. Click the three-line button in the top-right corner to access Preference. Here you can customize the output format settings.
NOTE:
Under the General option, you can customize the output folder and categorize the downloaded songs based on playlists, artists, albums, and more, allowing for efficient organization and easy access to your music collection. Under the Advanced option, you can choose your desired audio format, such as MP3, M4A, FLAC, WAV, AIFF, AAC, and ALAC.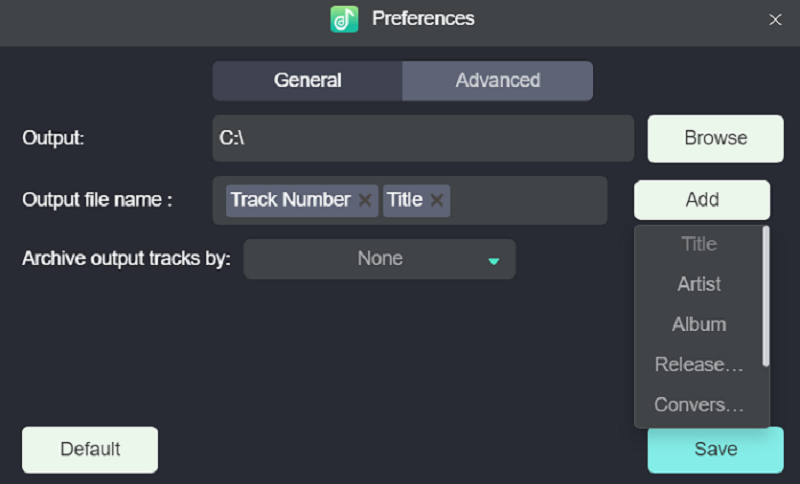 STEP 4. Simply click Convert to start the batch download process. Then to verify the downloaded Spotify songs, just click View Output File.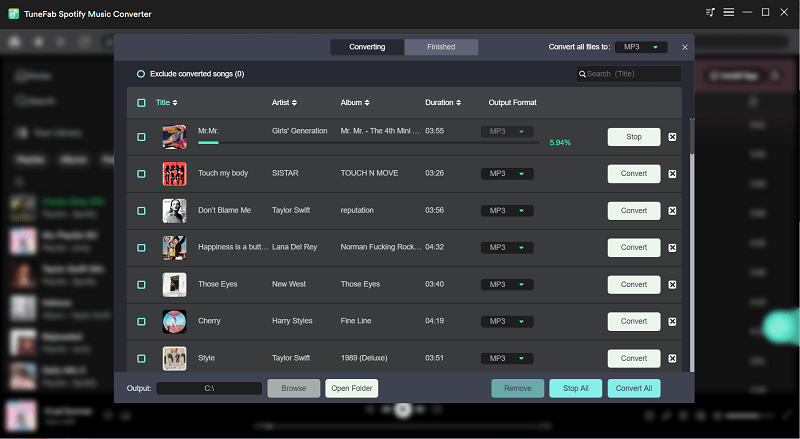 Part 2. Play Converted Spotify Songs to Apple TV
After downloading and converting your favorite Spotify songs, you can upload the files from your device to your Apple TV. But before doing so, please ensure that both devices are connected to the same WiFi network. This connection is essential for a smooth and seamless transfer process.
STEP 1. Launch iTunes on your Mac and import the converted Spotify songs to your library.
STEP 2. Enable Home Sharing by going to File > Home Sharing, and select Turn on Home Sharing. Use your Apple ID and password.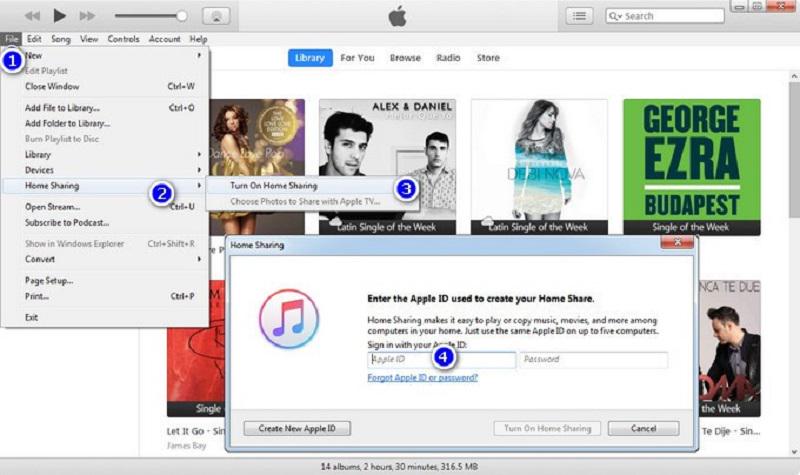 STEP 3. On Apple TV,turn on Home Sharing by navigating to Settings > Accounts > Home Sharing. Enter your credentials.

STEP 4. Make sure all devices use the same Apple ID. On Apple TV, select Computers, choose a library, and explore and play your music.
Get Spotify Music on Apple TV via the Spotify App [For 4th Generation]
For users with Apple TV 4th generation and later, you can stream your Spotify tunes simply by downloading Spotify on your TV. It is pretty straightforward.
STEP 1. Visit the App Store on your Apple TV and download Spotify.
STEP 2. Log into your Spotify Account on Apple TV. Get the activation code and go to Spotify.com/pair. Follow the instructions to pair Apple TV with your account. Upon success, your browser will show a confirmation.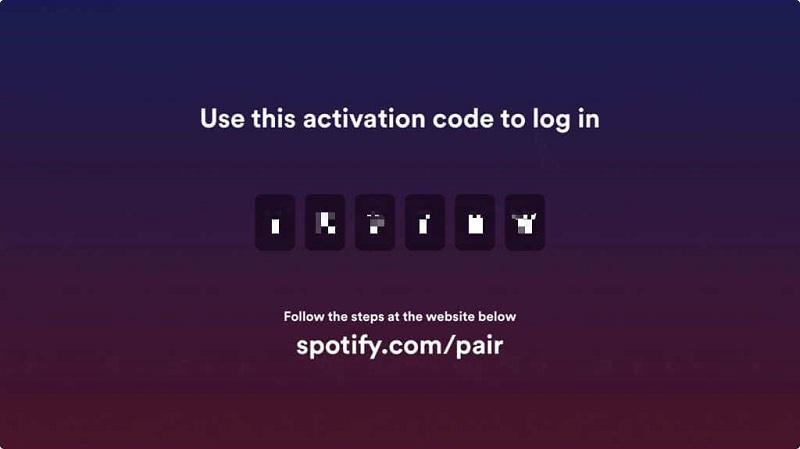 STEP 3. Proceed the login process. Allow or deny app tracking when prompted on your Apple TV.
Now Spotify app will open on your Apple TV's Home tab, ready for use. Moving forward, simply open the Spotify app from your Apple TV Home screen and start listening.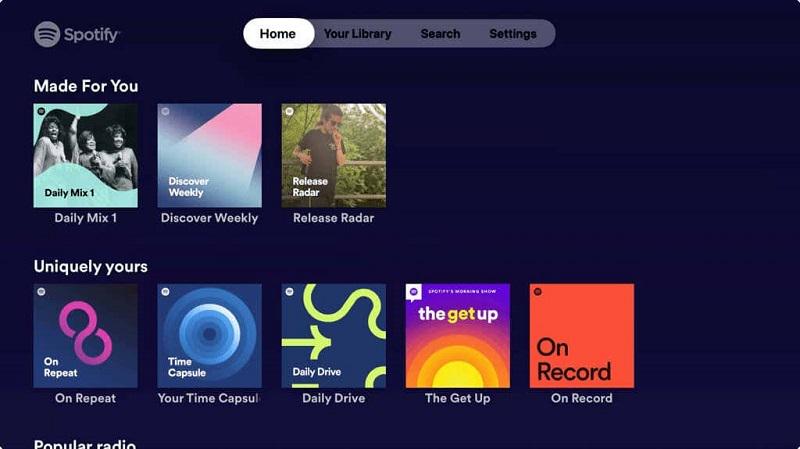 Transfer Spotify Music to Apple TV [For 1st, 2nd & 3rd Generations]
For users with 1st, 2nd, and 3rd generation Apple TV, downloading Spotify is not an option like for 4th generation users. However, you can easily cast tunes using the built-in AirPlay on your iOS devices. Enjoy seamless music streaming on the big screen, regardless of your Apple TV model!
Note:
Please make sure both your Apple TV and iOS device are connected to the same WiFi network.
Cast Spotify Music to Apple TV via AirPlay
STEP 1. Install and launch Spotify on your iPhone or iPad.
STEP 2. Play the song or podcast you want to stream on your Apple TV.
STEP 3. Access the Control Center by swiping down from the top right corner of your screen (on iOS 13 or later). Tap the AirPlay icon, select your Apple TV from the list of available devices, and connect your iOS device.
Once connected, you can easily stream and control the content from your iOS device on your Apple TV.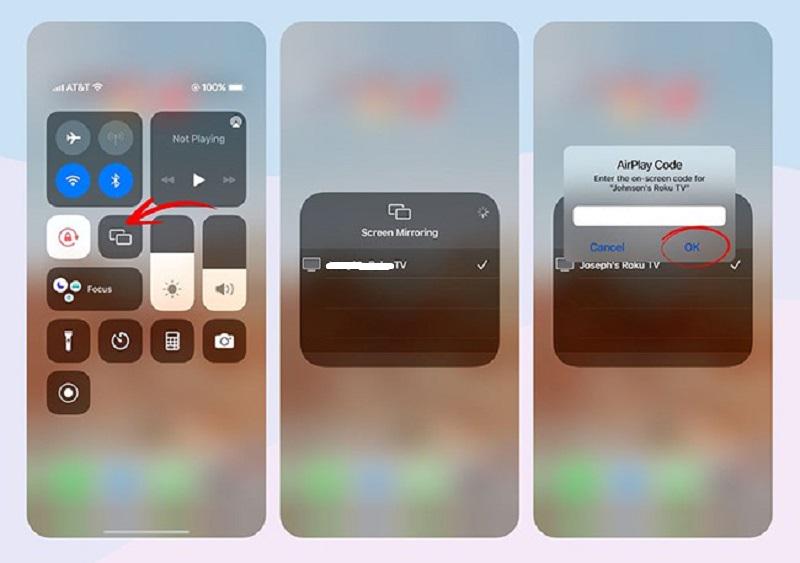 Now, just embark on your musical journey and find more beautiful music on Spotify! And let this joy spread to more people through Apple TV!
Troubleshoot: Why is Spotify Not Working on Apple TV?
Although Spotify is amazing software with lots of sparking features, it is unavoidable that you may encounter some unexpected problems that may occur more frequently. Scroll down to find the reason why Spotify is not working.
Poor Internet Connection
If your Apple TV is not connected to the internet or if the connection is poor, Spotify will not be able to load. Examine your network settings and ensure that your Apple TV is receiving a strong Wi-Fi connection.
Outdated Spotify app
Outdated Spotify might have compatibility issue with your Apple TV. If your Spotify is not functioning correctly, visit the App Store on Apple TV to update it to the latest version.
Expired Spotify Premium
If you have subscribed to Spotify Premium, remember to check your billing status. Log in to your Spotify Premium account on the web browser and verify if your Spotify Premium account's billing is up-to-date.
App not responding
Sometimes your Spotify app stops responding because of bugs or cache issues. The easiest way to solve the issue is to force quit and restart the app. Navigate to the App tab on your Apple TV homepage. Select the Spotify app, click Info on the menu, and choose Force Quit. Reopen the Spotify app and attempt to play the song again.
Unresponsive services
Sometimes, the device requires a power reset to clear the memory. Perform a forced restart on your Apple TV by pressing and holding the Back and TV/Control Center buttons on your Siri Remote or Apple TV Remote.
Conclusion
From today on, you can experience the ultimate synergy of music and entertainment with Apple TV and Spotify! Users with 4th generation and later can easily download the Spotify app directly from the App Store. However, for those with earlier Apple TV products, they can still enjoy Spotify by using AirPlay to cast songs from their iOS devices.
For a one-size-fits-all solution, try out TuneFab Spotify Music Converter to guarantee a permanent reservation of your content, unlimited file transfer, and a higher success rate. Don't miss out on this incredible opportunity!
Was this information helpful?
TrustScore 1 | 1