The problem, "Why is Spotify not working on my iPhone?", is usually seen on many forums and communities. How could it happen? Is there something wrong with the Spotify app or your iPhone? Actually, it could be caused by many reasons. But don't worry about that at all, since this article provides some efficient solutions for fixing Spotify not working on iPhone with ease.
Fix 1. Check Whether Your Internet Connection is Available
As Spotify is a streaming music service, only when your internet connection is available can you listen to Spotify on iPhone. Therefore, the first solution you need to try is to test your Internet connection.
Simply open your browser and then try to visit websites or pages. If you aren't able to browse websites successfully, that means your Internet connection is unavailable, so you need to repair your internet connection. Otherwise, just try below fixes.
Fix 2. Force Close All Background Apps Including Spotify
The problem of Spotify not working on iPhone might result from corrupted Spotify app. It could be happened if you've launched Spotify during the iOS update. Also other background apps might have the same problem. Hence, in order to figure out your issue, you are supposed to try to force close all background apps including Spotify with below steps:
Step 1: Double tap the Home icon on your iPhone. Now you should see a new screen containing recently used apps that are opened on your iPhone.
Step 2: Next, slide up on the Spotify icon to close it.
Step 3: Follow the step 2 to force close other apps.
After that, launch Spotify and see whether your Spotify app can work on your computer or not. If not yet, then try another fix.
Fix 3. Restart Your iPhone
Since the new update probably leads to corrupted system data and affects Spotify's functions, you had better restart your iPhone when the above fixes are not available.
Simply press the Power button until you see the "Slide to Power off" instruction and then move the slider to the right to turn off your iPhone. Finally, press the Power button to turn on your iPhone again and check if Spotify can be worked now.
Fix 4. Update Spotify to the Latest Version
Updating Spotify is the next solution that you should try. Just launch App Store and then click on "Updates" option at the bottom right corner, after that, tap the "Update" next to "Spotify" to update your Spotify app to the latest version.
For those who have installed the Spotify on your iPhone previously, just try to uninstall Spotify app and then re-install it on your iPhone.
Fix 5. Reset All Settings on Your iPhone
The last recommended solution is to reset all settings on your iPhone as some updates will be programmed to change system settings automatically. Here's how to reset all settings.
Step 1: Tap "Settings > "General" > "Reset".
Step 2: Choose "Reset all settings" and then enter password when prompted.
Step 3: Confirm system settings reset by tapping the option.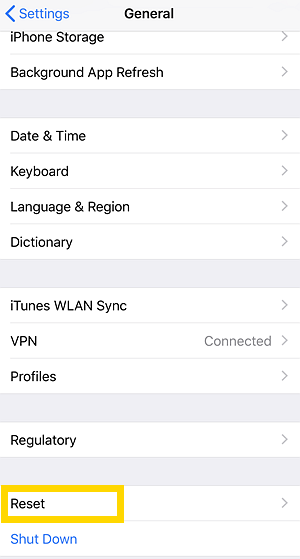 I hope above five fixes can solve your problems. But if your Spotify app doesn't work on your iPhone after trying the above fixes, then you should go to the ultimate solution.
Ultimate Solution for Fixing Spotify not Working on iPhone
No matter how the issue of Spotify Premium not working on your iPhone could happen, you can easily download DRM-free Spotify songs on computer and then transfer them to your iPhone to fix it.
What You'll Need to Fix Spotify not Working on iPhone
#1. PC or Mac
#2. Spotify software
#3. TuneFab Spotify Music Converter
#4. USB cable
Referring to downloading DRM-free Spotify music on computer, TuneFab Spotify Music Converter, a professional Spotify to MP3 downloader, is an indispensable tool because it enables all users (even Spotify Free subscribers) to remove DRM from Spotify music and convert Spotify music to multiple formats like MP3, M4A, WAV and FLAC. Below are steps to fix Spotify not working on iPhone with TuneFab Spotify Music Converter.
Step 1: At first, click on "Try It Free" buttons to download and install TuneFab Spotify Music Converter on your computer.
Step 2: Then add Spotify songs by clicking on "Add Files" and dragging tracks from Spotify to the software. Alternatively, copy and paste the song link into the search bar and then click on "Add" button. After that, click on "Add" button again.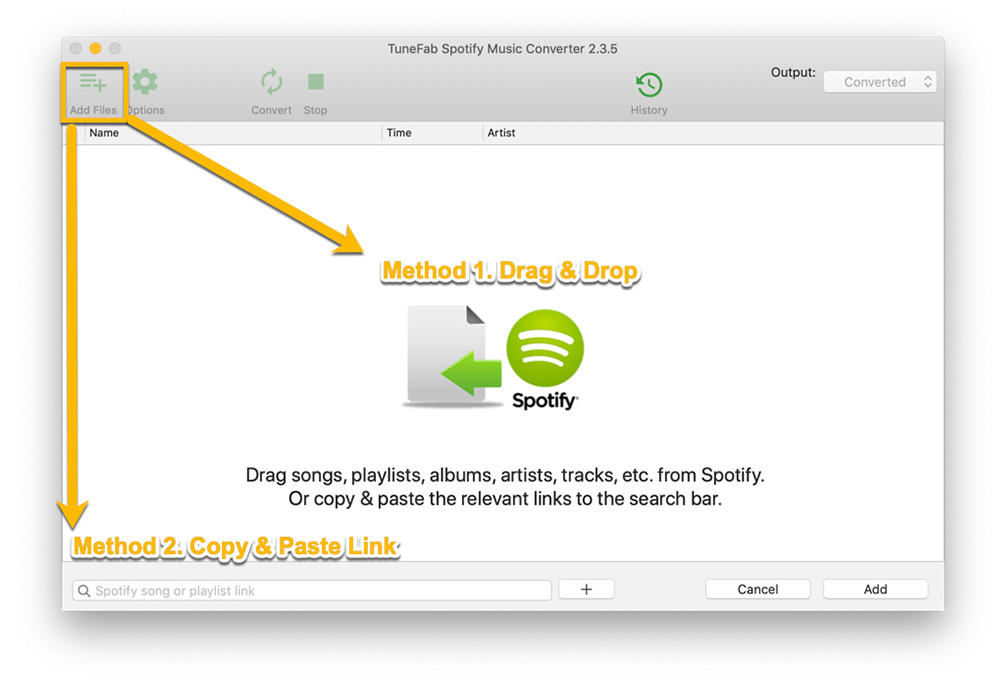 Step 3: Next adjust output parameters. Go to "Options" > "Advanced" and then choose MP3, M4A, WAV or FLAC from the drop-down list.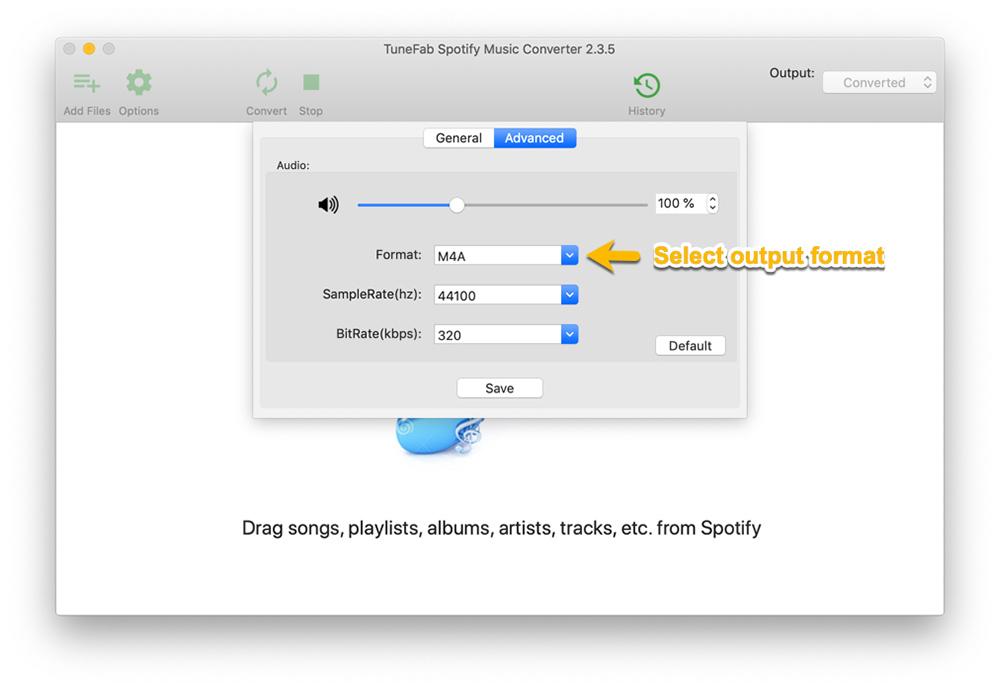 Step 4: Click on "Convert" button to start the conversion. When the conversion is finished, find the converted files in output folder.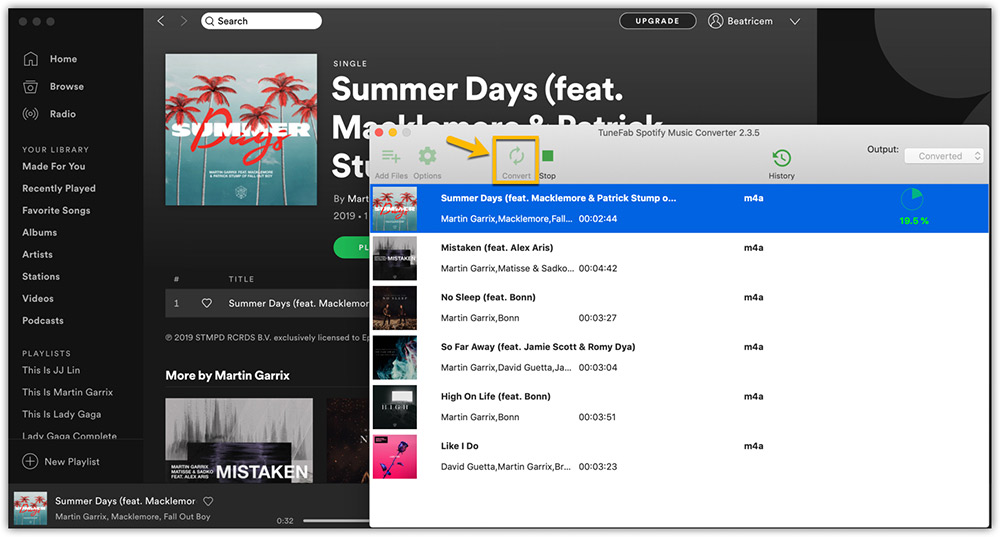 Step 5: Finally, connect your computer with your iPhone via USB cable and then transfer DRM-free files to your iPhone.
Conclusion
In a word, Spotify not working on iPhone is totally not a big deal because TuneFab Spotify Music Converter enables both Spotify Premium and Free subscribers to fix it on your own with ease. If you have further questions about how to fix Spotify not working on iPhone, welcome to leave your comments.
Was this information helpful?
TrustScore 3 | 2