iPhone X will be the ultimate product of the iPhone series? It's not impossible for Apple's changing the naming rule of iPhone. In the previous year, the company has directly switched to iPhone 8 without offering the iPhone 7s as they always do. At a guess, a new iPhone naming system is under the way to show the differentiated configuration. That is, you may see the last "iPhone …" with the iPhone X in your hand. Still, the memorial iPhone X has some hard problems. For example, download and transfer Spotify Music to iPhone X freely.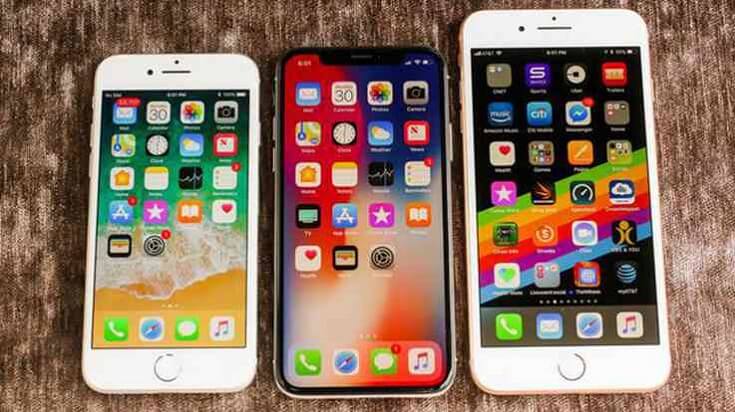 CONTENTS
Part 1. Why Get Spotify on iPhone X
The latest iPhone X is designed especially compared to its predecessors. First, it runs edge to edge and removes the home button, which leaves people a more instinctive user experience. A 5.8 inch OLED screen further enhances the visual appreciation with the richer color exhibition.
Surprisingly, Spotify has favorably viewed the new iPhone X with its iOS apps updated correspondingly. On the updated Spotify of iPhone X, you don't need to visit the letterboxing so that you are pleasantly welcome to easily access the track lists, search results, and more artwork.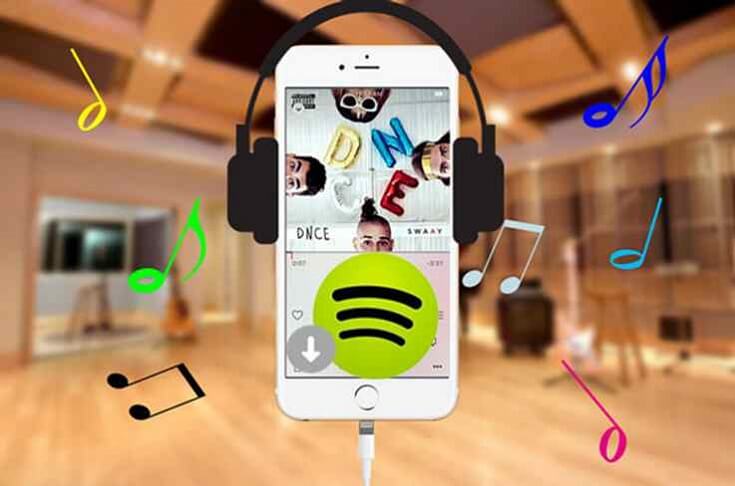 Seemingly, a new and convenient Spotify experience is highly promoted on the iPhone X. Yet still, the Spotify music limitation is the matter. Premium users are able to offline download Spotify music though with $9.99 monthly fee and Spotify app player. While a free user is not allowed to get Spotify music downloaded offline. In view of it, this post resorts to offer iPhone X users an excellent way to free download and transfer Spotify music to iPhone X.
Part 2. Transfer Spotify Music to iPhone X
DRM protection is the factor behind the playback limitation of Spotify music and where the solution kicks in. Simply, DRM removing is the essential step to pave ways for a normal Spotify download and transfer on iPhone X. Given it, TuneFab Spotify Music Converter deserves a try specifically for Spotify DRM treatment on PC.
With the TuneFab Spotify Music Converter, you can effortlessly take away the music DRM and is optional for DRM-free Spotify music in MP3, M4A, WAV, FLAC, etc. As the Converter requires collaborative work with the Spotify app, it can easily access your Spotify library and playlist so you even don't need to purchase the download authorization. A free user is able to download the Spotify Music on the Windows / Mac and then transfer Spotify Music to iPhone X for a more appreciable listening effect. See and follow the detailed guide below.
Step 1. Update to The Latest Spotify App on PC
As mentioned before, TuneFab Spotify Music Converter is required to work with the Spotify app. At first, update to the latest Spotify version on your computer.
Step 2. Install TuneFab Spotify Music Converter
You can click on the free download links above to install TuneFab Spotify Music Converter, and then the installation guides will tell you how to get it on your PC. You will first have a 30 days' free trial chance.
Step 3. Run TuneFab Spotify Music Converter
Double click on the software to launch TuneFab Spotify Music Converter. At the same time, the Spotify app will be activated automatically to sync the playlist.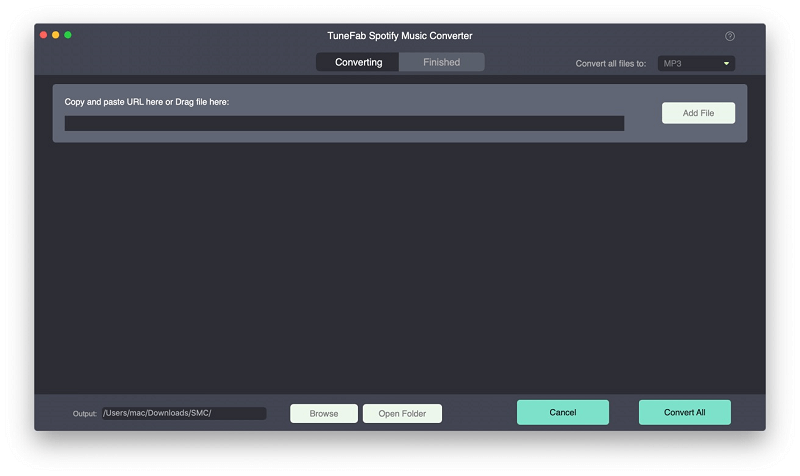 Step 4. Add Spotify Songs
There are two ways to add Spotify songs to the converter.
1. You can click "Add Files", and then you will see a new interface. Then directly drag songs, playlists, albums, tracks, etc. from the Spotify program.
2. Or go to Spotify, find the songs you want to convert, click the three horizontal dots and copy the song link, and paste it into the search bar. Click "Add".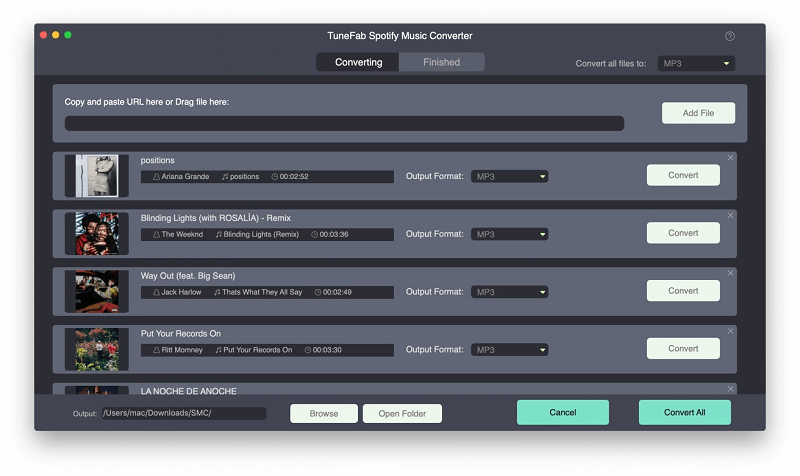 Step 5. Set Output Format As MP3
Click "Options" > "Advanced" > "Format". Either format (MP3, M4A, WAV, FLAC) is available to all after conversion. It is convenient for ensuring navigation to decide the output folder in "General" area.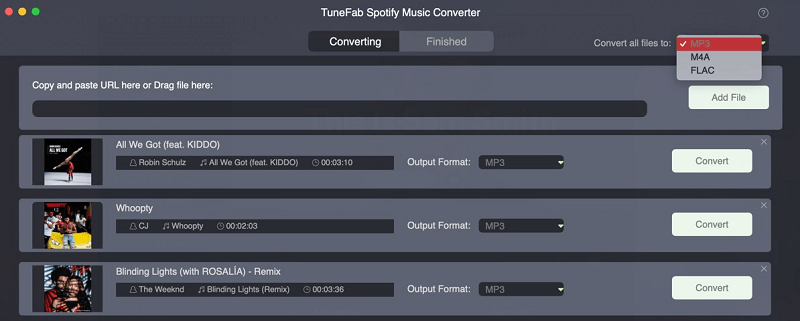 Step 6. Start to Convert Spotify to DRM-free
Click "Convert". Wait a few minutes, and TuneFab Spotify Music Converter will finish converting Spotify music to a DRM-free audio file. Then you can go to the designated file to find the results.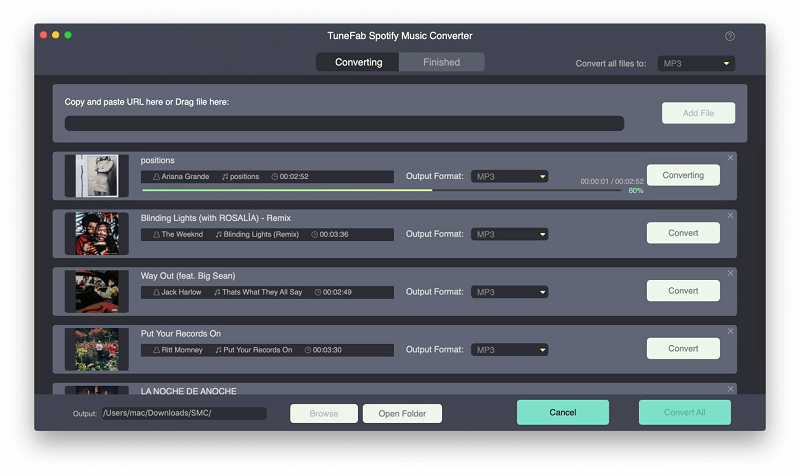 Step 7. Transfer Spotify Music to iPhone X
Now the converted Spotify music has bypassed the DRM restriction. The most effort-saving way is to transfer via the iTunes.
1. First, connect your iPhone X to iTunes. Then click on the device icon, so you will go to the device info page.
2. Click on "Music" option. Select the "Entire music library" or "Selected playlists".
3. Finally, click on "Apply" > "Sync" options to start syncing.
After the sync process, you've managed to transfer Spotify Music to iPhone X. As TuneFab Spotify Music Converter helps to get an available music file, you won't face any obstacles to get and play the Spotify Music on your iPhone. It will be a curious but fabulous music exploration to listen to the Spotify Music on the highly praised iPhone X.
Was this information helpful?
TrustScore 5 | 49