As Spotify has delivered the most impressive sound quality for Spotify premium subscribers to enjoy the music streaming, it would be a bonus if you can send Spotify to your Chromecast for playing through the nice sound system on the TV setup. Therefore, in this post, let's concentrate on the manipulation from setting up to stream Spotify on Chromecast with details. Please scroll down and read to master the impressive way to stream Spotify Music!
CONTENTS
All Devices Can Stream Spotify on Chromecast
Currently, almost all devices are possible to help you use Spotify on Chromecast - only with the Spotify app installed (or utilizing Spotify web player):
On desktops - install Spotify for desktop to control the music casting through Chromecast
On mobile devices - get Spotify mobile app or utilize Google Home app to realize Spotify streaming on Chromecast
In browsers or on Chromebook - sign in Spotify web player to process the music streaming to Chromecast online
Therefore, before getting started to stream Spotify on Chromecast, please prepare Spotify app or its web player on the devices you are utilizing first, then move to the following manipulation guide to set up and prepare to play Spotify on Chromecast.
Set Up Chromecast to Stream Spotify
To set up Spotify on Chromecast and build the connection to ensure stable music streaming, please follow the guideline below to do the well preparation:
● Please connect both Chromecast and the device on which you will control the casting to the same Wi-Fi network.
● Please connect Chomecast to your TV and open the HDMI channel on it.
● Turn on TV to access the Chromecast home screen.
When all the above preparations are all done, continue moving to the next part and see how to stream Spotify on Chromecast.
How to Stream Spotify on Chromecast on All Devices
In the following, you will be guided through the manipulation details on how to stream Spotify to Chromecast on different devices. Please check.
Stream Spotify to Chromecast on Desktops
For desktop users, you ought to install Spotify app for desktop first, then please run the program and follow the procedures below to process the Spotify casting on Chromecast:
1. Please log in with your account account in Spotify desktop app.
2. Select a song to initiate the music playback.
3. On the right side of the playback menu, tap the Devices icon and select the detected Chromecast device displayed.
4. Once the connection is built, the Spotify Music playback will come out through Chromecast on your TV. It is free for you to control the music streaming as you wish.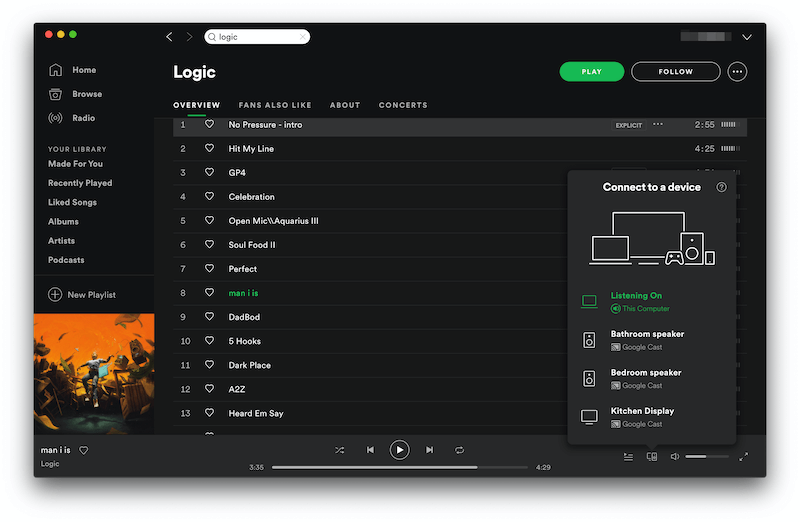 Bonus: Cast Spotify to Chromecast in TuneFab Spotify Music Converter
Spotify desktop users can also consider TuneFab Spotify Music Converter - a brilliant program with the official Spotify web player embedded, providing both high-quality music streaming equipped with the download function for all users. That means, even if you are utilizing a Spotify free account, you can process premium-like streaming experience to stream Spotify on Chromecast, and download the songs you like for locally playback at the best 320kbps. TuneFab Spotify Music Converter provides all premium features to facilitate an outstanding experience for all of you!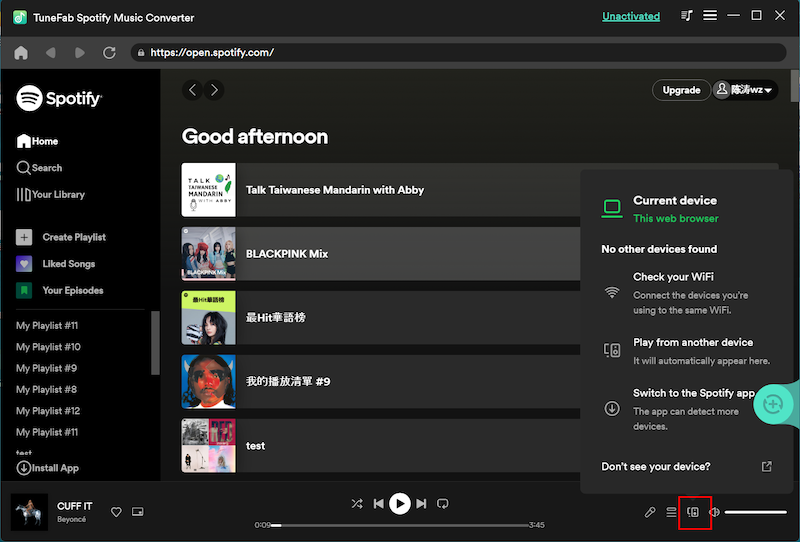 Play Spotify on Chromecast from Mobiles
On mobile devices, please install Spotify app in the first place. Subsequently, you can proceed the Spotify casting to Chromecast through the procedures indicated below:
1. Run Spotify app on your iOS or Android mobile. Please log in with your account, too.
2. Pick a song to start streaming.
3. On the music playback window, please tap the Device icon in the lower-left corner to check the detected device list.
4. Please select your Chromecast device. Subsequently, the music will be cast onto your TV to play directly.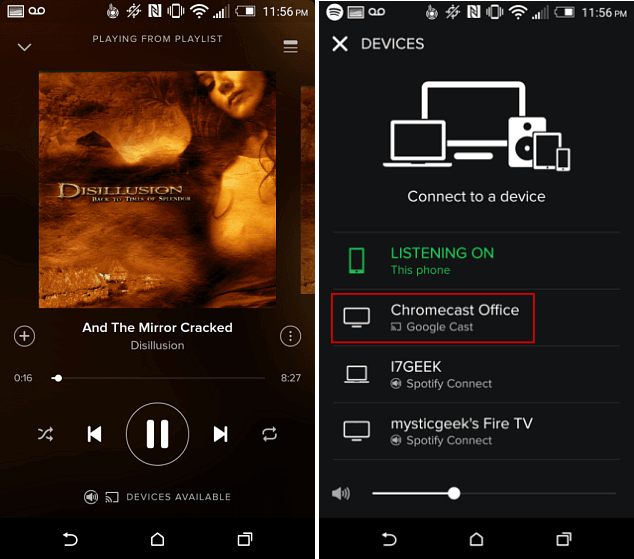 Stream Spotify on Chromecast from Browser
Utilizing Spotify web player can also help you cast Spotify to Chromecast easily. This method will be more flexible as you only need Chrome browser to help, replacing installing Spotify app. Now, please walk through how it works:
1. In browser, please log in Spotify web player first.
2. Subsequently, you need to select a song to start playing it. When it proceeds streaming, tap the Devices icon at the lower-right corner and select Google Cast.
3. When the Cast feature pops up in Chrome, you will discover the detected Chromecast device from the list.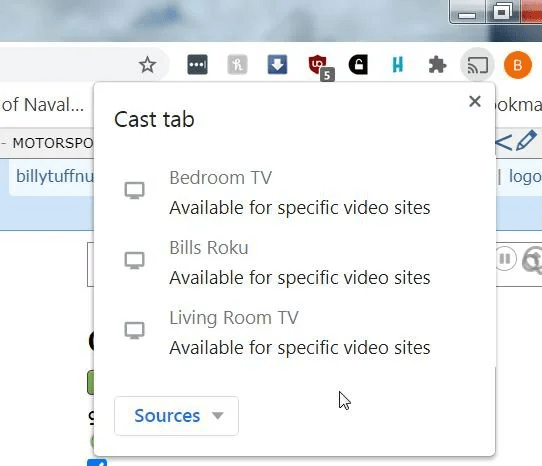 FAQ: How to Solve Chromecast Not Showing Up on Spotify App?
When you discover the Chromecast device is not showing up in the Devices list in Spotify app, you are probably able to resolve the issue simply by following this guide:
1. Replacing directly open Spotify app, you ought to launch Chrome and turn to Spotify web player to log in.
2. Then select a song to start streaming, and please tap the Devices icon to select your Chromecast to stream the music on.
3. Now, please use your device to open Spotify app again.
Surprise! The Chromecast is back on your list now! Then by turning off the web player, and it works on your mobile or desktop device again!
Final Words
If you also own a Chromecast, this post will guide you from the beginning to end on how to appropriately set up and proceed with the music streaming. Now, please get started to have a more enjoyable Spotify music journey!
Was this information helpful?
TrustScore 1.7 | 3