There's no need to introduce too much about Adele to you. She's a well known singer born on May 5, 1988 in Tottenham, London. She has produced many well-known songs: Chasing Pavement, Hello, Rumors Has It, Million Years Ago, etc. She's a great singer for many song lovers. And most of her fans might wonder, why her albums are named with numbers. Please read on and let me show you why.
CONTENTS
Part 1. Meaning of Adele's Album 19, 21 and 25
Most of Adele's fans might have wonder about this: Why Adele name her albums with number? What's the meaning of these number? Actually. The number 19, 21 and 25 are produced when Adele was of that age respectively.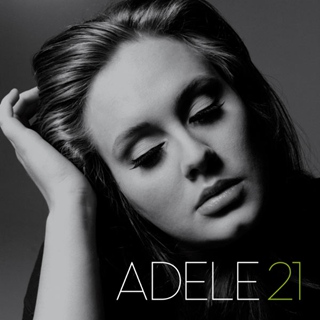 Part 2. Brief Introduction of Adele's 25 Album
Adele's third studio album "25" was released on Nov. 20, 2015. When interviewed about the process of releasing the album "25", that remind Adele of the various change she has made in the past few years after releasing the album "21". Back at that time, she first become a mother of a little child and it's quite difficult but sweet. Being a mother changes her a lot. She noticed that it's time for her to go through her impulse youth and stop wasting her life on meaningless things.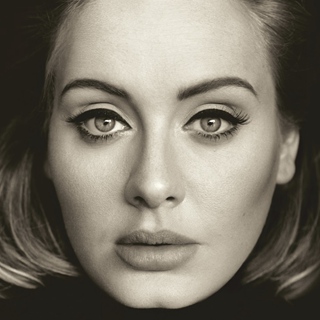 There are 11 hot tracks included in Adele's 25 Album:
| | |
| --- | --- |
| Tracks | Track Length |
| Hello | 4:55 |
| Send My Love (To Your New Lover) | 3:43 |
| I Miss You | 5:48 |
| When We Were Young | 4:51 |
| Remedy | 4:05 |
| Water Under the Bridge | 4:00 |
| River Lea | 3:45 |
| Love in the Dark | 4:46 |
| Million Years Ago | 3:47 |
| All I Ask | 4:32 |
| Sweetest Devotion | 4:12 |
| Total Tracks: 11 | Total Length: 48:26 |
The total length of the track will be about 48:26. If you enjoy the whole album on your phone somewhere without Wi-Fi connection, it will consume you a great deal of cellular data. Is there any way you can use to enjoy the total album 25 on your smartphone without wasting any roaming data? Read on to see how:
Part 3. How to Download Adele's 25 Album from Spotify
To save cellular data on your smartphone, we need to download the whole album offline first. As we know, Spotify allows us to download songs offline unless we have subscribed to the Spotify Premium.
However, Spotify Premium is about $9.99/month, which means, it approximately costs you $120 a year. It's far beyond the budget that I would love to spend on streaming music. A budget saving alternative way is to download TuneFab Spotify Music Converter on your computer and download Album 25 on your computer. After all is done, you just need to copy the whole album from your computer to your Android/iPhone.
TuneFab Spotify Music Converter is an excellent Spotify companion that allows you to download Spotify music without Premium. There's no need to worry about the DRM protection of the Spotify songs. With TuneFab Spotify Music Converter, you can convert and save Spotify OGG music to MP3, M4A, WAV and FLAC. Let's check the steps together:
Step 1. Download TuneFab Spotify Music Converter
Install TuneFab Spotify Music Converter on your PC/Mac. Then, launch the program after the installation. You will see the interface as below.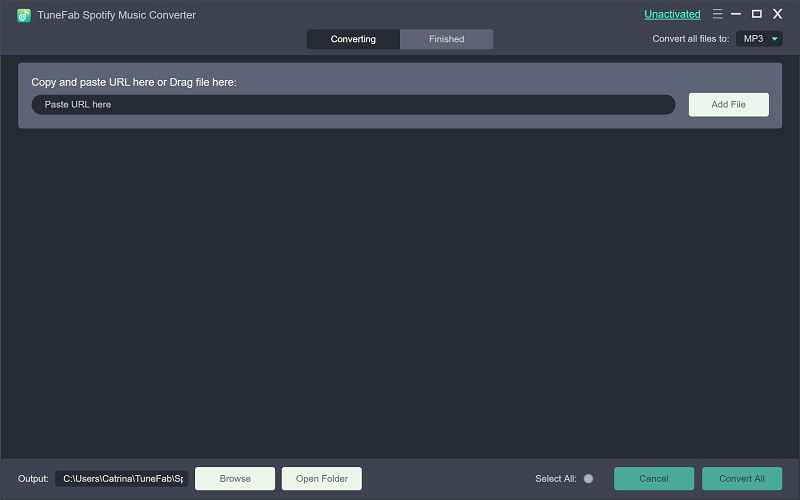 Step 2. Add Spotify Songs
On the top menu of the interface, hit on "Add Files". As shown in the interface, you can see that you are allowed to drag and drop songs, albums, playlists and artists into the program for converting. After you drag and drop your Adele album 25 in the interface, click on the "Add" button to move on.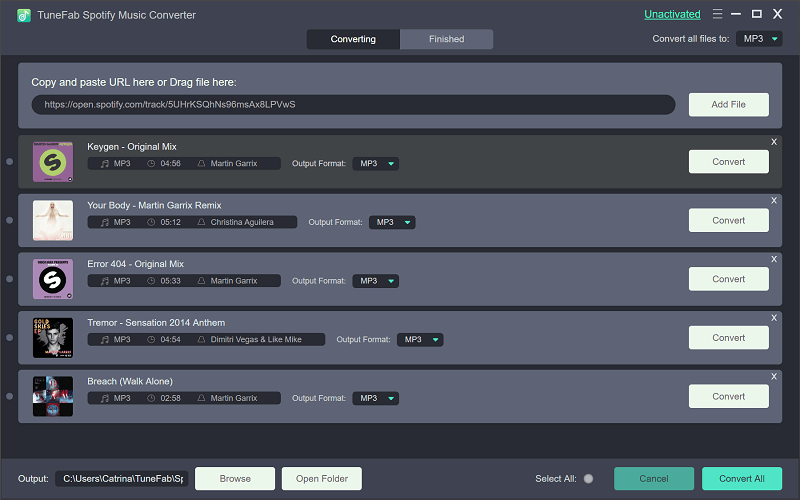 Step 3. Choose Songs to Convert
As shown in the interface, the Adele 25 album is added into the interface. You can preview those added songs before the conversion. Browse them one by one and un-check the tracks in the album that you don't want to download. When it's done, click on the "Add" again on the bottom right.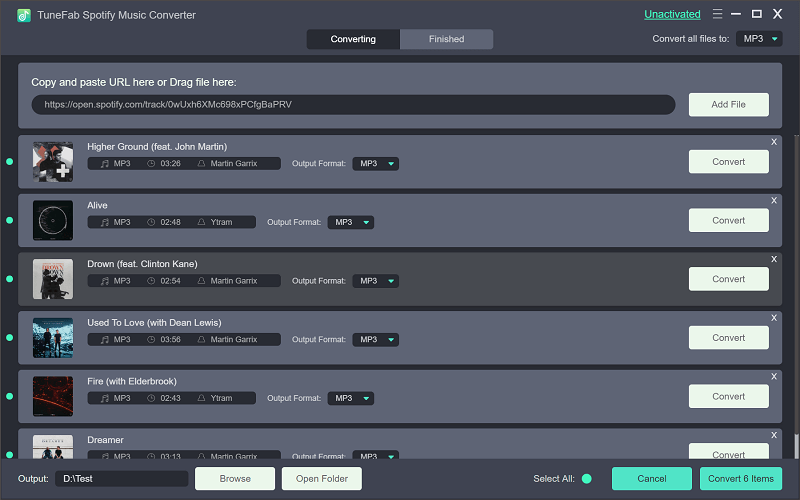 Step 4. Select Output Format & Folder
Now, the songs are ready to be downloaded. But here's two more steps you need to take: Set up output format and output folder. In the "Options" > "Advanced" interface, you can either choose "MP3", "M4A", "WAV" and "FLAC". But as for me, I would recommend MP3 because MP3 is the most popular music format that is widely applied. Set MP3 as the format for your music so that you can use it directly in future use of the song rather than converting it because FLAC is not supported in the music player you want, for example.

Go to "Options" > "General" and then "Select..." to bring up the explorer folder for you to choose your prefer folder as a output folder.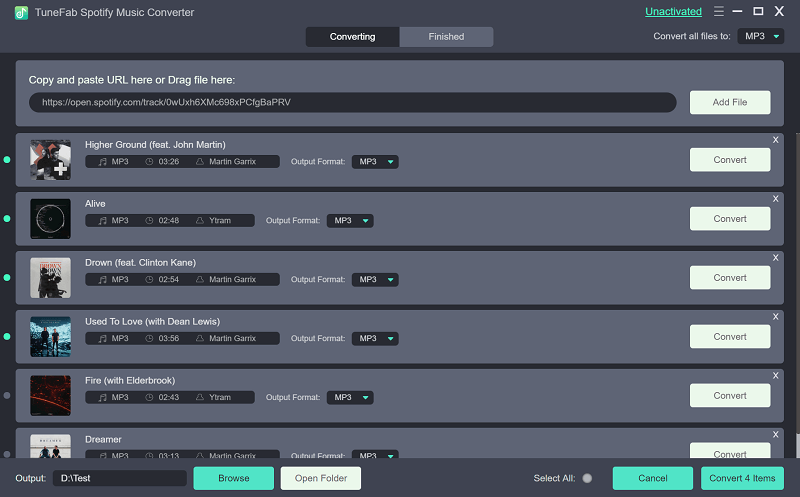 Step 5. Adele 25 Download to MP3
All preparation is done and what we need to do for the last step is to simply hit on "Convert" to start the conversion. Once you hit on the green button from the top, the process starts automatically and you can pause anytime you want by clicking the "Stop" button near it.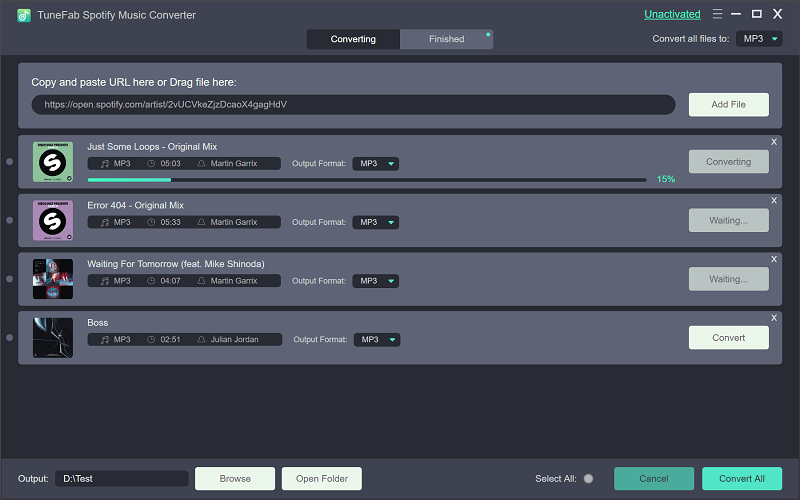 Step 6. Move Adele 25 Spotify Songs to Mobile Phone
To enjoy Adele 25 songs on your smartphone, you need to use a USB cable or any other way you used to sync songs between your smartphone and computer.
After reading this simple but powerful guide, "Adele MP3 songs download solution" is no longer a complicated thing any longer. You can use this method to download the songs of any artist you want. Should there be any problem occurs, please feel free to leave comments to discuss with us.
Was this information helpful?
TrustScore 3.7 | 3