As Snapchat makes it easy to self-record interesting videos and to share with friends and families, many people begin to pick up this social communication platform. Somehow, it will be perfect to add favorite Spotify music to Snapchat videos as the background music. Actually, this is really not so hard to achieve. The let's elaborate on it for you.
CONTENTS
Part 1. A Brief Introduction of Snapchat
Sharing and privacy are the common problems of today's fast society. That's why Snapchat was designed and then scratches a large group of users. Snapchat offers a convenient path to record the wonderful moments. What makes it special is its "burn after reading" policy that allows users to set lifespan for the recorded videos. Even you will be informed if the receiver tries to take a screenshot. In this way, users can guarantee the privacy of the video to prevent some terrible sharing of awkward moments.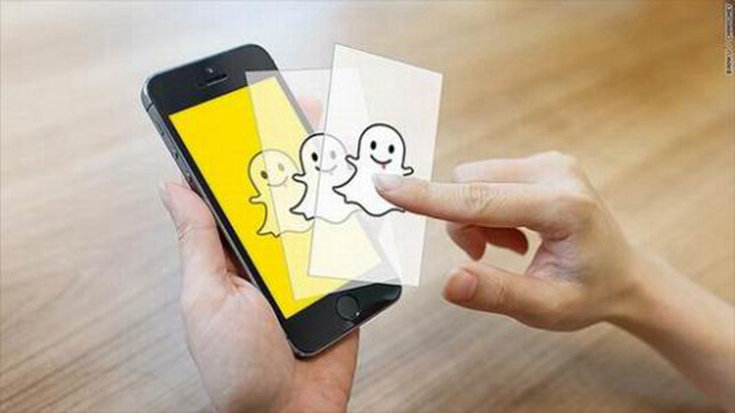 Part 2. Add Spotify Music to Snapchat Video
Now you may already download and open Snapchat to record some funny events. Here we'd like to teach you how to add Spotify Music to Snapchat video as the pleasant background music. It's not a difficult thing indeed and doesn't need avail any technological tools. Now, please see the detailed steps in the following guidance.
Step 1. First, open Spotify app on your mobile phone. Then select and play one song with a loud volume to ensure the music is recorded clearly. Then pause playing the song.
Step 2. Open Snapchat app.
Step 3. For iPhone, swipe up from the bottom to open the Control Center. Find the song you choose and press the Play button to begin the song. Then swipe down to close the Control Center.
For Android, swipe down from the top to open the Notification Center. Find the song you choose and press the Play button to begin the song. Then swipe down to close the Notification Center.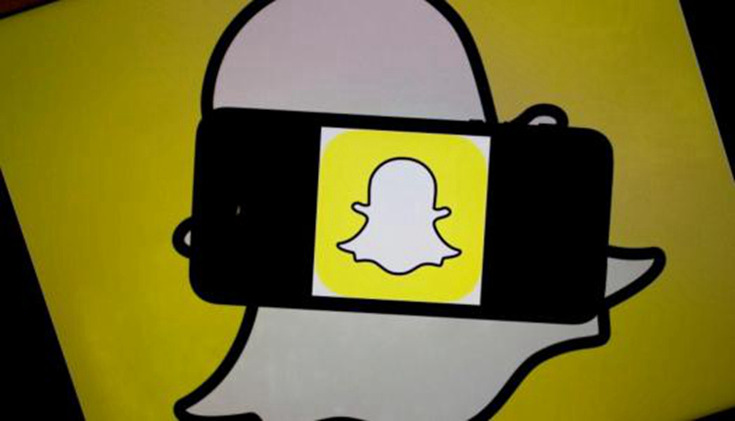 Step 4. After the 3rd step, tap the Record button in the middle to start recording videos as usual.
Step 5. Tap the Record button again to stop the video recording.
5 steps over, now you've got a Snapchat video with Spotify music as the background music. In fact, it is really a few minutes' work to get it done. Yet many people more often fail to find this potential function of Snapchat. Now try to add Spotify Music to your Snapchat video. Your friends may be amazing to see that your video is matched with such beautify songs.
Part 3. Extended Reading: Can You Play Spotify Music Offline
As we mention Spotify music, there is another problem that has assailed many people, that is, offline listening. We already know that Spotify's free music cannot be downloaded at all, and still, the offline premium music may someday disappear with the subscription. These inconveniences to some degree harm the great amusement of Spotify listening. But how to deal with it? The receipt for it actually is this powerful software, TuneFab Spotify Music Converter.
TuneFab Spotify Music Converter is dedicated to removing the protection work on Spotify music. After its process and conversion, you will get a music file in MP3, M4A, WAV and FLAC that can be played on other devices or music players. In this way, you can fully enjoy an offline Spotify listening. A great strength is its simple usages.
Step 1. Download TuneFab Spotify Music Converter
Click the download links above on your Windows or Mac. Install TuneFab Spotify Music Converter following the guidance.
Step 2. Run TuneFab Spotify Music Converter
In this step, please make sure your computer has already installed the latest Spotify app to access the Spotify library. Then run the converter, and it will open with Spotify app activated naturally.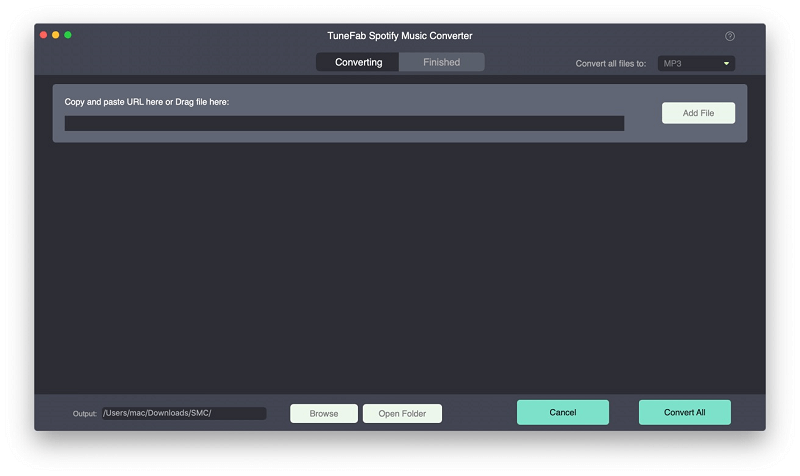 Step 3. Add Spotify Music
Either way is ok to add Spotify music.
1. Click "Add Files" and it will pop up a new interface. Then come to Spotify app, select the whole Spotify playlist and drag them to the new interface.
2. Alternatively, you can go to Spotify and select the desired playlist. Then click the three horizontal dots behind the playlist and copy the song link, and paste it into the search bar. Click "Add" to ensure the work.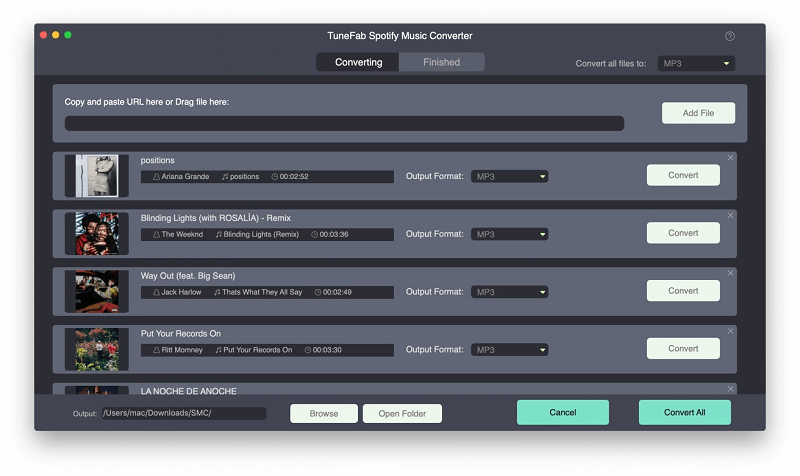 Step 4. Select Output Format
Go to "Options" > "Advanced" > "Format". Choose one format for Spotify music.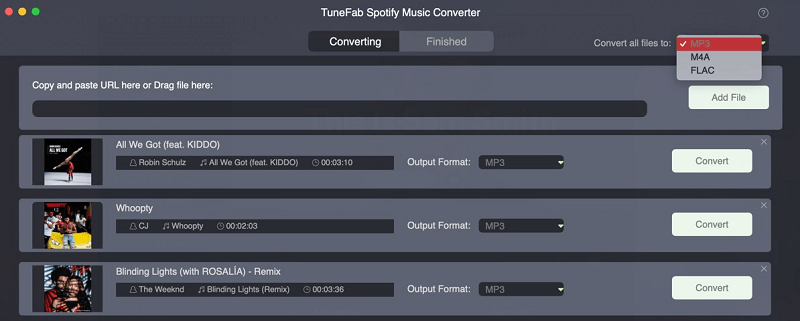 Step 5. Convert Spotify Music
Finally, click the "Convert" button at the top. As you try to convert a whole playlist, wait for some time for its complement.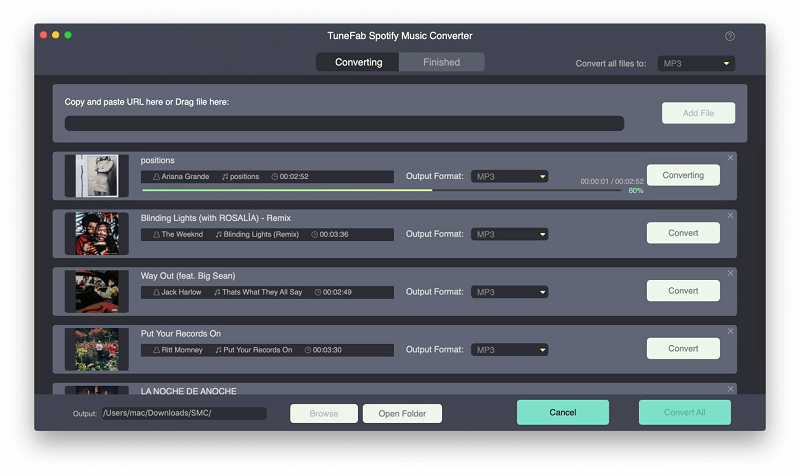 So far, you have succeeded in converting Spotify music to MP3, M4A, WAV, and FLAC. So you are available to enjoy the chance for an offline Spotify listening. To sum up, today we have told you how to add Spotify music to Snapchat video and how to get offline Spotify music. It's great that you can truly benefit from these tips.
Was this information helpful?
TrustScore 5 | 49