Spotify is one of the top-level music streaming services around the world. More than 35 million songs and hundreds of genres have been provided, in which people can find whatever they like. If you are looking for playlists for kids or want to find Spotify family playlists for listening, then you've come to the right place. In this post, over 10 playlists for kids and family will be introduced to you. Furthermore, a tool used for downloading the fun songs for kids in Spotify will also be mentioned.
CONTENTS
Part 1. 10+ Best Spotify Family Playlists
Spotify Family Playlists are designed for the family with small kids. The songs in this genre are kids'-interests orientated, focusing on vocabulary and language, cultivating the sense of appreciating music, and strengthening the interaction of parents and kids through activities and music. If kids could get enough exposure in music, then they are able to get the early brain promoted and the ability of language developed faster and better. This article will offer you with the most appropriate kid friendly Spotify playlists in different circumstances. Then here we go!
Tip:
To find the playlists we are going to introduce, there are 3 effective ways for you:
• Click "Browse", and the go to "GENRES & MOODS", and then choose "Kids & Family".
• Type "Kids & Family" into the search bar directly and you can click it to see whole playlists for kids and family.
• Type the certain name of playlist below to go to specific songs of the playlists.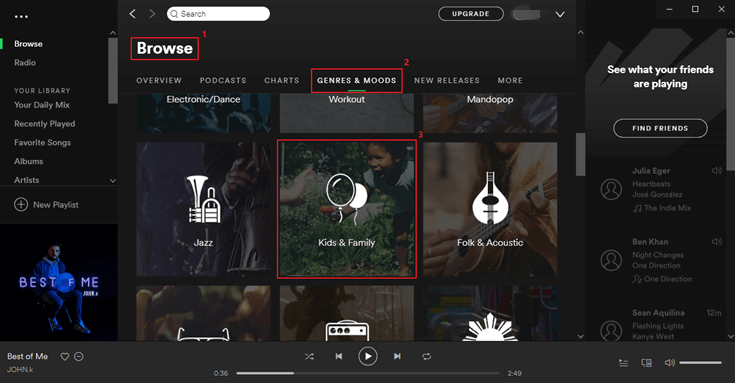 #1. Baby Sleep
Containing 97 songs, Baby Sleep is used to comfort small babies and guide them into sweet dreams. Altogether the duration of this playlist is 5 hours and 3 minutes. It is really helpful for the newly parents to make their babies fallen asleep with the smoothing instrumental music. Up to now, 123,184 followers have proved its magic attractiveness.
#2. Lullaby Baby
If you long for more songs that can lull you or your litter ones to sleep, you can try this playlist. There are 51 songs with the duration of 2 hours and 52 minutes in it. With this playlist, your babies and you could both get into sleep companied by Smoothing, peaceful piano.
#3. Pop 4 Kids
In the playlist, you can find all kinds of pop songs for kids, some of which are the soundtracks of Disney movie or covered by kids. Neither too strong nor too fast will the songs be for small kids. They are able to follow the rhythm so as to get closer to the fancy world of Disney. Just play this playlist and you will understand better why these fun songs for kids are so classic.
#4. Folk for Kids
After a day's entertainment, it's time for relaxation. You can open Folk for Kids to shuffle the songs in it. It is a down to earth collection of classic fold and country tunes just for kids. Create a quiet and leisure atmosphere for your kids with this playlist.
#5. This is Disney
There's no doubt that Disney is the heaven for both kids and adult. It is more like a wonderland for people's imagination where is fill with love and innocence. As a result, this playlist is warmly welcomed by parents and kids, containing 682,651 followers. This is Disney has collected all your favorite Disney classics whether it is new or old.

#6. Disney Hits
Similar to This is Disney, Disney Hits is the collection of Disney songs, appealing more followers which accounts for 1,998,416. While listening to the music, you can tell the story behind the songs to your kids.
#7. Your Daily Routine
It is a playlist to help your kids establish a productive daily routine, including waking up, brushing their teeth, potty training, cleaning up, taking a bath, and at last, getting to sleep at night. Try to make things funny by playing music for your kids!
#8. Fairy Tales
Fairy Tales is a collection of classic tales by beloved Danish author Hans Christian Andersen. Unlike the playlist before, Fairy Tales is more an audiobook than song. If you are occupied by other issues and have no time to tell a bed time story to your kids, then Fairy Tales will do the work for you. Each track is a story so that your kids could enjoy fairy tales freely.
#9. Animal Stories
Animal Stories serves as a storyteller as well. But the difference is that Animal Stories is the tales of animals. It will cultivate your kids to love animals and treat them as friends. 42 stories of animals are included, which ensures your kids will enjoy the time with pets.
#10. Sing Along
This playlist will get your kids singing along with fun. They are sure to know these kid-friendly songs and classics. Or your kids will sing these songs with their little friends, then a band is formed basically! Singing will definitely make your kids more confident and expressive.

#11. Kids Workout
Kids Workout is suitable for kids to run, dance, jump, and play with. This kid-approved workout playlist will pump vitality into your kids' daily activities and makes them more energetic!
Part 2. How to Download Spotify Family Playlists
I'm sure that you have got all the recommended Spotify Family Playlists, but here comes the question: how to download them for offline playback without the Premium membership? To solved the problem, we need a DRM remover to convert the Spotify kid friendly songs to MP3, which can be played on any device. A software that combines both functions to remove DRM and download Spotify kid's songs is named TuneFab Spotify Music Converter . It can not only break the restriction of DRM but also convert the Spotify music to MP3 format. More importantly, all songs are available for you to download even you are not a Premium! Want to have a try? Click the button below to download!
Step 1. Install and Launch TuneFab Spotify Music Converter
Follow the instruction of installation and then launch the software, the main interface is like this: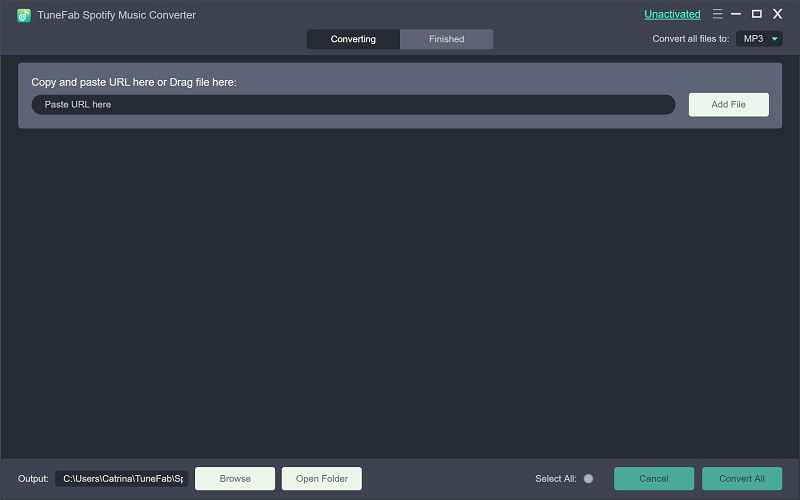 Note:
#1. The free trial version of TuneFab Spotify Music Converter only allows you to convert the first 3 minutes of each track but with no limitation in number. And the registered version has no limits in time or number.
#2. Once you launch TuneFab Spotify Music Converter, it will activate Spotify automatically. Please install Spotify first.
Step 2. Add Spotify Family Playlists
Click "Add Files" at the top left of the interface to bring up a new page. Here are 2 ways for you to add Spotify Family Playlists:
#1. Drag and Drop to Add
You can drag songs, playlists, albums, artists, tracks, etc. from Spotify to the blank area of TuneFab Spotify Music Converter. Just directly drag the playlist for kids to the converter.
#2. Copy URL to Add
The other way is that copy the link of the playlist for kids and then paste it into the search bar. To get the URL of the playlist, you can go to the playlist you like and the click the three-dot icon, after which a list will pop up and then copy the link.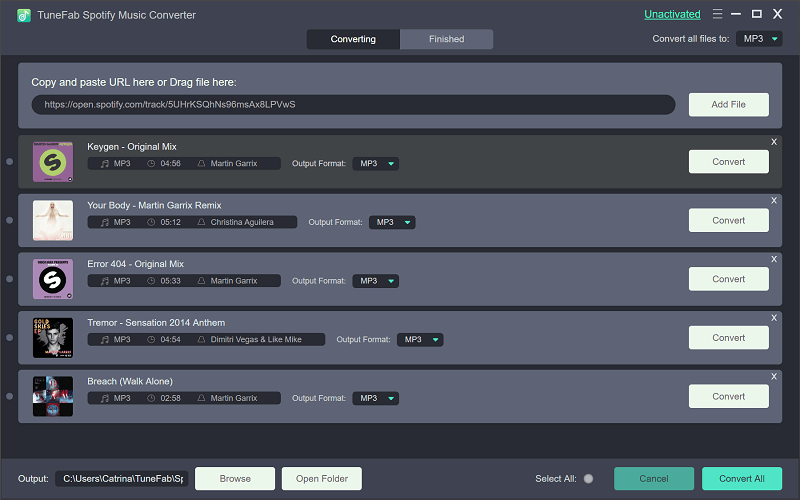 Step 3. Select Song to Convert
After you finish picking songs from Spotify Family Playlists, then tick the songs that you want to download. Click "Add" one more time.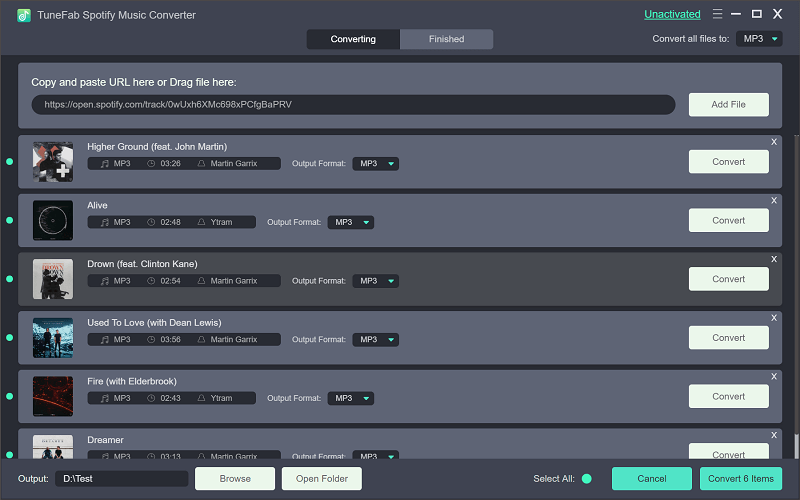 Step 4. Select Output Format
Click "Options" > "Advanced", and then choose "MP3" as the output format. By the way, other 3 formats are available, which are M4A, WAV, and FLAC. Also, you can adjust the conversion speed up to 5X.

Step 5. Select Output Folder
Click "Options" > "General" > "Select…" to choose an output folder to save the download music.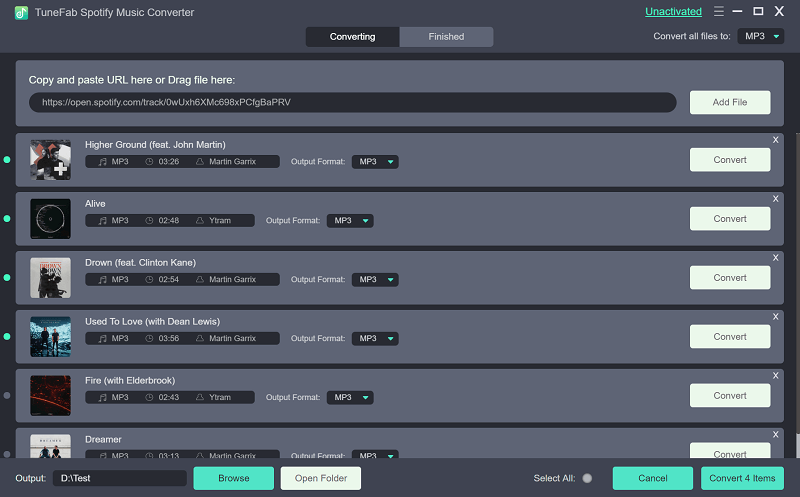 Step 6. Start Converting Spotify Family Playlists
After the settings, click "Convert" to start the process of downloading the playlists for kids. If you convert a bunch of songs at a time, just wait for a minute to have the process done.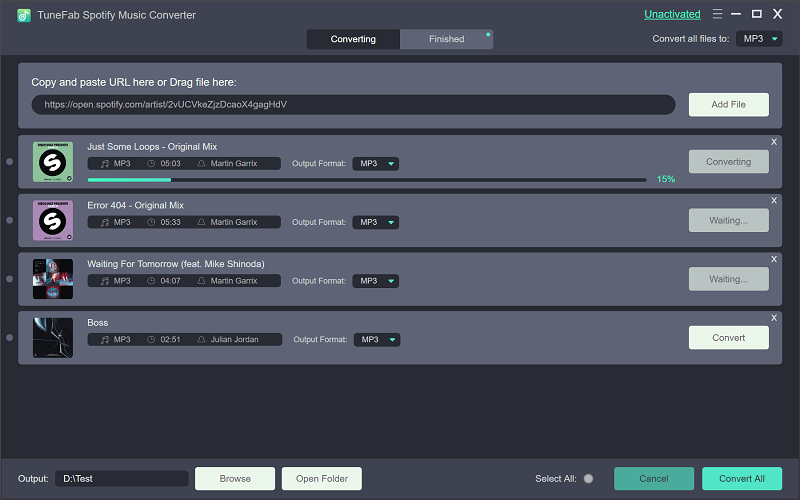 Tip: You can edit the names of the songs by click the pencil-like icon.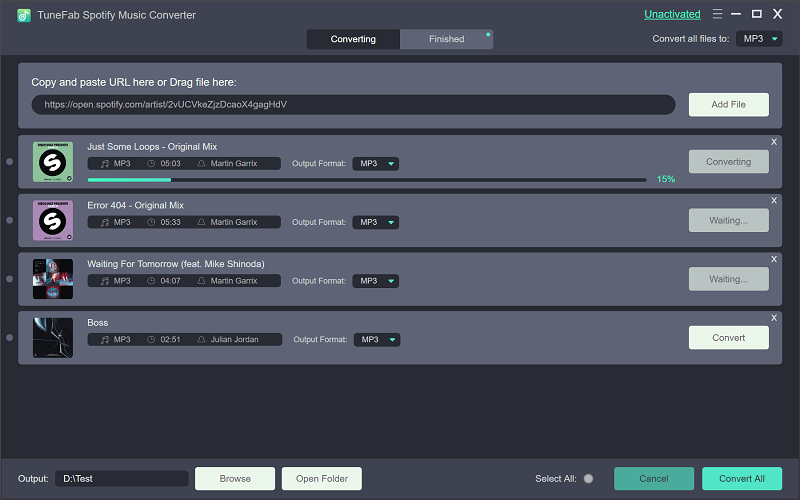 Conclusion
To get these happy songs for kids, you can inspire them for the taste of music and enhance the bonds between family members. Don't forget downloading the Spotify Family Playlists with the help of TuneFab Spotify Music Converter . In this way, you and your kids can enjoy free kids' music together!
Was this information helpful?
TrustScore 5 | 1