Adding your favorite Spotify tracks to your iMovie project can elevate your video editing game. However, there's a bit of a twist – iMovie has its supported audio formats (MP3, MP4, WAV, AAC, AIFF, BWF, CAF, and RF64), and they don't naturally sync with Spotify's OGG-encoded songs.
Therefore, in this how-to guide, we will show you 2 workable ways to help you overcome these challenges and add Spotify music to your iMovie videos effortlessly. The steps are easy to follow for beginners and pros alike. Before you know it, you'll be putting the finishing touches on your cinematic creation.
CONTENTS
Method 1: Convert Spotify to MP3, Then Add Them to iMovie
Converting your Spotify songs to MP3 or other files that iMovie will recognize on your local device before actually applying them to iMovie might be the easiest method for you to add some killer tunes from Spotify. Keep in mind that the process may vary slightly depending on the IOS device you are using.
How to Make Spotify Music Compatible with iMovie
As long as your audio file format is compatible with iMovie, you've already won half the battle. The most efficient way to do this is by using a third-party Spotify converter such as TuneFab Spotify Music Converter. This professional and reliable downloader allows you to batch download Spotify music, playlists, albums, and podcasts in MP3, M4A, WAV, FLAC, AIFF, AAC, and ALAC while maintaining lossless quality. Additionally, all music information such as the artist, title, and album name will also be saved while converting.
After the conversion is done, you can add the output songs to iTunes, then you can add them from the song list to your iMovie project.
More remarkable features of TuneFab Spotify Music Converter:
● Fast Conversion Speed: Able to convert Spotify songs at 35x faster speed in batches improves your efficiency (faster network speed and more stable device performance means even faster conversion);
● Personalized Output Settings: The sample rate and bitrate can be customized for different output formats. The sample rate can be adjusted from 22,050Hz to 48,000Hz, and the bitrate from 128kbps to 320kbps;
● ID3 Tags Preservation: Download important information such as song titles, artists, album names, album covers, etc. by embedding it in converted files for easy organization.
● Exceptional Music Listening Experience: Capable of preserving high-quality Spotify music in up to 320kbps MP3.
● User-friendly Interface Design: The arrangement of the menu and the buttons is succinct, enabling users to effortlessly navigate and locate the desired functions by simply clicking a few times.
After the introduction, let's read on and see how to make Spotify music compatible with iMovie in 4 steps using TuneFab Spotify Music Converter:
Step 1. After installing the software from the official website, access your Spotify account by clicking "Log in" on the top right corner of the built-inSpotify Web Player homepage.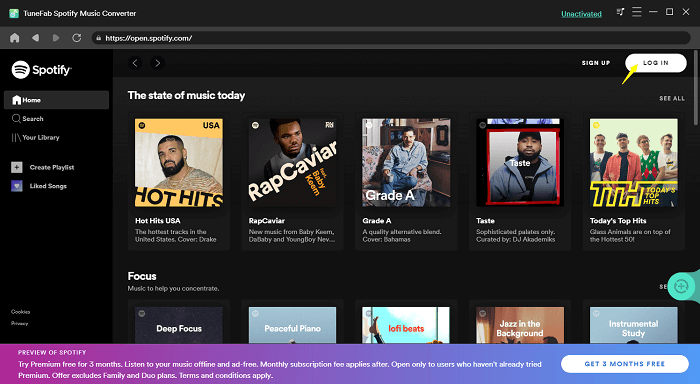 Step 2. Choose the music you want to download, long press the left mouse button and drag it to the "+" icon on the far right.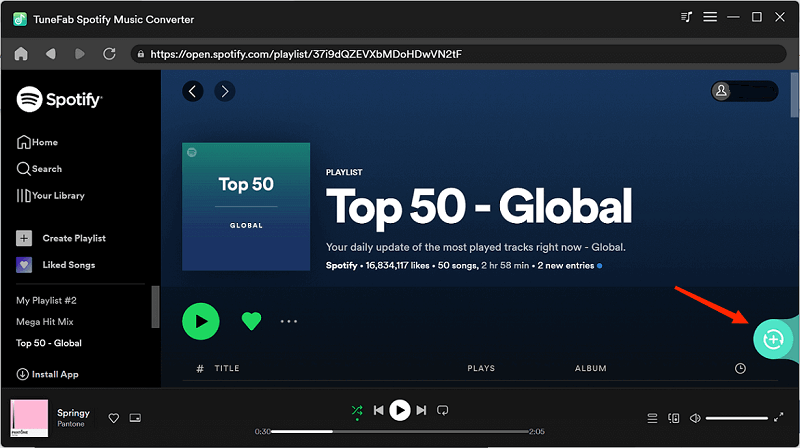 Step 3. To convert several songs into the same format, select a format from "Convert all files to" in the top right corner. For a single song, choose the output format next to that song.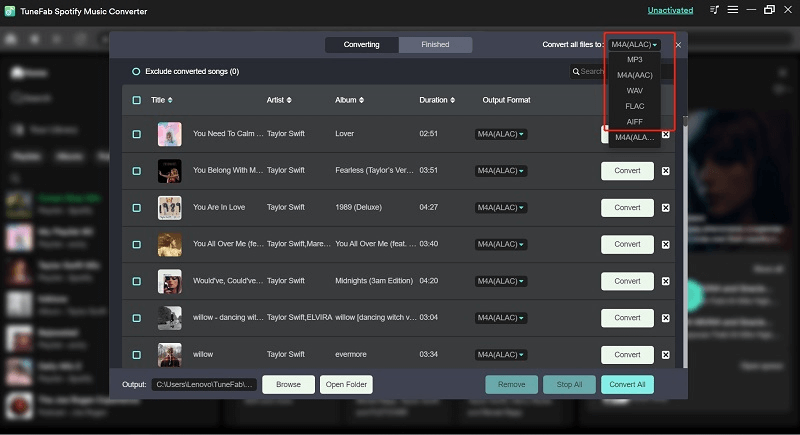 Step 4. In the "Finished" interface, click "View Output File" on the right to locate the converted songs.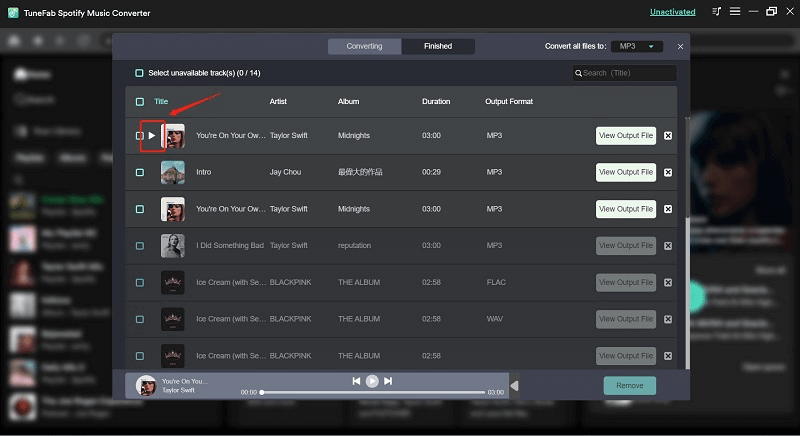 How to Add Spotify Music to iMovie on Mac
Now that you have converted Spotify music to MP3 format, the most challenging part is gone. If you are using a Macbook and trying to add Spotify Music to iMovie on it. There are two ways to do that.
TIP #1. Add your local Spotify music directly to iMovie
Open iMovie > Click "Create New" in the project browser > Tap"Import Media" > Locate local Spotify songs > Select and add them to the project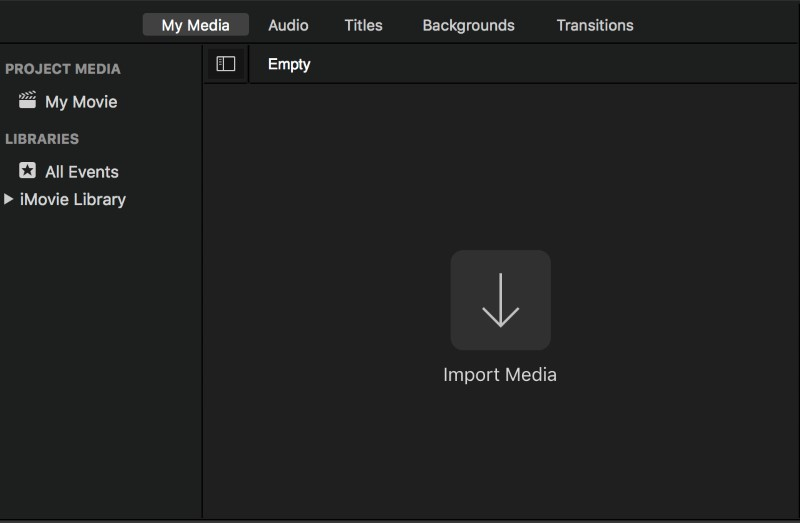 TIP #2. Upload to iTunes first and then synchronize with iMovie
Transfer the music to iTunes library > Open iMovie > Click on"Audio" > Select"Music" > Click"Play" to preview the target music > Drag and drop your Spotify song/songs to the timeline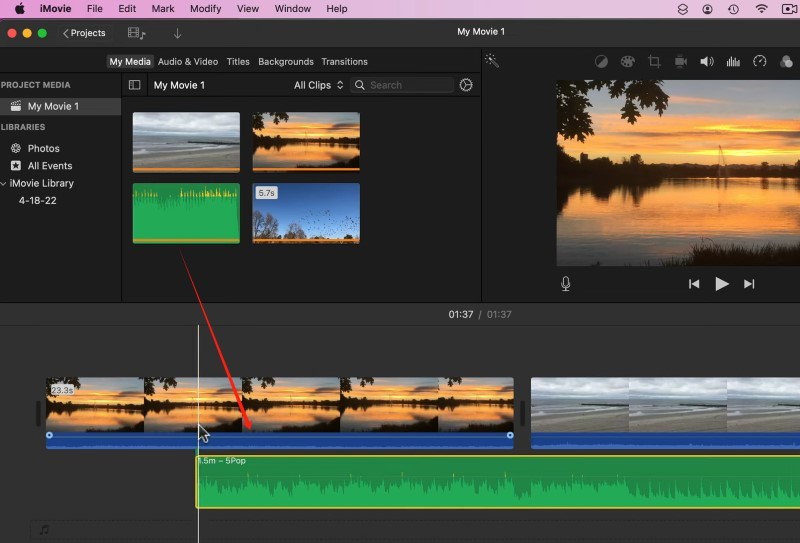 Note: iTunes is not available on macOS 10.15 Catalina and above. If you are one of these users, you can first import a group of downloaded Spotify songs to Apple Music and then add them to iMovie.
How to Add Music from Spotify to iMovie on iPhone/iPad
After converting your Spotify songs to MP3 format, adding them to your iMovie project on an iPhone or iPad is pretty straightforward. If you are in the market, here are the steps to add background music to your iMovie video from Spotify:
Step 1. Sync your converted Spotify music to your iPhone/iPad using iTunes on PC.
Step 2. Tap on "Create Project", and open the project in the iMovie timeline.
Step 3. Press the add media button, which is displayed as "+" on the left.
Step 4. Locate "Audio", go to "My Music", and look for the Spotify songs you want to add.
Step 5. Click on the play button next to each song to preview.
Step 6. Hit the add audio icon "+" next to each song, and add them to the project.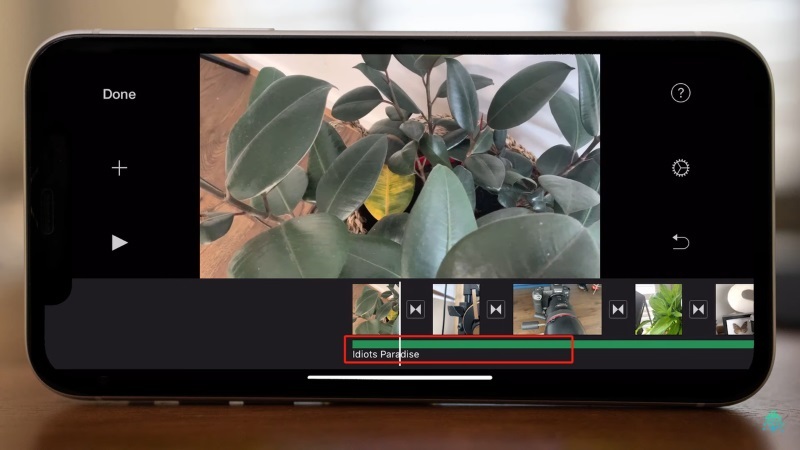 Method 2: Screen Record Spotify and Add the Recordings to iMovie
Actually, there's another way to save Spotify music besides downloading and converting. If you just want to use the climax of a song or your favorite part as background music, you can simply use the screen recording function of an iPhone/iPad to record and save Spotify music locally. After that, you can transfer the saved music to iMovie. The basic steps for the two major parts are listed below:
How to Screen Record Spotify Songs on Your iPhone/iPad
Step 1. Select "Settings", scroll down until you catch "Control Center", and click on it.
Step 2. Entering the control center, check and see if "Screen Recording" is listed under "INCLUDED CONTROLS".
Step 3. After checking up, open Spotify on your device, find and select the song you want to use in iMovie.
Step 4. Swipe up from the bottom of the screen, bring up the control center, and press the screen recording button.
Step 5. Click "stop recording" when you are done, and your recorded Spotify music is now stored on your device.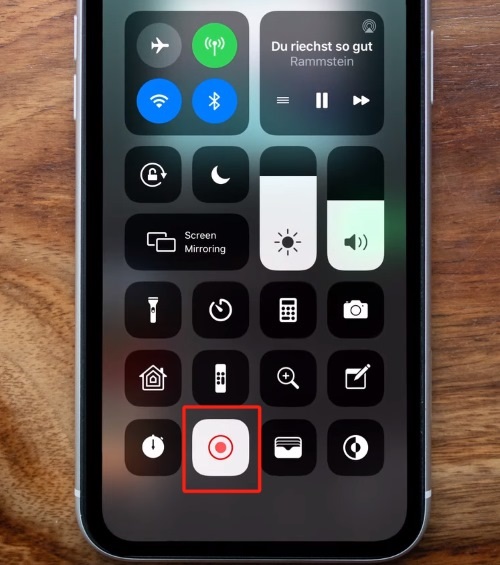 How to Add Your Screen Recording to iMovie
Step 1. Open the iMovie project on your device used for screen-record your Spotify music
Step 2. Hit the Add Media button and navigate to the place where you keep the screen recording.
Step 3. Choose your target screen recording, click on the three dots, and select "Audio Only".
Note: However, this method has certain shortcomings. For example, the whole process can be relatively time-consuming, and it is unlikely to get high-quality audio for your listening experience. So to get your satisfactory Spotify Music with relatively high efficiency, it's best to use TuneFab Spotify Music Converter.
Conclusion
So there you have it - two different ways to add your favorite Spotify songs and playlists to your iMovie projects. Meanwhile, thanks to TuneFab Spotify Music Converter, you can get high-quality Spotify songs (protection removed) that are compatible with iMovie in just a few clicks at 35x faster speed.
Now, you're all set to start adding some music to your iMovie masterpiece today!
Was this information helpful?
TrustScore 4 | 4