Halloween is coming! Have you come up with the most thrilling thing to do at that night? Together with skeletons, witches, ghosts, skulls, and cobwebs, everyone is going to drown himself in horror. If you want to ignite Halloween, the night of the dead, then you'd better find some inspiration from Halloween movies 2018. Walking skeletons, screaming skulls, witches staring at you with empty eye sockets, ghosts gyring around the coffin…whatever you have or have not thought of can be found in the Halloween movies list. This post will provide you with the top 10 Halloween movies of all time, from which you are able to find out some new ideas of fright as a thrill-seeker.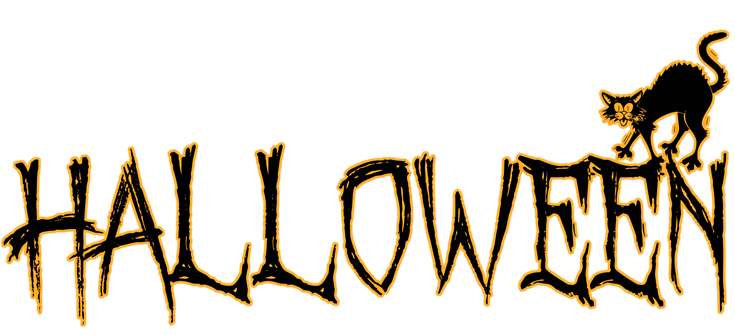 CONTENTS
Part 1. Top 10 Halloween Movies to Watch
#1. Halloween (Certified Fresh on Rotten Tomatoes: 93%)
Release date: October 25, 1978.
Running time: 91 minutes
Directed by auteur John Carpenter, Halloween is the most popular Halloween movie, not only for its name which echoes with the holiday, but also for its well-known thrilling atmosphere created in the movie. A six-year-old boy kills his teenage sister and returns back from a mental hospital 15 years later. When the devil comes to town, who will be next?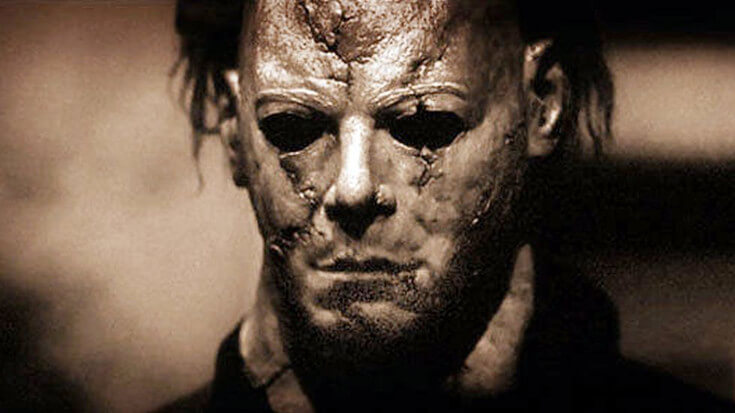 #2. A Nightmare on Elm Street (Certified Fresh on Rotten Tomatoes: 94%)
Release date: November 9, 1984.
Running time: 91 minutes
A blade-fixed glove, and festered face belong to a mysterious man who appears in all young people's dream on Elm Street. Those who encounters this nightmare will die in pain and blood one after another. Who is the killer and what is going on in reality?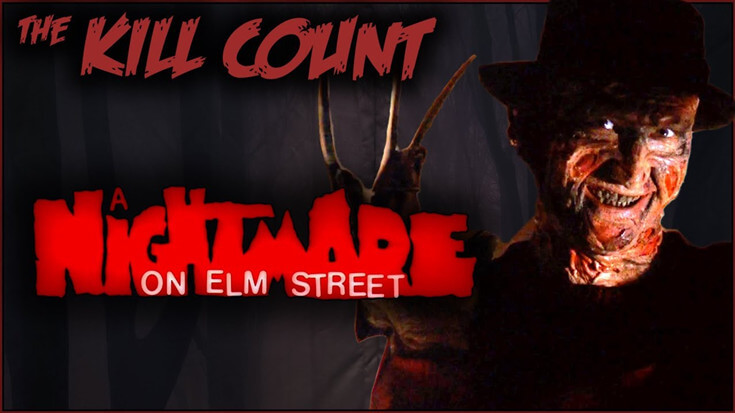 #3. The Exorcist (Certified Fresh on Rotten Tomatoes: 86%)
Release date: December 26, 1973 (United States).
Running time: 122 minutes
Regan, a twelve-year-old innocent girl, performs a series of bizarre, vulgar acts which seems that there is a devil lives in her and completely controls her body. Those who comes to take care of her dies painfully. Priests decide to perform an exorcism to bring Regan back. Does it work? Come to find out the answer by watching this movie yourself!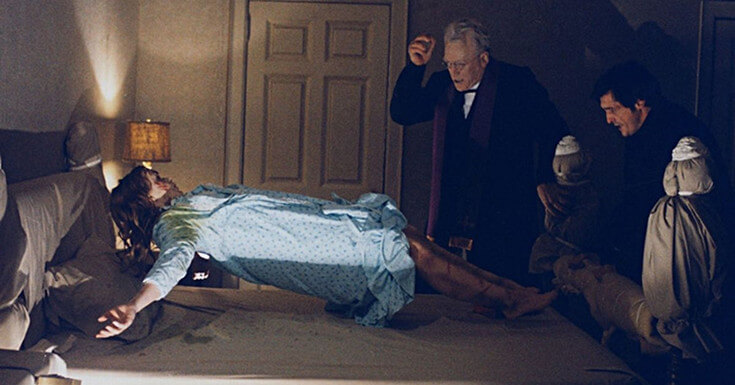 #4. The Nightmare Before Christmas (Certified Fresh on Rotten Tomatoes: 95%)
Release date: October 29, 1993.
Running time: 76 minutes
Also known as Tim Burton's The Nightmare Before Christmas, it is an American stop-motion animated musical dark fantasy film released in 1993. Halloween Town is filled with so-called creepy citizens such as ghosts, witches, vampires, werewolves, etc. and the annual Halloween celebration is about to come. The citizens are planning to try something new but the real devil is going to ruin the whole world…In all, it is a revolutionary film in its visual effects which is worth watching.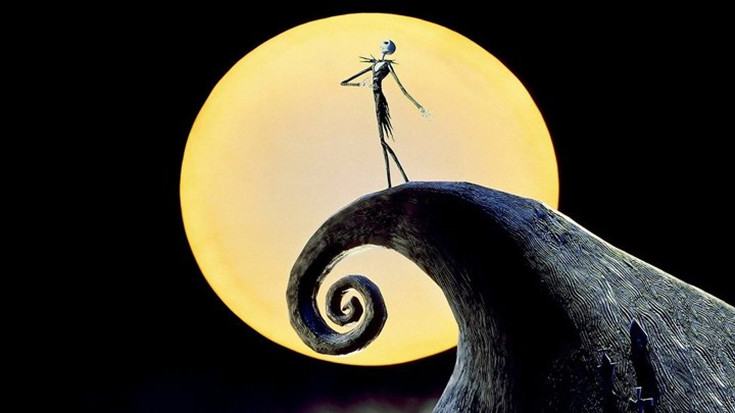 #5. The Witches (Certified Fresh on Rotten Tomatoes: 100%)
Release date: 25 May 1990 (United Kingdom); 24 August 1990 (United States)
Running time: 91 minutes
It is an adventure about a brave nine-year-old American boy Luke who is turned to be a mouse by witches. Apart from Luke, all other children in that town are turned into mice as well. Luke decides to take a revenge and kill the witches to bring back his human body. What will happen when he challenges the powerful witches? Just have a look!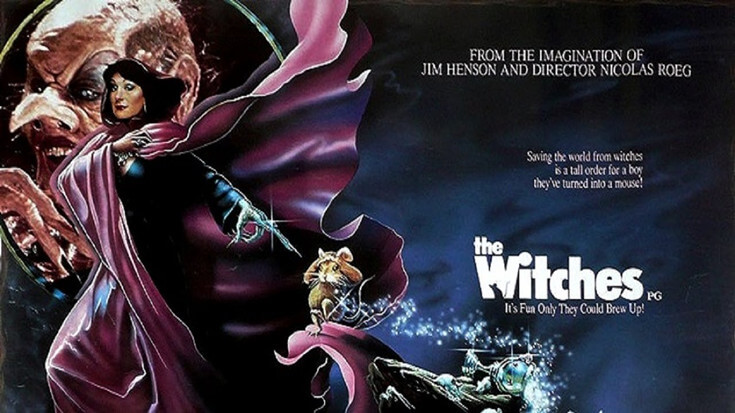 #6. Rosemary's Baby (Certified Fresh on Rotten Tomatoes: 99%)
Release date: June 12, 1968.
Running time: 136 minutes
With supernatural horror elements, Rosemary's Baby tells a story which starts at the time when Rosemary moves to a new apartment associated with cannibalism and murder. Horrible things happen constantly but Rosemary has a baby at that time. When the baby is born, Rosemary even tries to kill him. Why? Try to see this movie!
#7. It Follows (Certified Fresh on Rotten Tomatoes: 97%)
Release date: May 17, 2014 (Cannes); March 13, 2015 (United States)
Running time: 100 minutes
Jay, a university student, dates with her new boyfriend Huge. But Huge treats Jay rudely and violently. According to Huge, there is a "shapeless" thing, which can transfer itself to anyone or anything aiming at killing Huge. Those who is targeted can only pass the panic to another by sex. So Jay is under the threat of the invisibly shapeless hunter. Can she survive?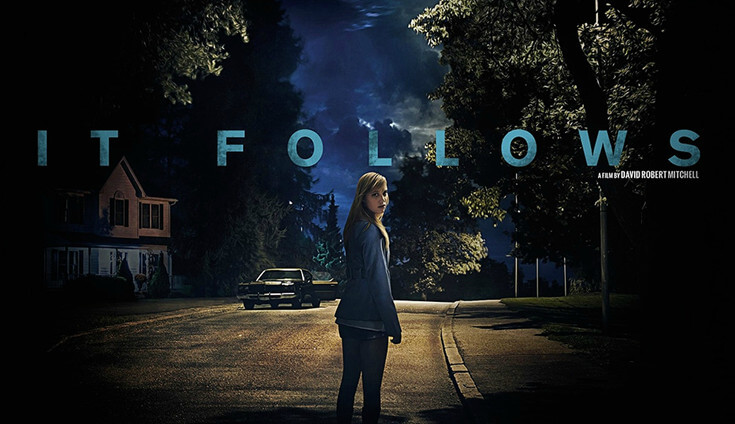 #8. The Babadook (Certified Fresh on Rotten Tomatoes: 98%)
Release date: 17 January 2014 (2014 Sundance Film Festival); 22 May 2014 (Australia)
Running time: 94 minutes
Amelia is a widow who has brought up her six-year-old boy Samuel alone. One night, Amelia reads to her son a pop-up storybook Mister Babadook, a monster who torments victims after they become aware of its existence. Amelia feels too scared to continue reading but Samuel insists that Babadook is real. Then strange things happen…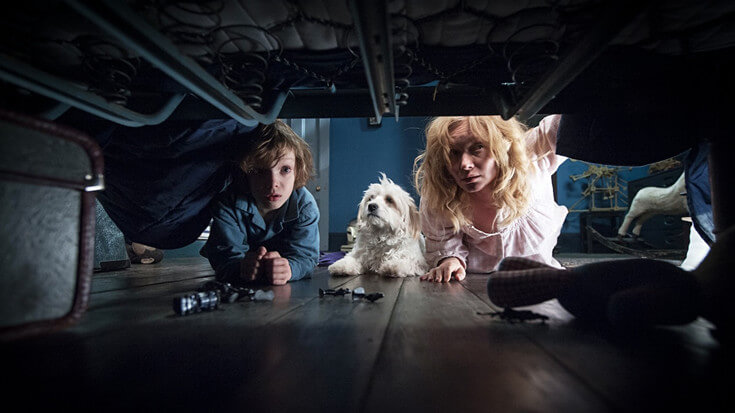 #9. The Conjuring (Certified Fresh on Rotten Tomatoes: 86%)
Release date: July 15, 2013 (Cinerama Dome); July 19, 2013 (United States)
Running time: 112 minutes
A couple name Roger and Carolyn move to a dilapidated farmhouse with their five daughters and their dog Sadie. Sadie refuses to entered the house and is found dead outside. Creepy things happen again and again, and even the family members begin to be attacked…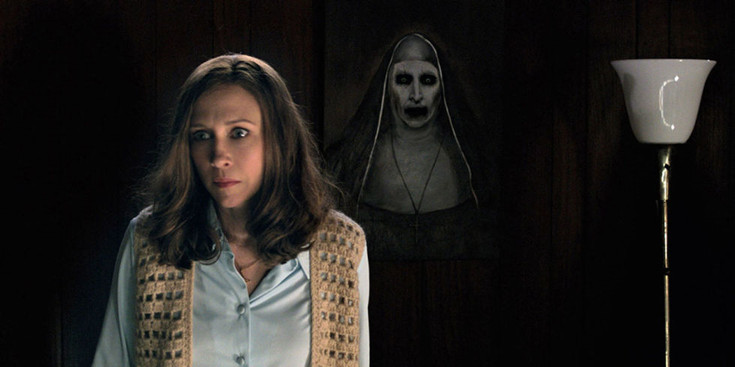 #10. A Quiet Place (Certified Fresh on Rotten Tomatoes: 95%)
Release date: March 9, 2018 (SXSW); April 6, 2018 (United States)
Running time: 90 minutes
In 2020, sightless creatures with abnormally keen hearing are hunting human beings and animals. A family of four hiding themselves in a farm but they have to find food supply from the supermarket nearby. Unfortunately, they accidently make some noise and attract the brutal creatures. A cruel fight for lives is on. If they hear you, they hunt you.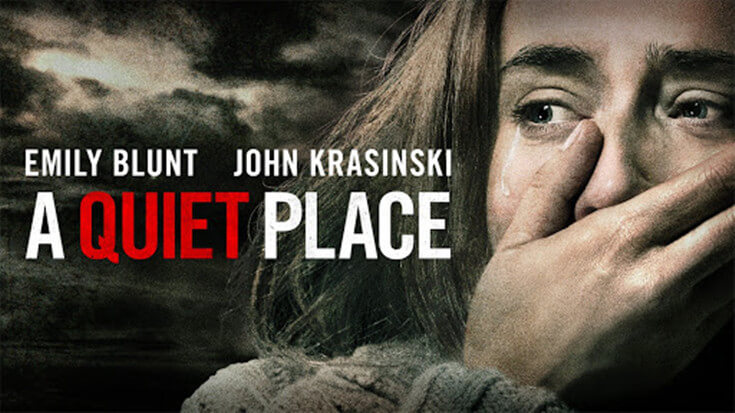 All these recommended Halloween movies are suitable for you to experience excitement at Halloween night alone or with friends. However, if you want to watch them wherever and whenever you want, you'd better download them to your devices. There is a brandy new way provided for you to download and transfer movies for free, just read ahead!
Part 2. How to Watch Halloween Movies Offline
Now we are going to show you two handy ways to download and transfer movies between PC and iOS devices or between iOS devices. To begin with, the movies you rent or purchase from iTunes are coded, which means that you can't play them on other devices as you want because of DRM. As a result, to unlock DRM, we need a DRM removal named TuneFab M4V Converter, which is capable to convert iTunes M4V videos to DRM-free formats and maintain high output quality as well. After the conversion, you can transfer the Halloween movies to iPhone/iPad/iPod touch via TuneFab WeTrans. Now follow the steps to download and watch Halloween movies offline!
#1. Firstly, Convert iTunes Movie to MP4 with M4V Converter
TuneFab M4V Converter is so powerful that it can remove DRM from iTunes videos while offers 1080/720 HD video quality at the same time. That is to say, you are able to enjoy the thrilling Halloween movies by seeing everything in detail. The converted movies are also compatible with SamSung Galaxy S9, iPhone 7/7P/8/8P/X, iPad, and iPod touch. With a fast conversion speed up to 30 X, it is easy for you to get the Halloween movies.
Step 1. Download and Install TuneFab M4V Converter
Click the button below to download TuneFab M4V converter and then follow the instruction of installation to have the process done. After that, activate the program.
Step 2. Rent or Purchase Videos from iTunes Store
Go to iTunes Store and buy the movies that you are fond of, and download them to iTunes Library.
Step 3. Add M4V Movies
Click the "Add Files" button and all the downloaded videos in iTunes Library will be in a list. Then select one or several of them. If you finish selection, then click "Add".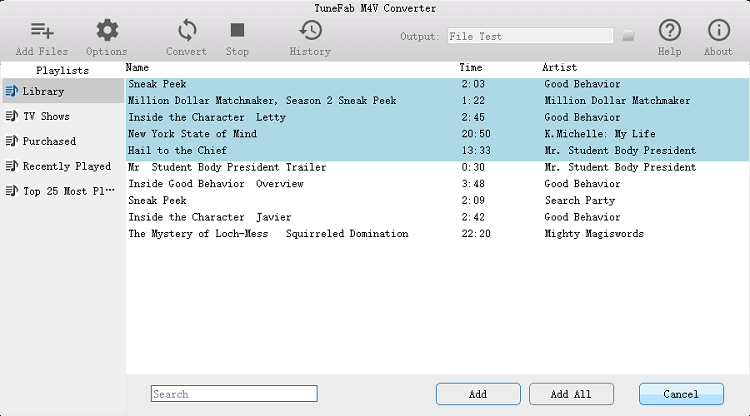 Step 4. Adjust Output Settings
#1. Select Output Folder
Click "Options" to bring up a new interface, then click "Select…" to choose an appropriate folder to save the downloaded movies.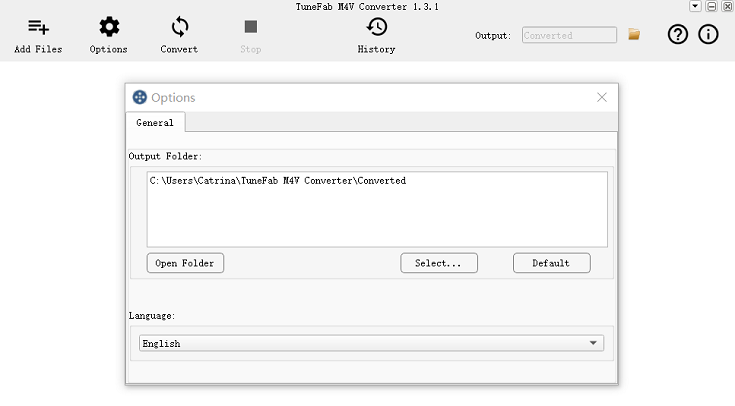 #2. Select Audio and Subtitle
Click the gear-shaped icon at the right side of each movie, you are free to choose audio tracks and subtitles that you want to keep in the converted movies. If you sip it, the program will save all of them by default.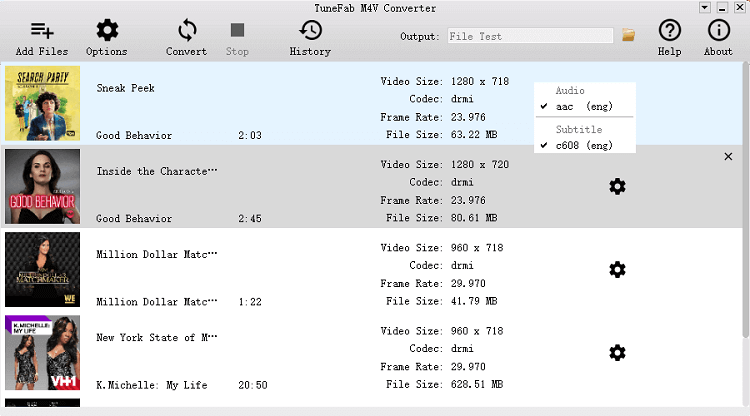 Step 5. Convert iTunes M4V to MP4
After all the necessary settings, click "Convert" to have the program started.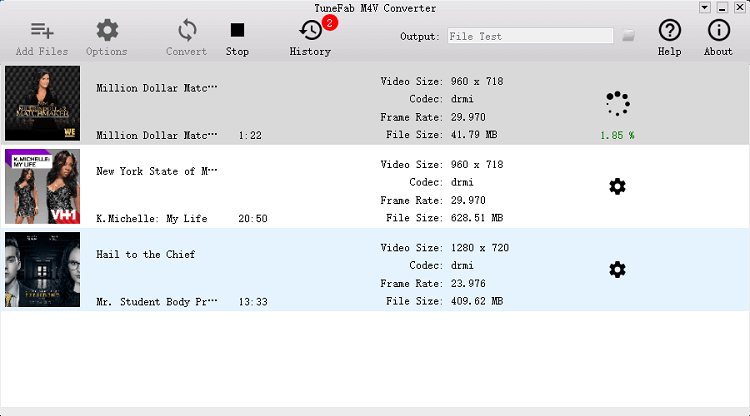 #2. Secondly, Transfer Movie to iPhone & iPad with WeTrans
As a perfect alternative of iTunes in terms of transferring data like music, photos, videos, contacts, and messages, TuneFab WeTrans is remarkable for its efficiency, proficiency and convenience. Transferring Halloween movies from computer to iPhone/iPad/iPhone for offline playing is the easiest thing to do with the help of TuneFab WeTrans. Unlike the cumbersome iTunes, it will not erase any previous data on iPhone/iPad/iPod touch. Isn't it nice?
Step 1. Download and Install TuneFab WeTrans
There is a download button lying below, click it to download the installation package. Follow the instruction to install it. After it is done, launch TuneFab WeTrans.
Step 2. Connect iPhone/iPad/iPod touch to Computer
With a USB cable, you are able to connect iPhone/iPad/iPod touch to computer. The basic information of your device will appear on the main interface.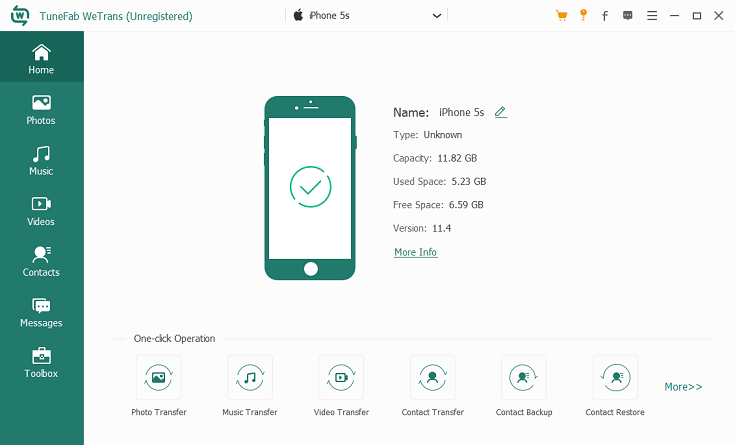 Step 3. Select Movies from Computer
Click "Videos" on the left column and all the video files on your device will be categorized in to several genres such as Movies, Home Videos, TV shows, Music Videos, Podcasts, and iTunes U. Then click the add button to navigate the folder that you save the converted Halloween movies.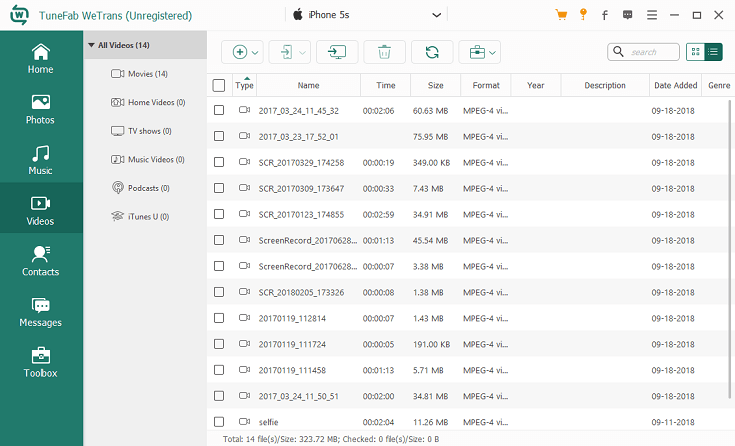 Step 4. Transfer Movie to iPhone/iPad/iPod touch
Then click cellphone-shaped icon with and inward arrow, the movies you pick up just now will be transfer into iPhone/iPad/iPod touch.
Conclusion
Have you got the tips of watching iTunes movies offline? It's convinced that if you want to download iTunes Halloween movies to watch without internet connection, TuneFab M4V Converter and TuneFab WeTrans will offer you a big help by providing you with high quality output and convenient conversion. Are you ready to watch the recommended movies at Halloween? Just have a try!
Was this information helpful?
TrustScore 5 | 49