As we all know, files downloaded or purchased from Amazon Unbox, BBC iPlayer and Windows Media Player Center are protected with Windows Media DRM. Therefore, in order to play them on unauthorized devices such as iPhone, iPad, iTunes, etc., you are supposed to remove DRM from these files.
Referring to that, FairUseWM can be an essential tool for removing Windows Media DRM. Considering that you are not familiar with FairUse4WM, so next I'll show you how to remove Windows Media DRM with this reliable Windows Media DRM removal tool.
CONTENTS
Part 1. Brief Introduction of FairUse4WM
Before introducing how to remove DRM, let's know more about FairUse4WM. FairUse4WM, a reliable WM/DRM removal tool, is a GUI version of drmdbg that can support individualization version.3930 and some Windows Media Player 11 versions. This program only removes DRM header of the media files.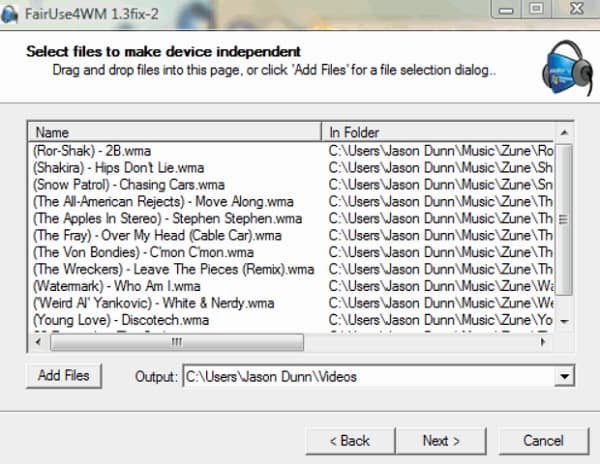 Advantages:
#1. FairUse4WM is free of charge. Therefore, FairUse4WM is a good option for those who don't want to spend any money on removing Windows Media DRM.
#2. The interface of FairUse4WM is simple.
#3. The size of FairUse4WM is small.
#4. The program is easy to use. By taking a few steps, you can easily get DRM-free files.
Disadvantages:
#1. FairUse4WM only works on individualized DRM files.
#2. FairUse4WM is available for Windows Media Player 10 or Windows Media Player 11, but it doesn't work on Windows Media Player 9.
#3. Currently, FairUse4WM isn't available on Windows 7 and later versions.
In a word, if you are looking for a reliable Windows Media DRM removal tool, then you can totally download FairUse4WM on your computer.
Part 2. How to Remove Windows Media DRM for Free
It's so easy to remove Windows Media DRM with FairUse4WM for free. If you don't know how to do that, then follow the step-by-step guide as below. But before that, make sure that you have connected to the Internet.
Step 1: Click on the link to download FairUse4WM and then install this program on your computer by following the wizard.
Step 2: Open WMV files with a media player on your computer. After that, a module will be updated and a license will be downloaded automatically.
Step 3: Launch Mirakagi, click on "Start" button to search the license and then quit Mirakagi.
Step 4: Launch FairUse4WM, click on "Add File" button on the bottom left corner of the interface to select the output path.
Step 5: Click on "Next" on the bottom to let the program start the conversion, then a dos interface will be popped up.
After the conversion is completed, then you can click on "Finish" button to quit the program or click on "Back" button to remove Windows Media DRM from another file.
On the whole, FairUse4WM is a professional DRM removal tool, you can easily remove Windows Media DRM by following the above steps. However, FairUse4WM still has some limitations, so you might want to find some FairUse4WM alternatives.
Part 3. Recommended FairUse4WM Alternative
Considering that FairUse4WM might not meet all your requirements, so I hereby recommend another FairUse4WM alternative to you.
DRM Media Converter
DRM Media Converter is a useful program is used for stripping DRM protection from iTunes M4V video (such as iTunes movies, TV shows and music videos), as well as M4V, WMV and ASF video files. That means DRM Media Converter enables you to remove DRM from videos downloaded or purchased from iTunes, Xbox Live Store, uTorrent, FrostWire and more. After that, you can play M4V/WMV/ASF videos on any device. Except that, DRM Media Converter is also an audio DRM removal.
Step 1: Download and install DRM Media Converter on your computer.
Step 2: Add video or music files.
Step 3: Choose the output format and customize the output settings.
Step 4: Click on "Start" button to begin converting DRM-protected files.
Conclusion
If you want to remove Windows Media DRM, then FairUse4WM can be a good choice, as this free program enables you to get DRM-free files with a few steps. However, now FairUse4WM is not available for Windows 7 and later versions. Therefore, for those whose computers run Windows 7 and later versions, then you can try the above FairUse4WM alternatives, DRM Media Converter or Aimersoft DRM Media Converter. But if you want to remove DRM from Apple Music M4P songs, then TuneFab Apple Music Converter is a reliable tool.
Was this information helpful?
TrustScore 3 | 2