Besides downloading music, users can also upload music on Deezer, and this allows users to listen to MP3 music that is not available on Deezer itself. Although adding your own local MP3 files to Deezer only requires about 5 steps, there are some technical limitations to keep in mind before uploading for your experience.
Hence, this blog will focus on demonstrating 5 basic steps of importing your own MP3s to Deezer, coupled with some Deezer uploading limitations and other bonus tips. Let's check them out!
CONTENTS
Limits You Should Know Before Uploading Music to Deezer
Suppose you want to ensure a smooth and hassle-free Deezer uploading experience, plan your uploads accordingly, and avoid any potential issues. In this case, it's important to understand the limitations set by Deezer before uploading tracks, such as the number of tracks that can be uploaded, the method of uploading, and the available space for each MP3 file.
● Only MP3 files are allowed to be uploaded on Deezer.
● In order to upload songs, you need to upgrade to Deezer Premium.
● Users can only choose Deezer's web player or desktop app to upload.
● Deezer supports uploading of MP3 files under 200MB each from a computer only.
● There is a limit of 2,000 MP3 uploading tracks for every user.
● Using Deezer on other devices such as smartwatches, TVs, etc. may not access your MP3s.
● Upload MP3s in CBR format to avoid playback issues, especially with VBR files.
Nobody wants to encounter various limitations while uploading their favorite tracks. For example, if Deezer only supports uploading MP3 files under 200MB each from a computer, it probably means you are not able to upload your audiobooks to Deezer, should the need arise. Not to mention, it is impossible to do folder uploading, only individual files (MP3 format) can be added.
How to Import Your Local MP3 Music to Deezer
If you want to upload your own music on Deezer, as long as the files are in MP3 format, it doesn't matter if you downloaded them from another platform for free or paid for them. By following the 4 simple steps below, you can easily enjoy your favorite local tracks on this popular streaming service:
STEP 1. Open the Deezer web player or the desktop app on your computer, and sign in to your Deezer account or create a new one if you don't have an account yet.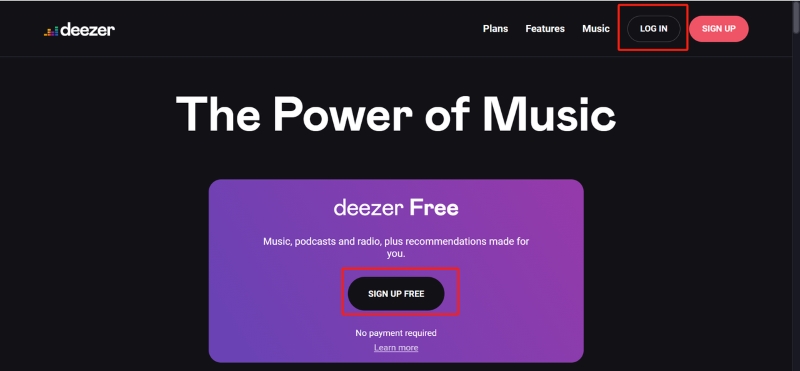 STEP 2. Once logged in, click on "Favorites" located on the left side of the screen, and select "My MP3s", followed by "Select MP3s to Upload".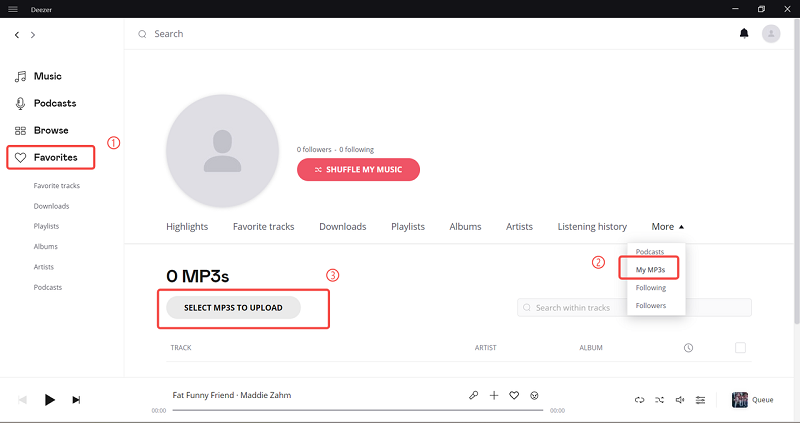 STEP 3. Now, you've navigated to your personal MP3 collection. Choose "Select MP3s to Upload", click on your target song, hit it, and Deezer will now analyze and add it to your library. This may take some time depending on the number of tracks you are uploading.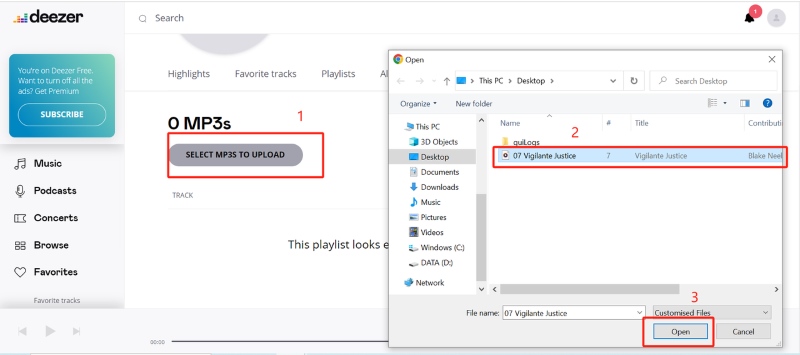 SREP 4. Sometimes, you may have already added the target song to the uploading queue, but nothing appears. Don't worry, simply click the refresh button located at the top left of the browser, and you will be able to see it.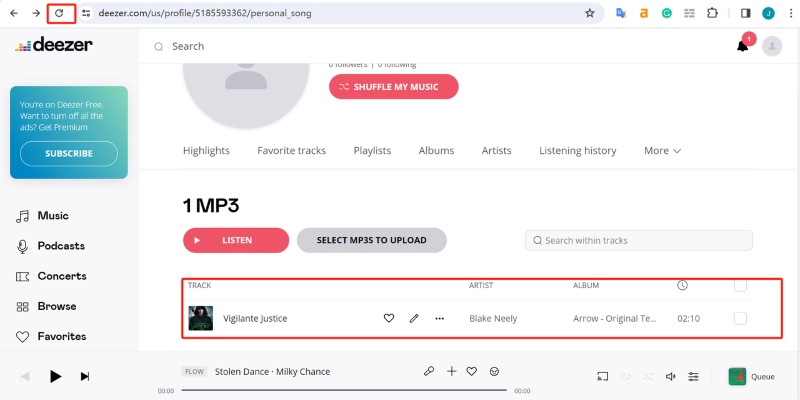 By now, you should have a pretty good idea of how to put music on Deezer. So, start enjoying your journey of playing local MP3 on Deezer. If you want to know more, we've gathered some FAQs for you below.
FAQs About Uploading Music on Deezer
Q1: Can you upload music to Deezer on the mobile app?
Unfortunately, Deezer's mobile app doesn't offer an upload feature, which can be inconvenient for users who want to integrate their local digital music libraries. Browsing through Deezer's forum, you'll notice that some users have requested a music upload feature for Deezer's mobile app. However, four years later, it's possible that the feature is now in development.
If you need to add music to Deezer's mobile version, there are still workarounds. We recommend starting with a direct search on Deezer since it has an extensive music library. For Premium users, if your desired music is not available on Deezer, you can try the method mentioned above: first, upload your local MP3s to the desktop app, and then your audio resources can be synced across your devices, making it possible to access the MP3 files on the mobile app.
Q2: Can you download Deezer Music as a local MP3 file?
Sure, but you need to take a detour. Although Premium users can directly download Deezer music, they can only access them as cached files in the web player or music app. It is not possible to download them as local MP3 files, and hence, users cannot listen to them on other playback devices.
However, by using some third-party software such as TuneFab Deezer Music Converter, you can easily rip the music on Deezer losslessly. It can convert singles, playlists, albums, and podcasts on Deezer to MP3, FLAC, M4A & WAV audio formats free at 10x faster speed, and save them on your local device for offline playback.
To download music from Deezer to MP3 using TuneFab Deezer Music Converter, simply launch TuneFab, select the songs, albums, or playlists you want, choose MP3 as the output format, download the music, and enjoy your offline listening experience!
Q3: Can you add Deezer Music to Spotify or other streaming services?
Although Deezer offers a vast library of music from various genres and artists, sometimes you may not be able to find the resources you want in Deezer's music library, but available on Spotify or other streaming platforms. If this is often the case, then you might want to replace Deezer with other streaming services.
And there are two ways to do that! No need to transfer your music from Deezer to your device via USB. With just a few clicks or the help of a third-party tool, you can easily access your music library.
Let's take Spotify as an example, you can convert Deezer music to local files using professional Deezer music converters like TuneFab Deezer Music Converter, then open the Spotify desktop app, locate "local files", start adding, and just wait for the transfer. Or, you are welcome to upload local files to Google Drive, and then share the corresponding link.
Additionally, using some third-party tools that can transfer Deezer music to Spotify or other streaming services by converting the local files into a playlist that belongs to another platform. For example, if you are currently using Soundiiz and your Google account is associated with both Deezer and another music platform, you only need to select your playlists on Deezer, choose your target music platform, and finally click "convert" to complete the process. Apart from Soundiiz, TuneMyMusic and FreeYourMusic are also capable of doing this.
Conclusion
Congratulations! You have successfully learned how to upload and add music to your Deezer library. Now, you can enjoy unlimited access to your favorite tracks anytime, anywhere. Whether you import your own music or add local MP3 files, Deezer provides a seamless experience for music lovers.
Furthermore, if you want to try the other way around by downloading Deezer music to local MP3 files, feel free to try out TuneFab Deezer Music Converter, a third-party software that can converter your favorite songs on Deeze to MP3, FlAC, M4A, and WAV at a 10x faster speed, while preserving the ID3 tags (artist, album cover, bitrate, etc.).
Take action and start enriching your listening experience now, and you'll be amazed!
Was this information helpful?
TrustScore 1 | 1