Deezer and Tidal boast a vast music library of over ten million songs and support HiFi CD quality. Because of these similar advantages, the two music platforms are often compared to each other. If you're debating Tidal vs Deezer, don't miss out on this article. It provides a comprehensive comparison of the two music applications from software design, features, operation, and more, to help you make a more informed decision. Without further ado, let's dive in!
Content
Part 1. Detailed Overview of Tidal and Deezer
According to statistics, Deezer ranks higher than Tidal globally. But is Deezer better than Tidal? Perhaps not. You still need to determine which one is more suitable for you based on the location and specific usage. Below, a detailed comparison of Deezer and Tidal in eight aspects has been provided. Please read more, which should help you form your own judgment.
1. Availability
Deezer was founded in Paris, France. Currently, it is available in more than 185 countries and regions with more in development. Tidal, on the other hand, is a music streaming service based in New York and is only used in 61 countries and regions worldwide. In comparison to the availability of Deezer, this number is relatively limited, which might be one of the reasons it ranks only seventh globally.
2. Compatibility
When it comes to device compatibility, Deezer vs Tidal share more similarities than differences, since they both support music playback on browsers, desktop applications, and mobile software, as well as on smart TVs and wearable devices. However, due to the HiFi sound quality, the smart speakers compatible with Tidal and Deezer may vary. Therefore, when purchasing a smart speaker to listen to Deezer or Tidal, it is advisable to check the official information first.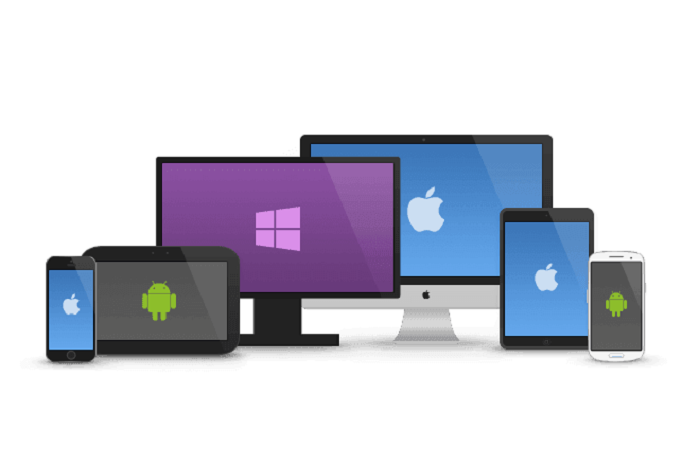 3. Music Library
Deezer has a collection of over 90 million tracks but lacks music videos, whereas Tidal boasts over 100 million tracks and 650,000 music videos. Compared to Deezer, Tidal's broader music library is likely due to its inclusion of newer niche tracks and artists.
However, if you have a preference for podcasts and station shows, then Deezer might be more suitable. This is because Tidal prioritizes music. It has limitations on podcasts and radio shows. But Deezer owns 160,000 podcasts and over 32,000 radio stations.
4. Price & Plans
Deezer and Tidal are both available for free, but they come with limitations. Deezer Free allows access to all songs, but with advertisements between song switches and no offline downloads. Tidal Free offers limited songs with ads, and downloading music is not possible either. If you are a new user, you can get free trials of Deezer and Tidal, during which you can enjoy all the features on the two platforms. After the trial period ends, however, a subscription is necessary to continue the benefits.
With Deezer Premium, you can enjoy ad-free music playback, unlimited skips, and offline listening. Moreover, you can create and save recommended playlists. Tidal offers two subscription options, Tidal HiFi and Tidal HiFi Plus. Both premium plans give access to download all songs and music videos on Tidal, as well as the ability to create and save playlists. However, for the ultra-highest quality music streaming on Tidal, upgrading to Tidal HiFi Plus is required.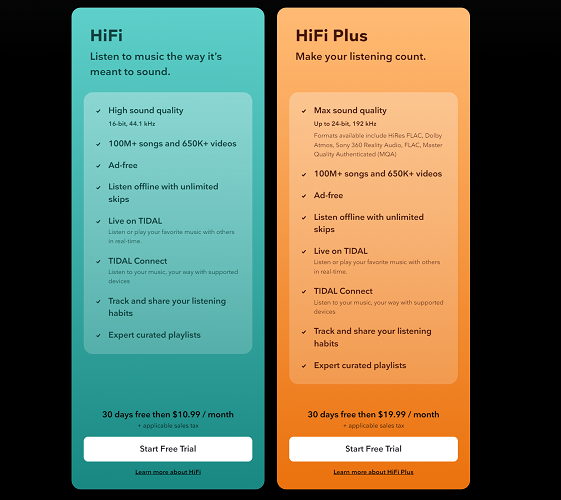 5. Interface Design
Tidal and Deezer are both user-friendly, but their overall styles differ. Deezer is more intuitive and easy to navigate. You can locate the search bar, shows, and favorite music sections effortlessly on the homepage. Tidal uses a rectangular divided-page layout. Striking featured content and orderly music recommendations can quickly grab your attention.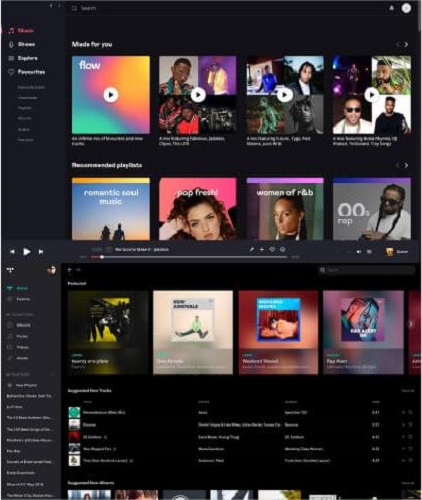 6. Sound Quality
Tidal and Deezer's audio quality is related to their subscription plans, and different subscriptions provide quality. Tidal Free and Deezer Free come with similar sound quality. The former at 160kbps and the latter at 128kbps audio quality.
With a Tidal HiFi subscription, you can stream music up to 16-bit and 44.1 kHz. However, as mentioned earlier, Tidal HiFi Plus is required for the maximum sound quality up to 24-bit and 192 kHz. Deezer HiFi, previously known as Deezer Elite and now referred to as Deezer Premium, also offers High Fidelity sound quality. You can enjoy HiFi sound quality by becoming a premium user without any further upgrades. Normally, the audio quality for premium is encoded in MP3 format at 320kbps. By switching to HiFi, you can achieve 1,411kbps (16-bit and 44.1 kHz).
7. Download Limits
The web players of Tidal and Deezer do not allow music downloads. You need to use the desktop or mobile app to download songs. Additionally, because the music on both platforms is protected by DRM, subscriptions are required to keep tracks, playlists, or podcasts offline on Tidal and Deezer. If you want to remove the DRM restrictions from Deezer or Tidal to download music on devices other than Tidal and Deezer Apps, you may need the assistance of third-party downloaders.
Another limit to note is the number of downloads. Tidal and Deezer both impose a download ceiling of 10,000 tracks, requiring you to clear cached music once this limit is exceeded.
8. Other Features
In terms of other practical usage, such as lyrics and equalizers, Deezer might have the upper hand. Deezer can one click to display the lyric with a translation option. Moreover, Deezer's built-in equalizer can cater to your preferences, a feature that is absent in Tidal.
If you seek to enhance social interaction through a music platform, Deezer may be more favorable. It allows you to gain insights into your friends' preferences within the app by viewing and saving their playlists. Tidal, currently, lacks this feature, only enabling music sharing to other social media platforms.
Part 2. Comparison Table of Deezer vs Tidal
Deezer has more comprehensive features, while Tidal boasts a richer content library. With the abundance of information above, you might find it challenging to make an instant decision. If you want a more visual comparison of Deezer vs Tidal, you can refer to the table below.
Free Trial
Availability
Compatibility
Music Library
Subscription Price
Sound Quality
Download Limits
Deezer
✅
185 countries and regions
iOS, Android, Mac, Windows, Web, TV, Wearable
90 million songs
160,000 podcasts
32,000+ stations
Premium: $10.99/month
Free: MP3 - 128 kbps
Premium: MP3 - 320 kbps & FLAC - 16 bit, 1.411 kbps
10,000 tracks
Tidal
✅
61 countries and regions
iOS, Android, Mac, Windows, Web, TV, Wearable
100 million songs
650,000 videos
HiFi: $10.99/month
HiFi Plus: $19.99/month
Free: AAC - 160 kbps
HiFi: FLAC - 16 bit, 1.411 kbps
HiFi Plus: FLAC - 24 bit, 192 kHz
10,000 tracks
Deezer and Tidal are both well-established streaming music platforms. Their drawbacks are not apparent, so it's essential to discover through actual use whether they suit your needs. If you desire to explore a vast collection of songs with the best audio quality, Tidal is worth a try. On the other hand, if you prioritize stable usage and compatibility with a wider range of devices, Deezer might be a better fit for you.
Extra Tips: Can I Get Music from Deezer for Free?
"Can I Get Music from Deezer for Free?" Certainly. In addition to the free trial, a reliable third-party Deezer downloader enables you to download Deezer music for free even if you are not a subscriber.
TuneFab Deezer Music Converter is one of the best Deezer downloaders you can look to. Thanks to its built-in Deezer web player, this top-notch program can easily access and download all Deezer music losslessly at 320kbps or Hi-Fi quality. Moreover, TuneFab Deezer Music Converter not only ensures the accuracy of the music source but also allows one-click downloading of any Deezer tracks, playlists, and albums to compatible formats like MP3 simply by drag-and-drop. In this way, both Deezer device compatibility and download limitations can be perfectly resolved.
More features of TuneFab Deezer Music Converter can be explored:
● Highly compatible with Windows and Mac;
● Four widely-used formats can choose from, including MP3, FLAC, M4A, and WAV;
● Download Deezer music, albums, playlists, and podcasts at 320kbps or HiFi quality;
● Hardware acceleration to boost download speed at 10X faster;
● Preserve ID3 tag information well for organized offline music libraries.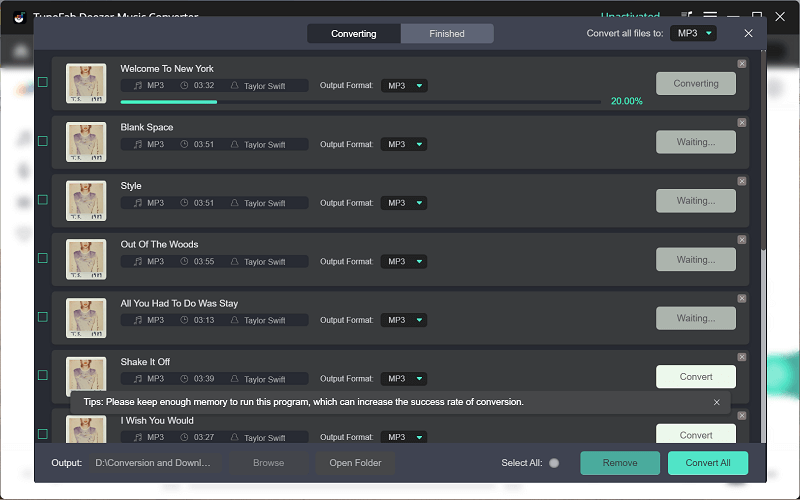 Final Words
Tidal vs Deezer: which one deserves to try? It's not a straightforward decision. The choice between the two music software depends on practical usage and the software itself. If you lean more towards Deezer based on the above comparison, then you definitely shouldn't miss out on TuneFab Deezer Music Converter. With the support of this powerful downloader, you can surpass various limitations and enjoy Deezer's vast music library anytime and anywhere.
Was this information helpful?
TrustScore 5 | 2