In today's fast-paced world, the pursuit of knowledge and entertainment remains undiminished, yet time for traditional reading has become a luxury. The demand for audiobooks has surged.
It's within this landscape that Google Play emerges as the ultimate destination. Housing an extensive collection of audiobooks, it transforms idle moments into opportunities for enrichment. This piece explores how to get and listen to free audiobooks on Google Play Audiobooks to immerse you in captivating fictional worlds.
CONTENTS
Part 1: Find and Buy Google Play Audiobooks
Google Play Audiobooks is home to numerous books ranging from fiction to autobiography so you can find any kind of book you like. It will automatically save your playback progress and pick up where you left off when you listen to it next time from any device. It is integrated into the Android ecosystem, so using Google's features on Android will be more convenient than on other devices. Here is a detailed guide to finding and buying audiobooks on Google Play.
On Android
Step 1: Install and launch the Google Play Store app on your Android phone.
Step 2: Tap "Books" and go to the "Audiobooks" tab.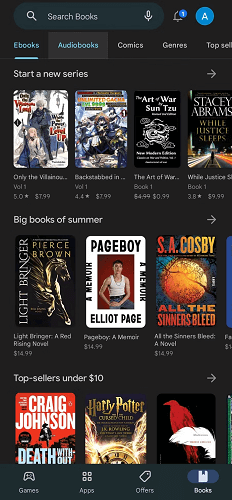 Step 3: Click on the audiobook you want to listen to from the curated list such as "Top selling audiobooks" or you can search for it directly.
Step 4: Once you've found the book, you can tap "Play" to start listening or select the album cover to access additional information about it. If you're content with the audiobook, you can easily click on the "Buy" option.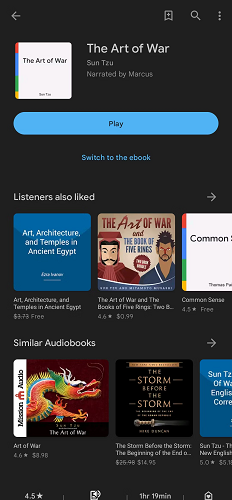 On iOS
Step 1: Launch the browser on your iOS device, like Safari, and open the Google Play Store for Books' official website. Sign in to the Google Account you use for the Google Play Store.
Step 2: Search for the audiobooks you like and click on its page to purchase.
Step 3: After that, install the Google Play Book&Audiobooks App from the App Store, and install it.
Step 4: The rest of the steps are much the same as on Android. Launch the App, and find your purchased audiobooks in your "Library" to listen to.
On Computer
Step 1: Navigate to the Google Play Store by typing "play.google.com" into your browser's address bar and press "Enter."
Step 2: Once you're signed in, click on the "Books" option on the left-hand sidebar to expand the menu. Then, select "Audiobooks" from the available options.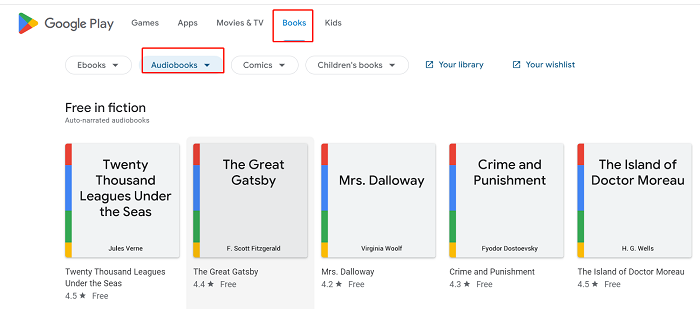 Step 3: You can now browse through the available audiobooks by scrolling down the page or using the search bar at the top to search for a specific title or author. Then select an audiobook by clicking on the audiobook cover or title.
Step 4: Get the audiobook at no cost by tapping the "Get for free" button. If the book you prefer is non-free, and you decide to purchase the audiobook, click the price and buy the book.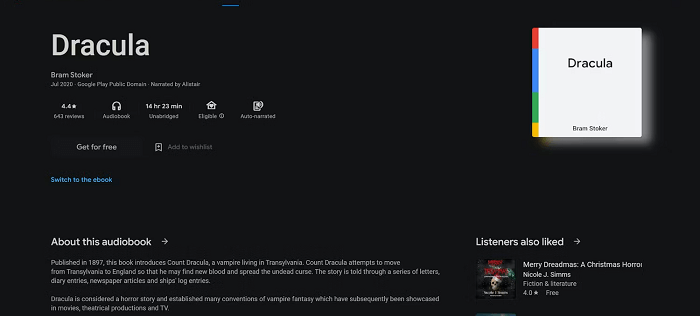 Note:
Google is offering individual titles for sale without any monthly commitments, so you are required to purchase the books one by one to listen to.
Part 2: Download Google Play Store Audiobooks
After buying and getting audiobooks on Google Play Store, you can also download them for convenient offline listening, without Internet Connection. This part focuses on how to achieve this goal on different devices.
On Android/iPhone
Step 1: Install and launch the Google Play Store App on your device.
Step 2: In the app, click on "Library" and navigate to the "Audiobooks" section.
Step 3: Click on the purchased audiobook to play, and it will automatically be downloaded to your phone. After that, you can listen to it on the Google Play App offline.
On Computer
Step 1: As mentioned before, turn on your browser, enter Google Play Audiobooks' official website, and navigate to "Your Library".
Step 2: Click on the "Purchased" tag, and you can see all the audiobooks you have bought. Click on the "Three-dot" button next to the books, and select "Export". Then, you can choose different output qualities including "High" and "Standard" to export your audiobooks to MP4 files.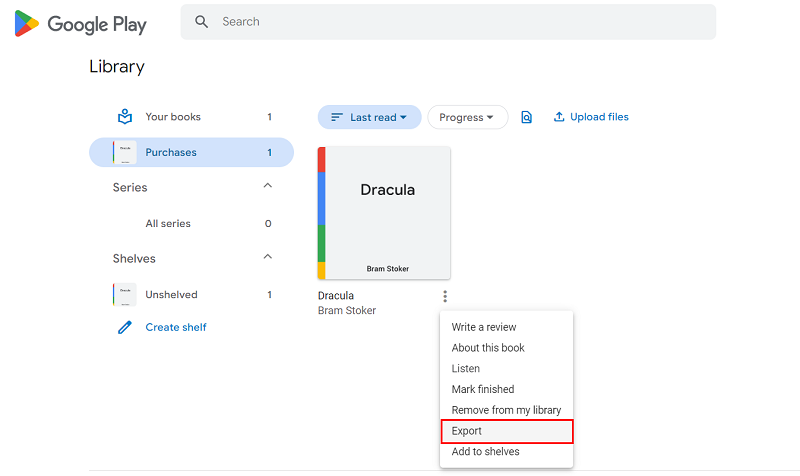 Part 3: Rent Audiobooks from Google Play
Renting audiobooks is often more cost-effective than purchasing them outright. Google Play's rental model allows you to enjoy the content you want without committing to the full purchase price, making it a budget-friendly option. So how to rent audiobooks from Google Play? Here is the answer for you.
On Android
Step 1: Open the Google Play Store App on your phone, and use the search bar at the top to search for the audiobook you want to rent.
Step 2: When you find the audiobook you're interested in, tap on its title to open the details page.
Step 3: Look for information about rental options. If audiobook rentals are available, you should see the rental price and the rental duration listed on the details page. If not, this book is not available for rental.
Step 4: Tap the price option and complete the rental according to the prompts. Once the rental is done, you can find it in your "Library".
On iOS/Computer
Step 1: Launch a web browser on your device. In the browser's address bar, type "Google Play Books" and navigate to the "audiobooks" section.
Step 2: Click on the audiobook you want to rent. This will take you to the book's details page.
Step 3: Press the "Rent" option. The rental cost of the book will be displayed when you press the Rent button. If you don't see the "Rent" option, it means the book cannot be rented.
Step 4: Follow the prompts to complete the checkout process. The rented audiobook will now be accessible in your Google Play Books Library.
Note:
In order to ensure your audiobook listening experience, do not forget to check when the book rental expires by going to the book you rented on Google Play Books Library. You can find the specific time on the book's cover.
Bonus: Best Alternative of Google Play Audiobooks
Google Play Books stores an immense number of titles for listening and reading. However, owing to the absence of subscription plans and lack of compatibility with Apple devices, it is not the best choice for audiobook enthusiasts. To solve this, you can turn to a more handy and convenient tool such as Audible for listening and relaxing.
Audible, with a collection of over 200,000 audiobooks, is available on Android, iOS, Windows Phone, and Amazon devices. Its integration with Amazon provides users with added convenience and accessibility. Moreover, it offers a monthly affordable subscription price of $14.95, with a 30-day free trial period. After Subscription, you can download audiobooks from Audible and play them offline on its App.
In addition, if you want to enjoy Audible audiobooks on other platforms/devices, you might need to use TuneFab Audible Converter. This tool allows you to convert your downloaded Audible audiobooks into popular audio formats, creating local files that can be enjoyed without limits. Then, you can upload audiobooks back to Google Play or other platforms for free playback.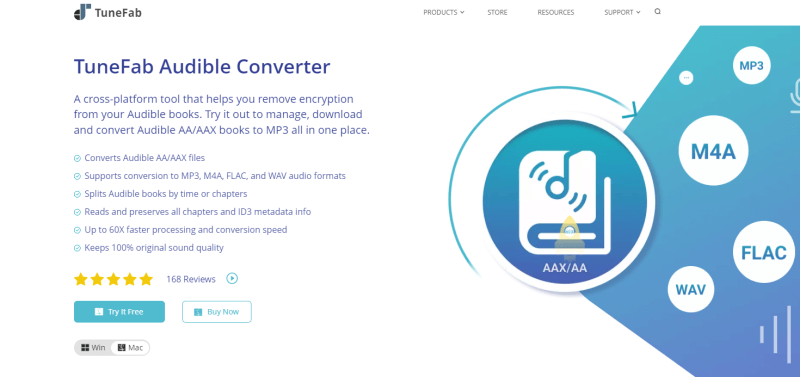 FAQs About Google Play Audiobooks
Q1: How to Get Google Play Audiobooks Discount?
There are several ways to get discounts and find great deals on Google Play audiobooks. You can check the "recent price drops" collection to get lower-priced books. Also, in select countries, you can subscribe in advance to the series for immediate access and potential future discounts. Saving with bundle offers when purchasing multiple books in a series or by the same author can also help you save money. Moreover, build your wishlist books to receive price drop notifications or explore themed deal collections for limited-time offers.
Q2: Can I Find Free Google Play Audiobooks?
Yes. There are two methods for you to do that. You can directly type "free audiobooks" in the search bar of the Google Play Books & Audiobooks app or Google Play Book website. After that, the books listed on the screen are free for you to download or play. Also, you can navigate to the sections "Free in fiction" and "Free in nonfiction" and find free audiobooks here.
Q3: Are There Any Recommended Google Play Audiobooks?
Yes. There are some best-sellers provided by Google Play Audiobooks such as I'm Glad My Mom by Jennette McCurdy, Fairy Tale by Stephen King, Atomic Habits by James Clear, and so on.
For more desired audiobooks, you can navigate to the sections "Top selling" and "New release" to choose your preferred ones.
Summary
This post provides you with a comprehensive guide from acquiring to enjoying Google Play audiobooks, designed to help readers fully understand the whole process. Whether on your Android, iOS device, or PC, it is very easy and convenient for you to enjoy the charm of Google Play audiobooks.
TuneFab Audible Converter
Convert protected AA/AAX Audible books to DRM-free MP3 files
Was this information helpful?
TrustScore 5 | 49
Copyright © 2022 TuneFab Software Inc. All rights reserved.