Nowadays, more and more people enjoy listening to audiobooks. It would be quite enjoyable of listening to audiobooks while you are running, climbing, or doing gym. For children, they can listen to audiobooks before falling asleep. With audiobooks, people can enjoy more educational, funny, and inspirational books written by famous authors instead of reading some physical books. In the post, I have selected the top 10 best-selling iTunes audiobooks of 2018 for you. Choose one from the list.
Don't Miss: How to Remove DRM from iTunes Audiobooks
#1. Wonder (R J Palacio)
Genre: Kids & Young adults
Price: $9.95
Time: 8 hr 6 min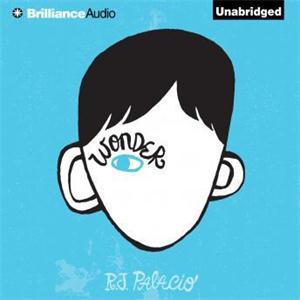 Wonder mainly describes the stories of August Pullman, a kid who has an extraordinary face. We could know from the audiobook that how August convinces his new classmates that he is like them, despite appearance. The audiobook is full of realistic family interactions, lively school scenes, and emotional power.
#2. End Game (David Baldacci)
Genre: Mystery
Price: $26.95
Time: 11 hr 55 min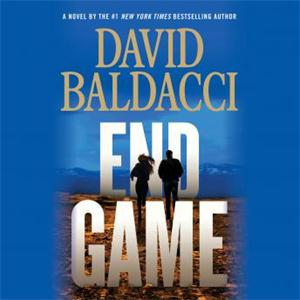 End Game has become one of David Baldacci's best-selling audiobooks. In the story, Robie and Reel are trying to find a missing man, Blue Man, who has always had their backs. During their research to find Blue Man, Robie and Reel find that they are against an adversary with superior firepower and a hoe-court advantage. Can they make everything out alive?
#3. The Midnight Line: A Jack Reacher Novel (Lee Child)
Genre: Mystery
Price: $19.95
Time: 7 hr 11 min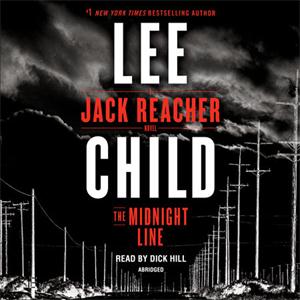 The story begins with a class ring in a pawn shop window, which is found by Reacher. Then he decides to find the owner of the ring (he thinks the owner would be a woman) and begins a harrowing journey that takes him through the upper Midwest to a dirt-blown crossroads. But the more he digs, the more dangerous terrain he faces. Get on the adventures with Reacher together to see what would happen.
#4. Origin (Dan Brown)
Genre: Mystery
Price: $31.95
Time: 18 hr 11 min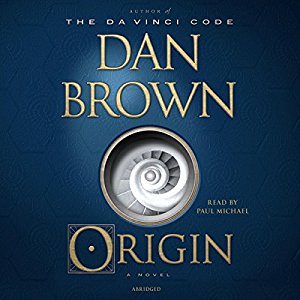 Dan Brown is the author of a series of best-selling books such as The Da Vinci Code, Inferno, The Lost Symbol, Angels & Demons, etc. This time his Origin is catching people's ears, too. The story of Origin brings out by Robert Langdon, Edmond Kirsch, and Langdon's first student, who is about to reveal an astonishing breakthrough, which would answer two of the fundamental questions of human existence. Follow Langdon's steps to find out the breathtaking truth!
#5. Water for Elephants (Sara Gruen)
Genre: Fiction
Price: $20.95
Time: 11 hr 27 min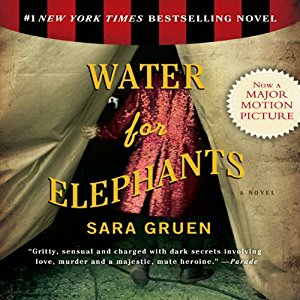 Water for Elephants has told the love in a world in which love's a luxury few can afford by describing Jacob Jankowski who reflects back on his wild and wondrous day with a circus. In the story, you would have access to other freaks such as Marlena, a beautiful star of the equestrian act; August, her twisted husband, and Rosie, a seemingly untrainable elephant.
#6. Murder on the Orient Express (Agatha Christie)
Genre: Mystery
Price: $19.95
Time: 6 hr 37 min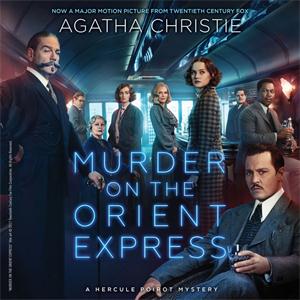 "The murder is with us – on the train now…" The Murder on the Orient Express has created a nervous feeling for readers. The orient express is stopped by a snowstorm and isolated from the outside world. During this time, the millionaire Samuel Edward Ratchett is dead in his compartment. Before the murder decides to strike again, detective Hercule Poirot must find out the killers from a dozen of the dead man's enemies.
#7. The Collector (Nora Roberts)
Genre: Romance
Price: $23.95
Time: 15 hr 45 min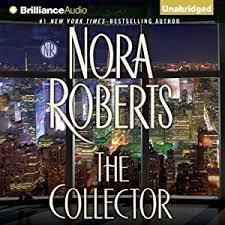 The Collector describes a novel of a woman who needs nothing, a man who sees everything, and the web of deceit, greed, and danger that brings them together. Lisa Emerson, who spends her life moving from one job to the next, and never longs for possessions of her own, witnesses a possible murder-suicide from her current apartment-sitting job and takes a romantic turn.
#8. The Rooster Bar (John Grisham)
Genre: Mystery
Price: $26.95
Time: 10 hr 17 min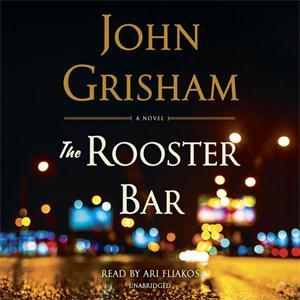 Get ready to spend some time with Mark, Todd, and Zola in The Rooster Bar. They are three who come to law school to change the world and make the world a better place. But they are all borrowed heavily attend a third-tier, for-profit law school so mediocre that its graduates rarely pass the bar exam, let alone get good jobs. Are there any ways for them to work out?
#9. The Silkworm (Robert Galbraith)
Genre: Mystery
Price: $25.95
Time: 17 hr 18 min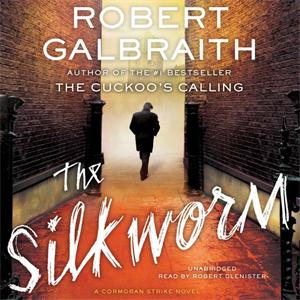 The novelist Owen Quine goes missing and his wife calls in private detective Cormoran Strike to find out Owen Quine. At first, Mrs. Quine just thinks that her husband has gone off by himself for few days. But as the investigation of Strike goes further, it becomes much clearer that there is more to Quine's disappearance than his wife realizes…
#10. Hardcore Twenty-Four (Janet Evanovich)
Genre: Fiction
Price: $20.95
Time: 6 hr 9 min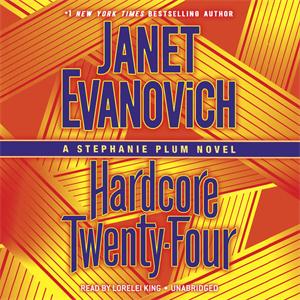 It was released on Nov 21, 2017, Hardcore Twenty- Four describes a Jersey Girl hits hard – 24/7. Troubles come in bunches for Stephanie Plum. Listen to these audiobooks and see what has happened to Stephanie and how she goes across them.
These are the top-selling iTunes audiobooks that could be searched in iTunes Store just by entering their title into the search bar. You can purchase these iTunes audiobooks from iTunes Store and download them to enjoy offline. If you want to keep them on other devices, you have to remove DRM from them firstly. By virtue of TuneFab Audiobook Converter, you are able to fulfill this task easily since TuneFab Audiobook Converter could do with DRM removal and format conversion professionally. It also provides a free trial version, with which you are able to experience the conversion freely.
Download Site:
Was this information helpful?
TrustScore 5 | 49