Audiobooks, also known as talking books, are recordings of text being read. When you do housework, play sports or go on a journey, you can listen to audiobooks for relaxation. Then where to get audiobooks for playback? Audible should be the best destination that offers digital audiobooks, radio and TV programs, and audio versions of magazines and newspapers. Also, you can turn to the versatile Google Play Store. It provides almost every media type, including the increasingly popular audiobooks, which can be an ideal Audible alternative. And since you've been here, you may be confused about which one to choose, Audible audiobooks or Google Play Audiobooks. To help you decide, we've made a comprehensive comparison review between Audible and Google Play Books.
Don't Miss: Best Solutions to Convert AAX Files to MP3 on Mac & Windows
#1. Audible vs. Google Play Audiobooks: Audiobook Library
The selection of audiobooks should be the most important factor for choosing an audiobook service. Therefore, let's first look at the number of audiobooks that both these audiobook services can provide.
Audible Audiobooks
Audible offers a list of best-selling audiobooks in the US. It boasts a large audiobook library with over 4000 thousand audiobook titles. Under the categories menu of Audible, you can find 27 kinds of categories such as Arts & Entertainment, Business, Comedy, Fiction, Sports, Travel & Adventure, and etc. Besides, there are four kinds of categories in the categories list of New York Times, Hardcover Fiction, Hardcover Nonfiction, Paperback Fiction, and Paperback Nonfiction. In other words, people of all ages can find audiobooks that match their interests.
Google Play Audiobooks
In comparison, Google doesn't reveal the library size of audiobooks that are available for listening. As Google just launched its audiobook service in 2018, its audiobook library may not enjoy the same variety as Audible.
In terms of the user experience of their audiobook library, Audible audiobooks should be better than Google Play Audiobooks as audiobooks on Google are not provided detailed information about the book while Audible will display almost everything you want to know and even the editor's views.
#2. Audible vs. Google Play Audiobooks: Price
How much you should pay for these audiobook services? Which platform offers a better price to readers? Let's find out.
Audible Audiobooks
At present, Audible provides three membership plans: Audible Plus, Audible Premium Plus, and Audible Premium Plus Annual. The major difference among them is shown in the table below.
| | | | |
| --- | --- | --- | --- |
| Plan Name | Audible Plus | Audible Premium Plus | Audible Premium Plus Annual |
| Price | $7.95/month | $14.95/month | $149,50/year |
| Credits | none | 1 per month | 12 per year |
| 30% Discount off Additional Audiobooks | No | Yes | Yes |
To know more about the plans, you can go to the Help page of Audible to find information about these plans.
Google Play Audiobooks
What about Google Play Audiobooks? In contrast, there are no membership plans for audiobooks on the Google Play app. That means you can buy each audiobook at its shelf price. As now Google Play Audiobooks is running a promotion, and in order to let more readers know more about Google Play Audiobooks, Google decides to provide its readers with a certain percentage of discount on purchasing audiobooks from it.
Referring to the price, it still seems hard to tell which one is better as Audible Audiobooks and Google Play Audiobooks take different approaches to sell audiobooks. For those who would like to listen to various audiobooks, Audible Audiobooks should be more suitable, while for those who just want to buy several audiobooks in a whole year, don't go wrong with the Google Play Store.
#3. Audible vs. Google Play Audiobooks: Availability
After purchasing audiobooks, you may wonder how to listen to these audiobooks and which devices can be compatible with these audiobooks. Well, the following is about the compatibility of Audible books and Google Play audiobooks.
Audible Audiobooks
As long as you have the Audible app, you can enjoy Audible audiobooks on iOS and Android systems. The audiobooks on Audible are also available for hundreds of audio players, PDAs, smartwatches, and many other media devices. But If your devices don't have the support for the Audible app, then you need to download the audiobooks files on your Windows and Mac computer first and then convert the Audible AA or AAX files to other compatible formats because the attached DRM will prevent your device from playing the audiobook.
To remove audible DRM and enjoy Audible audiobooks on multiple devices, you can convert them to popular formats with TuneFab Audible Converter. It is a professional tool designed to remove DRM protection from Audible AA/AAX audiobooks and convert them to multiple formats including MP3, AC3, FLAC, etc.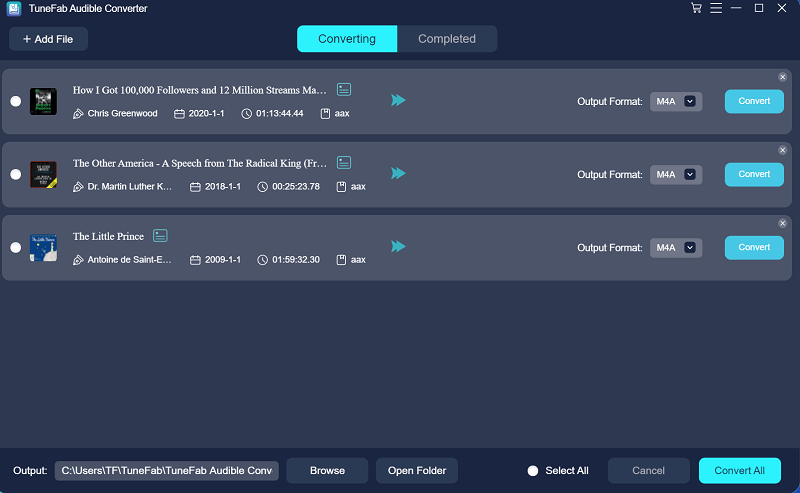 Google Play Audiobooks
Comparing with Audible Audiobooks, Google Play Audiobooks allows users in 45 countries to play audiobooks purchased from the service on multiple platforms such as Google Assistant, Google's Home device, and soon, Android Auto. Though Google Assistant is not available on iOS devices, Apple users can buy the Google Play Audiobooks app on iTunes. What's more, Audiobooks purchased from Google Play are available in 9 languages.
In this situation, Google Play Audiobooks gains an advantage over Audible Audiobooks in region availability and compatibility which are available in more countries and provides more languages.
#4. Audible vs. Google Play Audiobooks: Return Policy
This is a comparison between Audible Audiobooks and Google Play Audiobooks on their return policy.
Audible Audiobooks
If you are not satisfied with your audiobook purchased on Audible Audiobooks, you are allowed to return or exchange it within 365 days of the original purchase. It's very easy to do that, just go to your order history and click on the Return button. Then you'll get the credit or money back depending on how you purchased the audiobook.
Google Play Audiobooks
Compared with Audible, Google Play Audiobook doesn't have a return policy but a policy called "All sales are final". Only when the audiobooks you purchased cannot be loaded or run, then you'll get a refund.
Considering that, no doubt that Audible Audiobooks is the winner in the competition of return policy for the reason that it allows readers to exchange another audiobook for free as long as within 365 days of purchasing, while Google Play Audiobooks don't have a similar policy.
Conclusion
This is an Audible Audiobook vs. Google Play Audiobook comparison in the aspects of Audiobook Library, price, availability, and return policy. Based on the comparison, as shown above, Audible Audiobooks outweighs Google Play Audiobooks despite the DRM factor. Audiobook frequent users should find Audible more convenient than Google Play Audiobook, but for those who just occasionally listen to audiobooks, give Google Play Audiobook a try.
Was this information helpful?
TrustScore 5 | 49