For some audiobooks lovers, Audible would be a great choice to enjoy audiobooks with high-quality. Even you have been used it to listen to audiobooks for many times, there are still some tricks that it wants you to spend more money if you want to enjoy more. Therefore, we have collected 5 best tips for you to enjoy audible with less money spending on it.
CONTENTS
Tips 1. Sign up Audible's Free Trial Plan to Get A Free Credit
For the new users who sign up for a new account, Audible would offer a free credit automatically. So you could sign up for a new account, try the 30-day free trial plan of Audible, and get this credit. With this free credit, you are able to redeem an audiobook you like the most from Audible. Even the free trial period is expired, you can still keep this audiobook. However, this bonus only works for the new accounts, and if you have to get this free credit for once, you could not get another twice.
Tips 2. Get Audible's Secret Silver Subscription Plan
As we known, Audible offers the subscription plan which costs $15/month. If you are a big lover of audiobooks, this would be really a good choice because you would have access to a massive amount of audiobooks. Actually, Audible has a hidden subscription plan which only costs $15 every two months. However, Audible would not advertise this plan. As a result, if you want to apply for Audible's sliver subscription plan, you should head to this support link for help. Then select the information as below, and click on "Chat".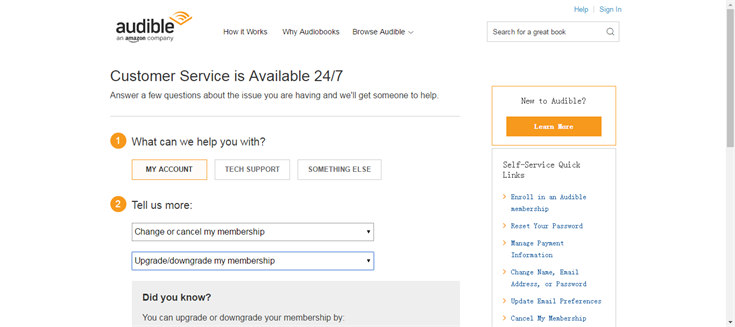 Tips 3. Pause Your Membership When You Don't Need It
Sometimes you may be busy with your work or study, and you don't have much time to listen to audiobooks in Audible. But if you cancel your subscription, you will lose all your credits. Audible has considered about this situation and offers this service to users. You are able to pause your membership for up to 90 days once a year. During this on-hold time, you still have access to the audiobooks stored in your library, using your credits for purchasing, getting discounts from store. This could save your money when you are too busy to use Audible.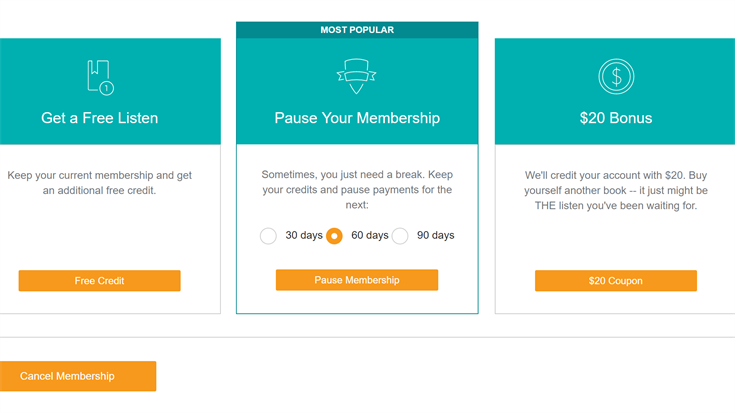 Tips 4. Getting Discount by Cancelling Audible Membership
If you cancel your membership, Audible would try to save you and will be willing to offer you some special discount. The discount would be up to 50% for the 3-month subscription. Besides, this plan is also available for those who have tried the 30-day free trial and want to cancel the free trial subscription. You can also get 1 credit each month with this membership, which means that you only have to pay $7.49/month to subscribe to the membership.
Tips 5. Remove DRM from Audible Audiobooks
If you have subscribed for Audible membership, but want to keep these audiobooks even after the membership expired, you could try to save them to your devices. But the audiobooks in Audible can't be transferred directly since they are protected by DRM (Digital Rights Management). So before your transfer, you have to remove DRM from them. Here you can use TuneFab Audiobook Converter, which offers free-trial experience on removing DRM from Audible audiobooks and converts them into MP3/M4A with the chapter information preserved.
Related Reading
How to Get Free Audiobooks from Audible
The tips above are perfect for you to save money on listening audiobooks in Audible. They are useful and helpful, and you can try them right now. If you have any problems or know other tips on using Audible, please share with us by leaving your comments below. We are so glad to communicate with you. Thanks!
Was this information helpful?
TrustScore 5 | 49