For Apple fans, you must know that Apple Inc. released the newest iOS operating system, iOS 12 on Sep. 17th. iOS 12 mainly focuses on the system performance, stability and quality improvements, which is designed to make your iPhone and iPad experience faster, more responsive and enjoyable. You will find some amazing improvements in its performance, FaceTime, messages, screen time, notifications, augmented reality, photos, camera, Siri, etc. If you are a music enthusiast, you must want to know more about what's new in Apple Music rather than other aspects. Therefore, today we are going to find out what's new in Apple Music at first.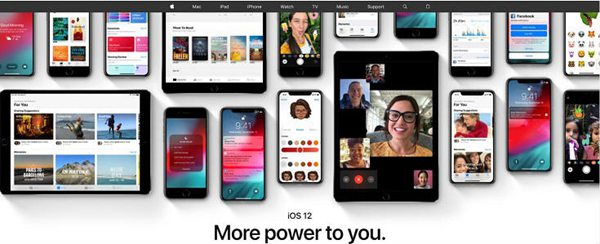 CONTENTS
Part 1. What's New in Apple Music of iOS 12
As Apple Music gives users an access to 50 million songs in various genres, from old favorite to the latest one, most music fans would like to enjoy songs and playlists on Apple Music. Now iOS 12 is available, let's learn what's new in Apple Music of iOS 12.
#1. Search for Song by Lyrics
Sometimes, you may only remember the song lyrics but not the song name, then how to enjoy the song you like on Apple Music. Considering that, Apple Inc. allows you to search for music by entering the song lyrics on iOS 12. For example, if you want to find which Hip-Hop track contains the lyrics of "She asks me light a fire like I'm Morrison", then you can search for the lyrics on Apple Music, the rockstar will be turned out in a few seconds so that you can enjoy the song and set it as alarm on your iPhone.
#2. Artist Pages
In addition to that, here is another improvement of iOS 12. Apple Inc. make efforts to update the artist pages. Users will find the artists' albums stand out on the artist page and easily browse the artists' musical work by albums, live albums, compilations, etc. because the artist discography has been classified into sections.
#3. Billboard and Playlists
When you want to look for some music for entertainment, then you may want to check the top list of music. Here comes a piece of good news, iOS 12 enables you to see the daily top 100 songs in 115 countries where Apple Music is available so that you can find out the most popular songs around the world. Also you can create and share collaborative playlist on Apple Music as usual.
In addition to that, users can also see what your friends are listening to on Friends Mix. Actually, iOS 12 has more features await to be found.
Part 2. Another Excellent iOS 12 Features
Except improving Apple Music, Apple Inc. also features faster speed of running system, Memoji and Fun camera effects, Group FaceTime, privacy and security, etc. Therefore, now let's find out more excellent features about iOS 12.
#1. Faster Speed of Running System
There is no doubt that the speed of running system is an important factor when you make a decision of updating iOS system.
A. Up to 40% faster app launch
B. Up to 50% faster keyboard display
C. Up to 70% faster swipe to camera
D. Up to 2X faster share sheet display under load
In a word, iOS really do a great job in improving its running speed.
#2. Memoji and Fun Camera Effects
People, especially the youth, would like to use Memoji to express their mood or make fun effect, so I believe that the youth will be delightful about its Memoji and fun camera effects. The new camera feature enables users to add Animoji, filters, text and stickers to Messages and FaceTime when communicating with friends and family from iPhone. Users can create the personalized Memoji characters within Message by choosing from a plenty of various characteristics.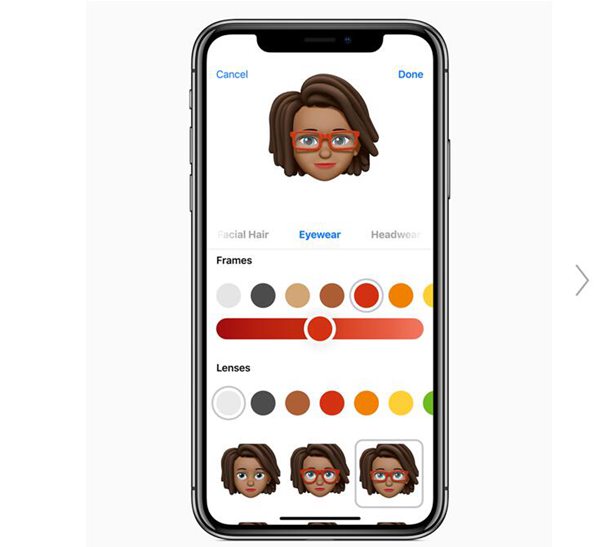 #3. Group FaceTime
Have you ever wondered if there is an easy way to chat with multiple people at the same time? Well, Group FaceTime can be useful. FaceTime has changed the way of communicating and sharing important moments with others, while Group FaceTime can do more. With Group FaceTime, participants can be added to the communication at any time.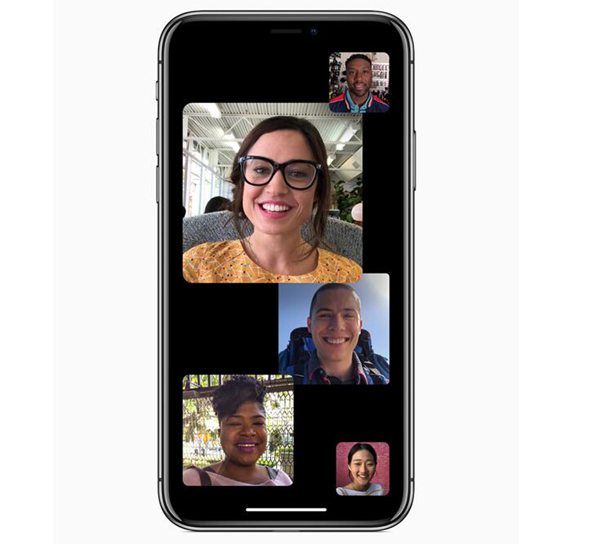 #4. Privacy and Security
Apple Inc. are striving to enhance the privacy and security of the smartphone system. So let's see what's new in privacy and security.
A. iOS 12 prevents share buttons and comment widgets on web pages from tracking users.
B. It allows you to easily share and receive passwords from neighbouring iOS devices.
C. Your passwords will be stored in iCloud Keychain and you can easily get your passwords by asking Siri.
D. The reused passwords will be flagged in the passwords list so that you are able to easily and quickly browse the apps or websites.
Part 3. How to Update to iOS 12
In addition to the above excellent features, iOS 12 also make improvements on Siri shortcuts, sharing photos, camera and more. Now, I think you are very surprised at iOS features, but do you know how to update to iOS 12? Just a few steps as below.
Step 1: Download the iOS 12 Developer Profile on your device.
Step 2: Then you will receive a message asking you to install it on your device.
Step 3: After that your device will reboot. When it finishes, go to "Settings" > "General" > "Software Update" section.
Step 4: Now your device will start to download the update and reboot once again.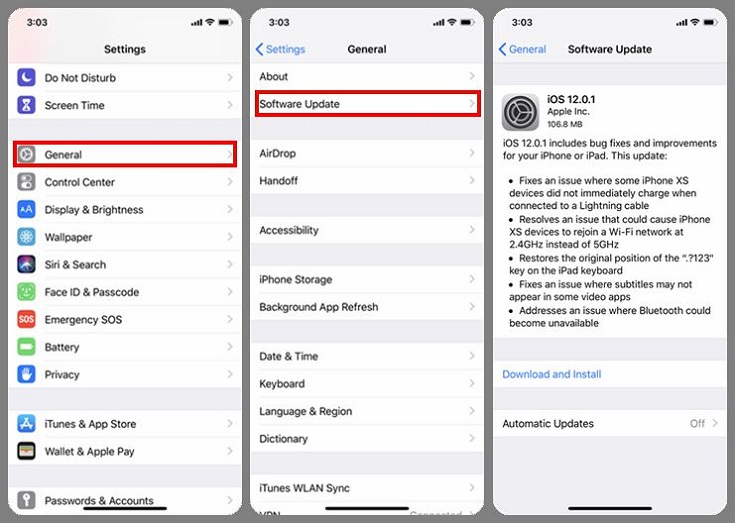 In fact, there are more amazing features of iOS 12 that are waiting for you to find. If you are satisfied with iOS 12, then why not follow the above instructions to update to iOS 12? As we all know, Apple Inc. Won't let you down.
Was this information helpful?
TrustScore 5 | 49