Apple Music is one of the most popular streaming music services, with which you are able to access more than 50 million songs. To manage so many songs, you'd better make playlists on Apple Music so that the tracks will be classified in accordance with their features. Besides, after generate Apple Music playlists, sharing them with friends and family is cool as well.
This post will tell you how to create and share collaborative playlist on Apple Music. Let's get started!
How to Create Apple Music Collaborative Playlist
Before sharing playlist on Apple Music, we need to generate one first. In this part, you will know how to make Apple Music playlists in detail and share them to your friends and family. Let's move on.
Step 1. Making the Collaborative Playlist
#1. Launch Apple Music on your iPhone, and then tap on "My Music" at the bottom you'll see the thumbnails of "Recently Added Playlists". From these lists, you are able to see:
• "Apple Music Playlists" that you've followed
• "My Playlists" that you have created on your own
• "Show Music Available Offline" which will show you those songs saved on your iPhone 6/6s/7/7P/8/X.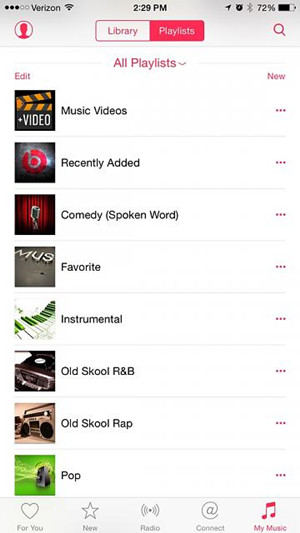 #2. To create a playlist, tap the "New" button at the upper right corner. Give your playlist a name, description, and cover image. If you can't find any appropriate image at that time, just leave it alone, it will auto-generate one from all the songs you added into it.
Step 2. Add Songs to the Newly Created Playlist
Now you have made a new playlist on Apple Music, there are two options for you to add songs to the playlist.
#1. Go to the new playlist, tap the green plus button to add the songs that you want to put into this newly created playlist.
#2. The other way is to browse songs first, and then tap the three-dot icon at the right of the songs to bring up a new list, choose "Add to a Playlist…", after which tap the playlist you generated just now.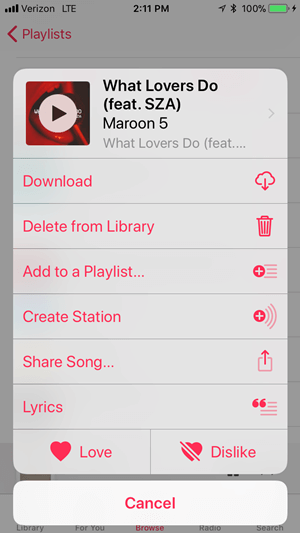 How to Share Apple Music Playlist with Others
After you have added all songs that you want to put into the new playlist, you are free to share the wonderful playlist to your friends and family. Follow the steps below to do so!
Step 1. Go to the playlist that you want to share, click three-dot icon at the upper right part, a list will appear.
Step 2. Tap on "Share Playlist" then you are free to choose the target platform and person. Message, E-mail, Twitter, etc. are available for you.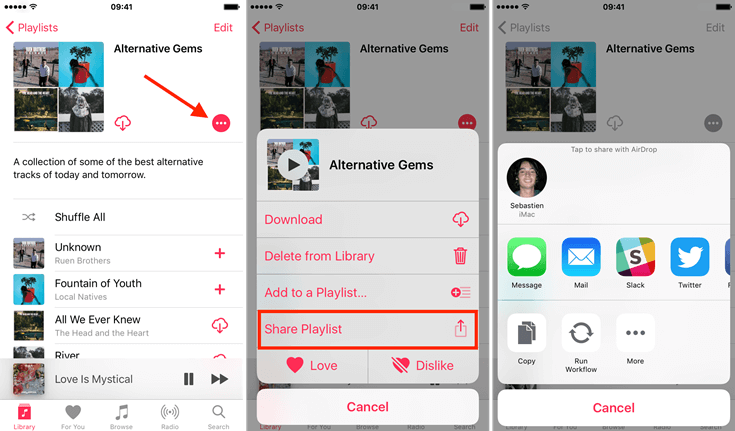 Conclusion
Have you got the method that how to create and share playlist on Apple Music? If you follow the steps provided from the contents, then you must get a satisfactory outcome. After generate Apple Music playlist, you can also download Apple Music playlist to MP3, which can be moved to and played on any devices that you like. So, just follow us and make yourself a unique playlist and better experience on Apple Music!
Was this information helpful?
TrustScore 1.2 | 19