Have you tried waiting for the iTunes Extras after the movie is over? I bet most of you have, and really like it. You never know what you will see in the iTunes Extras: amusing anecdotes, arduous fieldwork or just the sincere expectation of filming crews. The dots of shooting scenes turn the iTunes Extras into a precious moment for the audience and staff to share the gaiety and perspiration. Here I'd lead you to a complete idea about iTunes Extras and some clever usage tips.
CONTENTS
Part 1. What's iTunes Extras
Similar to DVD to Blu-ray movies extras, iTunes Extras will play director's commentary, deleted scenes, bonus scenes, making-of documentaries, and other features in the final credits of iTunes videos. Since its debut in September 2009, iTunes Extras has several significant upgrades and now supports iPhone/iPad/iPod touch with iOS 8, Mac/PC, or Apple TV with the 6.2 update.

iTunes Extras only can be seen with iTunes HD videos. Most iTunes HD videos show an "iTunes Extras" badge on the cover as an attractive selling point. But not all movies have iTunes Extras and especially you cannot share the iTunes Extras when using rental service. Additionally, the fact that some old iTunes Extras didn't develop to the new version makes it necessary to label them again on iTunes desktop.
Part 2. How to Find the iTunes Extras
Generally it would be easy to find iTunes Extras as it has a remarkable badge sign. But you have to guarantee three necessities:
1. You have downloaded the HD version of a movie via iTunes.
2. You have the latest version of iTunes, iOS, Mac OS, and TV OS.
3. Your device should well connect to a Wi-Fi network.
Then you can go to watch the iTunes Extras on your device. For example:
On Apple TV, launch Movies app or TV Shows app. Come to the "Purchased" section and select the iTunes HD movies. Select "Play" and you can directly choose to play the iTunes Extras content on the playback menu.

On iPhone/iPad/iPod touch, tap the Videos part. Select the movie and tap "Play". The iTunes Extras menu appears at the bottom of the screen.
On Mac or PC, run iTunes and select the "Movies" playlist. Double click the iTunes HD movies with iTunes Extras and you can see the iTunes Extras menu at the bottom.
Part 3. How to Get iTunes Extras DRM-free
You may be aware that iTunes Extras are only playable on the certain devices. If you try to play the downloaded Extras on other devices, you are bound to fail. Honestly speaking, the playback limit results from the Apple's FairPlay DRM imposed on iTunes movies along with iTunes Extras. The DRM restrictions prohibit any personal copy or edit activity for protecting the digital content. So if you want to make the best of the iTunes Extras, you should convert the Extras content to DRM-free files, after which you can play Extras on any device as you like.
TuneFab M4V Converter is introduced to you to perfectly remove the DRM from iTunes Extras and specifically convert the iTunes M4V Extras to MP4. Moreover, it is completed with a 30X faster speed and full video info preservation like multi-language subtitles, audio tracks (including 5.1 Audio & AD Track) and closed captions. Simply, it can easily get you play iTunes Extras free from the limits of device, time and network.
• Remove DRM from iTunes SD & HD movies and Extras;
• Get iTunes M4V Extras Converted to MP4 files;
• Process batch conversion immediately;
Step 1. Run TuneFab M4V Converter
First make sure you have once run iTunes on Mac so that your iTunes movies playlist will be synced to the TuneFab M4V Converter when you launch it.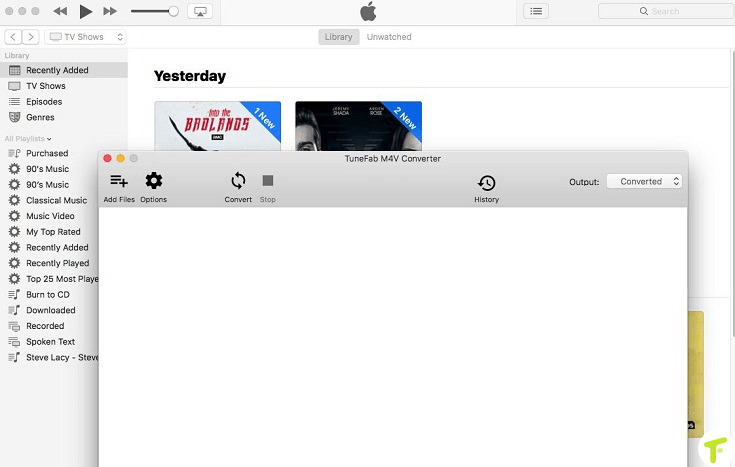 Step 2. Add iTunes Extras files
Here you need to select the iTunes HD movies with Extras by clicking "Add Files". Then click "Add" to confirm the selection.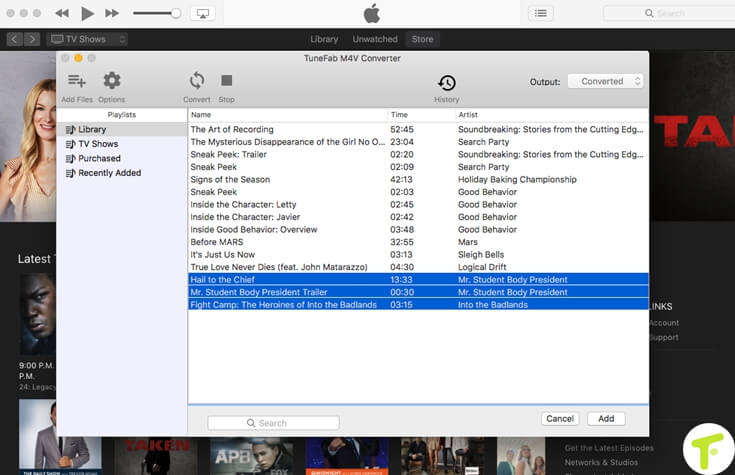 Step 3. Convert iTunes Extras to MP4
If you want to select the certain audio tracks and subtitles, click the "Gear" icon. Or you can just get all remained. Click "Convert" button, and you can start converting iTunes M4V Extras to MP4.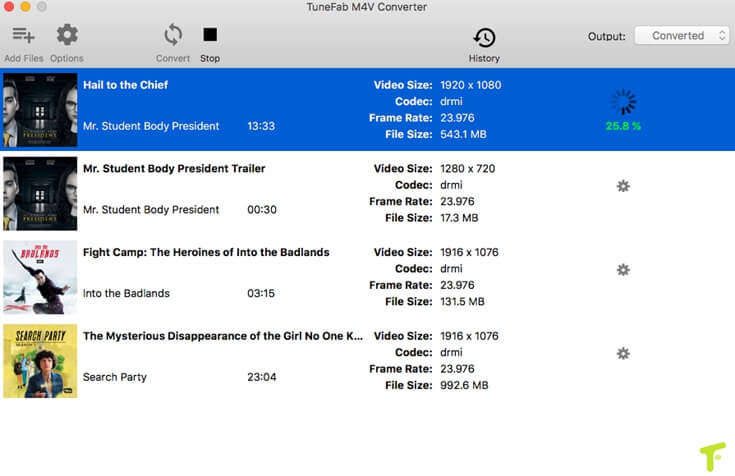 With three simple steps, now you have removed the DRM from iTunes Extras and play the converted videos on a favored device at any time.
Was this information helpful?
TrustScore 5 | 49