Is there any other software that can act as the Audible alternative? Some may ask. For now Audible is winning extensive favor for its larger audiobook library, multiple subscription plans, and the free trial experience. Even so, it's still troublesome that you have to pay for a rather expensive subscription package, and worse still, you always have to listen to Audible Audiobooks on Audible-authorized apps, no matter downloaded or online. In the light of such inconveniences, 10 alternative Audible services are given for your reference. And you can also get to know a bonus tool to remove Audible DRM.
CONTENTS
Part 1. List of Top 10 Audible Alternatives
No.1 Alibris
Alibris is an online resource trading platform for the physical copies of books, movies, and albums. It provides reliable sellers spreading across the world, so sometimes you may meet surprising media that have gone out of production or circulation. If you have some collections, Alibris also welcomes your enthusiastic joining.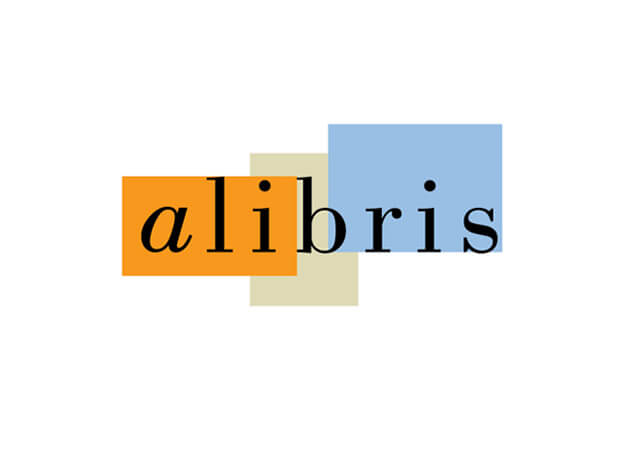 No.2 Audiobooks Now
Audiobooks Now seem to perform similarly to Audible. But Audiobooks Now has a striking distinction on its club pricing plan to get 50% off on audiobook purchases. Compared to Audible, it offers a lower membership fee at $5 per month, but smaller audiobook titles for sale, 80,000 around. Otherwise, Audiobooks Now provides a daily lowest price at nearly 40% off for some regular audiobooks.
No.3 Audiobooks.com
Audiobooks.com is a similar Audible product from Canada. It requires a subscription at $15 per month like Audible, but it will give you a free audiobook per month. Different from Audible, it allows extra book credit purchase at any time. Audiobooks.com also provides a reduced price for any audiobook among the 100,000 titles.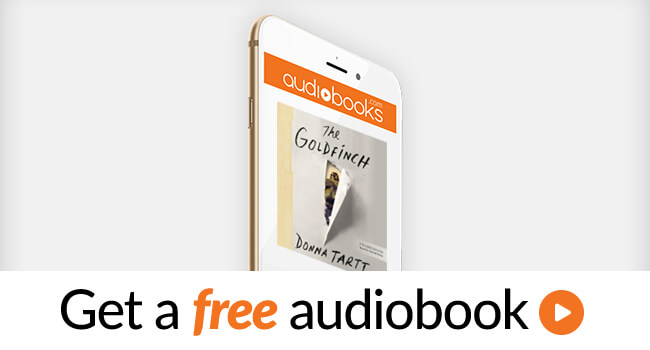 No.4 Barnes and Noble
Barnes and Noble, an online bookstore, now also is an audiobook provider. You can navigate to its NOOK Audiobook Store to purchase your favorite audiobooks. But notice that purchased NOOK Audiobooks content can only be listened to in one of the NOOK Audiobook apps. This bookstore generously offers up to 40% off for Audiobook bestsellers.
No.5 Downpour
Downpour, an Audible-like service, allows you to buy and rent DRM-free audiobooks which significantly helps you play audiobooks here on any other media other than special Audible players. Downpour charges the membership fee of $13 per month, a little cheaper than $15/m on Audible. It will also give you one free book per month.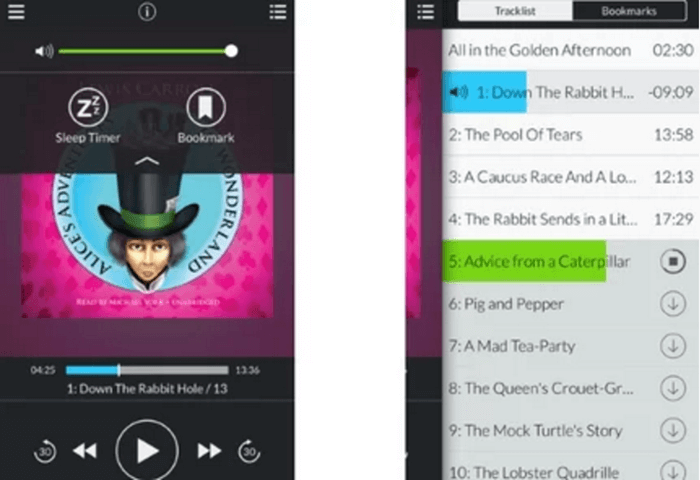 No.6 LibriVox
LibriVox is a completely free website to read Audiobooks. It dedicates to free public domain Audiobooks so the audiobooks here are read voluntarily without any charge. If you have any interest in Audiobook career, you even can become a volunteer member of LibriVox family.
No.7 Kobo
Kobo, or Rakuten Kobo, as a byproduct from Canadian book company Indigo, is now a Japanese e-commerce online bookstore, selling a product called "e-books" similar to audiobooks. Kobo has promoted its application for Android, Apple, BlackBerry 10, Win 8, and Kobo desktop for Win/Mac. It also provides its own reader, eReader. At present Kobo offers you a $5 account credit for free registration and 5 million books for your choice.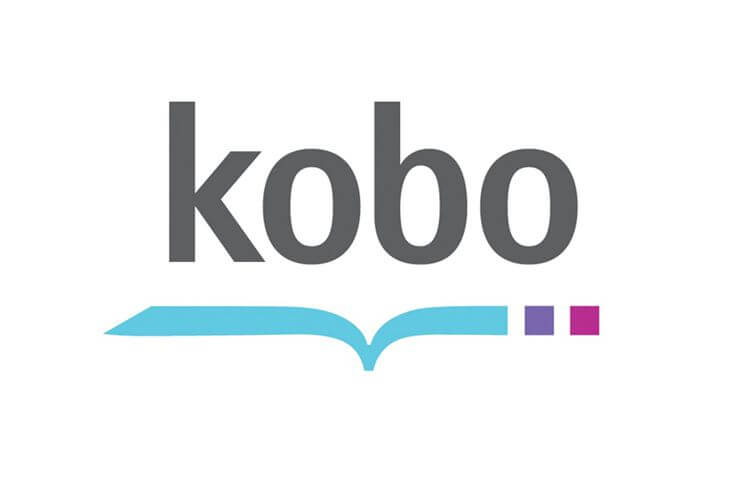 No.8 OverDrive
OverDrive shares a large customer base that over 30,000 libraries use to check out audiobooks and e-books right on devices. Overdrive is a free alternative to Audible that you can use a valid student card or library card to rent books from the local public library. Sometimes it might be a bit annoying when your local public library lacks the book you need and your rental download period expires. It also establishes an app supporting Android, iOS, Windows, OS X, Nook, Chrome, Amazon devices, and some more.
No.9 Playster
Playster is also a better alternative for Audible. It differs from unlimited audiobook service except that the subscription fee reaches $24.95 per month, much expensive than Audible's. But once you sign up, you can enjoy all the songs, books, audiobooks, movies, TV shows, and games in Playster Library freely. If you just want to listen to audiobooks, you can just buy a single media charging 14.95/Month. Playster also involves a more economical family plan.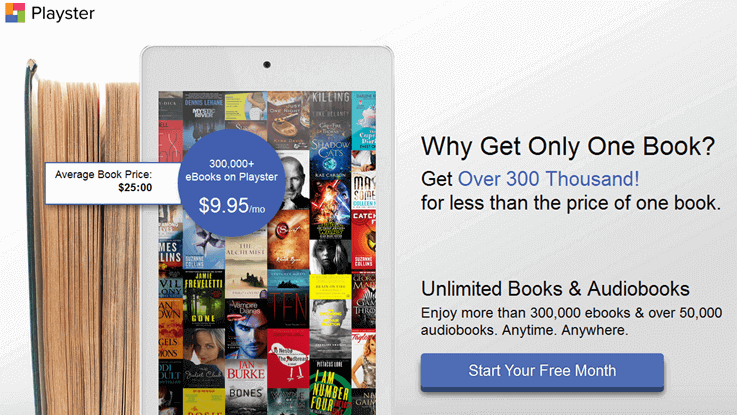 No.10 Scribd
Scribd also has an audiobook service. Comparing to Audible, it is much affordable with a good and low subscription at $8.99 per month. During the membership period, you can have access to 3 books and 1 audiobook each month, and the unlimited reading of magazines and documents. Scribed has prepared a detailed catalog that has over 30,000 audiobook titles for you. Moreover, Scribd's Android and iOS apps help you enjoy audiobooks either on the web or on the go, and even the apps can sync the reading progress of your device and computer.
Part 2. How to Enjoy Audible Audiobooks Freely
After gaining an understanding of these Audible alternatives, why not try out some of them to get more audiobooks. However, you still may prefer purchasing audiobooks from Audible, as it is unquestionably the biggest name in the audiobook space. You can easily find new releases on the platform. But unconveniently, Audible audiobooks developed by Amazon are all protected by DRM, a technology used to protect digital contents from being copied and transferred casually. Therefore, even you have purchased audible audiobooks, you could not save or move them to any other devices or media players such as Sony Walkman, Apple Watch, or media players. So, how can we enjoy audible audiobooks freely?
To get rid of DRM limitation from Audible books, we have to make use of a useful tool - TuneFab Audible Converter to help us bypass DRM encryption. This software could deal with DRM removal easily and professionally. It is able to convert more than one audiobook once and the conversion speed can reach 60X faster. TuneFab Audiobook Converter could also help to keep the chapter information of Audible audiobooks if users choose to convert them into MP3/M4A.
Get to Know TuneFab Software
Despite the DRM, Audible can still be your top choice for audiobooks. But if you want more sources to gain audiobooks, the 10 Audible alternatives definitely worth a try. And if you dislike DRM, some of these alternatives provide DRM-free audiobooks. You can also take advantage of TuneFab Audible Converter to backup a DRM-free copy of your Audible purchases.
Was this information helpful?
TrustScore 5 | 49