On Audible, you can discover countless audiobook resources covering a wide range of categories to select and stream both online and offline. However, the expense to purchase an audiobook on Audible can be comparatively higher. Some niche sites and apps like Audible are considerable if you wish to save costs. Therefore, the following post will introduce the 10 best Audible alternatives with more competitive pricing (and even free) for you to enjoy your favorite audiobook streaming. Now, read and save them into bookmarks to discover more audiobooks you like later on!
Contents



· No.1 Scribd

· No.2 Libro.fm

· No.3 Chirp

· No.4 Audiobooks Now

· No.5 Barnes and Noble

· No.6 Libby

· No.7 Downpour

· No.8 LibriVox

· No.9 OverDrive

· No.10 Alibris
List of Top 10 Audible Alternatives
The following 10 audiobook providers can be perfect Audible alternatives, with rich audiobook resources provided and more affordable pricing. When you can't find some audiobooks on Audible or consider them a bit pricy, switch to them and find the audiobook you want to enjoy.
No.1 Scribd
The first recommended Audible alternative is Scribd. Compared to Audible, it is much more affordable with a monthly subscription at $8.99 per month. During the membership period, you can have access to 3 books and 1 audiobook each month, and unlimited reading of magazines and documents. Before starting the subscription, it provides a free trial for you to try in advance.
Scribd has prepared a detailed catalog that has over 30,000 audiobooks and magazines, and ebook titles for you. Moreover, compatible with Android and iOS, this cheap audiobook app helps you enjoy audiobooks on the web and on the go, and even sync the reading progress of your device and computer. For any of you wishing to release an audiobook, Scribd also offers an uploading function to help you share the books to access more audiences.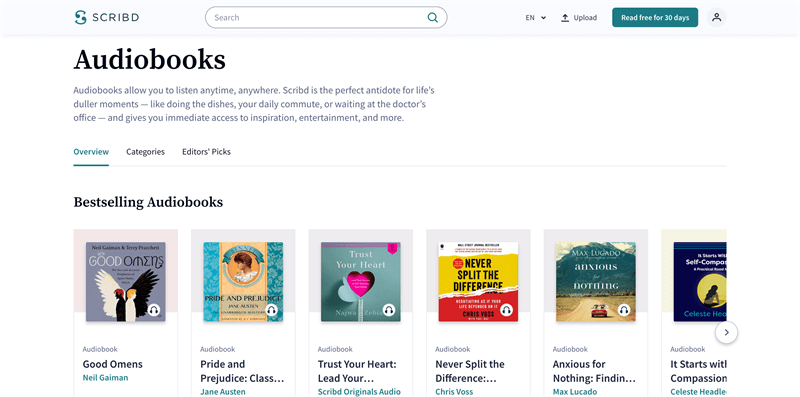 Pros
· Various categories to discover more audiobooks
· Ebooks and magazines can also be accessed on the platform
· Easy-to-grasp in-platform functions
· Accessible in more countries than Audible
· Free trial available
Cons
· Not equipped with an e-reader
· Limited ebook resources
No.2 Libro.fm
By signing up to Libro.fm, you can have the full bookstore library cooperated with 2,500+ bookstore partners. You can access any audiobook you like for streaming and flexible purchases through its online platform and mobile applications. As an alternative to Audible, it delivers decent quality and rich audiobook resources, ensuring a smooth streaming experience for audiences.
A sparkling feature brought by Libro.fm should be its playlist-sharing function, which will recommend some audiobooks or podcast playlists curated by experts, influences, and other audiences. You can discover what others are listening to and enrich your audiobook playback experience in your spare time.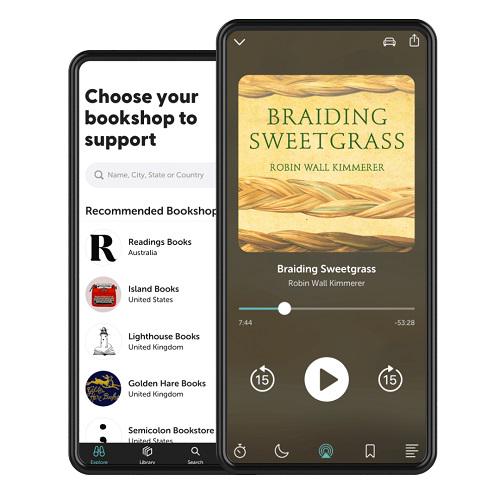 Pros
· Both online platforms and iOS/Android applications equipped
· Plenty of audiobooks as well as podcasts resources provided
· Cooperate with more than 2,500 bookstores to ensure sufficient resources
· Playlists streaming feature to deliver more convenient audiobooks playback
· All audiobook resources are DRM-free to download
Cons
· The pricing of Libro.fm is not that cheap
· Only available for audiences of US regions
No.3 Chirp
For any of you who wish to save expenses in purchasing audiobooks, Chirp is the best Audible alternative you should consider. This Audible competitor offers cheap pricing to pay for audiobook deals, with limited-time discounts offered for saving up to 95% on some popular items. It doesn't require registration but allows you to buy audiobooks you like and then move them to its mobile apps for offline listening.
To facilitate a convenient audiobook streaming experience, Chirp is also equipped with a player to help you control the playback flexibly. With all the essential features provided, you can find it a considerable alternative to Audible that is trustworthy to try.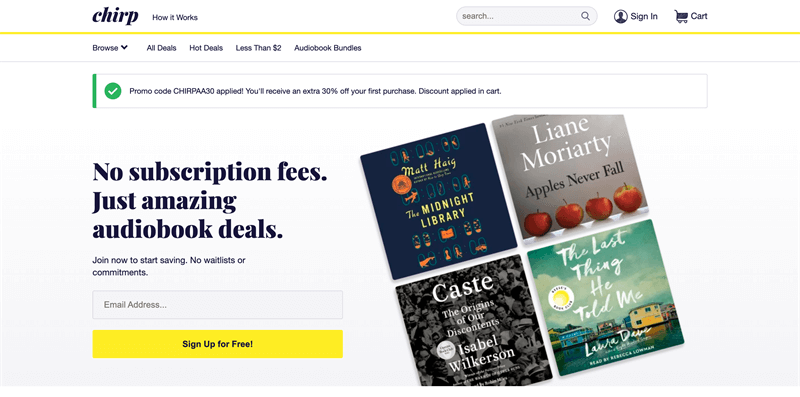 Pros
· Time-limit deals to save much of your expense
· A rich audiobook database provided
· Handy built-in audiobook player to deliver offline audiobook streaming
· Automatic audiobook recommendations
Cons
· Limited audiobook resources
· Application installation is needed
No.4 Audiobooks Now
Audiobooks Now seem to perform similarly to Audible, with over 160,000 audiobooks available to purchase and stream. It is a site like Audible, which offers a lower membership fee of $4.99 per month. For users signing up for the service, you will get extra benefits with a free audiobook and an additional 50% discount when you purchase the first audiobook every month. As an Audible competitor, it does offer more competitive pricing to get audiobooks and save money.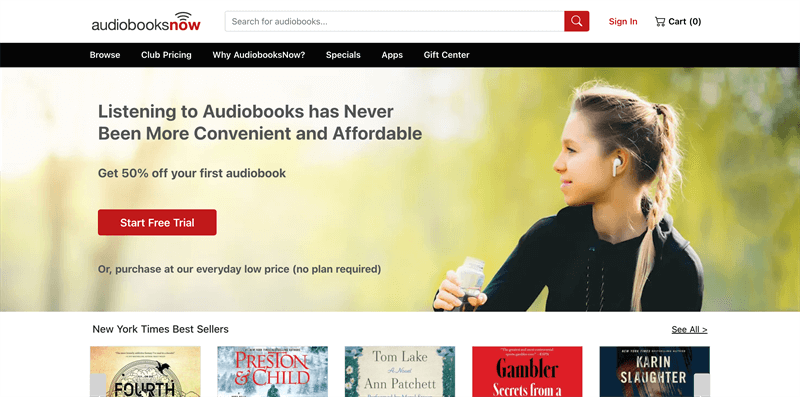 Pros
· Wide selections of audiobooks
· Discount available to get the first audiobook every month
· Instant library update to deliver the latest resources
· A nice streaming experience guaranteed
Cons
· A sudden crash occurred while running the app
· Not all audiobooks available in all regions
No.5 Barnes and Noble
Barnes and Noble offers a captivating audiobook subscription service for just $14.99 per month, providing an enjoyable online audiobook streaming experience. You can navigate to its NOOK Audiobook Store and browse its library with over 200,000 audiobooks provided, then purchase your favorite ones to enjoy in no time.
But notice that purchased NOOK Audiobooks content can only be listened to in one of the NOOK Audiobook apps. This site like Audible generously offers up to 40% off for Audiobook bestsellers, making it a more economical Audible alternative you help to save on purchasing audiobooks.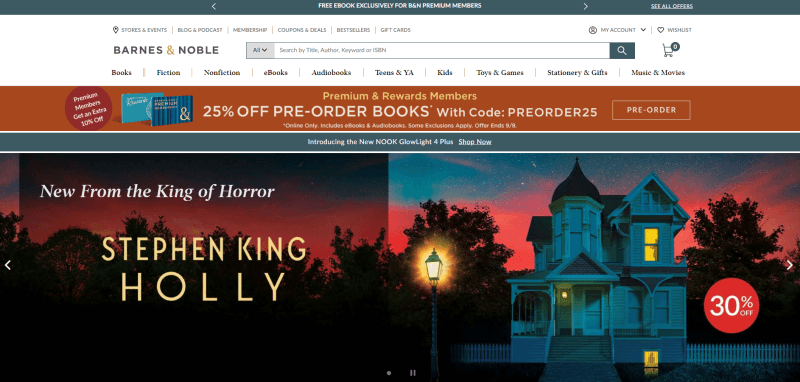 Pros
· Rich audiobook resources
· Competitive pricing at 40% off to purchase audiobook bestsellers
· Cross-platform applications provided
· Quality-guaranteed streaming ability
Cons
· The subscription expense is not cheaper than Audible at all
· Only available for audiences in the United States
No.6 Libby
Libby is a free alternative to Audible connected with OverDrive, allowing you to access digital media such as audiobooks and ebooks streaming. With this audiobook app, you ought to subscribe to the service or purchase titles to stream. You will need to get a digital library card or a 4-digit PIN to access Libby. To apply for one, you can head to US libraries or apply online.
Although Libby is free to access, its audiobook resources amount can be varied based on the offline libraries you select to access. Compared with Audible, there are far fewer options to select. But to save money, you can first head to this Audible alternative and see if there are the audiobooks you like provided in Libby to get them without any charge.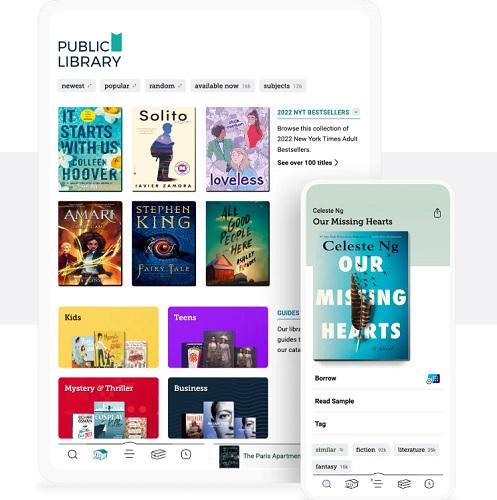 Pros
· Connect with offline libraries
· Completely free to access without any charge
· Easy navigation and friendly experience in using the application
Cons
· Very limited audiobook copies
· Only get books from public libraries in the United States
· Have to wait for weeks to get the latest releases
No.7 Downpour
Downpour provides a wide range of classic audiobooks with over 80,000 copies, covering the books written by famous authors such as J.K. Rowling, Stephen King, and many Nobel Prize winners. As a cheaper Audible alternative, Downpour charges a membership fee of $12.99 per month, a little cheaper than $14.99/m on Audible. It will also give you one free book per month to get an audiobook you like.
After purchasing titles on its online store, you can then install the application version and access the audiobook streaming. Downpour also supports the playlist streaming feature to enable a more convenient playback.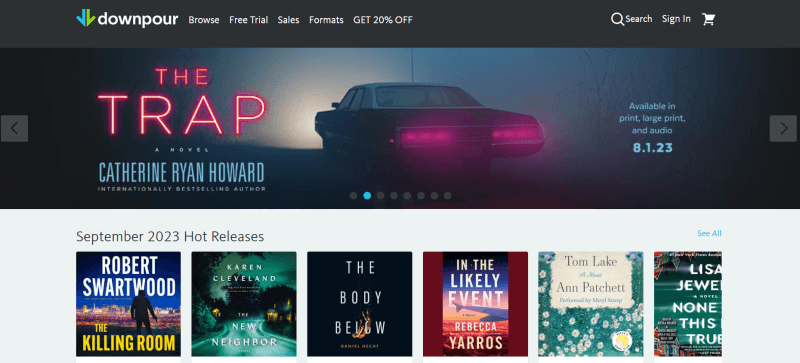 Pros
· More affordable pricing to subscribe and purchase audiobooks
· Over 80,000 audiobook resources
· Bestsellers and audiobooks created by famous authors can be discovered
· The playlist streaming feature equipped
Cons
· A free trial is unavailable
· Some audiobooks cost more than 1 credit
No.8 LibriVox
If you consider a free Audible alternative, LibriVox is definitely the one you are looking for. It dedicates to free public domain Audiobooks so the audiobooks here are read voluntarily without any charge. Although LibriVox is only a niche web-based audiobook provider, it contains more than 50,000 resources covering 30+ languages and different categories. You can access global audiobooks here and get them for free streaming at no cost.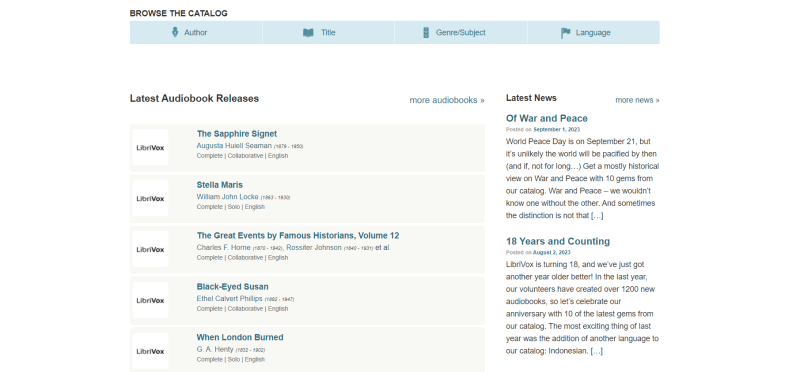 Pros
· Free website providing all free audiobooks
· No need to sign up an account
· Discover audiobooks in more than 30 languages
· Free download function equipped
Cons
· It also equips an application but it is clunky to use
No.9 OverDrive
OverDrive shares a large customer base that over 30,000 libraries use to check out audiobooks and e-books right on devices. As a free Audible alternative, you can use a valid student card or library card to rent books from the local public library. Sometimes it might be a bit annoying when your local public library lacks the book you need and your rental download period expires. It also establishes an app supporting Android, iOS, Windows, OS X, Nook, Chrome, Amazon devices, and some more, making the audiobook streaming across devices to be more convenient.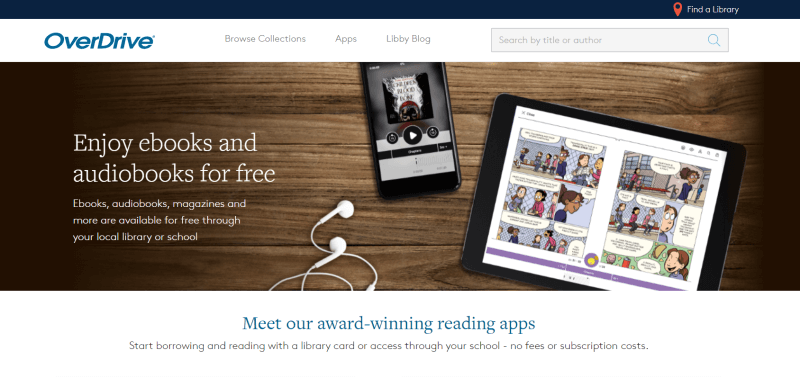 Pros
· Strong security powered by the government
· Connect with over 30,000 libraries
· Cross-device systems supported
· Free to access with a valid ID card
Cons
· Take time to access the latest audiobook releases
· Immature audiobook streaming ability
No.10 Alibris
Alibris is an online resource trading platform for physical copies of audiobooks, books, movies, and albums. It provides reliable sellers spreading across the world, so sometimes you may meet surprising media that have gone out of production or circulation. If you have some collections, Alibris also welcomes your enthusiastic joining.
Pay attention that Alibris is not specially developed for audiobooks, so there are limited resources to select. But on Alibris, there are many titles offered at a pretty low price of only $0.99. Therefore, you can still use it as an Audible alternative to save expenses by first browsing whether there are audiobooks you need on Alibris.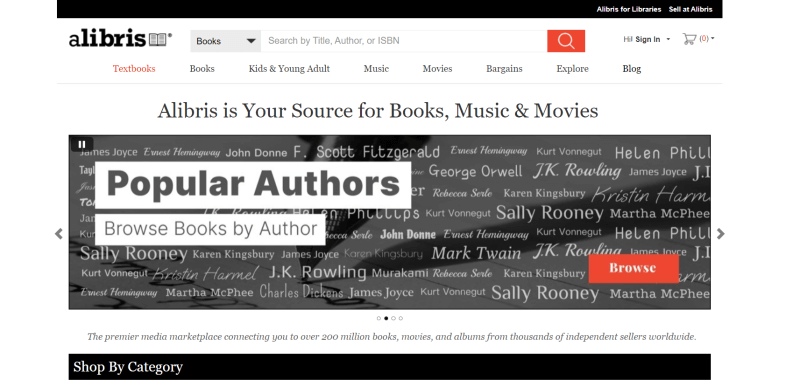 Pros
· More competitive pricing to get low-cost audiobooks
· All-in-one store to get more media resources
· Reliability ratings as references
Cons
· Difficult in searching
· Better than physical books purchase
Bonus: How to Download Audible Books and Enjoy Them as MP3
Compared with these niche Audible alternatives, you probably discover that Audible does provide a rich audiobook database and advanced quality for you to stream them both online and in Audible applications. However, as Audible books are protected by DRM, you are restricted from moving them outside Audible like those DRM-free resources provided on the above Audible alternatives.
To remove DRM from Audible and enable free Audible books streaming on any device even without Audible, TuneFab Audible Converter is definitely a sparkling program you shall not miss. It can retain full chapter information and is best at 320Kbps to export Audible books to DRM-free MP3, M4A, WAV, or FLAC files. With the ID3 tags kept accompanying the downloads, it can be easy for you to manage the offline Audible books library effortlessly.
TuneFab Audible Converter is also equipped with an embedded audiobook splitter, which can help you trim an hour-long audiobook into smaller audio clips by segments, time, or chapters, giving you a favor in storing and streaming them more flexibly and conveniently.
Attention: TuneFab Audible Converter offers 2 free quotas to download Audible books without any charge! Seize the opportunity to get free Audible books offline now!
TuneFab Audible Converter also has simplified manipulation to ensure the easiest conversion method for audiobook streaming. Here is the guide on how to process it in detail:
Step 1. Run the well-installed TuneFab Audible Converter. Directly import Audible books you wish to convert.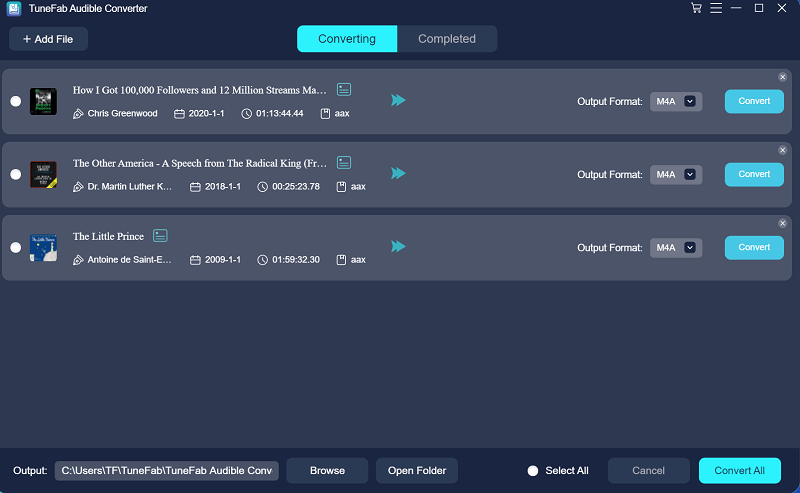 Step 2. Please select an output format to export them.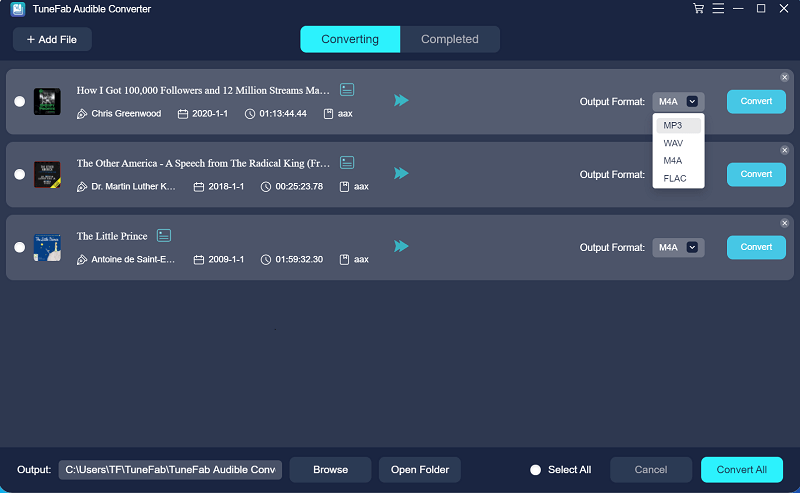 To further customize the audio quality such as SampleRate and Bitrate, you can turn to Preferences to personalize them. Here, the splitting mode can be enabled to split audiobooks by chapters, time, or segments accordingly.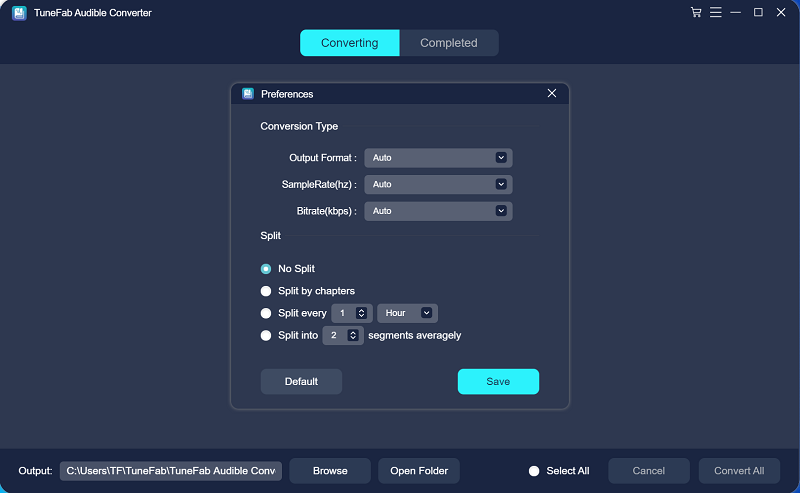 Step 3. Eventually, click on the Convert All button to convert Audible books to your selected format in no time. Later, you can access them in the Completed module. By clicking on Open File and you can locate the converted Audible books.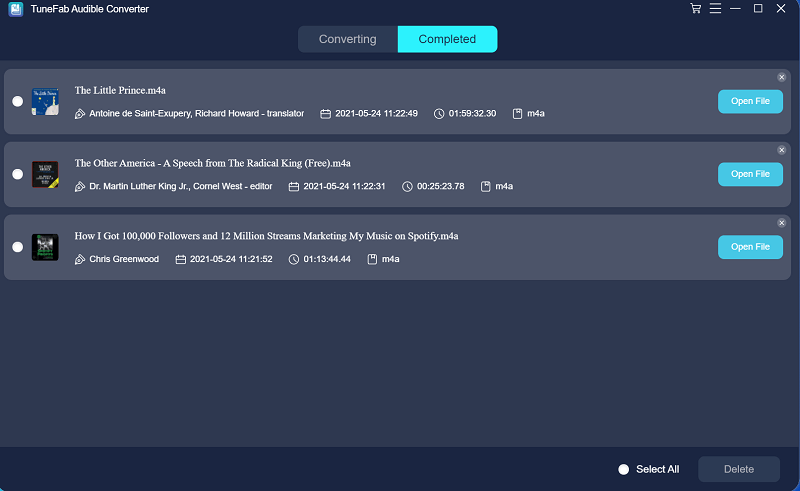 Final Words
Other than Audible, you can discover more audiobook resources on some competitive Audible alternatives at even much cheaper pricing. But if you still consider Audible the best place to enjoy audiobooks, try TuneFab Audible Converter to get rid of Audible DRM and download the purchased items to MP3 format for offline enjoyment on multiple devices. Better try than never!
Was this information helpful?
TrustScore 5 | 49