As the most popular music streaming service provider, Spotify also offers a more convenient online Spotify web player, enabling users to enjoy music and podcasts streaming online without installing Spotify desktop software or mobile apps. But some of you may still wonder how Spotify web player works. Does it contain many differences from Spotify desktop or mobile versions?
Don't worry! This blog will answer all these questions for you. If you are new to Spotify web player and desire to get started via it right now, keep reading to grasp more about it first. Now, let's get started!
CONTENTS
How to Access Spotify Web Player
As a web-based service, you only need a web browser to access Spotify's web player. It is well compatible with most mainstream browsers like Chrome, Safari, Firefox, and so on. Simply follow the guide below to get started using Spotify web player without the hassle:
STEP 1. Use any of the installed web browsers on your device and head to open.spotify.com.
STEP 2. You have required an account to log in and use the Spotify web player. If you have already signed up for one, directly login via it, then all your playlists created on desktop software or mobile app will be synced to the web player and enables you to stream directly. If you haven't gotten a Spotify account yet, directly create the following easy instructions.
STEP 3. Once logging in, you are available to access all streaming features provided by Spotify web player and enjoy music streaming online!
NOTE: For accessing Spotify music streaming service more conveniently, the official also enables users to log in directly via 4 options, which are Facebook, Apple, Gmail, or Email in requirements.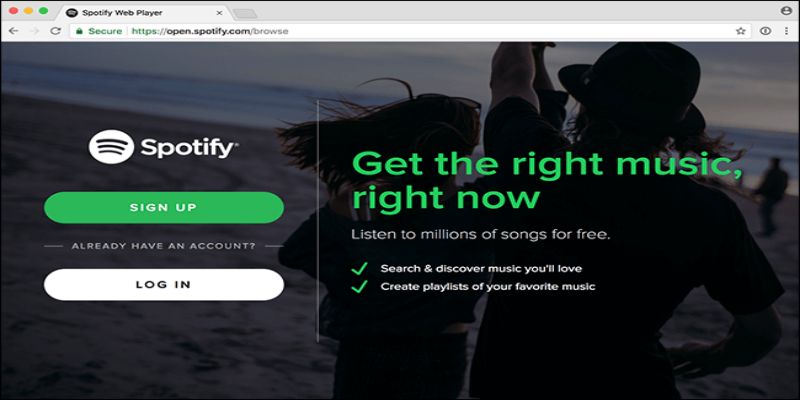 What Can Spotify Web Player Do?
Equipped with many useful features similar to Spotify's applications, the Spotify web player is able to satisfy most user demands in having a great music streaming experience. Here will introduce some of them with details to you. Just check and grasp more knowledge about Spotify web player.
1. Search from Full Music Library
Spotify web player's provided music library offers the same resources as both its desktop and mobile versions, almost covering all the music resources today. From some classic songs to the latest-released ones, you are able to search and access Spotify's web player to enjoy the music streaming right away!
2. Home - Rich Music Recommendations
With a smart algorithm, Spotify web player would push some music recommendations like its applications to help you discover more new music based on your listening habits, making it easier for you to add new to your playlists for enjoyment. From the "Home" interface, you are able to access all types of mixes and top-ranking playlists recommended by Spotify. When you are tired of the songs you have listened to more times, these recommended playlists can help you discover more music of your type!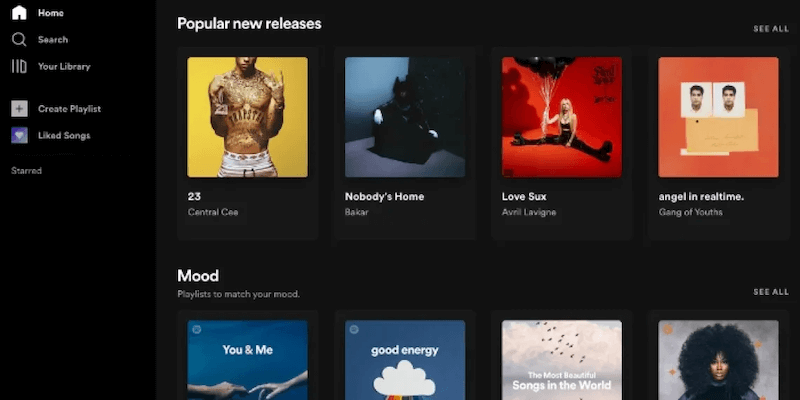 3. Podcast Releases
Despite the music library, Spotify web player also offers lots of podcast resources of all categories for you to kill time. From some official podcast releases to individual hosts, you are able to discover on Spotify web player and stream them online in your spare time.
4. Social Interaction Features
The socializing features are also retained in the Spotify web player, too. When you discover any new albums, artists, or playlists, you are able to share them instantly to your social media platforms or just copy their links and send them to your friends. In addition, the collaborative playlist, liked songs, and more features also make it easier for you to manage the playlists with others, enabling all of you to find common habits and enjoy the playlists together.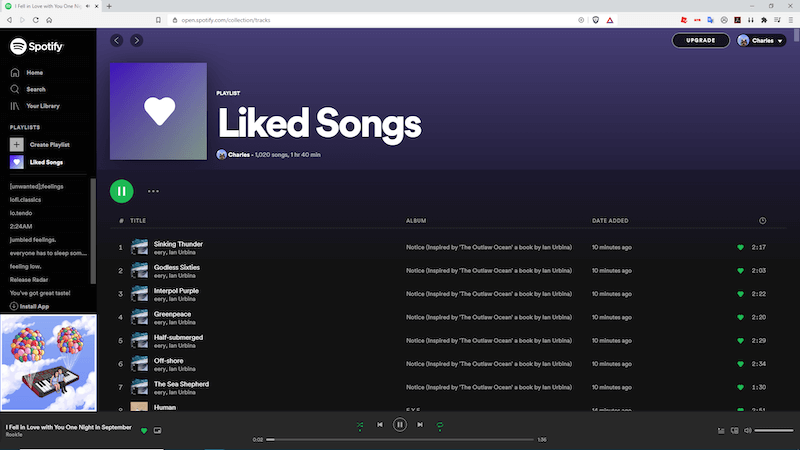 5. Convenient Hotkeys
Spotify web player also applies certain hotkey setups to help desktop users to control music streaming with ease. Here are some most-frequently-used hotkeys that are able to make the playback more flexible:
Play or Pause the song: Alt + Shift + P
Skip the track: Alt + Shift + .
Play previous track: Alt + Shift + ,
Despite the above practical features that are able to help you enjoy more convenient music streaming, Spotify web player is also designed with the same look as its desktop software and mobile apps. If you are accustomed to using the application versions, don't worry! Spotify web players work mostly the same as them!
Is Spotify Web Player Free to Use?
When Spotify has claimed "Spotify - web player: music for everyone", for sure that it is completely free to use. Like Spotify applications, you are only required to log in to your account, then you are able to start the music or podcast streaming right away.
However, it should be noted that the music streaming regulations on Spotify web player are also the same as the official releases. In other words, for Spotify free users, you would need to bear ads and other music playback limitations unless you subscribe to premium plans.
Can I Download Music from Spotify Web Player?
Then, some Spotify premium subscribers would wonder if they can download music from the Spotify web player to stream offline just as they do in Spotify desktop software or its mobile apps. Unfortunately, the sad news is that Spotify web player has prevented users from downloading music to enjoy offline, even if you have been a Spotify premium subscriber! Hence, if you desire to enable offline mode and play Spotify songs offline, you are required to use Spotify desktop software or mobile applications instead.
Spotify Web Player VS Spotify Applications
Spotify web player seems to be offering the same experiences as its desktop software, so if the web player can replace it? What are some exact differences between Spotify web player and the desktop client? The following chart has concluded some of them for you in a clear way:
Spotify web player
Spotify desktop software
Music quality - free users
128kbps
160kbps
Music quality - premium users
256kbps
320kbps
Playlists management
NO
YES
Playback control
Weak
Good
Shortcomings of Spotify Web Player - How to Fix?
To make a simple conclusion, Spotify web player is more like a simplified version of the desktop client, which only provides some basic features for users to access. The most obvious limitations of Spotify web player should be the unavailability to use offline mode, the low music streaming quality it offers, and also the frequent errors causing Spotify web player not working. Hence, some of you may wonder if there is a way to bypass these shortcomings and enable a better experience in Spotify web player.
Luckily, the software called TuneFab Spotify Music Converter is able to submit Spotify web players' limitations and brings you a better experience via it. Through integrating the official Spotify web player inside the software, users are only required to log in and access the same search, playlist managing, and music streaming features as usual.
More than that, TuneFab Spotify Music Converter has empowered the music download functionality, to enable both free and premium users to download music from Spotify web player and convert Spotify to MP3 online in lossless 320kbps directly! This also means that users are no longer limited to streaming Spotify songs and podcasts within the Spotify web player, but are able to grasp them as mainstream music files to enjoy offline permanently!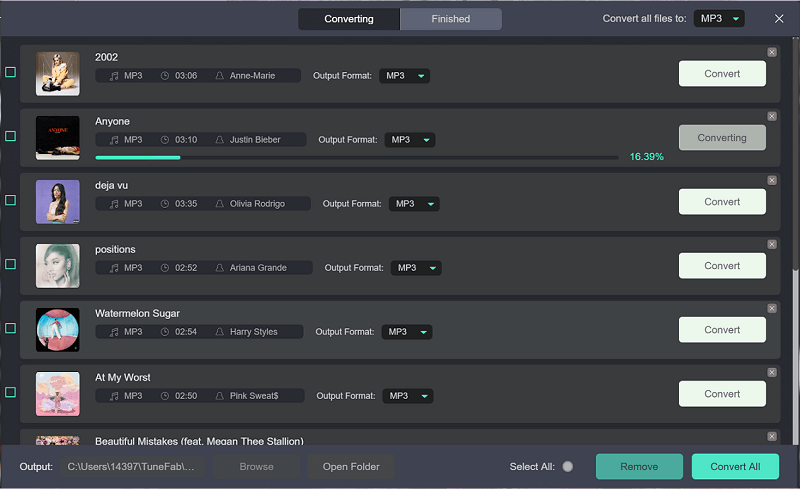 Conclusion
Spotify web player does bring great convenience for users to stream Spotify songs and podcasts online without software installation required. However, it contains certain limitations and shortcomings that would lower your music playback quality unexpectedly. If you desire to overcome them and access a more flexible and smoother music streaming experience in Spotify web player, you will need extra help such as using TuneFab Spotify Music Converter. Now, as the software is free to install, simply get it and give a try!
Was this information helpful?
TrustScore 1.8 | 8