When Spotify can offer unlimited music resources and the best audio quality for you to have great music playback experience, it can even be a bonus if the music can be played through better speakers like Sonos.
For Sonos users, the good news is that your speakers are actually compatible with online Spotify playback by adding Spotify to the Sonos speaker system. But to download Spotify songs for listening offline through Sonos, you will need extra help.
So in this article, the full tutorial will show you how to play Spotify on Sonos, including the ways to add Spotify to the speaker, play the songs, and even download Spotify on it without premium. Now, just have a look.
CONTENTS
How to Add Spotify to Sonos
We know that Spotify can be directly connected to Sonos speaker to realize the music playback. The first step you need to take before using Sonos to play Spotify is to add Spotify to the speaker. Here will guide you how to do it on different devices, including mobile devices and computers.
Tips:
- Make sure your Sonos system is the latest one
- Make sure your devices connected to the same Wi-Fi network
On iOS/Android
Step 1. Firstly, you need to install the Sonos app on your iOS/Android mobile phone and open it.
Step 2. Then go to "Settings" and select "Services & Voice". Under "Music & Content", click the "Add a Service" button.
Step 3. Now, choose Spotify from the services list and click "Add to Sonos".
Step 4. By signing in using your Spotify account, you are successfully adding Spotify to Sonos.
On Windows/Mac
Step 1. Also, you need to install the Sonos app on the computer first.
Step 2. After opening the software, you can go to "Select a Music Source" to click "Add Music Services".
Step 3. Now, simply choose Spotify and sign in your account to finish adding Spotify to Sonos.
How to Play Spotify on Sonos
After adding Spotify service to your Sonos speaker, now you can begin playing songs through the device. There are two ways you can try to control the Spotify playback on Sonos based on your needs. One is to use the Sonos app, while the other would be directly using Spotify app. Here, both methods will be introduced to you.
Play Spotify on Sonos in Sonos App
If you select to use Sonos app to control the Spotify Music playback, simply open it on your mobile phone or computer, then go to "Browse" and select to sign in your Spotify account.
After that, you can go to "Your Music" and find the Spotify playlists you have saved, or browse those you like using the search functionality. Then simply tap the music and it will be played through Sonos immediately.
Play Spotify on Sonos Using Spotify App
Another way to play Spotify Music on Sonos speaker is to directly use the Spotify app itself.
When you have opened Spotify app and select the song to play, then you can click "Devices Available" to select Sonos from the device list to connect. Once the connection succeeds, the music can be played by the speaker directly.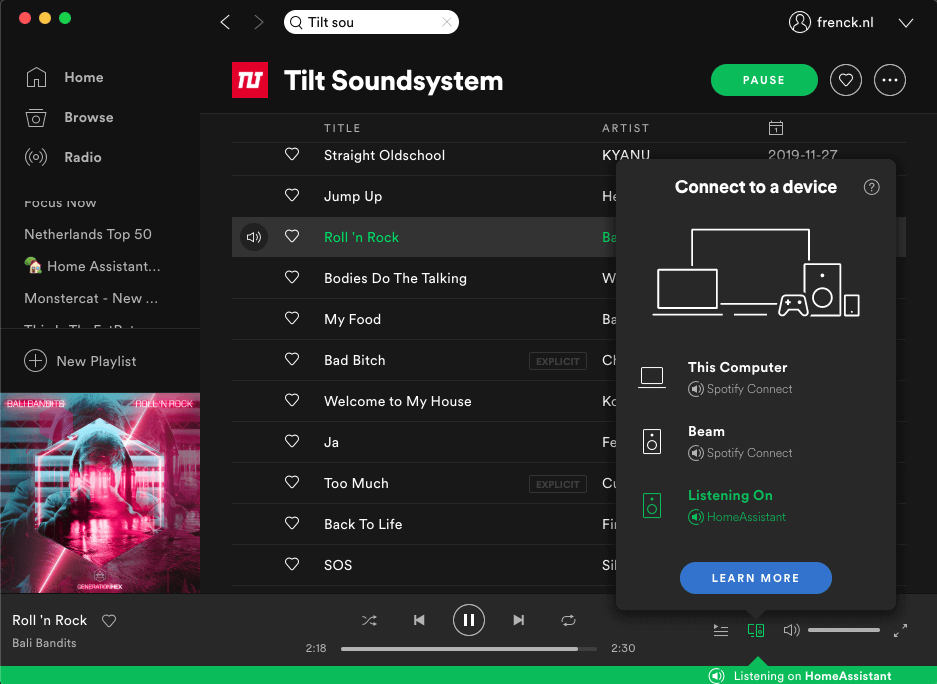 Can I Play Spotify on Sonos Offline?
Unfortunately, it is not possible for you to download Spotify songs to playback on Sonos, even if you are a Spotify Premium subscriber. The main reason is the fact that Spotify has added the DRM protection to protect all its songs from being played through other apps, including Sonos app.
Even if you are using Spotify app to play the downloaded songs without network connection, your device can't be connected with the Sonos speaker, which means that it is just a standalone device Wifi connection.
How to Play Spotify on Sonos Offline Without Premium
Therefore, subscribing to Spotify Premium to get the download function actually can't help you play Spotify songs on Sonos offline. Instead, you will need help from third-party software. Here TuneFab Spotify Music Converter can help.
TuneFab Spotify Music Converter is a desktop software developed for Windows and Mac users to download Spotify songs offline to MP3, M4A, FLAC, WAV, AIFF, AAC, and ALAC formats by removing DRM protection from them. After getting the songs saved in DRM-free music files, you can then upload to Sonos speakers and play offline even without Sonos or Spotify apps at all. The software can keep original quality and also all ID3 tags information with the downloaded Spotify songs, so you will have the same music streaming experience on Sonos as using Spotify.
Key Features:
● Provides in-built Spotify Web Player to download Spotify songs, playlists, and podcasts directly
● Offers common MP3, M4A, FLAC, WAV, AIFF, AAC, and ALAC formats to download Spotify songs for playing on any device you like
● Saves ID3 information for all Spotify files to better manage offline
● Keeps the original music quality so that you can enjoy the same music playback after downloading them
● Supports up to 5X faster speed to complete the Spotify Music download without wasting time
How to Download Spotify and Play on Sonos Offline
Step 1. Run TuneFab Spotify Music Converter and Sign in
When you have installed TuneFab Spotify Music Converter on your computer, open the software and enter the in-built Spotify Web Player to sign in using your account.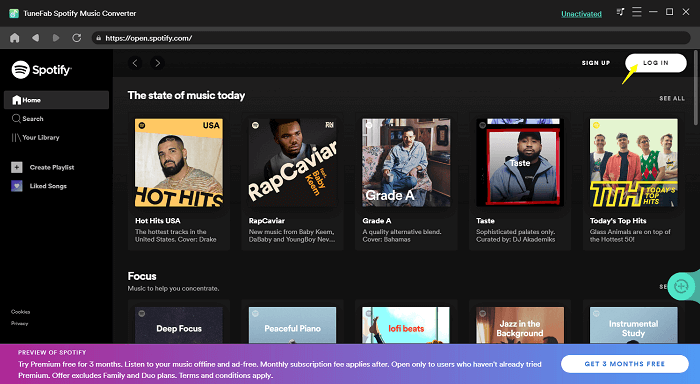 Step 2. Select Spotify Songs or Playlists to Download
Then in the web player, you can directly search for the songs or playlists to add to download by dragging them to the "+" button.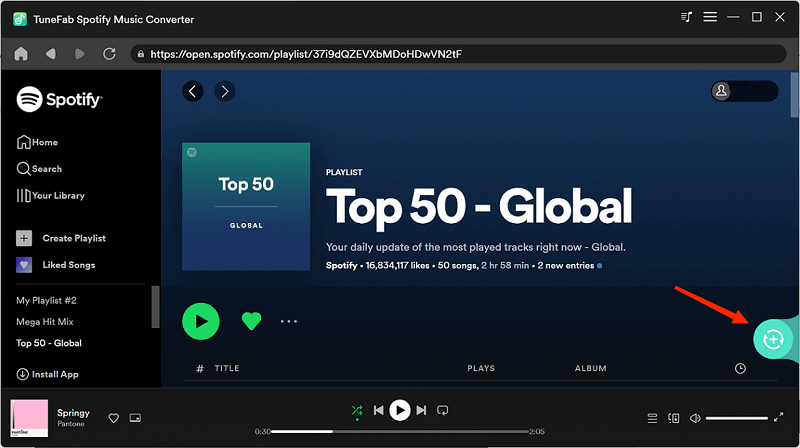 Step 3. Set Format and Parameters to Download Spotify Songs
Now, click the "Menu" button provided on the top-right corner and select "Preferences". By switching to the "Advanced" tab, you can choose the "Format", "SampleRate", and "Bitrate" to save the downloaded Spotify songs.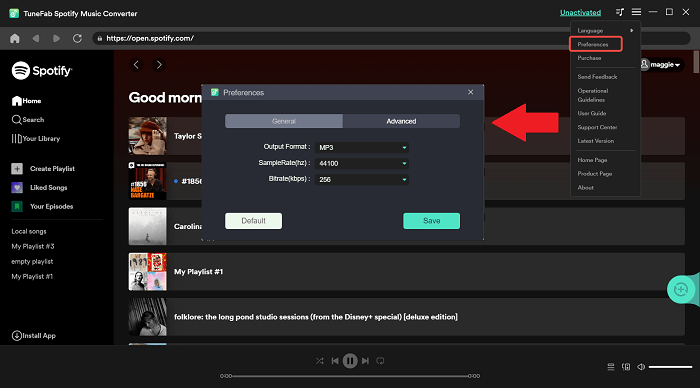 Step 4. Download Spotify Songs Offline
After the settings, just click the "Convert All" button to start downloading Spotify songs offline as common music files. TuneFab Spotify Music Converter will finish the download quickly for you.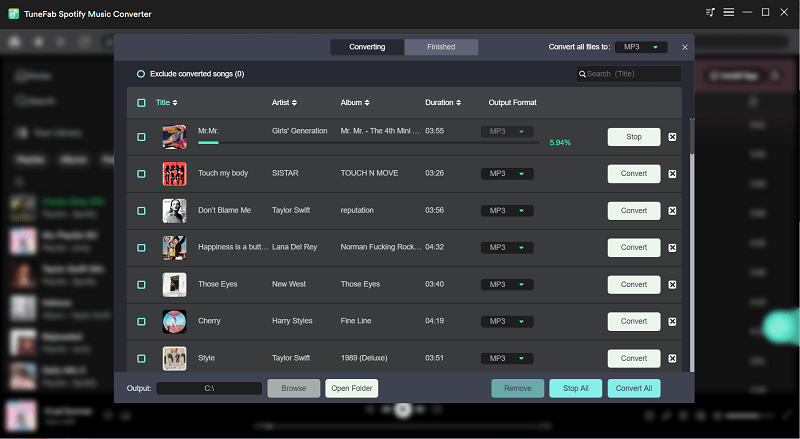 Step 5. Import Spotify Songs to Sonos Speaker
When you get the downloaded Spotify songs, you can add them to your Sonos speaker now. Just open the installed Sonos app on your Windows or Mac computer, then go to the "Manage" menu and select "Music Library Settings". Simply by clicking "Add" and selecting the songs to add, then you can get them saved on Sonos for direct playback offline on the speaker.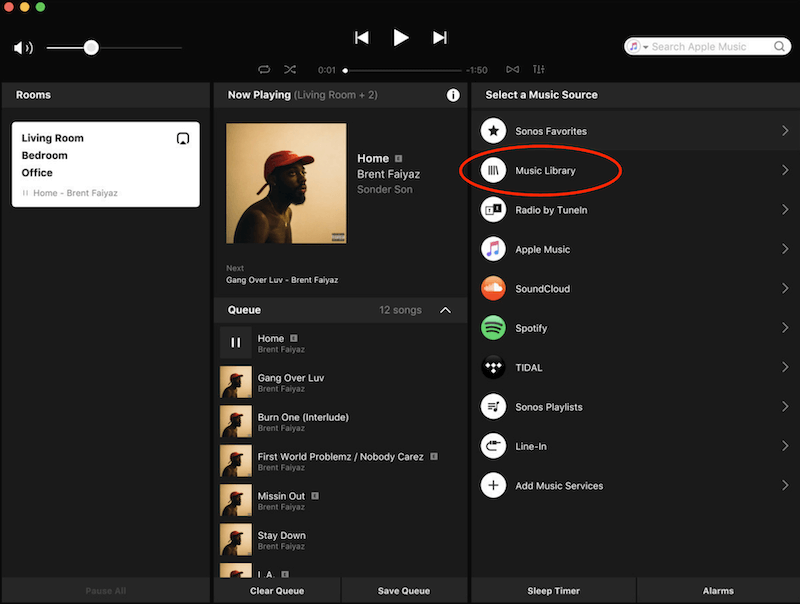 FAQs About Playing Spotify Music on Sonos?
Q1: Why My Spotify Can't Connect to Sonos?
There may have been some users reporting that they are failing to connect Spotify to Sonos. The error may happen for the following reasons:
● There was an error in the DNS server
● The Spotify app can't connect with Sonos well
● Your network connection is bad
● The Spotify app or Sonos app are outdated
As a result, to fix them, actually you only need to know what results in the connection errors. For example, you can re-connect to a faster Wifi, or update the Spotify and Sonos apps to repair them again, and so on. This problem can be easily fixed!
Q2: How to Change a Spotify Account on Sonos?
For those who want to change your Spotify account on Sonos, you can follow the tutorial below:
On Widnows/Mac: Go to the Select a Music Source panel and tap the drop-down menu, then just choose Spotify to change the account for Sonos.
On Mobile: Navigate to Browse to select Spotify, then tap the account name to change the account you want to change to.
In Conclusion
If you also have a Sonos speaker and want to enjoy the high-quality Spotify Music playback on it, just follow the guide above to play Spotify on Sonos. For those who even want to download Spotify for offline playback, TuneFab Spotify Music Converter is such a powerful and reliable tool that can help.
Was this information helpful?
TrustScore 1.4 | 14