You probably encountered some sudden errors while using Spotify. And the error of "Spotify logged me out of all devices" is one of them, which would frequently happen even if you did nothing!
But why did Spotify log me out without reason, and how it is possible to fix the Spotify won't let me log in error? All workable solutions will be provided in today's blog. Now, let's get started to see how.
CONTENTS
Why Did Spotify Log Me Out?
Overall, there can be several possible causes that may lead to the "Spotify logged me out of all devices" error:
● Someone has logged into your account so that you are forced to log out of the same account; ● You have changed the password to log in to Spotify on one device, then Spotify logged out of all devices for you automatically; ● You are using the Spotify app in countries where Spotify is not available, so Spotify won't let you log in at all; ● Consider if your Spotify account has been hacked so Spotify logs out everywhere suddenly; ● Your devices are not connecting with a stable network so Spotify fails to perform normally and just won't let you log in; ● Sometimes when Spotify gets a glitch, like Spotify is down suddenly or the app just gets corrupted, unexpected errors like the "Spotify logged me out of all devices" would happen; ● …
So obviously, the reason why Spotify can't log in has a lot to do with the Spotify app, the subscription, and the device used to log in. And in turn, the solution can also be considered from these three aspects. Now if you want to fix it and use Spotify again, just keep reading and get the right solutions below.
10 Ways to Fix Spotify Logged Me Out of All Devices
Based on the three aspects mentioned above leading to the "Spotify logged me out of all devices" issue, 10 different fixes have been collected for you to solve it. Now, grasp the most appropriate way to fix the Spotify log out everywhere error.
Method 1. See if Spotify is Down
As Spotify has millions and even billions of users from around the globe, it is possible that Spotify's server would turn down unexpectedly when it's overburdened. This phenomenon would stop Spotify from performing as usual, thus leading to many sudden errors, including Spotify logout everywhere.
Hence, when you found that Spotify just logged you out suddenly, the first thing you are able to do is check Spotify Status Twitter and see if Spotify is down and everyone is facing the same issue. If yes, you can do nothing but only wait for the official to inform the server is back to normal once it gets fixed.
Method 2. Check the Network Connection
Spotify relies on a stable network connection to ensure its smooth usage experience. When you encounter the "Spotify logged me out of all devices" problem, consider whether your devices are connecting to a poor network. If yes, you'd better switch to a faster WiFi or reconnect with the mobile cellular to make it perform as usual again.
When you have double-checked the network condition but Spotify still won't let you log in, you are also able to try using a VPN to modify the network connection and retry logging in once again. In most cases, when you have ensured a reliable network for the app to run, it will work properly and Spotify logs out everywhere issues can be easily fixed
Method 3. Sign Out of All Your Devices
Actually, the "Spotify logged me out of all devices" problem is likely to be caused by the fact that you've signed in with Spotify account on other devices or someone else might have hijacked your Spotify account. That's why Spotify still keeps logging you out after following some common solutions. If so, just log out of all devices and computers and then log in again.
Considering that you've logged in to Spotify on so many devices, so here comes an easier way to do that.
Step 1: First click on the link to go to Spotify's official website on computer and log in with your Spotify account.
Step 2: Navigate to your profile > "Account" and simply hit the "Sign out everywhere" option. After that, your Spotify account will be forced to sign out on all devices.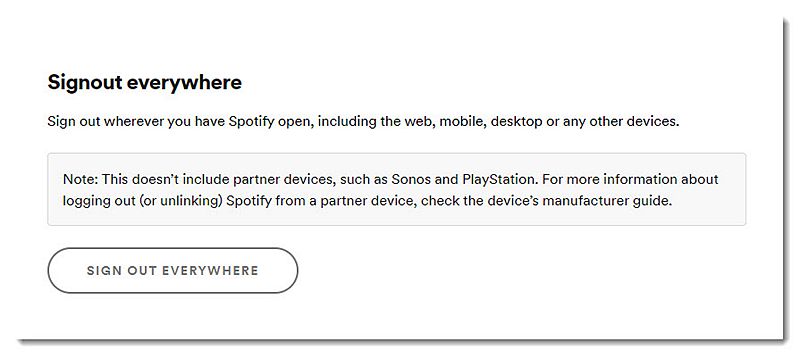 Step 3: At last, open Spotify and then sign in again.
Method 4. Clear Spotify Cache and Data
If you have used Spotify to stream or download podcasts, playlists, and tracks on your devices for a long period, the app would automatically generate and store lots of cached data that is to load with smoother performance for you. However, the overwhelming stored cached data may corrupt the app and lead to abnormal errors, including the "Spotify logged me out" problem. Hence, you are able to try clearing Spotify cached data to fix it. It will take only several steps for you to process Spotify cache cleanup on different devices:
NOTE: It is noted that this action will remove your Spotify downloads. Consider twice if you have to process the cache cleanup before actually doing it.
On Desktop (Windows/Mac)
Step 1: Simply launch Spotify software on the desktop. Then navigate to "Profile" > "Settings" and check the "Offline storage location" for seeing where Spotify saves the data on your computer.
Step 2: After that, go the folder and access all Spotify files and data stored by Spotify.
Step 3: Delete them all to fix the Spotify log out everywhere problem right away.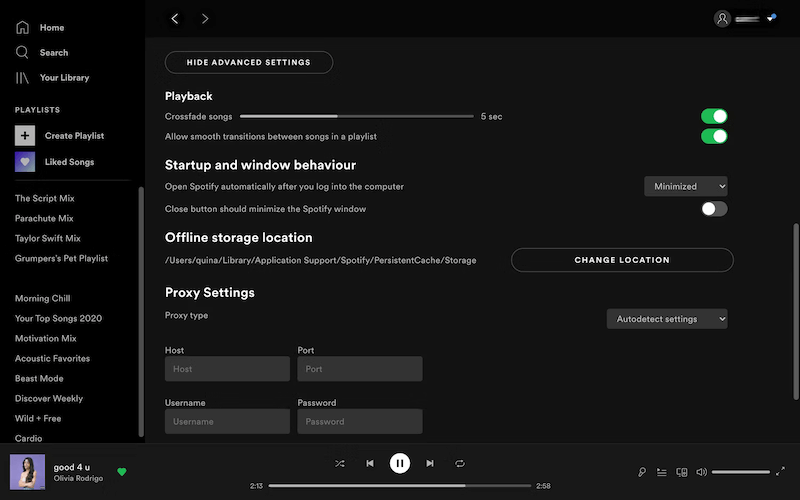 On iOS
To clean up Spotify cache on iOS, simply launch the well-installed Spotify app on your device, then go to "Settings" > "Storage" to tap the "Clear Cache" icon to delete them all.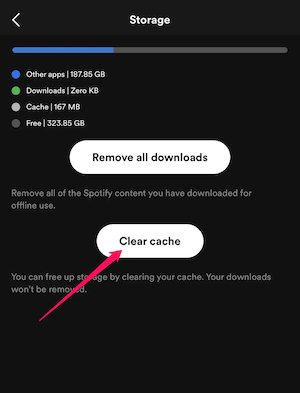 On Android
By opening Spotify app and go to "Settings", directly scroll down to the "Storage" section, and there will be the "Clear cache" option provided for you to delete all cached data.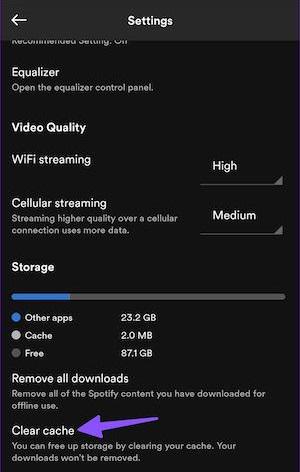 Method 5. Restart Your Devices
When you have tried out all the methods mentioned above, but the "Spotify logged me out of all devices" problem still exists, there probably something goes wrong with your devices. Trying restarting your devices is also a possible solution to get this issue fixed.
Method 6. Update Spotify to the Latest Version
As we all know, Spotify would keep updating the app version to provide enhanced services with some bugs fixed, enabling users to have a better experience. Hence, you are able to check whether there is a new version released, and by updating to the latest Spotify version you may probably get the "Spotify logged out" error fixed.
To update Spotify to the latest version, you are able to check the user manual guide here to process it manually. Once complete, see if the "Spotify logged me out of all devices" problem is fixed.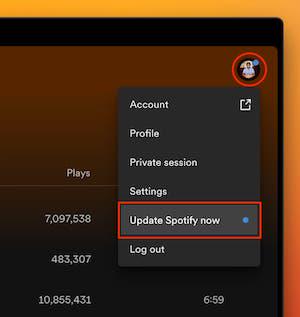 Method 7. Uninstall and Reinstall Spotify
When some unexpected bugs occurred, it would lead to the "Spotify logged me out of all devices" error. Hence, a common solution to fix it can be uninstalling the software and then reinstall it again. By this way, some obvious bugs can be directly fixed in the re-installed Spotify app, and you are able to log in via your Spotify account as usual and enjoy the music streaming without errors.
Don't worry about losing your music library and created playlists as software uninstallation won't affect them at all. By logging into your Spotify account again, you are able to access the created playlists connected with your account before.
It is possible for you to follow the official guide to get the whole process done properly.
Method 8. Reset Your Spotify Password
If someone hijacks your Spotify account and logs in with your account on his or her devices, it also leads to the Spotify log out everywhere problem. However, if it happens because of this reason, the above method can't help you solve it fundamentally, so you had better change your password with the below steps.
Step 1: Directly go to the password change page after logging in via your own Spotify account.
Step 2: Enter your current password into the current password.
Step 3: Enter your new password into both New password and Repeat new password.
Step 4: Click on "SET NEW PASSWORD".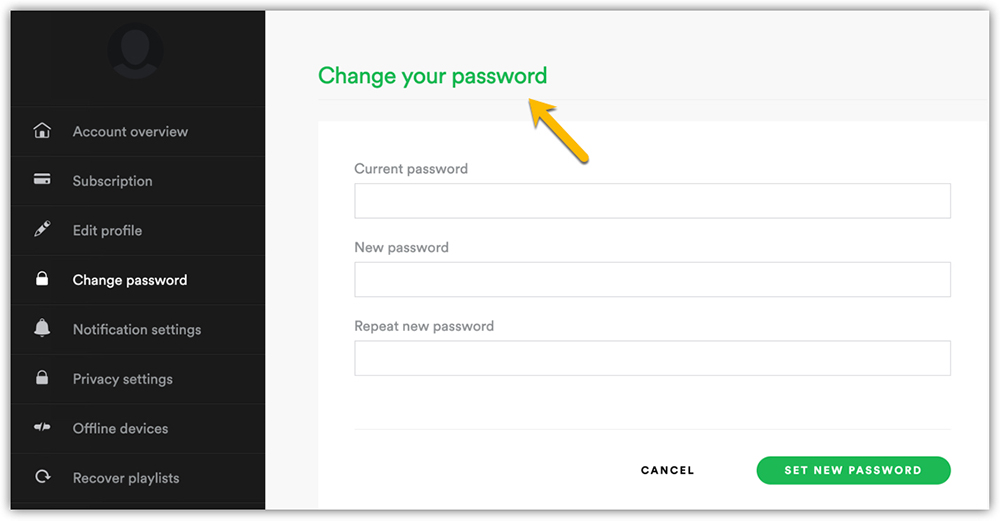 For those who forget your current password, you need to reset your password.
Step 1: Log out of Spotify on your devices or computer.
Step 2: Go to the password reset page, then enter your email address or username and click on "SEND".
Step 3: Check your mailbox and open the email with the subject of "Reset your password", then click on the link in the e-mail.
Step 4: Finally enter your new password and click on "SET NEW PASSWORD".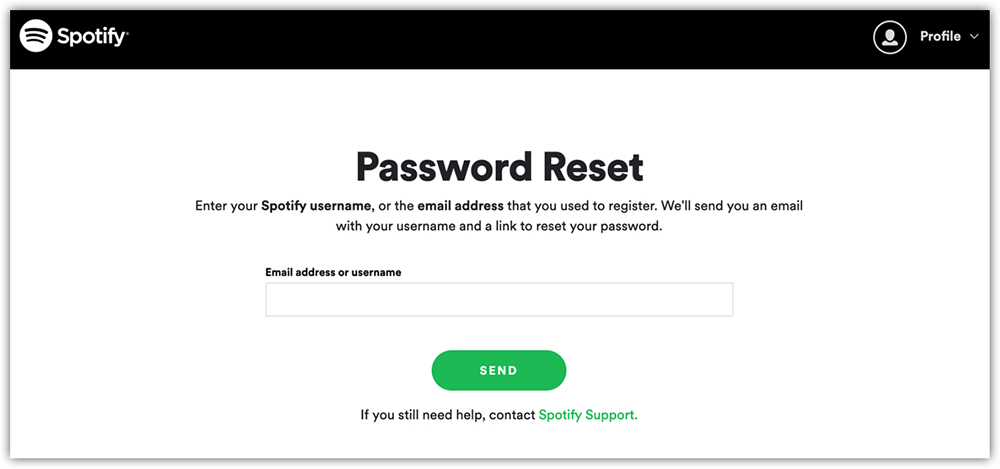 Generally speaking, you can fix the issue of "Spotify logged me out of all devices" by following above method. If not, you should contact Spotify technicians for further help via e-mail.
Method 9. Disable Third-Party App Access
If you have enabled any third-party services to access the Spotify app, it would easily lead to some unexpected errors, including the Spotify sign out everywhere problem. To get it fixed, you are able to follow the steps below to disable third-party apps accessing your Spotify account:
Step 1: First, launch the Spotify app and turn to your profile > account overview.
Step 2: Choose the "Approved applications" section from the left menu and check what third-party apps have connected to your Spotify account.
Step 3: Scroll to filter out those unnecessary apps, hit the "Remove access" button next to them and restart Spotify to see if the issue is now fixed.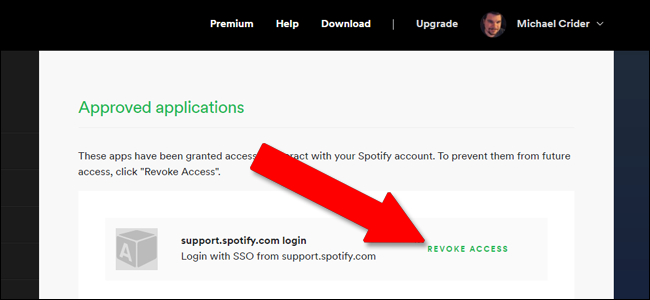 Method 10. Save Spotify Songs to Devices for Offline Listening
It's annoying and disturbing if Spotify randomly logs you out and fails to let you stream Spotify downloads offline. If you don't want to deal with this problem again, the best way is to use another player to listen to Spotify songs offline. But first, you need to download Spotify songs with a tool like TuneFab Spotify Music Converter. It is designed to enable users to download Spotify tracks as MP3 files offline without Premium. By using the software to save all Spotify downloads as MP3 and other regular music files offline, you are able to enjoy music streaming even without worrying about Spotify logging out everywhere errors occur.
Here guides you on how to download Spotify songs to devices for offline listening via TuneFab Spotify Music Converter:
Step 1: Well install TuneFab Spotify Music Converter on your desktop and launch it to access the built-in Spotify web player.
Step 2: Log in to the web player in TuneFab Spotify Music Converter to access the songs you desire to download.
Step 3: Navigate to "Menu" > "Preferences" > "Advanced" to adjust the output format, sample rate, and bitrate settings to the requirements.
Step 4: Hit the "Convert All" icon to save Spotify playlists and songs for playing offline without the Spotify app.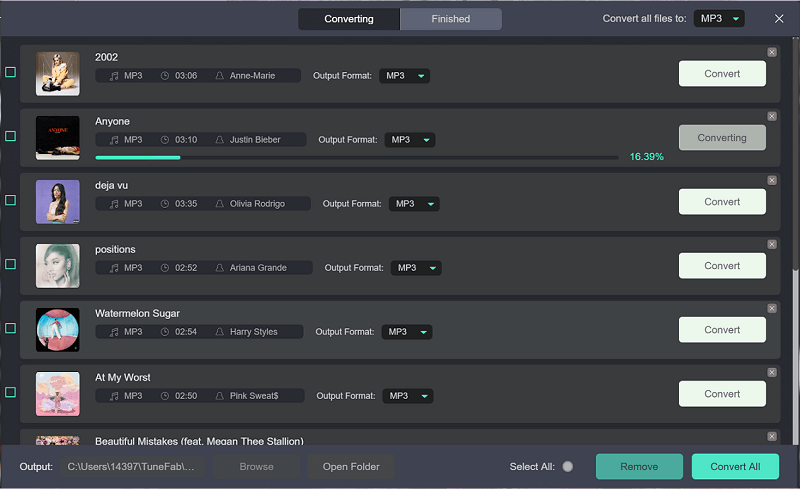 FAQs About Spotify Logged Me Out of All Devices
Here, you are able to grasp more FAQs on both the causes and fixes for the "Spotify logged me out of all devices" issue.
Does Changing Spotify Password Log Me Out of All Devices?
If you change the password for your Spotify account, it will automatically log you out of all devices and you are required to manually process the login once again via the newly-set account password. This is a way for Spotify to keep your account safe.
How Many Devices Can Spotify be Logged into?
The number of devices you are able to log in to via the same Spotify account would base on the premium plans you are subscribing to:
● Spotify individual plan: 1 device ● Spotify student plan: 1 device ● Spotify premium duo: 2 devices ● Spotify premium family: up to 6 devices
When the number of devices exceeds the limited amount, you can't log in via the same Spotify account anymore and you should first log out of the existing devices if you desire to use it on another one.
Conclusion
There are a variety of possible causes leading to the "Spotify logged me out of all devices" issue, and the blog has provided 10 solutions to get it fixed. If you desire to bypass this error and always enjoy Spotify downloads offline even without Spotify app installation required, it is recommended for you to download Spotify playlists as MP3 files via TuneFab Spotify Music Converter. This enables you to bypass the "Spotify logged me out" issue permanently!
Was this information helpful?
TrustScore 2 | 8