When it comes to the best and most popular music streaming service, what's the first thing that comes to your mind? Joox or Spotify? For those who are Joox users only or Spotify users only, have you ever tried the other music streaming service? For those who are both Joox and Spotify users, what is your best option? Today, let's discuss which is the best option, Joox or Spotify.
Great News for Spotify Users:
Tired of ads and limited skips or constant subscription fees? Why not use TuneFab Spotify Music Converter to download Spotify songs and enjoy Spotify music without any restrictions any more!
CONTENTS
Part 1. Brief Introduction to Joox and Spotify
Before comparing Joox and Spotify, let me show you some basic information about them.
What is Joox?
Joox is a popular music streaming service owned by Tencent. Actually, another music streaming service owned by Tencent, QQ Music has already been one of the largest music streaming and download service in China. But in order to expand music streaming service to overseas markets, Tencent introduced JOOX in January 2015. Most of its songs are free but some songs are only accessible for premium users.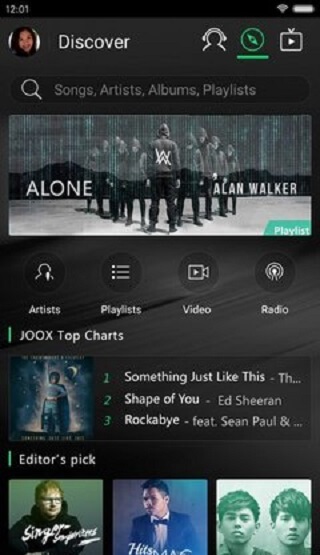 What is Spotify?
Spotify is a music streaming services that were officially developed by Spotify AB in Stockholm, Sweden, launched on October 7, 2008. It provides DRM–protected content from record labels and media companies. Spotify is a freemium service and its basic features are free with advertisements or limitations, while additional features, such as improved streaming quality and music downloads, are offered via paid subscriptions.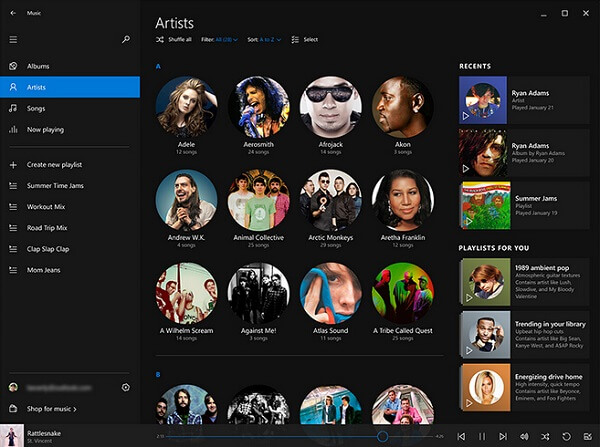 Part 2. Joox VS. Spotify
As both Joox and Spotify are powerful music streaming services, then which is the test option? Concerning that you don't know which one to choose, I hereby make a comparison between Joox and Spotify for your reference.
Similarities:
1. Both music streaming services are freemium services. Most of the songs are free, but both Jook and Spotify put restrictions on non-paying users, some songs are only available for premium users. Besides, free trial version can be used for 30 days.
2. Both music streaming services allow you to create a custom playlist so that you can just listen to your favorite songs.
3. Both music streaming services can be signed in their apps and web players.
4. With a free subscription, you will see some audio ads when you listening to music and the limited skips are available. But if you pay for the subscription, then you can have accesses to all music without any audio ads, download tracks to listen offline and so on.
Differences:
1. Music Quality
Joox: The music quality is not as good as Spotify music.
Spotify: 160kbps for music with standard quality, desktop; 96kbps for music with standard quality, mobile; 320kbps for music with premium quality, mobile, and desktop.
2. Music Catalog:
Joox: It has a 20-million-plus song catalog.
Spotify: It has a 30-million-plus song catalog, besides it adds more than 20,000 new songs each day.
3. Available Area
Joox: It is the biggest music streaming app in Asian markets such as Hong Kong, Indonesia, Malaysia, and Thailand. In 2017, Joox launched their service in their first non-Asian markets, South Africa. The service now accounts for more than 50% of all music streaming app downloads in their Asian markets. The number of music-streaming users in Hong Kong, Singapore, Malaysia, Thailand, Philippines and Indonesia is expected to reach 87 million by 2020.
Spotify: It is available in most of Europe, most of the Americas, Australia, New Zealand, and parts of Asia. As of June 2017, it had more than 140 million monthly active users and more than 70 million paying subscribers as of 4 January 2018.
4. Price
Joox: RM14.90 per month; RM40.90 for 3 months; RM73.90 for 6 months; RM136.90 for 12 months
Spotify: RM14.90 per month
In summary, both Jook and Spotify have their own pros and cons. Both Joox and Spotify are excellent music streaming services and worthy of downloading. Which one is the best option depends on where you are and your requirement?
Part 3. A Survey Report of Comparison Between Joox and Spotify
In order to find out which music streaming service is the better, Joox or Spotify for Indonesian, the JACKPOT, the No.1 Mobile Survey in Indonesia, conducted a survey series on the comparison between Joox and Spotify. There were total 2146 people joining the survey. Here are parts of the results.
1. The Users
As shown in the picture below, among the respondents, most of them are Joox users only, while few are Spotify users only, which indicates that Joox is more popular than Spotify in Indonesia.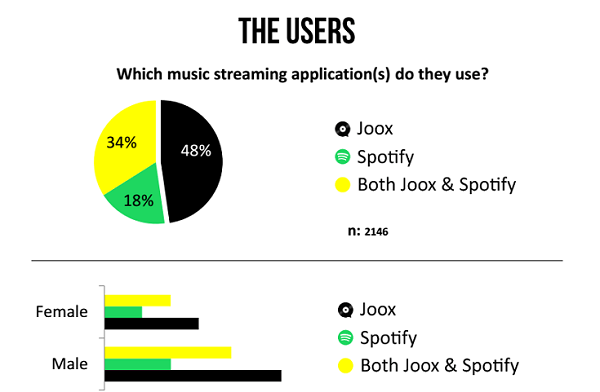 2. The Excellence
Regarding the excellence of Joox and Spotify, there is a significant difference between them. More people appreciate that Joox has a variety of features and is applicable offline. In the meantime, more people think that Spotify has wonderful sound quality and affordable subscribing package.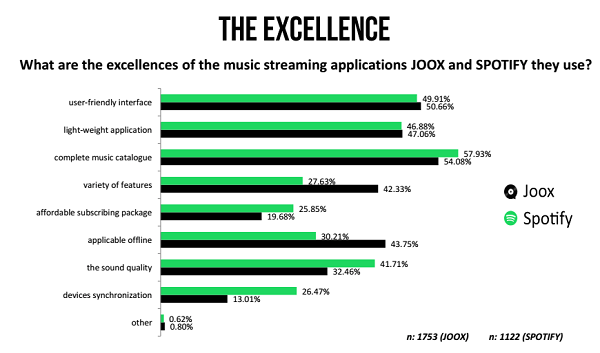 3. The Recommendation
In terms of the question that will you recommend using Joox and Spotify for other people, most of the respondents say yes.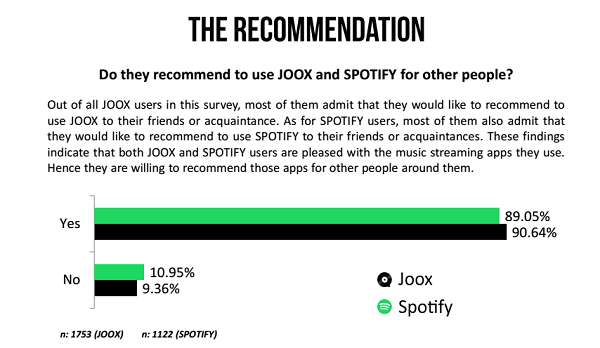 Actually, both Joox and Spotify are your best option. But for Spotify users, you may find that Spotify's OGG format is not common and Spotify provides DRM-protected content from record labels and media companies. So to remove DRM and convert Spotify music into common audio formats such as MP3, M4A, etc with 100% original quality, you need to download a professional music converter, I highly recommend you to download TuneFab Spotify Music Converter which is designed for bringing freedom to your Spotify music easily and professionally.
You are free to convert the songs, playlists, albums in Spotify to DRM-free MP3, M4A, WAV, FLAC, etc. Besides, you would be able to download any songs from Spotify for free without worrying about whether they have subscribed for the premium version.
Was this information helpful?
TrustScore 3.8 | 5