Founded long before Spotify and other music streaming services became popular, Pandora has 50.5 million monthly active users to date. This personalized online streaming platform is known for its premier radio feature that can be customized to users' preferences.
While it's convenient to listen to streaming music, there are some situations where you can only listen offline, when your cell service is weak or your Wi-Fi doesn't work. A frequently asked question is how to download music from pandora to your phone.
In this article, we will round up the two best ways to download Pandora music to your phone with all the detailed steps. You will learn not only the official method of downloading Pandora music, but also the alternative method of using a professional third-party tool that allows you to save downloaded Pandora songs locally forever without Premium to listen them offline.
CONTENTS
How to Download Music from Pandora to Phone
Like many other streaming platforms, Pandora only allows its Plus subscribers and Premium subscribers to download music to their mobile devices. Pandora free users can only enjoy Pandora music online. To download Pandora songs, you should upgrade your account to become a premium subscriber.
Below are the detailed steps to download music from Pandora to iPhone/Android.
How to Download Music from Pandora to iPhone
Step 1. Install Pandora App from the Apple App Store and then log into Pandora with your Premium account.
Step 2. Choose stations, playlists or songs you want to download and then touch the bottom bar.
Step 3. Tap the three dots next to the song title and a pop-up window will appear.
Step 4. Hit Download. When it's finished, all the downloads will be saved on the My Collections page.
How to Download Music from Pandora to Android
The steps are as same as those above. Just follow these steps to download Pandora music to your Android phone.
Step 1. Install the Pandora app from the Play Store and open it.
Step 2. Log in to your subscribed Pandora account.
Step 3. Search for the music, playlist you want to download and Tap the three dots to the right of the song's name.
Step 4. Tap "Download" and the downloaded Pandora music will under the "My collection" in the app.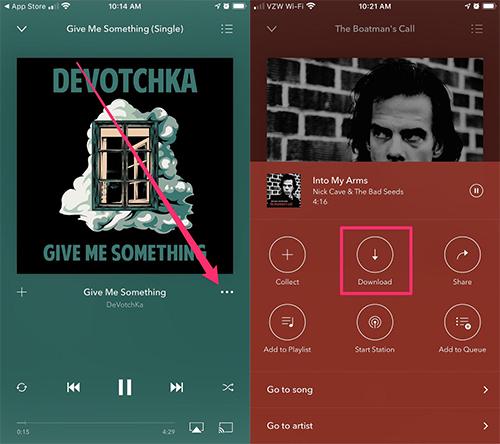 Also, if you are looking for a professional Pandora music downloader for Android, we'd like to highly recommend iMusic, which enable you to download music form 3000+ website such as YouTube, Twitter, Spotify, etc by pasting the URL of the music. Batch download is also supported to avoid wasting time. You will get the information of the downloaded tracks as well.
How to Download Music from Pandora as MP3 to Phone (Recommended!)
Although the above official download method is simple and easy to use, it has some disadvantages that may bother you. First, the downloaded songs are only playable within the Pandora app and once your subscription expires, they will not be accessible. Also, some singles or albums may be taken down due to copyright reasons.
To make matters worse, Pandora is now only available to U.S. users, which means those outside the U.S. will have to use a VPN-modified proxy to listen to music every time they want to play a downloaded song.
So is there a way to download Pandora songs and save them offline forever for flexible playback without Premium? That's where TuneFab Pandora Music Converter comes in handy.
TuneFab Pandora Music Converter is a powerful tool with which you can download DRM-protected Pandora music to DRM-free MP3 format on your computer and then transfer them to your cell phone for offline listening.
This professional pandora music downloader boasts many key features, such as transforming Pandora music to common compatible formats, batch conversion, high conversion speed, high-quality music and so on. With these powerful features, you can easily enjoy the advantages below:
● Remove DRM Easily - While the downloaded Pandora contents are encrypted by DRM, it can remove the DRM and convert them to MP3 with one click.
● Download Pandora Music without Premium - You can use it to download Pandora music during your subscription in advance. After that, you can enjoy the local files without paying for Premium.
● Make Your Downloads Compatible - It allows you to download Pandora music as local files that can be saved in USB and played on other players.
● Exempt from Regional Restrictions - Once you use it to download music, you won't have to change your VPN address every time you want to listen to music offline afterward.

Are you excited about this one-and-done approach? Follow the detailed steps below to use this pandora music converter.
Step 1. Launch TuneFab Pandora Music Converter and Log in
Fire up TuneFab Pandora Music Converter on your computer. You can skip the activation process to get a free trial first or you can just subscribe to TuneFab to get the full conversion feature. Then log into your Pandora account in the built-in Pandora web player.
Note: You have to be a Pandora subscriber to get started.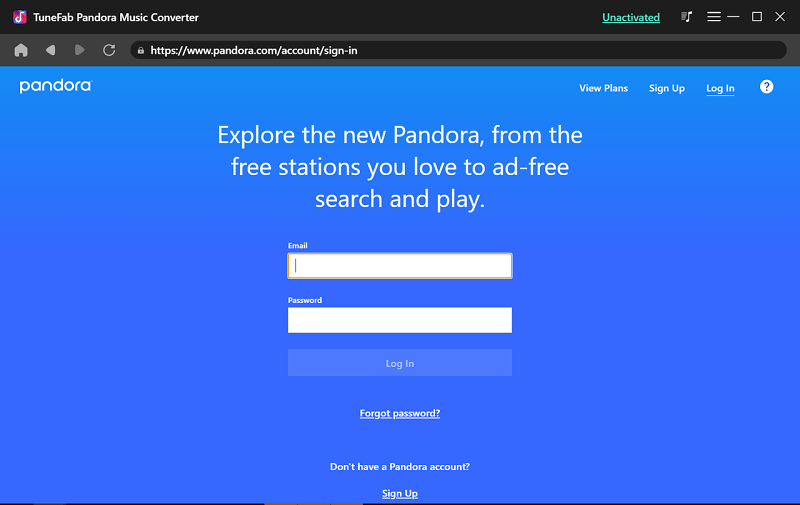 Step 2. Choose What You Want to Download
After logging in, you can start to search for your desired songs, albums, playlists or podcasts, and then drag those you want to download to the blue PLUS icon to process.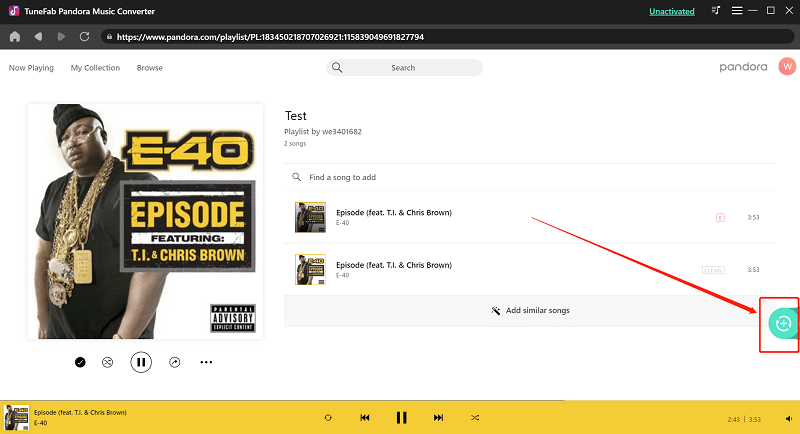 Step 3. Select a Proper Output Format
There are different output formats including MP3/ M4A/ WAV/ FLAC for your choice. Here we choose MP3 for its wide compatibility.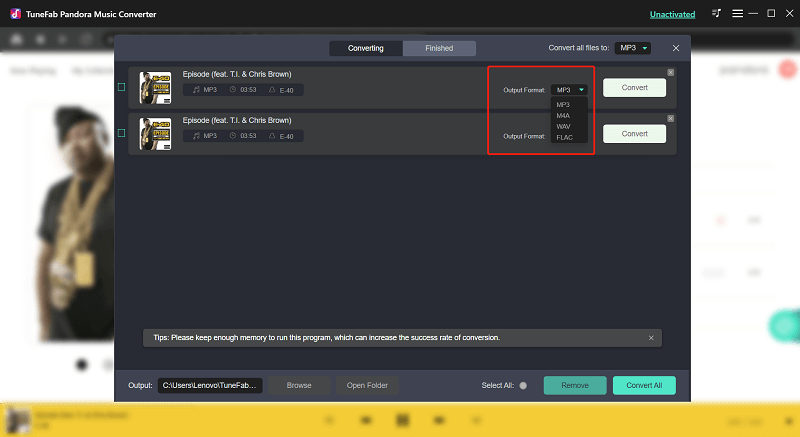 Step 4. Customize Advanced Parameters (Optional)
You can also customize other parameters in the Preferences as needed. It's easy to change the storage location in General Settings and to adjust the bit rate and sample rate in Advanced Settings.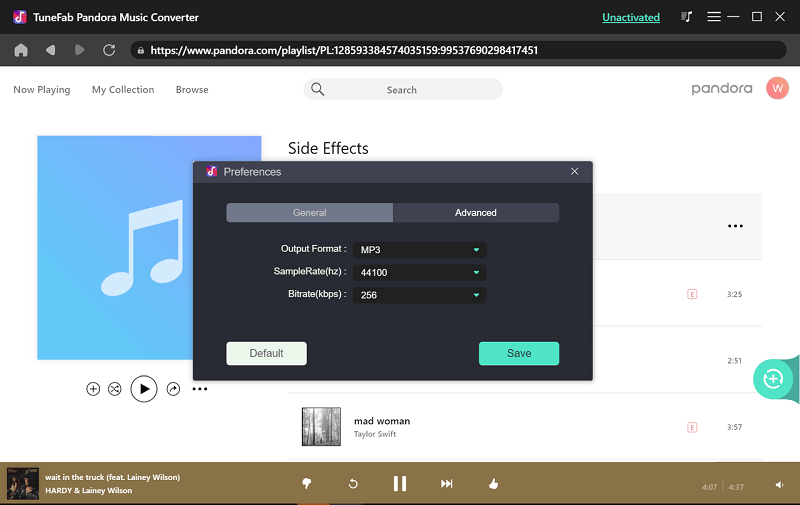 Step 5. Finish Converting
Click "Convert All" to start converting. When everything is done, go to the "Finished" section and find all downloads by clicking "View Output File".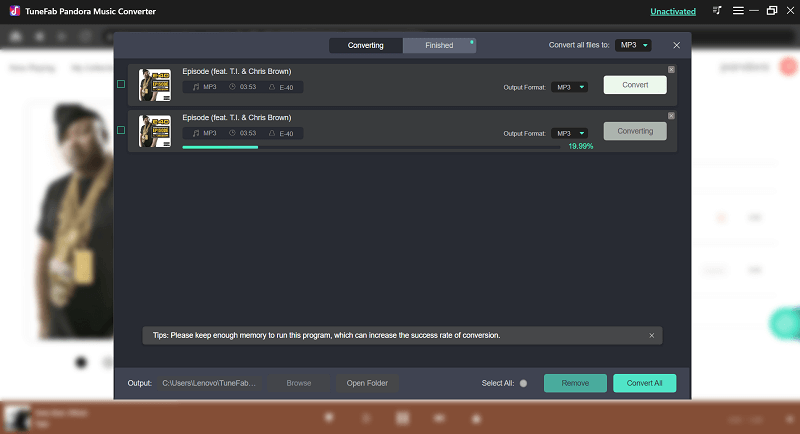 Now that you have all the downloaded files, the next step is to transfer them to your phone using the USB cable. Just connect your phone to your computer with the USB cable and drag the download files to your phone, and then you can enjoy them flexibly.
FAQs about Downloading Music from Pandora to Your Phone
How to Listen to Pandora Music Offline on Your Phone?
To listen to Pandora music offline, you must first become a Pandora Plus or Pandora Premium user and then turn on the offline mode by following these steps:
1. Tap Profile > Settings gear.
2. Turn Offline Mode on.
3. Once the offline mode is enabled, you will only see content in your collection that has been downloaded for offline listening.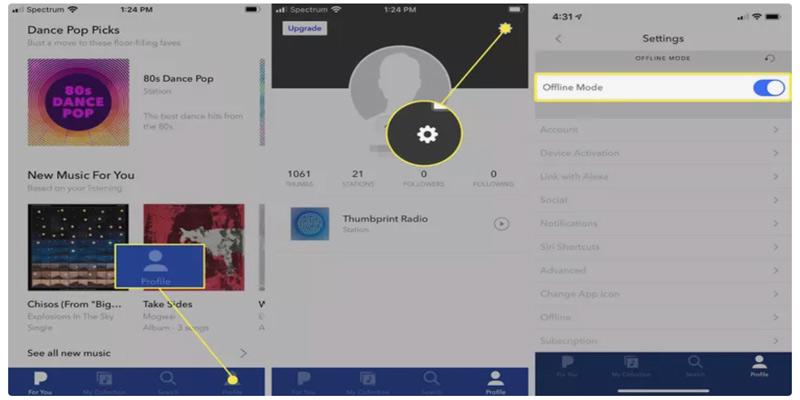 Downloaded content varies by Pandora subscription; Pandora Plus subscribers only get the top three stations and thumbnail stations for offline listening, while Pandora Premium subscribers are accessible to unlimited content by downloading content to My Collection.
Can you Download Music from Pandora to Phone for Free?
Yes. Pandora offers a free trial for new users, either Pandora Plus for 30 days, or Pandora Premium for 60 days. Below is the comparison the price of these two subscription.
 
Pandora Plus
Pandora Premium
Monthly price
$4.99/mo
$9.99/mo
Additional plans
N/A
Family – $14.99/mo.
Military – $7.99/mo.
Student – $4.99/mo
Annual price
$54.89/year
$109.89/year
Number of songs
40 million+
40 million+
Number of podcasts
1,000+
1,000+
Free trial length
30 days
60 days
Offline listening
4 stations
Unlimited
However, once your free trial period ends and you do not pay to continue subscribing it, all downloads will be inaccessible.
Want to keep all your downloads forever and play them offline even after your subscription expires? Install TuneFab Pandora Music Converter to convert Pandora music to MP3 and save them to your computer now!
Conclusion
Overall, when it comes to how to download pandora music on your phone, both of the methods we described above work well. The official method of using Pandora Premium is fine, while the alternative method has a wider range of application scenarios.
If you are looking for a stable way to download Pandora music and save it locally without having to pay ongoing subscription fees, TuneFab Pandora Music Converter is definitely the best choice for you. Don't hesitate to install it now and start enjoying your personalized music listening experience.
Was this information helpful?
TrustScore 3.7 | 3