iTunes can back up some important data from your iOS devices such as iPhone, iPad, iPod, etc. to your computer so that you can free up storage space, but does your data get enough safety protection? In this era, data breaches happen every day. If your data is so important that it is not allowed to share with others without your permission, then you may need to encrypt your backups in iTunes. Some of you may not know how to do that, so I'd like to show you how to encrypt iTunes backups and solve some problems that you may meet during encryption.
It is a sad story that people need to remember all kinds of passwords nowadays. You are not the only one whose mind turns blank while recalling the annoying passcodes. But don't worry, this post is going to introduce to you how to reset iTunes password on iPhone and computer with ease. It is convinced that no longer will you be mad at the passcodes after reading the contents.
CONTENTS
Part 1. How to Encrypt iTunes Backup
First of all, you need to understand that encrypting backups in iTunes means that you can lock and encode your information including your saved passwords, website history, Wi-Fi settings and health data. Therefore, for your sake, you had better encrypt iTunes backup. However, iTunes won't encrypt your backup by default, so you need to follow the steps below to turn on the encrypt backup option.
Step 1. First, launch iTunes. Make sure that you have installed the latest version, otherwise you may not encrypt iTunes backup successfully.
Step 2. Then connect your portable device which contains important data to your computer via a USB cable. After that click on the Phone-like icon in the upper left corner of the interface to go to the "Summary" interface.
Step 3. Next find "Encrypt [device] backup" option in the Backups section below your devices information and make the option checked. After that, an interface which asks you to enter password will be popped up.
Step 4. At last, just enter the password twice and then click on "Set Password" button. The last thing is to wait patiently until the process bar is 100% completed.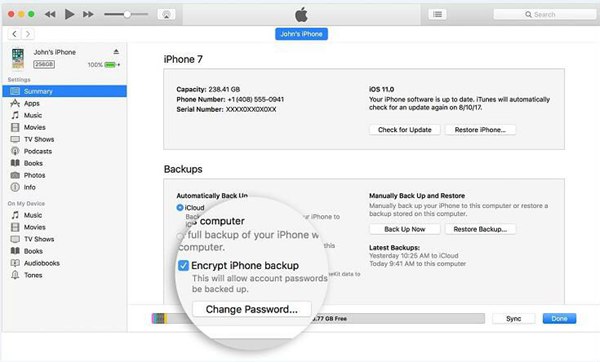 Now iTunes will begin to encrypt your data automatically. But some of you may worry about whether iTunes backup can be encrypted successfully, just go ahead. With few simple steps, you will know if you encrypt backups in iTunes successfully.
Part 2. How to Check if iTunes Backup is Encrypted
Attention! There will be a little difference between on Windows and Mac computers.
Step 1. For Windows users, launch iTunes and then go to "Edit" >> "Preferences" option at the top panel bar, while for Mac users, you need to find and click on "Edit" and "Preferences" button at the top of your computer screen. That's the difference between Windows and Mac users.
Step 2. After that, click on "Devices" button on the "Devices Preferences" window.
Step 3. On the "Device Preference" window, you will find the device backups and backup date and time. When you see a "Lock" icon on the right of your device's name, that means your backup is encrypted.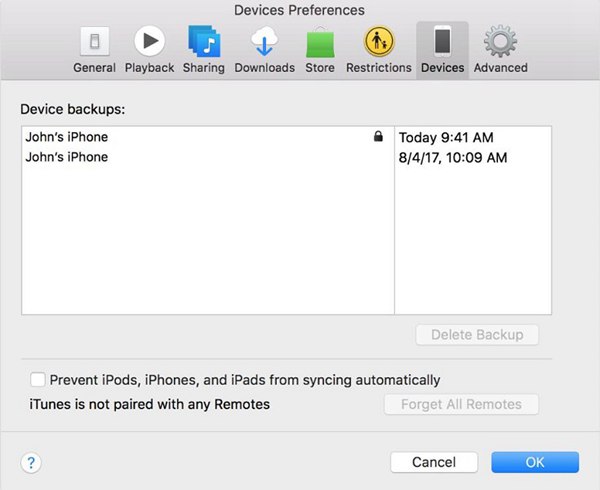 Part 3. How to Reset iTunes Backup Password
Now you can try to encrypt iTunes backups, but don't forget to check if your backups is encrypted successfully. But some guys may also wonder how they can check their iTunes backups if they forget their iTunes backup password. Well, if so, you need to reset iTunes backup password. Then how to reset that?
Step 1. On your iOS devices like iPhone, iPad, iPod, etc., click on "Settings" >> " General" >> "Reset" button successively.
Step 2. Then click on "Reset All Settings" button and enter the iOS passcode.
Step 3. Next follow the instruction to reset your settings. Please note that except for removing your encrypted backup password, the option will also reset settings like display brightness, Home screen layout wallpaper.
Step 4. Finally, connect your iOS device to iTunes once again, now you can create a new encrypted backup.
Part 4. How to Turn Off iTunes Backup Encryption
Though encrypting iTunes backups can protect your iTunes backups, sometimes you may want to turn off iTunes backup encryption. Whether you remember the password or not, you can easily turn off the iTunes backup encryption.
If you remember your iTunes Password:
Go to "Summary" interface and uncheck the "Encrypt iPhone Backup" option, then a "iTunes Password" window will be shown up. You need to enter the password on the pop-up window for unlocking your iTunes backups.
If you can't remember your iTunes Password:
But even if you don't remember your password, you can turn off iTunes backup encryption.
Method 1: For those who have an iCloud account, then you can use iCloud to back up and restore.
Method 2: Reset your password by following the steps as mentioned above.
As encrypting iTunes backup can be useful, so don't forget to collect this article and share it with your friends. But as the quantity of the problems listed are limited, if you have more questions about encrypting iTunes backup, you are welcomed to tell us your questions or find solutions on iTunes official website.
Was this information helpful?
TrustScore 5 | 49