For people discovering a way to enjoy audiobooks with great sound quality, Chromecast Audio is no doubt a rational device. By plugging the Chromecast device into home speakers or televisions, people can connect it to the streaming media for streaming through the devices with extremely high quality and beautiful sound effect.
Today, many music streaming services such as Spotify, Pandora, Google Play Music, and more have been added the compatibility with Chromecast playback. However, the frustrating news is that Audible app has not yet been supported by it. So, what if we wish to enjoy Audible audiobooks through Chromecast with the great sound quality it could provide?
Don't worry. This post is gonna introduce an effortless solution to bypass the incompatibility of the Audible app on Chromecast. You can also master the method to cast Audible to Chromecast through Google Home app directly even the device is not supported Audible. Now, please scroll down and read about them.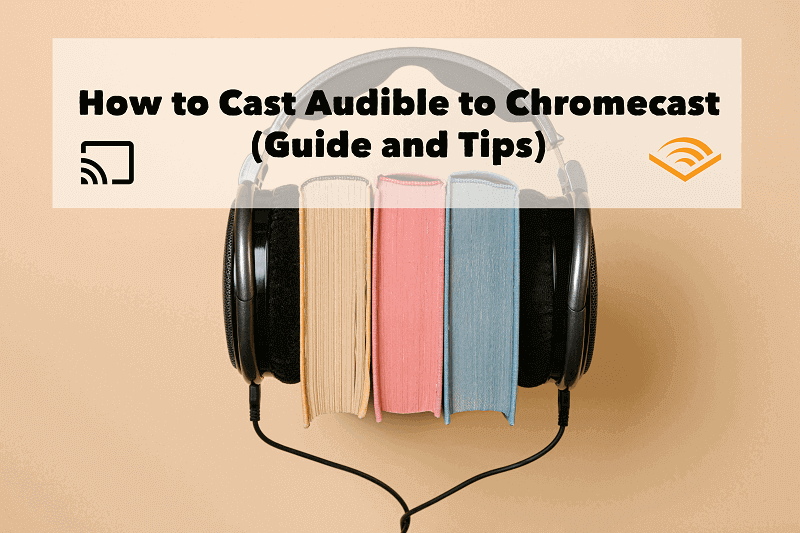 CONTENTS
1. What to Know About Casting Audible to Chromecast
It's been an increasing requests from Audible users that they recommend Audible provide a casting option so that it would be much easier for them to cast Audible books to speakers or TVs for streaming, and with better audiobooks playback experience.
However, Audible hasn't announced the compatibility of Audible app on Chromecast Audio for a long period, guessing that it doesn't want Audible users to stream the audiobooks with the devices developed by its competitors.
Therefore, it won't be possible for Audible to add its compatibility on Chromecast, at least in recent days. That also means, instead of waiting for Audible to be supported by Chromecast, it would be more rational to seek another ways if you wish to cast Audible to the device.
Although direct casting is not available, utilizing Google Home app, or downloading Audible books for transferring to Chromecast to stream, you can still enjoy Audible books through the device and receiving the high quality audiobooks playback. Now, please move down to see how these solutions work.
2. Cast Audible Books to Chromecast with Google Home App
Originally, as introduced above, Audible has not released an official version for Chromecast as well as other Google Home devices. But the good news is, when you have installed the Audible app on your mobile devices, tablets, or computers, you can still connect to the Chromecast and make the Audible playback available. It can be realized through the Google Home app, which is installed on your devices and connected to the Chromecast Audio via Bluetooth.
Therefore, you would need to prepare the following stuff before casting Audible books to Chromecast with Google Home app:
Google Home app

Audible app

Your mobile phone, tablet, or computer

Chromecast Audio

Wi-Fi modern
When these items are well prepared, please follow the procedures here to proceed casting Audible to Chromecast for enjoying now.
First, please connect both your device and Chromecast to the same Wi-Fi signal.

Subsequently, launch Google Home app and tap Google Home >> Cast my audio >> Cast audio.

Confirm to Start, then play an audiobook from the Audible app.

Now, the Audible is just casting on Chromecast successfully!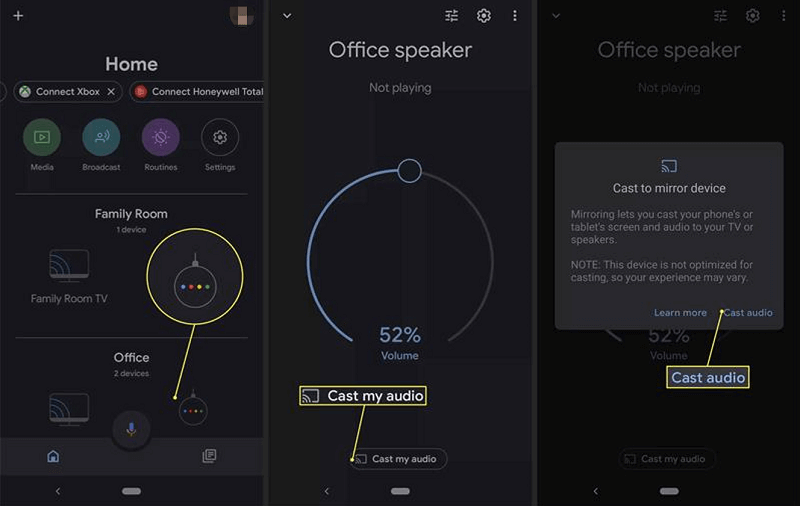 3. Stream Audible to Chromecast on Various Devices
Although it's simple to cast Audible to Chromecast with the help of the Google Home app, it cannot be ignored that both the Audible and Google Home apps have device compatibility. It means that under certain circumstances any of them may fail to be installed on your device, therefore, leading to the failure in casting Audible to Chromecast also occurs.
To bypass the restrictions and realize free Audible playback to Chromecast on all devices, this ultimate solution is what you need - download Audible books to MP3 or other common audio formats, then it could be trouble-free to directly cast them to Chromecast on any device.
Download Audible to MP3
It is well-known that Audible puts DRM encryption on its on-sale audiobooks, prohibiting people to play the files outside the Audible app. To Chromecast them without restrictions, you must retain the audiobooks downloaded in DRM-free status. Here, the brilliant Audible downloader with a great reputation, TuneFab Audible Converter, is recommended to be your helper. Let me explain explicitly to you.
TuneFab Audible Converter provided excellent Audible books encoder conversion with powerful solutions. It could easily detect the DRM encryption adopted on the protected Audible audiobooks, and extracts it for decoding, in that unlocking the audiobooks to be in a DRM-free status and converting them to MP3 or other popular audio encoders.
To facilitate the conversion efficiency, TuneFab Audible Converter ensures the speedy conversion, which can reach 60X faster, and plus the batch conversion at the same time to make Audible conversion a time-saving job.
Besides, TuneFab Audible Converter is also equipped with other helpful toolkits, such as the ID3 tags editor, chapter information saver, and 3 splitting modes to retain the downloaded audiobooks offline in good condition. From all these aspects, TuneFab Audible Converter has won high attention and trust from lots of users over the years.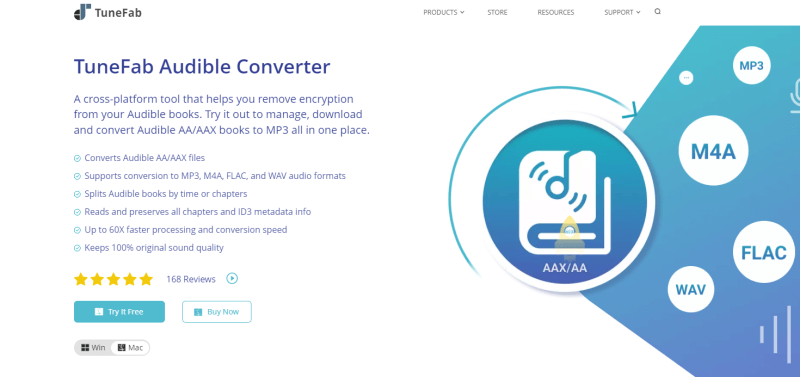 Now, it's time for the conversion! In the following, you will master the complete procedures to manipulate TuneFab Audible Converter to convert and download Audible to DRM-free MP3. Please continue reading.
Step 1. Open TuneFab Audible Converter and Import Audiobooks
First, install the free trial version TuneFab Audible Converter by clicking on the download button. It is recommended to use the free trial of the program before making the purchase decision.
When you complete the installation and open TuneFab Audible Converter, please directly drop the Audible books to its main feed for proceeding with the conversion. More than 1 audiobook can be added each time.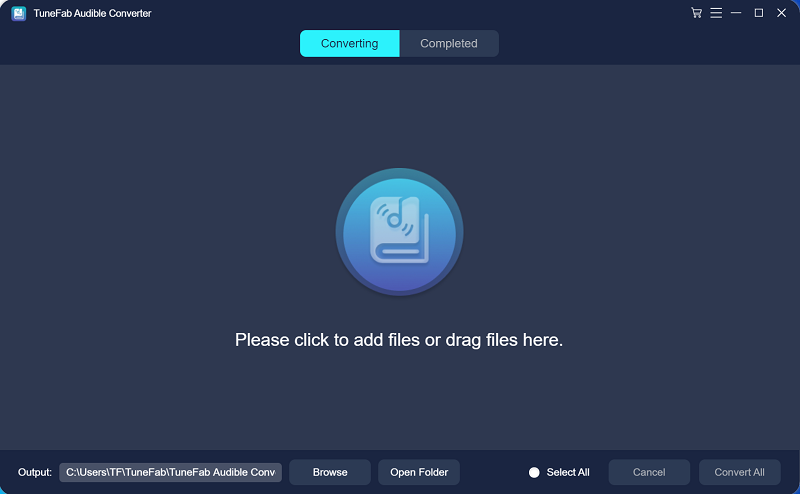 Step 2. Configure Output Encoder
When the Audible books are imported, select an output format to encode the converted content in your preferences, MP3, M4A, FLAC, and WAV are provided to select. You can also turn to the Preferences settings in the program to adjust the SampleRate and Bitrate accordingly.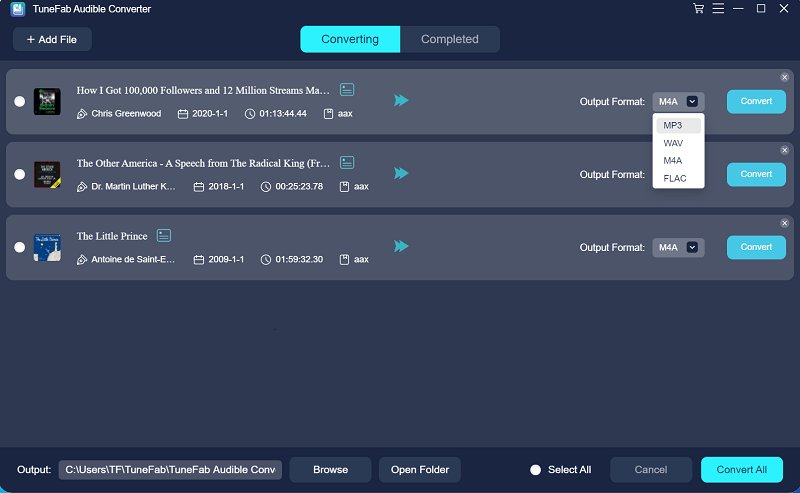 Step 3. Split the Audible Books If You Wish
In Preferences, you can also adjust the splitting mode if you have requirements for saving the audiobooks in smaller parts. TuneFab Audible Converter allows you to split the audiobook by time, segment, or chapter accordingly.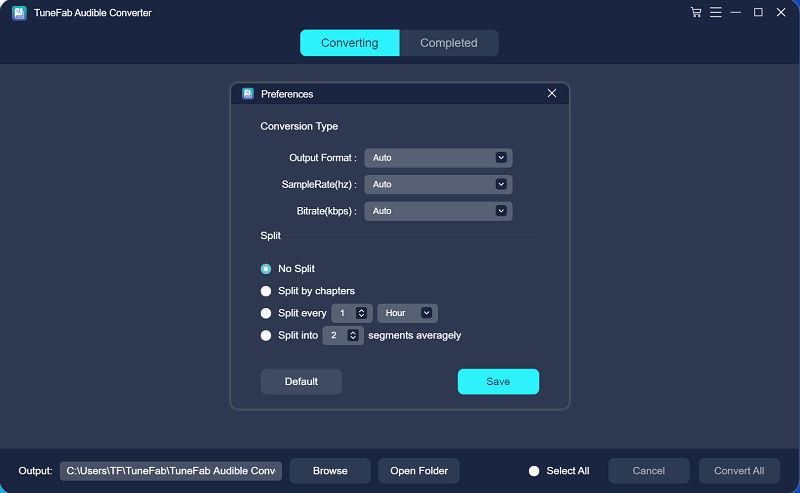 Step 4. Convert Audible Books to MP3 Offline
When the former procedures are completed, it's time for the conversion to begin! Simply tap the Convert All button, and TuneFab Audible Converter will proceed with the conversion and convert the Audible book to MP3 or other selected encoders for you.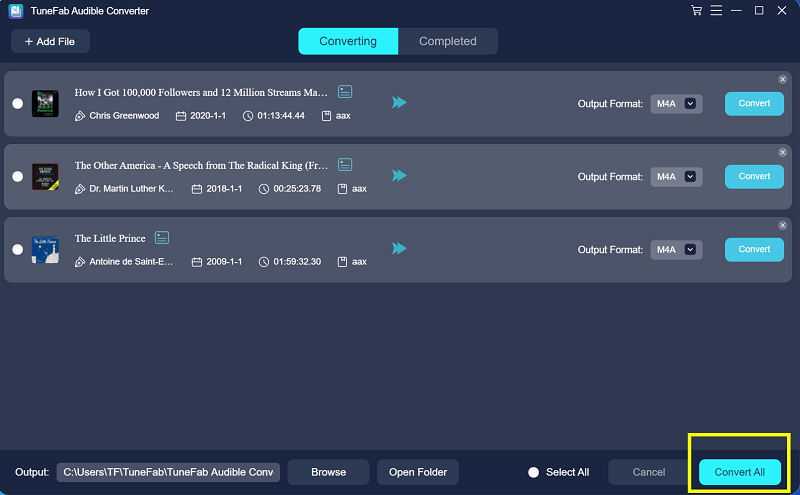 Upload Converted Audible Books to Chromecast Audio
When the Audible book conversion completes, you can quickly access the output folder by turning to Completed module in TuneFab Audible Converter. Then, by tapping the Open File, the output folder will directly be opened and you can find the downloaded MP3 Audible books.
Now you can upload them to Chromecast Audio for streaming through your home speakers or televisions.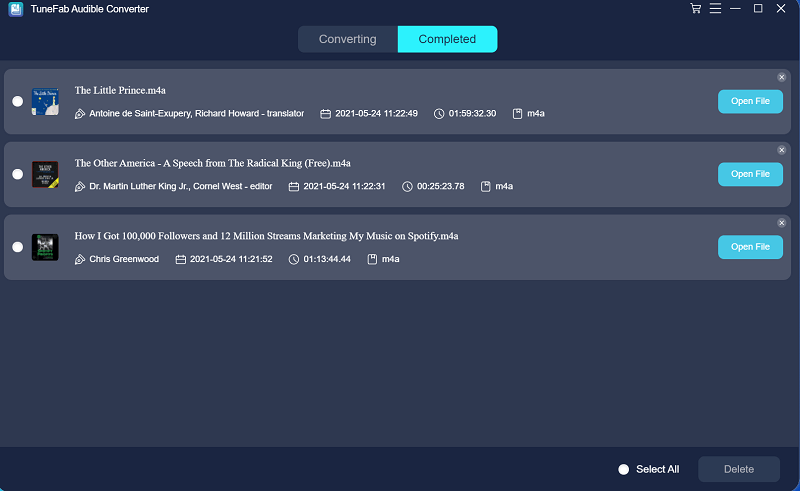 As the Audible books are saved as DRM-free MP3 files, they can be fully compatible with Chromecast Audio even without the Audible app. Subsequently, you just need to cast the audiobooks through any casting app or Google Chrome browser directly to play them through Chromecast easily. It is recommended for you to import the converted Audible books to Google Play Music for storing.
Stream Audible to Chromecast Easily
Here will take Google Chrome browser as an example to show you the way to manipulate the Audible playback through Chromecast. Please follow.
When the audiobooks are uploaded to Google Play Music, you now ought to connect your computer and also the Chromecast Audio with the same Wi-Fi.

Please open the Chrome browser, and also turn to Google Play Music (play.google.com/music) for logging in to your Google Play Music account which stores the converted Audible books.

Play the Audible book, subsequently, click on the Cast option next to the playback controls at the bottom of the screen.

In the detected device list, please select to connect with your Chromecast device. When the connection is built, the Audible can be successfully cast to Chromecast for playback with great sound quality.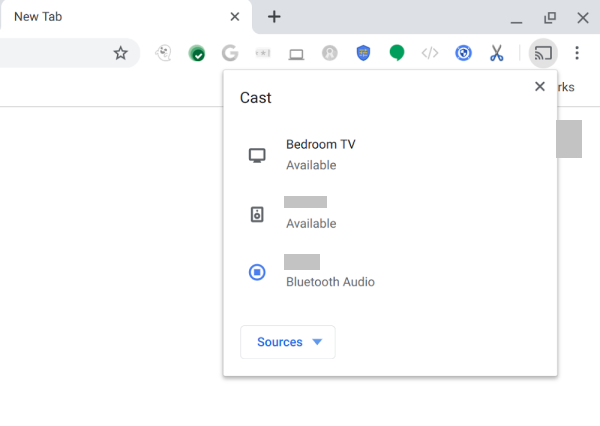 Final Words
It would be much more effortless if you could install the Google Home app on your devices. However, for the other devices that are not compatible with the Google Home app, utilizing TuneFab Audible Converter would be a better option. Now, please based on your real circumstance and select the best method, and from then on you are sure to have an enjoyable Audible playback journey on Chromecast without any restriction.
Was this information helpful?
TrustScore 1 | 1
Copyright © 2022 TuneFab Software Inc. All rights reserved.