For years, Audible has refused to add compatibility on Sonos speakers, making it difficult for users to play Audible on Sonos for streaming their favorite audiobooks with better audio quality. Fortunately, this feature was finally added, meaning that you are now available to directly use Audible on Sonos for playing audiobooks.
If you are new to Audible or just purchase a new Sonos speaker, you may still look for the exact way to play Audible on Sonos. Today, this ultimate guide will help you quickly grasp several optional ways to enjoy Audible books through Sonos speakers. Now, check the guide and pick the most suitable way to enjoy Audible in more enjoyable quality!
1. How to Add Audible to Sonos
When the Audible app has launched authorization for Sonos, it becomes possible for users to directly add Audible to Sonos and stream the content from the Audible library without extra operations. Hence, adding Audible to Sonos should be the first step if you desire to play Audible on the speakers. Here I will show you a brief guide on how to process it.
What You Need
● The Sonos speaker with the network connected;
● Sonos app installed on your iOS, Android, Windows, or Mac desktop;
● Your Audible account.
Directly Play Audible from the Sonos App
When the above items are prepared, you are available to add Audible to Sonos to directly play the audiobooks from the Sonos app. The following tutorial will be divided based on different devices.
On iOS/Android Devices
STEP 1. Firstly, install the Sonos app on your iOS or Android device. Then launch it.
STEP 2. Now, go to "Settings" > "Add a Service".
STEP 3. From the list, select "Audible" and submit the "Add to Sonos" icon.
STEP 4. Then, continue to follow the on-screen instructions to add Audible to Sonos to enjoy the audiobook streaming from the Sonos app directly.
STEP 5. When Audible is added, just go to the Audible library inside the Sonos app and select the audiobook you like. Then play it through the Sonos speaker as it is connected to your mobile device.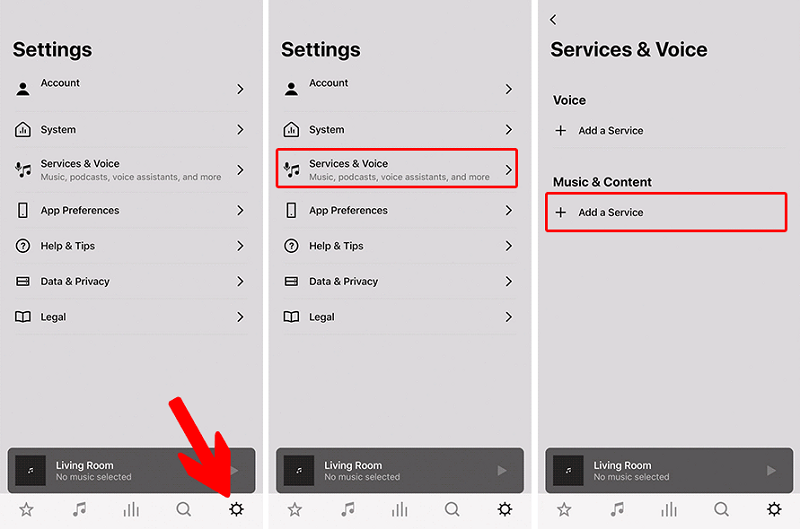 On Windows/Mac Devices
STEP 1. Launch Sonos desktop software after installing it on your Windows or Mac desktop.
STEP 2. Navigate to "Select a Music Source" and choose "Add Music Services".
STEP 3. Now, select Audible from the list, and just follow the instructions to complete adding it to Sonos for realizing audiobooks playback on your Sonos speaker.
STEP 4. Then, simply connect the Sonos speaker with the device, and you are available to directly stream the Audible book you like from the Sonos app. And it will be played on the connected Sonos speaker directly.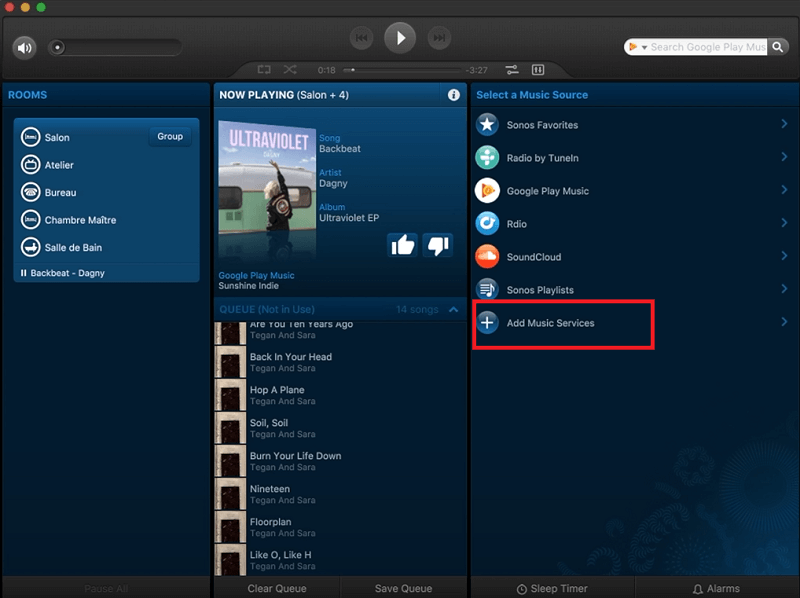 2. How to Play Audible on Sonos with Audible App
Instead of adding Audible in Sonos, you are also available to set your Sonos speaker as the supported device to play audiobooks from the Audible app. Now, the brief guide provided here will show you the way to connect Audible with an iOS/Android device to directly play Audible on Sonos.
Connect Audible to Sonos on Android
STEP 1. Connect the Sonos speaker and your Android device to the same Wi-Fi network.
STEP 2. Then, launch the Audible app and select an Audible book for starting to stream it.
STEP 3. As you start the playback, there will be a pop-up message showing "Sonos devices are available". Just select "Connect to a device" from the bottom.
STEP 4. From the detected device list, select your Sonos speaker and connect to it, then the Audible book can be played on the device directly.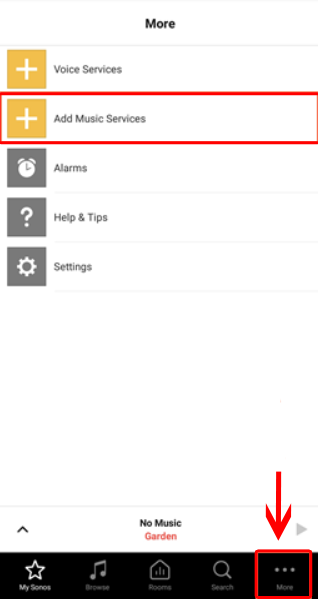 Connect Audible to Sonos on iPhone
STEP 1. On your iOS device, launch the Audible app.
STEP 2. Turn on your Sonos speaker and connect it with the Wi-Fi network as your iOS device.
STEP 3. Now, select an Audible title in the app for playing. When the message "Listen on Airplay, Bluetooth, and Sonos devices" shows up, hit the "Connect to a device" at the bottom of the Audible app.
STEP 4. After that, select your Sonos speaker for connecting to from the detected device list, then by submitting "I agree" when the Audible app asks for your approval to play the audiobook on Sonos, and the Audible book is able to be played on Sonos directly on your iOS device.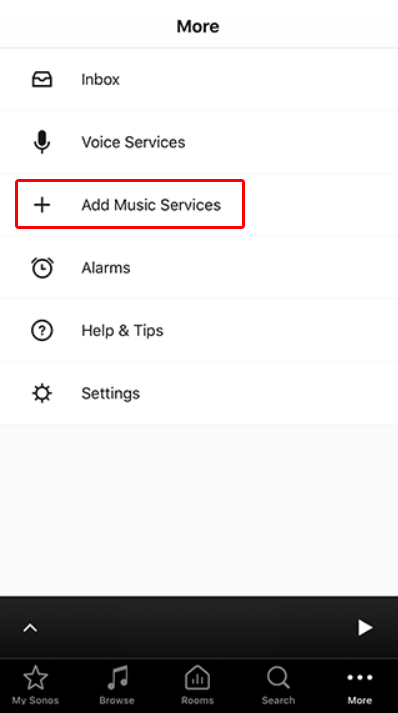 3. How to Listen to Audible on Sonos Without Limitation
Although the added compatibility of Audible for Sonos makes Audible audiobook streaming convenient for Sonos users, some playback errors may still happen. For example, when the network status doesn't support providing the smooth audiobook playback experience, or your Audible app or Sonos app suddenly is not working. Hence, you may desire to download Audible books for streaming on Sonos speakers without any limitation. To do this, TuneFab Audible Converter is absolutely what you need.
TuneFab Audible Converter empowers smooth and powerful performance to download Audible books to MP3 and other mainstream formats such as WAV, FLAC, and M4A without hassle. It ensures the simplest operation with an intuitive interface design.
For every user, TuneFab Audible Converter is easy to get started with, and less time would be wasted on processing the Audible books download or conversion. More importantly, after being downloaded once, the audiobooks are able to be preserved offline forever and stream on any device as well as media player without limitations!
Highlighted Features of TuneFab Audible Converter
● Strip DRM encryption from the protected Audible AA/AAX books;
● Available to split audiobooks by chapters, segments, or time;
● Preservation of ID3 tags, chapter, and metadata info with the converted Audible books;
● Accelerated to 60X faster speed for boosting Audible conversion efficiency;
●Original music quality is provided.
Now, also go through the brief guide to grasp the way to download Audible books offline for streaming on Sonos without limitations via TuneFab Audible Converter.
STEP 1. Launch TuneFab Audible Converter. On the main interface, you are available to import the Audible books to the software by pressing the large icon in the middle. Dropping the files here for uploading the audiobooks is also supported.
NOTE: To import Audible books to TuneFab Audible Converter, you are required to download them as AA/AAX local files from the Audible platform first.
Related Article: How to Download Audible Books to Phone [Full Guide]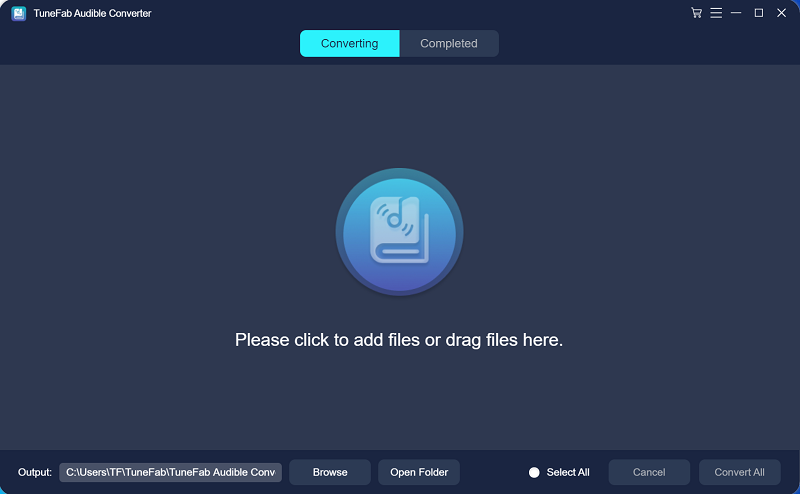 STEP 2. When the Audible books are added, you are able to select an output format. By navigating to "Menu" > "Preferences", you are available to adjust the sample rate as well as the bitrate for outputting the audiobooks. Setting a splitting mode for cutting the audiobooks into audio clips for preserving offline is also available here.
NOTE: As Audible uses 32-128kbps for streaming audiobooks, it is recommended to customize the bitrate as the same figure as the source.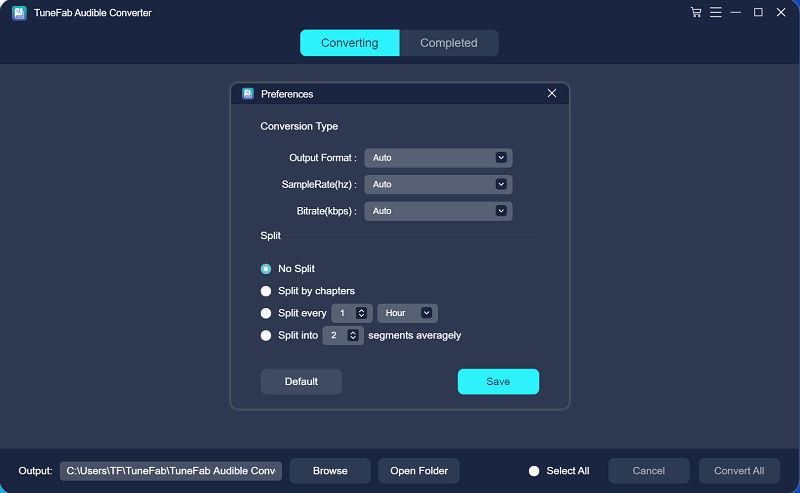 (Optional) STEP 3. By hitting the ID3 info icon behind the title, you are also available to edit the content based on your requirements.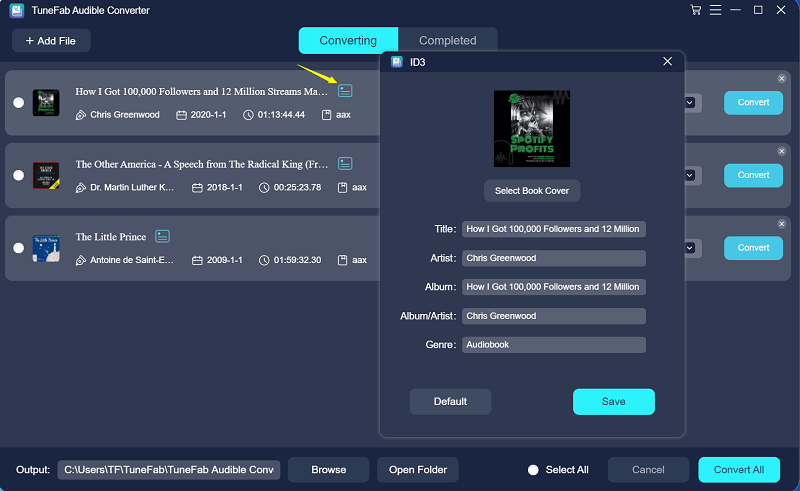 STEP 4. Finally, process the conversion of the Audible book simply by hitting the "Convert All" icon, and the audiobooks would be added for batch converting with 60X faster speed simultaneously. When the Audible books are downloaded offline, you are able to directly upload them to Sonos app for streaming even without a network connection.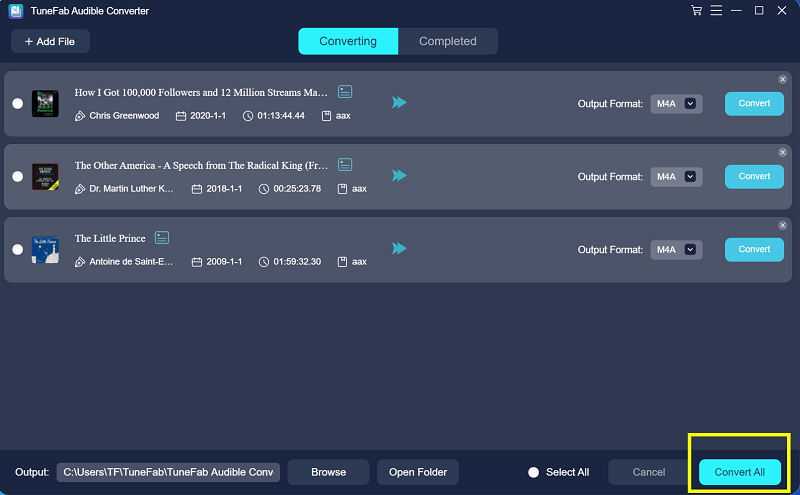 Streaming Audible books on Sonos speakers becomes an easy task for everyone. Also, using TuneFab Audible Converter would be a hassle-free process to play Audible on Sonos without any limitation or even help you solve unexpected errors that may happen while trying to process Audible playback on Sonos.
Was this information helpful?
TrustScore 5 | 49