"Hello, guys. I just joined Apple Music, but I didn't like the music on the 'For You' section at all, it probably because I selected the artist and genres at random after subscribing to Apple Music. Now how can I reset 'For You' Section?"
For Apple Music subscribers, you may not be unfamiliar with Apple Music 'For You' Section where you can find Apple Music tracks just for you, but sometimes, you may want to reset Apple Music 'For You' Section because you may select wrong genres or artists before or change your Apple Music preferences now. Then how to do that? It's not difficult to change your Apple Music preferences, but first of all, let's know more about 'For You' Section.
CONTENTS
Part 1. What Is 'For You' Section
Are you upset about not knowing where to find some music that you may like? Well, Apple Music offers the 'For You' section which lets you get access to the music you like directly and automatically. That means if you have chosen the right Apple Music preferences, then you will find the tracks that fit you taste show up on 'For You' section.
There are up to four various mixes that refresh weekly: Chill Mix, Favorites, Friends Mix and New Music Mix. But for those who just joined Apple Music, you won't see any mixes as Apple Music doesn't understand what you like at that time.
The recommendations and songs are influenced by the following factors.
#1. The music that you listen to from the Apple Music catalog.
#2. Music that you love or dislike.
#3. The genre and artist choices that you made when you first joined Apple Music.
But if you don't like the tracks on 'For You' section at all, then you need to reset apple music for you. We will show you how to reset Apple Music suggestion on iPhone in Part 2.
Part 2. How to Reset Apple Music 'For You' Suggestions on iPhone
As the 'For You' Suggestions are created according to the three factors as mentioned above, so you need to reset Apple Music preferences accordingly. Here are what you can do:
#1. Arrange Your Music Library
Due to the music from your music library has huge influence on the recommendations, so it's important to make sure that you are fond of all tracks in your music library. Therefore, first of all, I advice you to add the music that you like to your music library and remove all music that you don't like from your music library.
#2. Tell Apple Music What You Love or Dislike
In addition to that, you can also refine your recommendations by telling Apple Music what you like and dislike while listening to Apple Music. To do that, you need to:
While you listen to an Apple Music track on your iPhone, go to the Now Playing screen by clicking on the player at the bottom of the screen. If you like the track, then select the Love icon, otherwise choose the Dislike icon.
However, if you change your mind or make a mistake in your selection, then you can change your selection. On the Now Playing screen, click on Love or Dislike icon again can clear your previous selection.
Except clicking on Love or Dislike icon to tell Apple Music your music preferences, you can also say "Hey Siri" and tell Siri if you love or dislike the song that is playing.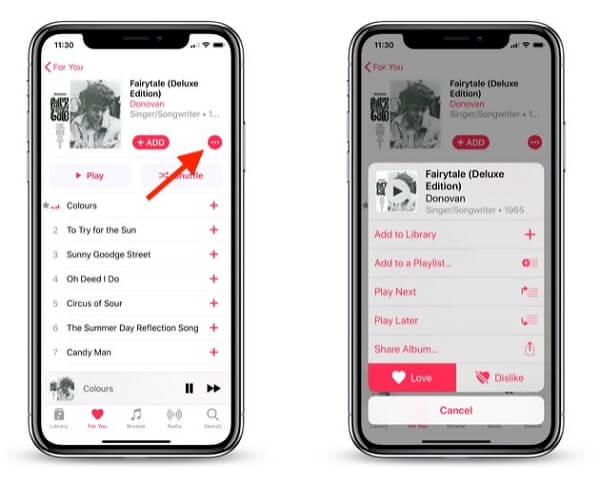 Part 3. How to Set Up Sharing and Find What Your Friends Are Listening on Apple Music
In 'For You' section, you can share what you're listening to with your friends and see what they're listening to as well.
To start sharing:
Step 1: First open Music app on your iPhone and then go to 'For You' section.
Step 2: Then click on your photo in the upper right corner of the screen.
Step 3: At last, click on "See What Friends Are Listening To" option. After that, follow the steps to set up your profile and start sharing.
If you want to stop sharing, then go to "For You" section. Click on your photo > "Edit" > "Delete Profile" button.
To follow your friends and see what they are listening to:
On the profile page, find and click on "Follow More Friends" option, then you will find all friends who are sharing music. Just click on "Follow" button next to your friends' name, or you can click on "Invite" button to invite a friend to share.
After that, you can see a " Friends Are Listening To" section in 'For You' section. In order to find what your specific friends are listening to, you need to view your profile and then click on their photo or icon under "Followers or Following" section.
Except 'For You' section, Apple Music also features its large music library with more than 50 million songs ad-free, searching for songs by lyrics, finding what tracks are popular at a glance with global charts, etc. But once you cancel your Apple Music subscription, songs downloaded before won't be playable anymore. To keep Apple Music permanently, you need to download TuneFab Apple Music Converter which is designed for allowing you to listen to Apple Music on multiple devices forever.
Was this information helpful?
TrustScore 1 | 12