Recently, many of the Apple Music subscribers reported their problems of Apple Music not working on iPhone or iPad after updating to the latest version of iOS 11. For example, users stated that they're unable to play any music whatsoever! If such situation sounds familiar to you, just keep the problems in mind, because in this article, we'll analyze the reasons and provide effective solutions for you to fix them.
CONTENTS
Part 1. What Apple Music Problems May Occur to iPhone/iPad
The below specific problems which always cause Apple Music not working. Check if there is the one you have trapped into.
1. Unable to play music;
2. Unable to purchase;
3. Unable to log in;
4. Unable to sync;
5. Unable to download;
6. Unable to unfollow artists
7. Radio stations not working;
8. "Unexpected error code 4010" issue;
9. Randomly skipping songs;
10. "My Music" cannot load songs;
11. "Apple Music" freezes (unresponsive/crashing);
12. Can't sync Apple Music songs to iPod;
13. Item not available;
14. "This media is not supported" error;
15. Unable to set the Apple Music as ringtone, or background music;
16. Can't repeat songs or shuffle doesn't work;
17. Can't find a way to rate music.
Part 2. Simple Methods to Fix Apple Music Not Working
The methods are simple but they are worth a try. You'd better check to see if your problem still exists after performing each step rather than trying everything all in one shot.
#1. Relaunch the Music App
Tap "Settings" icon, turn on the Airplane Mode. Don't off it immediately. Wait a few seconds, turn off.
#2. Turn Airplane Mode On and Off
Tap "Settings" icon, turn on the Airplane Mode. Don't off it immediately. Wait a few seconds, turn off.
#3. Reset Network
Go to "Settings > General > Reset > Reset Network Settings" to reset network settings on your iPhone or iPad.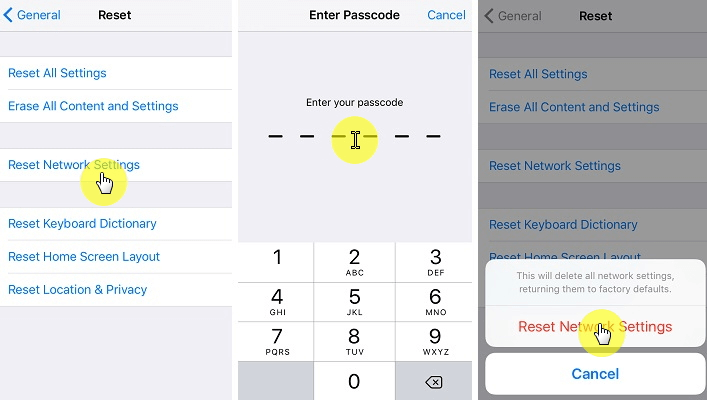 #4. Update the iTunes to Latest Version
Open the App Store app, then tap "Updates" to see whether your music app has a new version to update. If yes, update to that version.
#5. Disable Music's Cellular or Mobile Data
Go to "Settings > Music > Cellular Data" and toggle that off. If you don't want to do that, try toggling off "High-Quality Streaming" instead.
#6. Open the Music App in Different Way
Tap "Settings > Music > Join Apple Music" to open Apple Music.
#7. Backup Your Device Using iTunes
Connect your device to the computer, and click "Backup", then go to "General > Reset > Erase All Content and Settings". Your iOS device restarts so set your iDevice as new (just follow the steps). When you finish this process, open the Music app.
#8. Log out and in the iCloud Account
Go to "Settings > Music", and turn off "Show Apple Music". Tap "Settings > iCloud", and sign in iCloud account.
Part 3. Professional Tips to Fix Apple Music Crashing
If you've tried the above simple methods but the issue still exists, try this method to solve. You need to actually remove the song from the device, not the library. When you see the download cloud icon next to the song, press that cloud icon to re-download the song from iCloud. Then, that song should play again.
2. Can't Find A Way to Rate Music?
To rate the music, in the now playing view, tap on the album artwork and the star ratings will appear.
3. Signed out of Apple ID and Lost All Your Apple Music?
To fix this problem, just switch iCloud Music Library back on. Go to "Settings > Music", under the Library heading, turn on iCloud Music Library. Then, go back to the Music app to see if your music comes back.
Part 4. Conclusion
These methods are helpful if you get into troubles like Apple Music not working, Apple Music crashing or Apple Musi not syncing, etc. And if you are afraid of other issues, for example, Apple Music disappearing, you can create a backup of all Apple Music songs on your local hard drive. To handle this, a useful DRM removal is necessary for you. With TuneFab Apple Music Converter, you can remove DRM from Apple Music and convert the songs to plain MP3 files for local backup. This tool works amazingly in converting all iTunes audios including Apple Music, iTunes audiobooks, Audible audiobooks and more.
Finally, if you have another method for solving the Apple Music issues, please tell us in the comment below.
Was this information helpful?
TrustScore 1 | 1