Is it a little cumbersome for you to control the Apple Music app while using Google Maps to navigate on your iPhone? To do that, you may need to switch to the Apple Music interface and then go back to the Google Maps interface. During the switching time, you probably go the wrong way due to paying no attention to the navigation route. But here comes a piece of good news for you, Google Maps has introduced the native music controls for a handful of popular services such as Apple Music, Spotify, Google Music Play, etc. on the second half of 2018. As some of you may not know that Google Maps added an integration with popular music services, so I'll make an brief introduction of the function before showing you how to add Apple Music to Google Maps.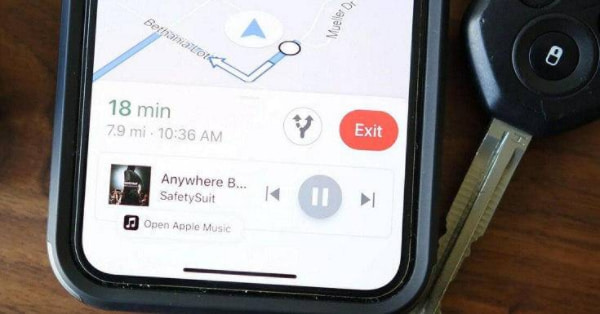 CONTENTS
Part 1. Brief Introduction of Native Music Controls for Music Services
Google Maps is one of Google's most-used and more-adored products. In 2018, Google announced a lot of new features for Google Maps including a native music controls for music services. The function works with iOS and Android phones (But the function of Google Play Music is not available on iOS till now). On the Google Maps's navigation screen, you can find the music controls screen so that from now on you can play or pause the music and go to previous or next song while watching the navigation route.
However, it isn't turned on by default. You have to add Music services to Google Maps by a few clicks. Next, let's take Apple Music for an example.
Part 2. How to Add Apple Music to Google Maps
First of all, you need to check if you have done the below things before adding Apple Music to Google Maps.
#1. Update or download the latest version of Google Maps. For Android users, check for updates through the Google Play Store, while iPhone users, go to the App Store for checking.
#2. Make a playlist containing songs that you want to listen to while driving on Apple Music.
After checking, then follow the below ultimate methods.
Add Apple Music to Google Maps on Android phones:
Step 1: First open Google Maps on your Android phone.
Step 2: Then swipe in the menu from the left side of the screen, scroll down and tap "Settings" button on the bottom of the screen to go to the setting menu.
Step 3: Next on the menu screen, tap "Navigation Settings" option. It should be on the bottom of the screen.
Step 4: Toggle on the media playback controls. It won't be turned on by default. After that, you can select Apple Music app from the list of available services.
Add Apple Music to Google Maps on iPhones:
It's a little different for adding Apple Music to Google Maps on Android phones and iPhones. Here is what you need to do on iPhone:
Step 1: Launch Google Maps on your iPhone.
Step 2: Then go to the Maps settings by swiping in the menu and tapping the gear icon on the top of the menu.
Step 3: Find the "Navigation" option on the settings screen and then click on it. It is supposed to be at the top of the list.
Step 4: Toggle on the media playback controls and the setting "Media & Apple Music", then tap the "Music playback controls" option on the "Sound & voice" section and select "Apple Music".
Note: For iPhone users, they won't need to toggle "Media & Apple Music" if adding other music services.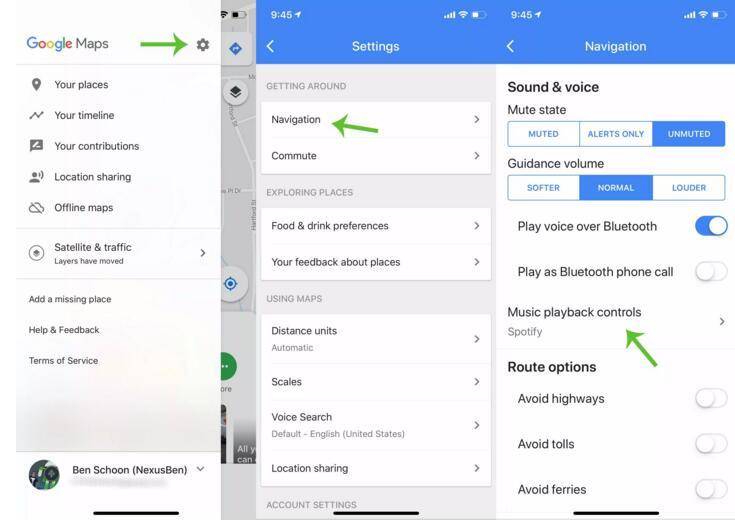 If you have downloaded other music services such as Spotify on your Android phones or iPhones, then you can also try the above methods to add it to Google Maps.
Part 3. Some Recommended Apple Music Playlists
Now you can easily add Apple Music to Google Maps. For those who want to find some popular Apple Music playlists for your road trip, then go ahead, here are some recommendations.
#1. The Best Driving Songs 2018
The playlist made by Matt Johnson is consist of 107 songs and it takes 6 hours and 48 minutes to play all songs. As its name suggests, this playlist is a good choice for those who have a road trip. You can find Walking On Sunshine, Ignition Remix, All Right Now, etc. in this playlist. All of the songs will keep you free from sleepiness.
#2. Songs for the Car (While longing for Summer)
There are only 14 songs in this playlist, but all of them are sound and beautiful. It is created by Thomas Dydahl. The songs in this playlist including Winter In the Haptons, New Coat, My Sweet Lord and more will make you wish the drive will never end.
#3. Songs To Sing In the Car
If you want to find some playlist that makes you excited, then search "Song To Sing In The Car" on Apple Music. This playlist contains 58 songs such as Backpacc, What Do You Mean?, Heavens Gates and so on. I believe that your passengers won't be boring if you play this playlist in your car.
Conclusion
By taking the steps mentioned as above, you can easily add Apple Music to Google Maps on Android phones or iPhones. You can find so many excellent playlists on Apple Music. If you think this guide is useful for you, then don't forget to add it to the favorites and share with your family or friends.
Was this information helpful?
TrustScore 5 | 49