Indeed, the diverse music playlist on Amazon Music can make your music streaming journey even more enjoyable. But common experiences are, when you open a music app, you feel frustrated not knowing which song to start with or just get tired of your own playlists.
Luckily, this article collects multiple excellent and exciting playlist selections available on Amazon Music that fit your mood for any scenario, ranging from uplifting beats to relaxing music. And I believe that you can find joy when exploring these 12 best Amazon Music playlists.
CONTENTS
Best Christmas Playlists on Amazon Music
Celebrate the holiday season with the Best Christmas Playlists on Amazon Music! These curated collections feature a mix of beloved classics and contemporary hits to fill your home with festive cheer. You'll find the perfect soundtrack for parties, decorating, and family gatherings through it. Explore the magical world of Christmas music and create unforgettable memories with these handpicked playlists.
Cozy Christmas
Captures the warmth of Christmas with its selection of soothing and heartwarming tunes.
Whether you're curled up by the fireplace with a cup of hot cocoa or enjoying a peaceful evening with loved ones, the gentle melodies and enchanting vocals will create the perfect backdrop for a cozy and memorable Christmas experience. From classic holiday favorites to soulful renditions, the Cozy Christmas playlist is a must-listen for anyone seeking comfort, joy, and a touch of magic during the most wonderful time of the year.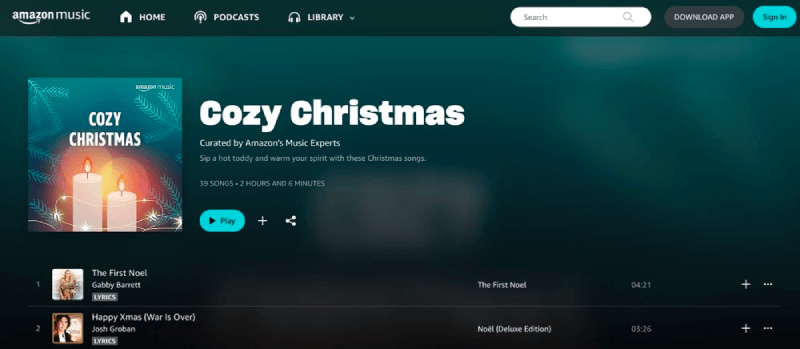 Christmas Classics
A timeless compilation that will transport you to a nostalgic and joy-filled winter wonderland.
"Classics never go out of style." As the cheerful Christmas songs resonate through the shopping malls, and the city illuminates with neon lights, bringing life to the wintry landscape, let the classic Christmas music fill your heart with warmth, embracing you in its nostalgic melodies.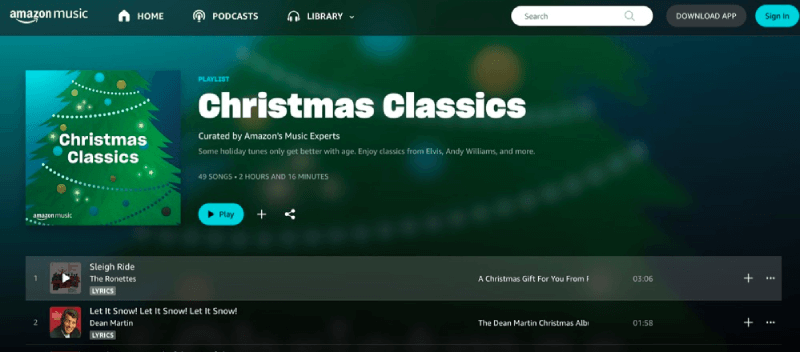 Best Workout Playlists on Amazon Music
Listening to music while exercising can enhance the overall workout experience, improve motivation, and make the activity more enjoyable and rewarding. This time, let's explore the best workout playlist on Amazon Music!
Workout Warm Up
Gradually increase heart rate, warm up muscles, and mentally prepare for the upcoming exercise.
Prior to engaging in any exercise, it is essential to warm up. However, following a video tutorial for warm-up exercises can sometimes become monotonous due to a single background sound. In such instances, why not open the Amazon Music app and play this captivating playlist? It provides a unique warm-up experience, elevating your energy levels and preparing you mentally for the upcoming physical training session.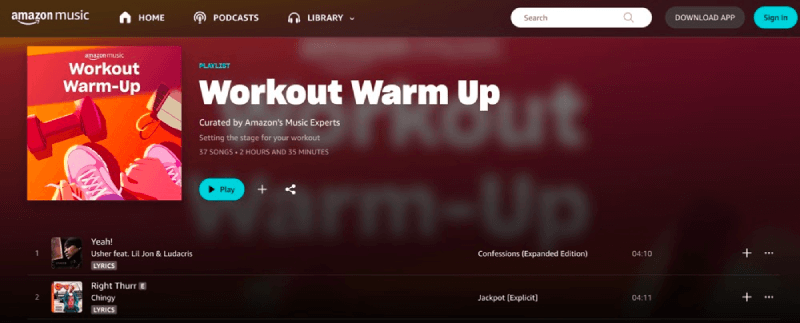 120 BPM Workout
The perfect companion for your exercise routine, offering a dynamic selection of energizing tracks.
These BPM playlists are fantastic for maintaining a steady heartbeat as they provide a curated selection of songs that align with the desired tempo. Sticking to the music's rhythm helps you stay on track and ensures an effective warm-up session.

80's Pop for Running
Get your running shoes on and step back in time with a high-energy blend of iconic '80s hits.
Listening to music while running, especially to energetic songs, can significantly enhance your pace. The right music has a way of naturally syncing with your stride, helping you maintain a steady rhythm and regulate your breathing. This playlist is designed to infuse you with enthusiasm and passion, allowing you to fully immerse yourself in your run. So, let's lace up our shoes and hit the road, fueled by the power of music!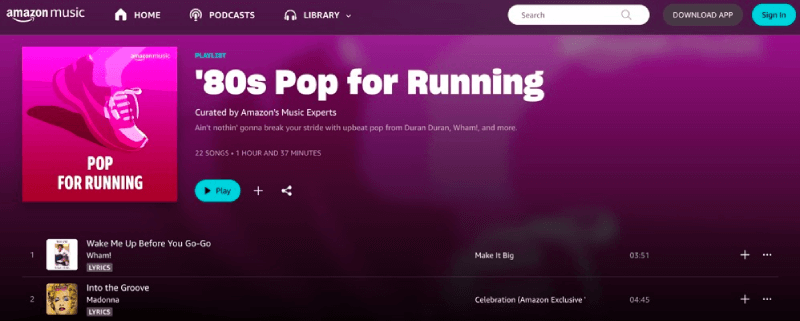 Home Gym Workout
Transform your home into a personal fitness haven.
Music can be considered the "mental nitro boost" for every fitness enthusiast, especially when working out in the comfort of your own home. Listening to rhythmically charged music during your workout can significantly enhance your motivation compared to exercising without music. The songs in Home Gym Workout are carefully selected for their captivating beats and melodies, making it perfect for those who prefer to exercise at home.

Best Party Playlists on Amazon Music
One boring song can ruin a party. Although everyone has different musical preferences, it is still helpful to provide party hosts with some ideas, at least to allow the party animals to fully enjoy themselves and create a relaxed atmosphere for shy friends to immerse themselves in the melodies.
Party Hits
Keep the party alive and the dance floor buzzing.
Let the infectious beats in this playlist sweep you away. The pulsating rhythm, captivating melody, and sheer exhilaration of the songs create a vibrant dance atmosphere. So, let's lose ourselves in the music, hit the dance floor, and celebrate the moment with unstoppable energy!

All Hits
The high-energy collection keeps the party vibes going all night long.
Immerse yourself in the ultimate playlist featuring the hottest songs worldwide, including the latest viral hits from TikTok. All Hits, carefully curated by Amazon Music experts, is your go-to source for the biggest songs across genres. Updated every Friday, this playlist ensures you stay up-to-date with the most upbeat and lively tracks that will keep you energized and wide awake. Get ready to groove to the rhythm of the global music scene!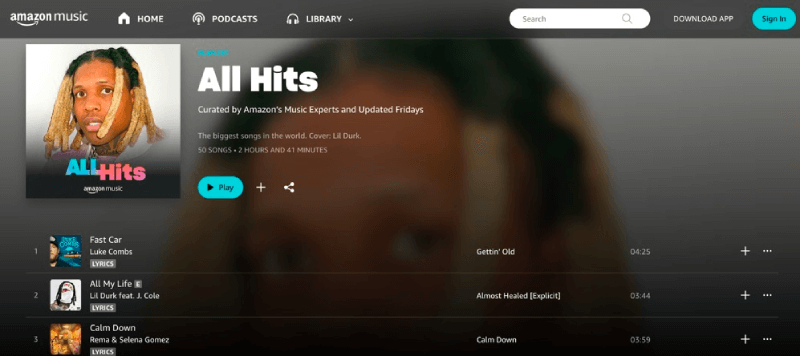 Indie Dance
Infectious dance beats deliver a captivating musical fusion.
This description had me bursting with laughter! Not only do the Amazon Music editors have a great sense of humor, but their taste in indie electronica is spot-on. Prepare to be blown away by the incredible lineup of artists like Chet Faker, Zombies in Miami, Hannah Holland, Romy, and countless other danceable gems. Trust me, you won't be able to resist moving your feet to these infectious tunes!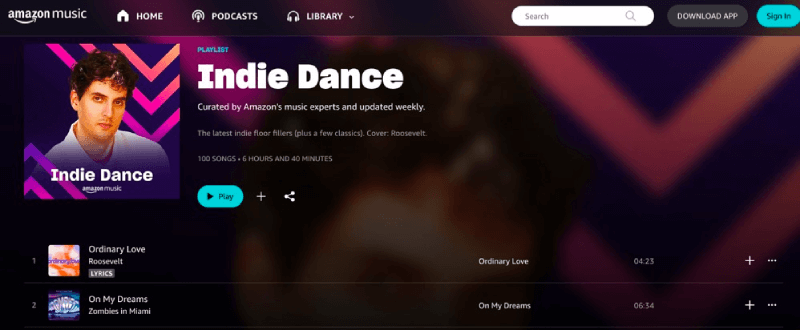 Best Sleep Playlists on Amazon Music
On those nights when you can't seem to get comfortable and fall asleep, sleep music can be your saving grace, helping you let go of the day's work stress and worries, allowing your mind and body to unwind, and ensuring a peaceful slumber to recharge for the next day. A well-curated sleep playlist tailored to your preferences will create a unique experience of comfort and relaxation, helping you drift off into dreamland effortlessly.
Hypnotic & Melodic
May you have a peaceful night's sleep.
Diving into the captivating world of the Hypnotic & Melodic playlist on Amazon Music will transport you to a mesmerizing realm of immersive and melodious tracks that will capture your imagination and soothe your senses. With its enchanting blend of hypnotic rhythms and captivating melodies, this playlist is perfect for relaxation, introspection, or simply getting lost in music.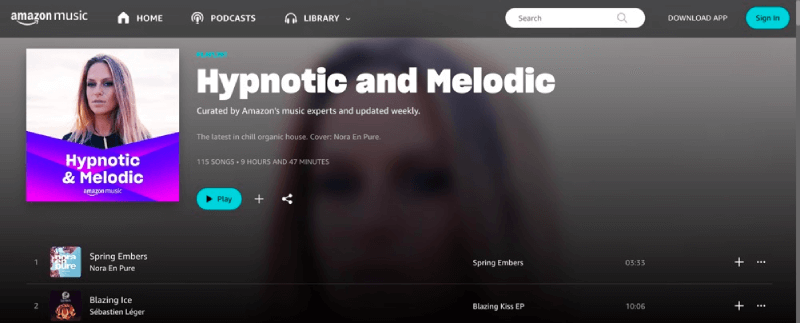 Relaxing Rain Sounds
The crisp and soothing sound of raindrops gently soothes your inner being.
Whether you're looking to unwind after a long day, enhance your meditation practice, or simply create a peaceful ambiance, these calming rain sounds will help you find your inner calm and create a tranquil atmosphere. Allow the Relaxing Rain Sounds playlist to wash away your stress and bring a sense of tranquility into your life.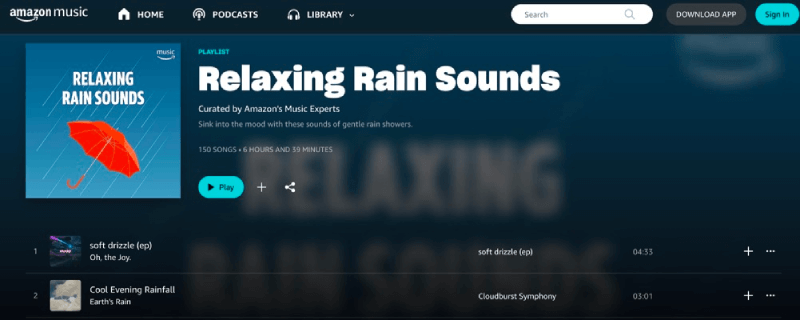 Oldies Hits
Step back in time and immerse yourself in the timeless classics.
From the soulful melodies of Motown to the infectious beats of rock 'n' roll, this playlist is a time capsule of musical treasures that will reignite cherished memories and make you groove to the rhythms of yesteryears. Whether you're seeking a trip down memory lane or discovering the magic of these classic tunes for the first time, the Oldies Hits playlist is a must-listen for music enthusiasts of all generations.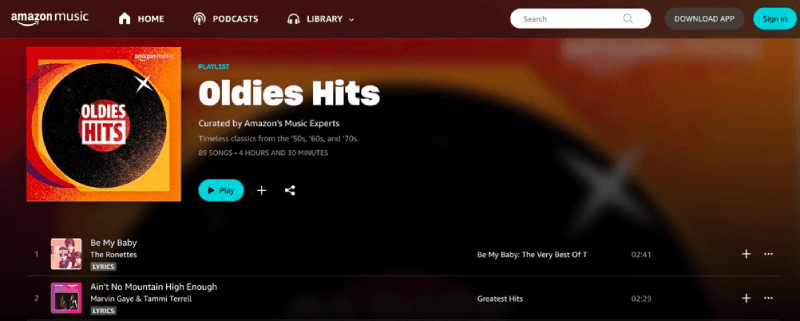 Bonus Tip: How to Download Amazon Music Playlists
With such a diverse selection of outstanding playlists, there is undoubtedly a music realm for everyone to discover on Amazon Music. But how can we download these best Amazon Music playlists from Amazon Music?
Before we delve into the step-by-step instructions, there's an important point to emphasize: Only users who have subscribed to either Amazon Music Unlimited or Amazon Music Prime can directly download playlists on Amazon Music. But what if you're not subscribed? Don't worry, you can still download your favorite playlists.
In the following guide, we will present the steps separately for "Subscribed Users" and "Non-Subscribed Users." Let's dive in and explore together!
If You Have Subscribed to Amazon Music Unlimited
If you have a subscription to Amazon Music Unlimited or Amazon Music Prime, downloading playlists is incredibly straightforward:
Step 1. Open Amazon Music and log in with your account.
Step 2. Search for the song you wish to download or navigate to the playlist you want to save.
Step 3. Look for the Download button and click on it to initiate the download process. (If you only want to download a single song, click on the three dots located at the end of the song title, and then select "Download".)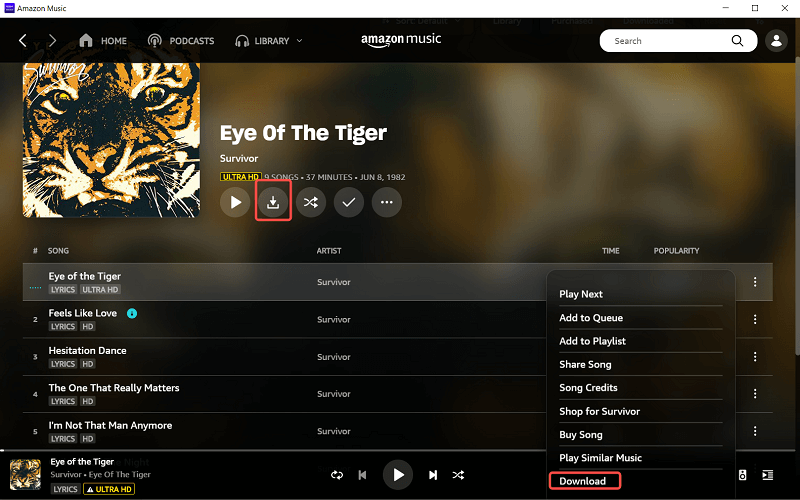 If You Don't Subscribe to Amazon Music Unlimited
If you're not a subscriber of Amazon Music or wish to download songs from Amazon Music to your local device for playback on other music players, we highly recommend utilizing the robust TuneFab Amazon Music Converter. This powerful tool supports all Amazon Music content, allowing you to convert tracks to mainstream formats while maintaining high transformation speed and preserving essential ID3 tags. Enjoy the convenience of downloading and converting your favorite Amazon Music content with ease.
Key Features of TuneFab Amazon Music Converter:
● Download all Amazon Music content: Supports songs, albums, and podcasts from Amazon Music HD, Prime, and Unlimited.
● Wide audio format compatibility: Export your downloaded files in popular formats like MP3, M4a, WAV, and FLAC for seamless playback on any music player.
● Preserve original sound quality: Enjoy the same high-quality audio offline as you do while streaming.
● 5X faster conversion speed: Convert and process songs quickly and efficiently.
● Retain ID3 metadata: All song information, including titles, artists, and albums, will be saved.
Moreover, the process of downloading playlists through TuneFab Amazon Music Converter is incredibly simple. Here is a step-by-step guide to help you through the process:
Step 1. Download and Install Converter
To quickly download and install TuneFab Amazon Music Converter on your computer, click the download button below. Once the program is launched, a registration window will appear for activating the registered version using the purchased license key. For first-time users, we highly recommend skipping the registration process and directly experiencing the free trial.
Step 2. Open Web Player and Log in
Click the "Open the Amazon Web Player", and then you just enter your email or mobile phone number, as well as your password, to log in to Amazon Music.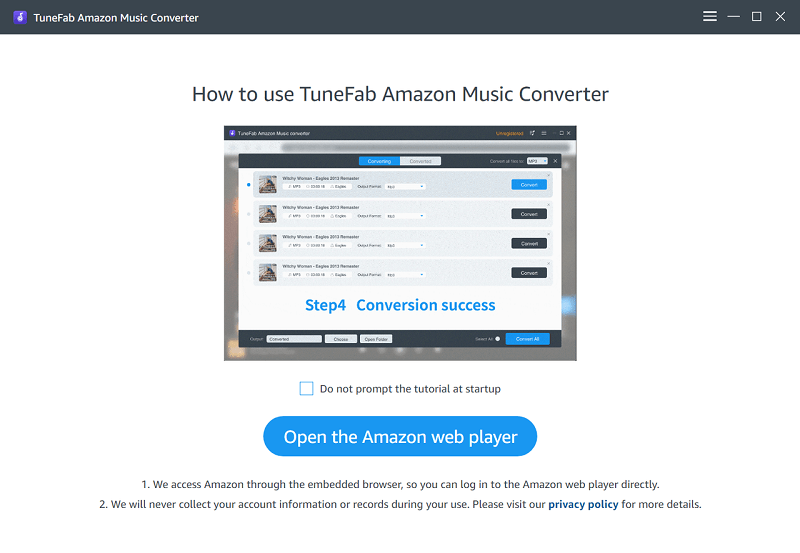 Step 3. Add Best Amazon Music Playlists to Download
Locate the Amazon song/playlist you wish to download and click on the "Add" icon. (Or just drag the song/playlist to the "Add" icon.) In the upper right corner of the interface, you will find the "Convert all files to" option, allowing you to choose MP3 as the output format.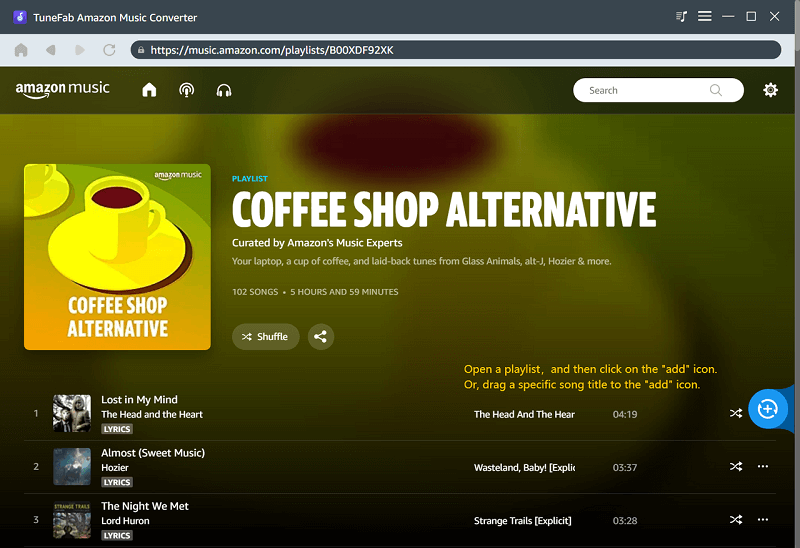 Step 4. Adjust the Output Parameter
Customize the Sample Rate (Hz), Bitrate (kbps), and output location based on your preferences and requirements.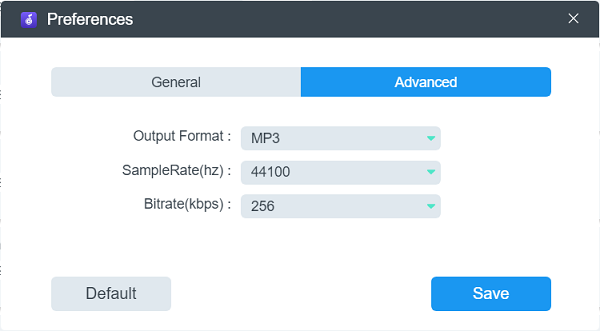 Step 5. Finish Downloading Best Amazon Music Playlists
Click the "Convert All" button to initiate the conversion process. TuneFab Amazon Music Converter will convert the playlist for you, achieving a speedy conversion at 5X faster speed. After completion, you can head to the "Finished" section to review your converted songs.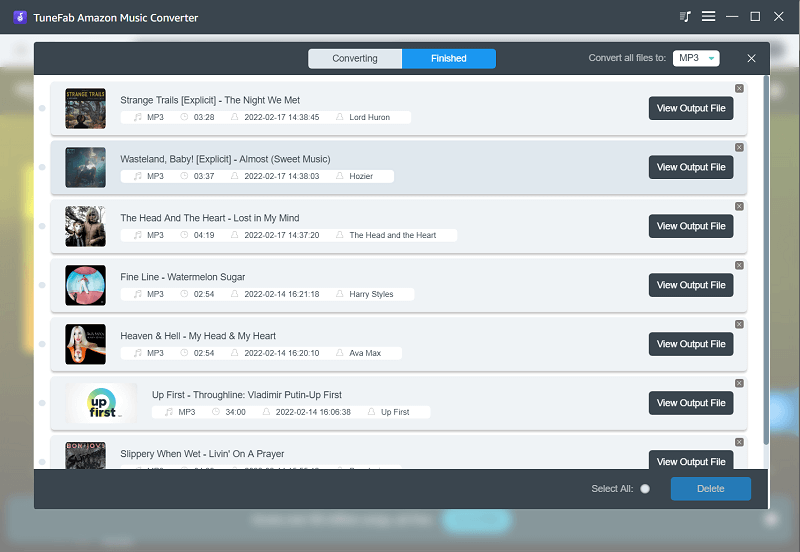 With just 5 simple steps, you can easily download the best Amazon Music playlists without needing a paid subscription. Don't hesitate to give TuneFab Amazon Music Converter a try - it's incredibly practical and efficient!
Was this information helpful?
TrustScore 1 | 1