Different from the traditional method of sharing Spotify songs by URL links, Spotify codes is new way of sharing music, albums, playlists, artists, etc. in this APP. It enables the users to get to the target directly and quickly by scanning the codes of collections in Spotify. Everything in Spotify has its unique code, which is like the fingerprint, so you don't have to worry about something will go wrong when you use it. It is known that Spotify is one of the top music services that contains millions of songs and radios. That is to say, your friends are very likely to listen to Sportify and when they want to share with you some amazing tracks or the latest albums, the code will save you a lot of time.
Then comes the question: what is the Spotify code and where does it hide? I have never seen one code in Spotify before! Yes, it is true that this code is a new function of Spotify since 2017 so there is no wonder that many users didn't notice it. And this article will tell you how to use it from the very beginning. What you need to prepare is a mobile device which has installed Spotify and can access to the Internet. Just follow us step by step, let's get started!
CONTENTS
Part 1. What Spotify Code is
As we all know, Spotify is a popular online streaming music service that attracts numerous users for its millions of tracks. In the past, people share music by sending a recommending message to the one you want to share with. But a high-efficient method appears now—the Spotify code, which allows people sharing sources in Spotify by scanning the unique code of each track, playlist, album, etc. It is somewhat similar to a QR code—only in the way of usage, instead of in its shape. Every single source in Spotify has its own code, serving as its identification or fingerprint. A Spotify code looks like a series of tunes queueing one after another, just as the picture below: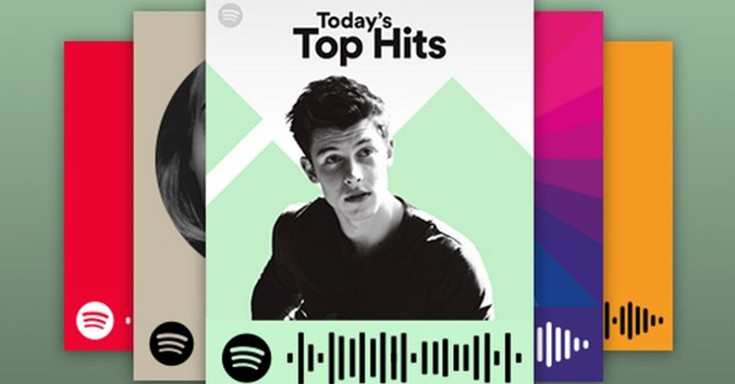 Part 2. How to Access Spotify Code
Since the codes is a shortcut for sharing music, we need to know how to access them and then make good use of them. Here we will introduce to you how to access the Spotify codes. To find a code, you should open Spotify first.
#1. For a Single Track
Find the song you want to share, click three dots beside the song to bring up a new interface, and the code is on the picture right on the screen.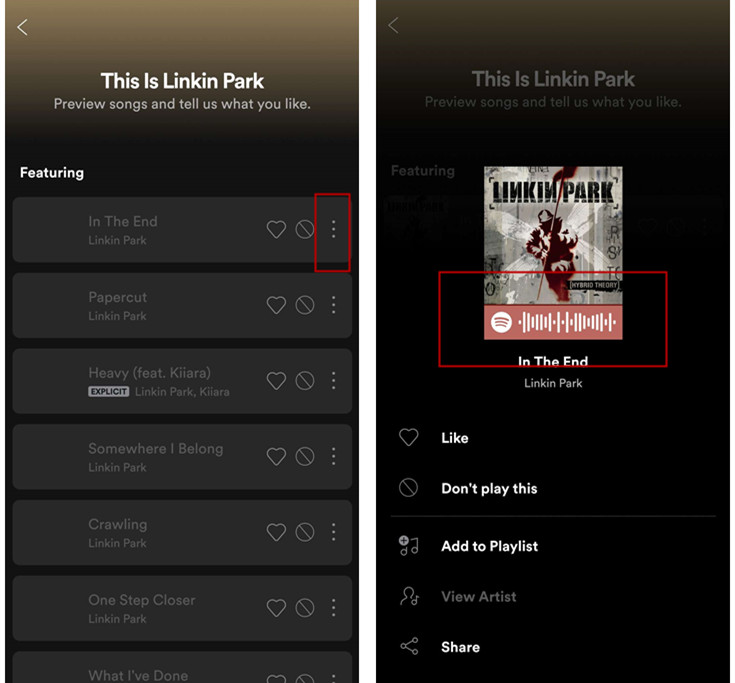 #2. For an Album
Select an album to share, and tap it to get into its main interface. Tap three dots at the top right corner, and the code will appear in the new page.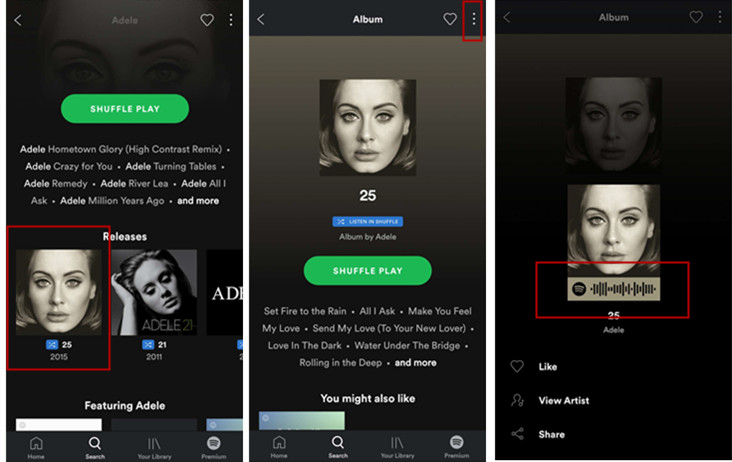 #3. For a Playlist
Tap "Your Library" and then choose one playlist you are going to share, tap it. When you get into to a new page, tap three dots at the top right corner, and the playlist's code is lying in the middle of the screen.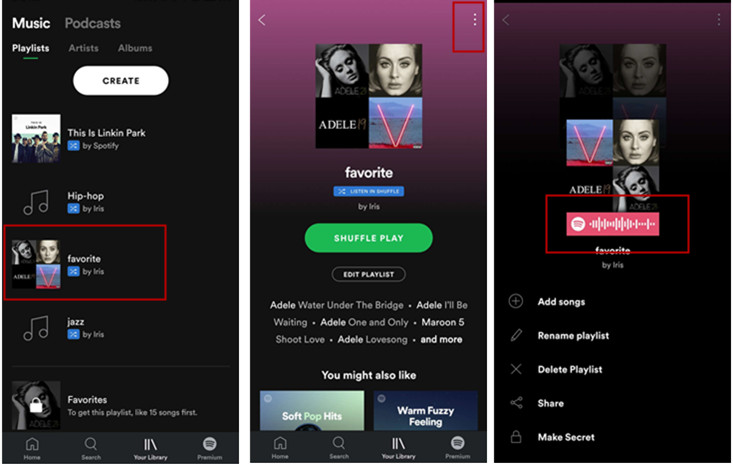 #4. For an Artist
When you want to share an artist to your friends, just tapping into the artist's homepage. And once again, tap three-dots icon to bring up a new picture in which the code of this artist is lying.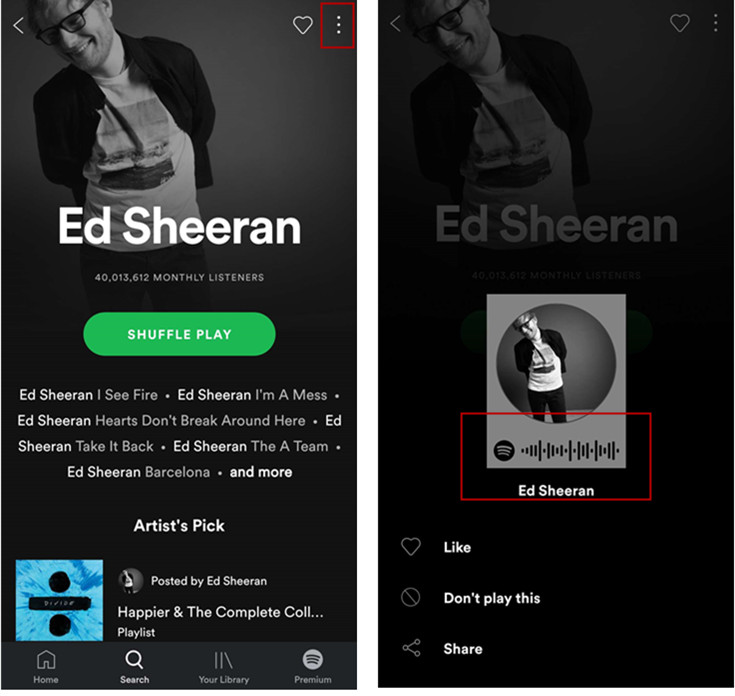 Part 3. How to Share and Scan Spotify Code
Until now, you are qualified for accessing the Spotify codes of each type of resource, and next step is to share them. In addition, you also need to know how to scan Spotify codes so as to sharing music without limitation. We are going to offer 2 ways of sharing Spotify codes and scanning them.
#1. 2 Ways of Sharing Spotify Codes
Either of these methods is convenient despite of the distance and circumstance. You can choose one way to share Spotify codes in accordance with your need.
•Show the code to your friends face to face.
When you are staying together with your friends, you can show them the Spotify codes directly by following the steps shown above. Just display your phone and they will get the code and the sharing is done.
•Send the code to your friends.
If you want to share music with your friends but the long distance fails your meeting, or you just can't show them your device directly, then after you accessing to the code, just take a screenshot and send the picture to your friends. In this way, your friends get the code however.
#2. 2 Ways of Scanning Spotify Codes
Now we have known where the codes are and how to share them. Last but not least, the last process is scanning these codes to get the music shared successfully and quickly.
Step 1. Tap "Search" to get to the search bar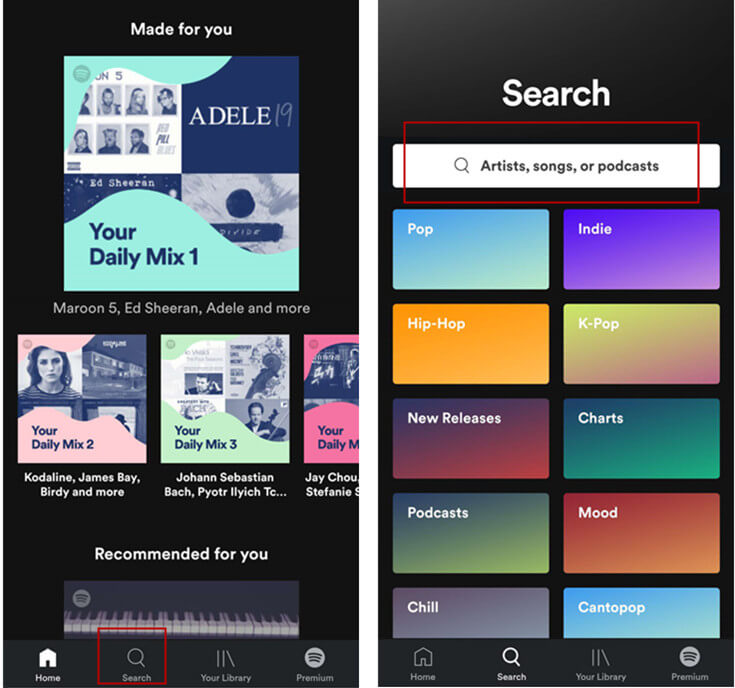 Step 2. Tap the camera icon on the search bar and then you can: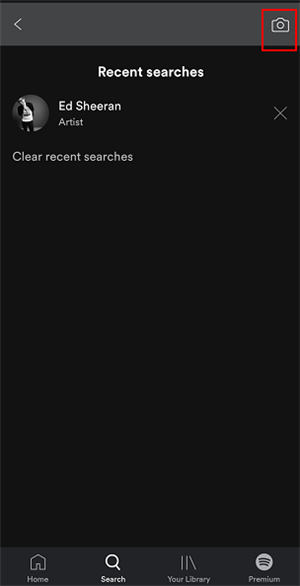 •Scanning the code directly.
If want to scan the code directly, tap "Point your camera at a Spotify Code" and follow the instruction.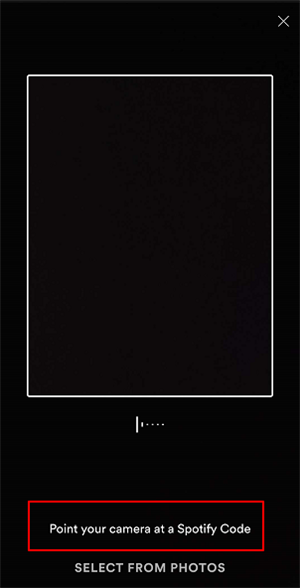 •Select a picture to scan the code
Before you tap "SELECT FROM PHOTOS", please assure that you have saved the Spotify Codes as photos that were sent by your friends. After you tapping it, you can choose one photo to be scanned.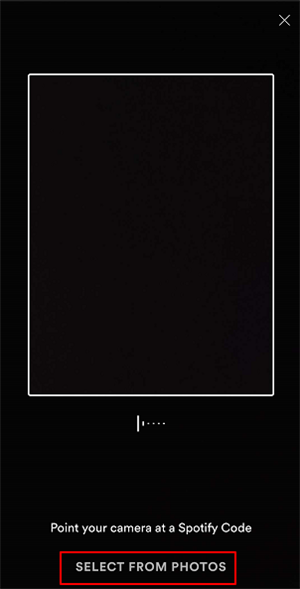 Part 4. Alternative Way to Share DRM-free Spotify Music
As we all know, Spotify is an online streaming service, all the methods shared above only allow you to share music with the connection of the Internet. And now we are going to introduce to you an ultimate way of sharing Spotify Music without the restriction of DRM, which enables you to listen to Spotify Music offline. After you sharing music with Spotify codes, you can download them under this guide.
To share DRM-free Spotify Music, we should convert its format to MP3 or other types that could be played on our devices conveniently. Here we highly recommend TuneFab Spotify Music Converter—a converter removes the DRM of Spotify music. In addition, it provides lots of formats to choose from. Follow the steps and download your own Spotify music now!
Step 1. Install and Launch the Software
Download TuneFab Spotify Music Converter and install it under the instruction, and then launch. The main interface appears is like this: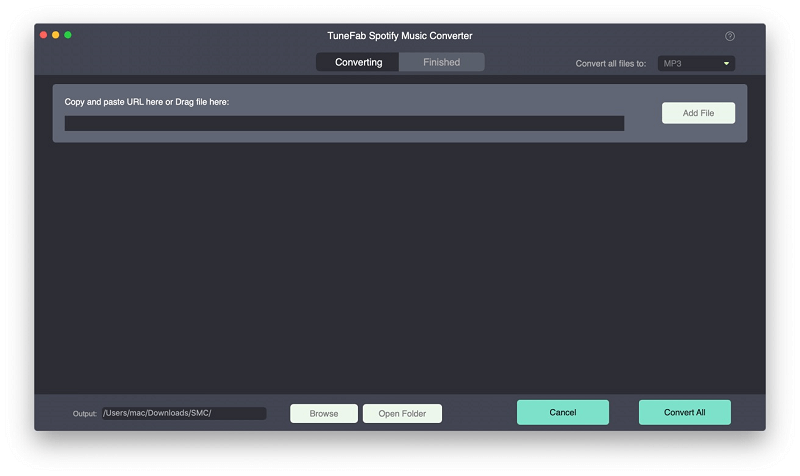 Note: When you run TuneFab Spotify Music Converter, please don't run Spotify. The converter will simultaneously activate Spotify.
Step 2. Add Songs to the Converter
Click "Add Files" to see your playlists in Spotify. There are two ways of adding songs.
#1. Drag and drop the songs, albums or playlists you want to convert directly to the interface of the converter
#2. Copy the URL of the songs and then paste it into the search bar of the converter
After finishing adding, click the "Add" button on the bottom right to make your songs got ready for converting.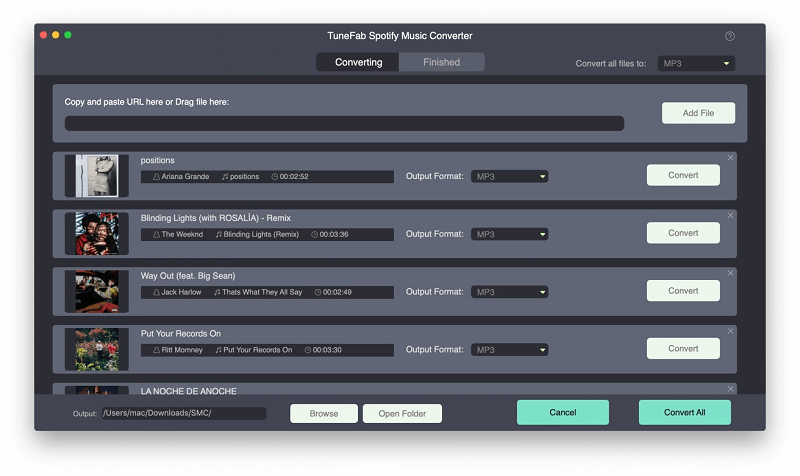 Step 3. Select the Songs to Be Converted
In this step, you can tick to select the songs you want and then convert them.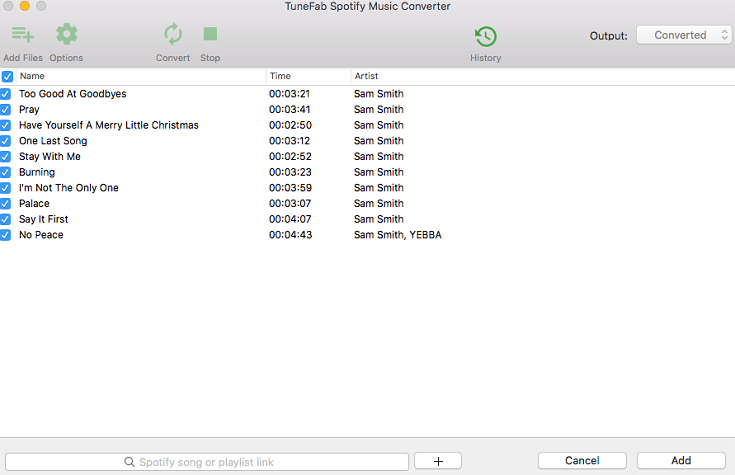 Step 4. Choose Output Format
Click "Options" > "Advanced" to choose an output format. Up to now, there are 4 formats to choose from, including MP3, M4A, WAV, and FLAC.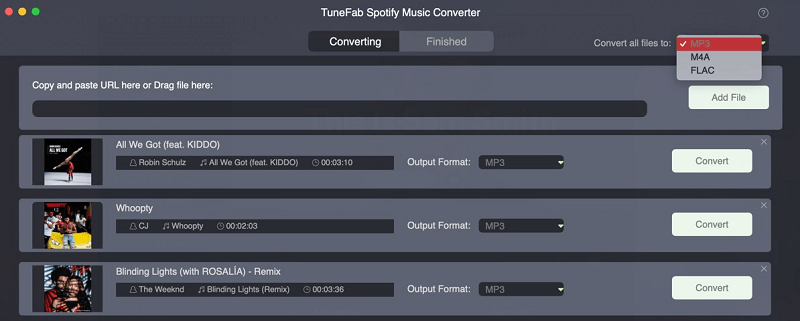 Step 5. Select an Output Path
Click "Options" > "General" and you'll find the default file folder. Then click "Select…" to choose a folder to save you songs.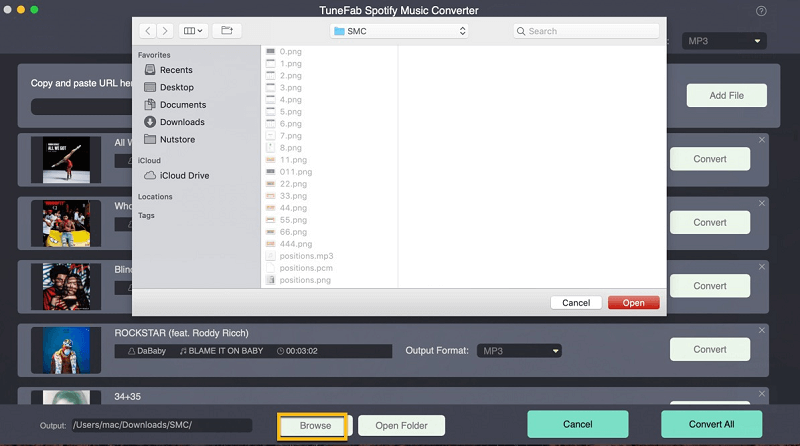 Step 6. Start converting
After having all the necessary settings are done, click the "Convert" button.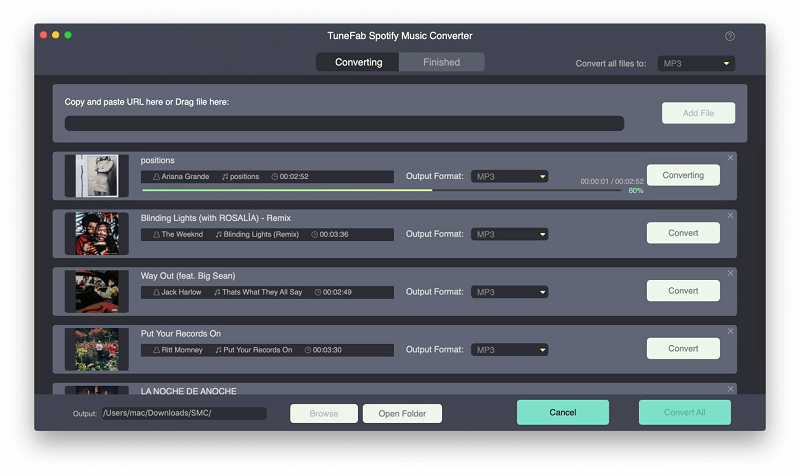 Conclusion
After reading this article, you must have handled the faster way of sharing Spotify music by scanning Spotify Codes. All these steps are really easy to remember and put into practice. Why not have a try right now with your friends? In addition, you can get your own music with the help of TuneFab Spotify Music Converter.
Was this information helpful?
TrustScore 5 | 49