When Spotify has become the most popular music streaming platform in the world, instead of common systems such as Windows, Mac, Android, and iOS, some Chromebook users also wonder whether they can install Spotify on their Chromebook to enjoy high-quality music playback.
Unfortunately, when Spotify hasn't released a Chromebook version to let you directly install it on the device, you need to get it installed on Chromebook through other ways. Today, this article will show you the possible ways to download Spotify on Chromebook even if there doesn't provide the official software to you. Also, you will get the method to download Spotify songs to enjoy on your Chromebook without a network connection! Now, start reading immediately and learn how to download Spotify on your Chromebook.
CONTENTS
2 Ways to Download and Install Spotify on Chromebook
Because there doesn't provide a Spotify app version for Chromebook, you can't directly find it on Chromebook's app store. Instead, you need to get it installed in other ways. Now, you will see how to do it properly by following the steps provided below.
Download Spotify on Chromebook from Google Play Store
Luckily, although the Spotify app has absent from the Chromebook version, its Android version can also work smoothly on devices. So instead of waiting for the official Spotify app released for Chromebook, you can install the Android app from Google Play Store by following the steps below.
Step 1. Open "Launcher" on Chromebook and then go to its "Play Store".
Step 2. You can directly search the Spotify app using the search box.
Step 3. When you find the Spotify app, directly click to install it. Then you can use Spotify directly on your Chromebook to play music as normal.
Install Spotify on Chromebook Through Linux
This way needs to install the Linux system on your Chromebook device first. Compared with the above method, it would be more complex to process, so it is more recommended for those who have to get the Linux system installed in advance to try.
Step 1. Firstly, you need to add the Spotify repository signing keys on your Chromebook to make Spotify downloads be able to verify.
Step 2. Then in your "App Drawer", find the "Terminal" app and then open it to enter the command here:
sudo apt-key adv -keyserver hkp://keyserver.ubuntu.com:80 -recv-keys 931FF8E79F0876134EDDBDCCA87FF9DF48BF1C90
Step 3. Get the list of the packages updated by entering the command:
sudo apt-get update
Step 4. Once this step finishes, you can begin installing Spotify on Chromebook. Simply enter "sudo apt-get install spotify-client". Once the installation completes, you can use the installed Spotify on Chromebook to play songs without any limitation!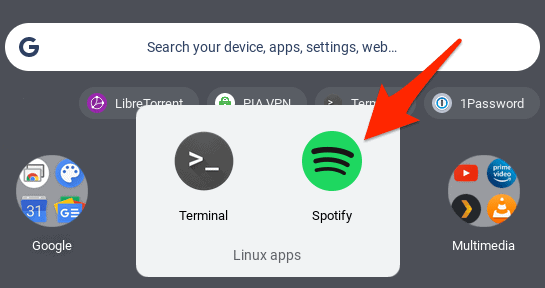 Can I Download Spotify Songs on Chromebook to Listen Offline?
Some users wonder if the Spotify download function will still work as normal as it is not officially supported on Chromebook. Fortunately, if you have subscribed to Spotify Premium, the download function will stably avail and allows you to download Spotify songs on your Chromebook to enjoy offline. You can see how to use the installed Spotify on Chromebook to download Spotify songs with Spotify Premium.
Download Spotify Songs on Chromebook With Spotify Premium
Step 1. When you have installed Spotify on your Chromebook, open it and sign in with your Spotify Premium account.
Step 2. Then find any playlist you want to download on your Chromebook to listen to offline.
Step 3. Enter the playlist and turn on the "Download" option, then all the songs contained in this Spotify playlist will be downloaded for you immediately.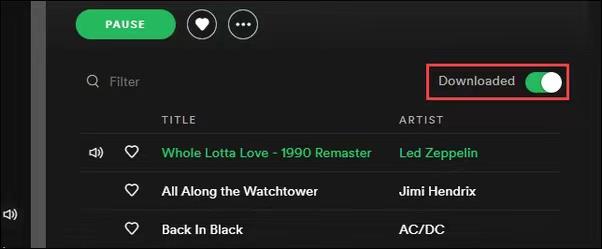 Download Spotify Songs on Chromebook Without Premium
If you are not a Spotify Premium user or want to directly transfer any Spotify song or playlist to play on Chromebook, you can try TuneFab Spotify Music Converter, a powerful software to help you save Spotify playlists as MP3 and other common music files outside Spotify platform. When you get these protection-free Spotify songs, you can directly save them to your Chromebook and then play with the default media player instead of installing Spotify on your Chromebook. When TuneFab Spotify Music Converter will offer quality settings for you to select, you can always download Spotify songs in the settings you need and have enjoyable music playback on Chromebook and other devices.
Key Features:
● Adds Spotify Web Player to download all Spotify songs, playlists, and albums offline without limitations
● Offers popular MP3, M4A, FLAC, WAV, AIFF, and ALAC formats to select
● Allows to set any quality to download Spotify songs based on your needs
● Saves the ID3 information for each downloaded Spotify song to manage easily offline
● Supports up to 35X faster speed and batch downloads Spotify playlists to save much time
● Auto music classification divides Spotify downloads by tags to different folders automatically.

Now, also see how to use TuneFab Spotify Music Converter to download Spotify playlists to listen offline on Chromebook computers.
Step 1. Sign in Spotify Web Player to Select Playlists
When you have installed TuneFab Spotify Music Converter on your Windows/Mac computer, open the software and then enter the in-built Spotify Web Player to sign in to your account. You don't need a Spotify Premium subscription at all. Once signed in, directly browse and select any playlist you like.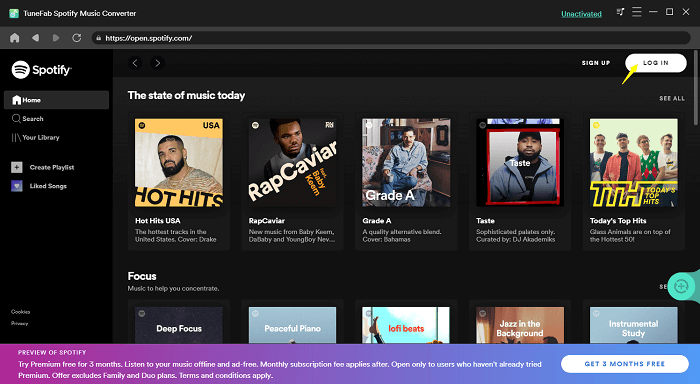 Step 2. Add Spotify Playlists to Download
Once you find any Spotify playlist you want to download and play offline on your Chromebook, drag them to the "+" button and all the songs will be added at once.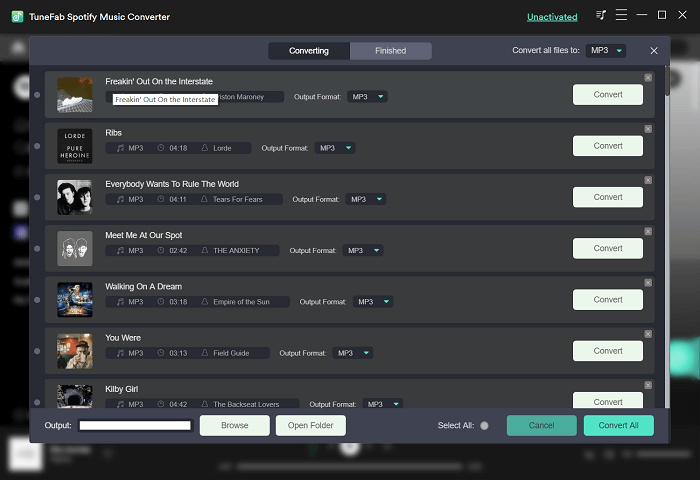 Step 3. Set Format and Quality to Download Spotify Songs
After adding Spotify songs, just go to "Convert all files to" format menu in the top-right corner and choose an output format such as MP3 to save them.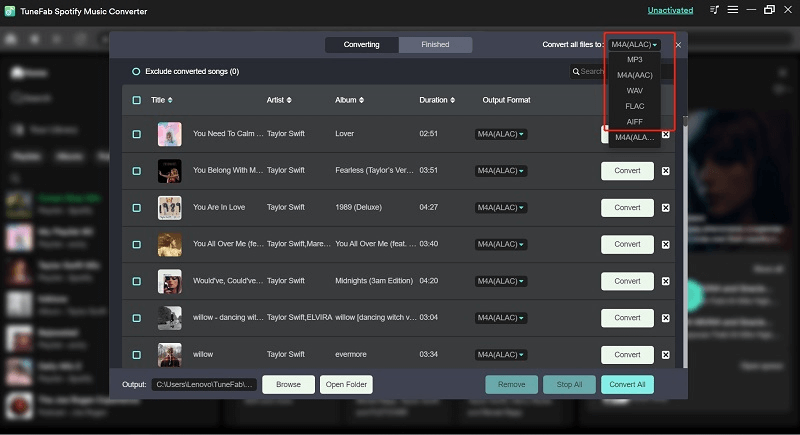 If you go to "Preferences" under "Menu", both the "SampleRate" as well as "Bitrate" can be adjusted based on the different quality settings you want.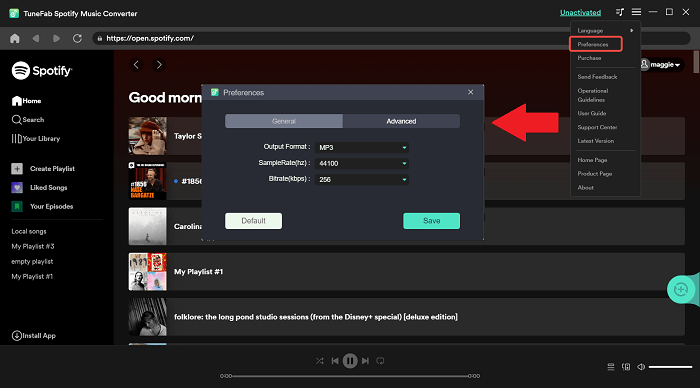 Step 4. Download Spotify Songs and Transfer to Chromebook
Finally, click "Convert All" and download Spotify songs offline now. Once it finishes, you then can directly transfer them to your Chromebook and directly play offline without installing Spotify app at all!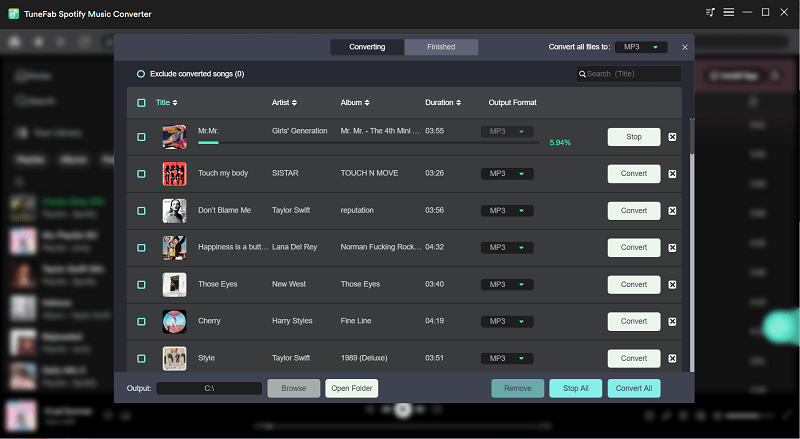 Extra Tip: Stream Spotify on Chromebook Through Spotify Web Player
Instead of installing Spotify on Chromebook, you can also access Spotify Web Player using an installed web browser on the computer and stream Spotify songs online. Through Spotify Web Player, you no longer need to install the Spotify app anymore. But this way won't allow you to download Spotify songs to stream offline on Chromebook. If you want to download Spotify songs from the web player and play offline on Chromebook, you still need help from TuneFab Spotify Music Converter.
In Conclusion
When Spotify doesn't launch an app for Chromebook, you will need to install it on the computer through other ways such as from Google Play Store or using the Linux system. Don't worry as you can still enjoy the offline playback function if you are a Spotify Premium user. But for free accounts, if you still want to play Spotify on Chromebook without premium offline, TuneFab Spotify Music Converter can help. Just select the most convenient way for yourself to have a great music streaming experience on Chrome!
Was this information helpful?
TrustScore 1.6 | 45