As we all know, Spotify only allows its premium users to download tracks and the downloaded tracks can only be played in the Spotify app, which is not only costly but also not practical. However, with a Spotify Music Downloader, you can easily convert Spotify songs into MP3s and play them flexibly offline on any device, whether you are a free user or a premium user of Spotify.
SpotiFlyer is one of the Spotify music downloaders most people use which is free and easy to use on Android. It allows you to listen to your favorite Spotify songs offline and share them with others. In this article, we will focus on the main features of SpotiFlyer to give you a comprehensive review. We will also detail the TuneFab Spotify Music Converter to bring you a better music journey.
Key takeaway: SpotiFlyer is a decent app for Android. But it's difficult to configure after installation on the computer side. If you want to download Spotify songs on your PC without hassle, we'd recommend an excellent alternative, TuneFab Spotify Music Converter.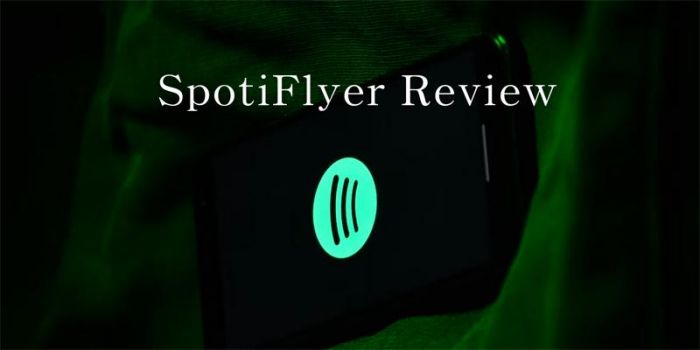 CONTENTS
Overview of SpotiFlyer
SpotiFlyer is a cross-platform app for downloading high-quality songs from many online sources like Spotify, Youtube, Gaana, Soundcloud, and more. It was originally released as source code by Shabinder on GitHub and has since been developed as a separate site.
With this app, you can not only download music from major music platforms and listen to it offline for free, but also share music with your friends instantly. You can also use SpotiFlyer as a music player on your Android smartphone. Although this app supports various devices such as Android, Windows, Mac, Linux, etc., it is worth noting that you can easily encounter technical problems when using the PC side. For example, the app won't work due to the lack of FFmpeg on your computer. If you are a programmer, you can handle it on your own, but if you are new to computers, it may be difficult for you.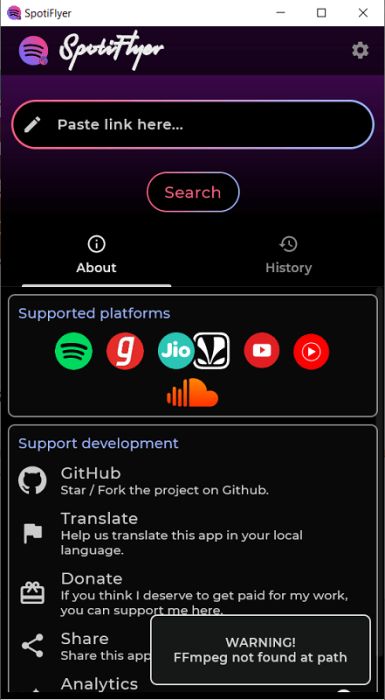 Want to download Spotify music to MP3 for offline playback? SpotiFlyer works well even for free users of Spotify. Keep reading and we'll provide a more detailed SpotiFlyer review.
Detailed Review of SpotiFlyer
SpotiFlyer is not only convenient for Spotify free users, but it's also fun to use thanks to its multiple attractive features. In the following, we will offer a comprehensive review of its manipulation, sound quality, output format and download speed.
Ease of Use
This little app is very easy to use and the overall interface is friendly for new users. To download Spotify songs locally, you simply open SpotiFlyer, paste the Spotify music link into the search box to search for it, then press the download button and the selected content will automatically start downloading.
Note: The computer side can be very complicated, especially if you don't have FFmpeg on your computer. You have to configure the settings yourself, which is not easy if you don't have relevant computer skills.
Sound Quality
There are several optimal options for you to choose from and the sound quality of the downloaded files can reach 320 kbps. Simply go to the Preferences Settings and then you can customize your preferred audio quality.
However, the sound quality of Spotify downloads is limited to 128 kbps. So if you're looking for lossless, high-quality output music, this may disappoint you.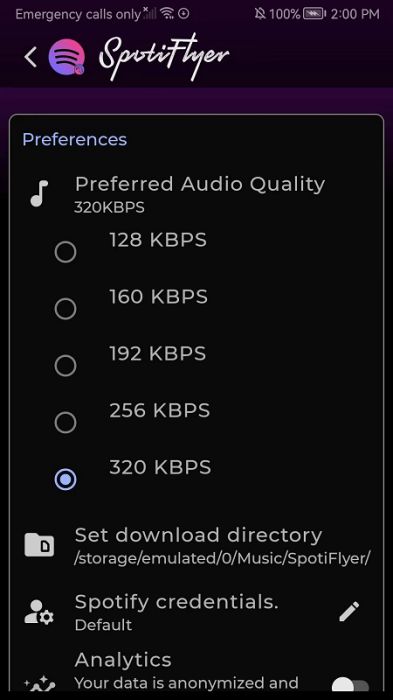 Output Format
Although Spotify music is protected by DRM, which makes all downloaded music playable only in the Spotify app, SpotiFlyer can help you easily remove DRM and convert Spotify music to MP3. The converted DRM-free MP3 files can be played on any device, anywhere, at any time.
Download Speed
Since SpotiFlyer does not support batch conversion right now, the download speed can be slow. Users must wait for a song to be downloaded before they can restart downloading the next song by pasting a Spotify song. For those who have a large number of downloads to do, this is both time-consuming and labor-intensive.
How Much Is SpotiFlyer? Is It Safe?
SpotiFlyer is now available for free, but we cannot guarantee its reliability. According to its official website, this app is currently operated by only 5 members and not by a stable company. Therefore, it is hard to guarantee that it is 100% reliable and it is hard to say if there will be some problems in the future.
Best Alternative to SpotiFlyer
While SpotiFlyer boasts a lot of great features, there are many limitations when using SpotiFlyer, such as:
● Difficult to operate on the computer side.
● Compress the audio quality.
● Can not support batch conversion.
● Fail to download some tracks sometimes.
● The output format is limited to MP3.
● The reliability of this app is unknown.
So if you're looking for a professional and stable Spotify downloader for all devices, with multiple output formats and high sound quality, SpotiFlyer may not be your first choice.
In this case, we would highly recommend TuneFab Spotify Music Converter as its best alternative. This great Spotify music downloader is designed with a built-in Spotify web player, making it easy for users to sign in and get their favorite songs downloaded. In addition, this tool has been around for a long time and has accumulated a large number of loyal users, so there is no doubt about its security.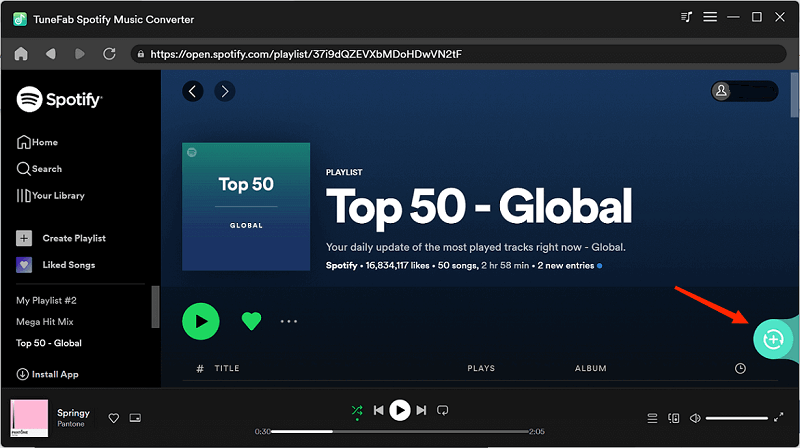 Key Features of TuneFab Spotify Music Converter
Download Spotify Music in One Click - With the embedded Spotify web player, TuneFab Spotify Music Converter simplifies the downloading progress. All you need to do is sign in with your own Spotify account, select the songs you want, and start converting them with one click. Unlike the above-mentioned SpotiFlyer, there are no other complicated technical operations to do.
Keep High Sound Quality - It retains the same high sound quality as the original music. It downloads Spotify music in MP3 audio at up to 320kbps, bringing you an ultimate listening experience.
Support Multiple Output Formats - Considering that different situations require different formats, TuneFab Spotify Music Converter offers a wide range of major output formats, including MP3, M4A, FLAC and WAV.
Convert Spotify Music at 5X Faster Speed in Batch - TuneFab Spotify Music Converter uses advanced hardware and GPU acceleration technology to increase its download speed up to 5 times. The download speed can even reach 6X faster once your network conditions are stable. It saves a lot of time and effort compared to SpotiFlyer.
Preserve Spotify Music ID3 Tags & Metadata - For a better user experience, TuneFab Spotify Music Converter retains the original ID3 tags and metadata information of Spotify songs after conversion, including title, artist, album cover, track ID, etc.
Conclusion
Overall, SpotiFlyer is an excellent tool for downloading Spotify music to MP3 for free, especially for Android devices. There is no doubt that we should be grateful for the convenience that SpotiFlyer offers. However, as we mentioned above, the limitations of this application are to some extent obvious. What's more, no one can guarantee its stability because it is privately operated.
For those who know little about the technical operation of computers and have high requirements for music formats and audio quality, TuneFab Spotify Music Converter is definitely the best choice. With its stable performance and easy-to-use system, TuneFab Spotify Music Converter serves as your best helper to download Spotify music locally forever and play them back offline flexibly.
Click the button below to enjoy Spotify music for free now!
Was this information helpful?
TrustScore 1 | 1