Have you ever heard a beautiful song on Spotify but failed to add it to the playlist in time, then due to the limited listening history of Spotify Music, you finally lost the song forever. You are not alone! Therefore, is there any good way to keep track of your Spotify listening? Of course. Through Last.fm's scrobbling function, you can record your own listening history for a long time. Besides, it allows you to communicate and share music with more people. Then, you may wonder how to scrobble Spotify Music with last.fm?
Don't worry. This blog will mainly focus on the way to connect Spotify Music with Last.fm available for all devices. Just keep reading to find your answer!
CONTENTS
What Is Last.fm Scrobbling
Last.fm scrobbling is a feature that allows you to track your music listening history and preferences across multiple platforms, including Spotify. It records the songs you listen to and builds a personalized music profile based on your tastes and interests. Through such a mechanism, last.fm can recommend new artists and songs that match your taste. Therefore, you will find more and more favorite music.
What Are the Pros of Using Last.fm to Scrobble
Last.fm scrobbling is an excellent option to take your music discovery and tracking to the next level:
Music Discovery: Last.fm provides personalized recommendations based on your listening habits, allowing you to discover new songs, artists, and genres.

Community Engagement: You can connect with other music enthusiasts and share recommendations. Exploring the music world with friends won't be a bad attempt.

Personalized Stats: With large statistics, you can gain insights into your listening habits and understand your music preferences. You can even see how your musical tastes evolve over time.
How to Connect Spotify Music with Last.fm [For All Devices]
To enable Last.fm scrobbling for your Spotify account across all devices, one way to do this is through its settings, and the other is on the 'Track My Music' page of its official website.
Connect Through Last.fm Settings:
Step 1. Go to Last.fm and create a Last.fm account.
Step 2. After signing into Last.fm, tap the Profile icon, and select Settings > Applications.
Step 3: Find the Spotify Scrobbling option, then hit the Connect button to link accounts.
Step 4. Then, you will be led to enter your Spotify account. You need to give permission to Last.fm to track your listening stats. After that, Spotify's music will be automatically scrobbled on Last.fm as you listen from desktop, mobile, or any other device.
Connect Through the Track My Music page:
Step 1. Head to Last.fm and create or log into your Last.fm account.
Step 2. Open the Track My Music page, and scroll down the page until you find a link to Spotify as indicated by the picture below.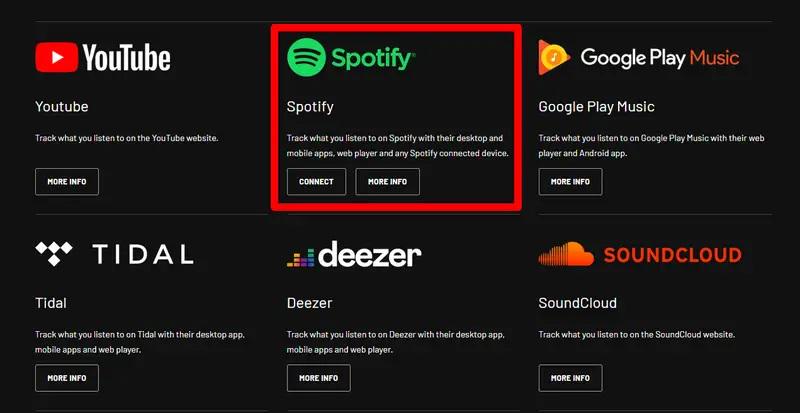 Step 3. Click CONNECT under the Spotify heading. A new page will pop up to ask you to log into your Spotify account. Follow the instructions to authorize Last.fm. Thus, you will connect your account to Spotify Scrobbling successfully.
How to Connect Last.fm to Spotify on Desktop or Mobile Devices Only
If you prefer to scrobble Spotify only on specific devices, here's how to connect Last.fm to Spotify on desktop and mobile:
Step 1. Install Last.FM desktop scrobbler app on your computer and log into it.
Step 2. Go to the settings menu, and click Applications. In this section, find the Spotify icon. Then click the CONNECT button next to it.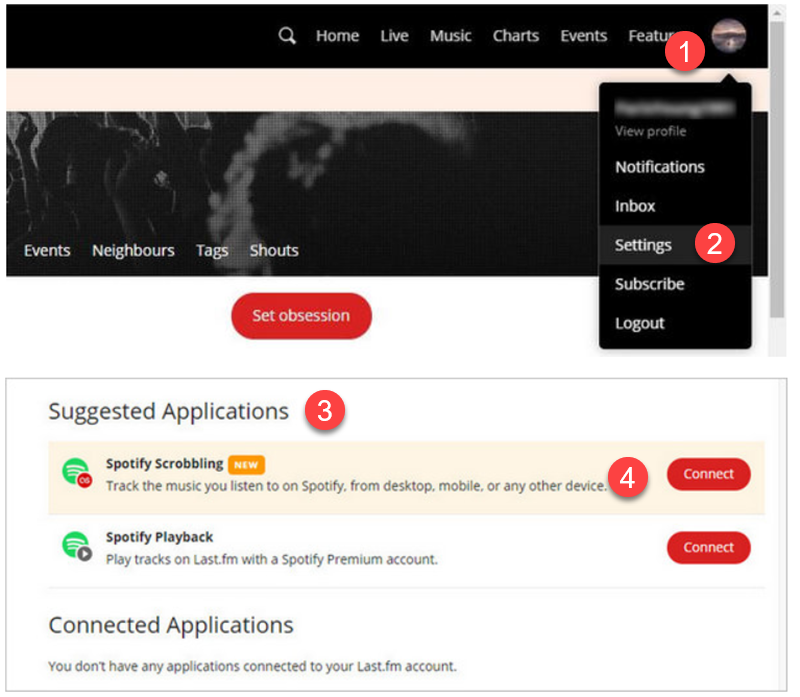 Step 3. Log in to your Spotify account and click on the AGREE button to grant Last.fm access to your Spotify data. Now you have successfully connected Spotify to Last.fm.
Step 4. Back to Last.fm settings, make sure scrobbling is enabled for Spotify.
Scrobble Spotify Music on Mobile with Last.fm
Step 1. Install the Last.fm mobile app and open it. Then log in to your account.
Step 2. Tap on the profile photo icon and then the account section. Next, hit your profile photo section to go to the Applications tab.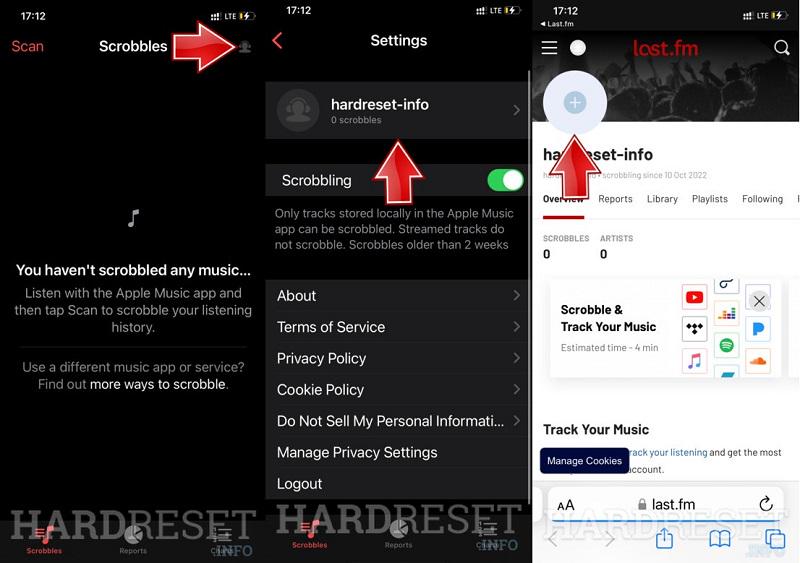 Step 3. Then press the CONNECT button in the Spotify section. Now, you can now listen to Spotify Music, and Last.fm will track your music.
How to Disconnect Last.fm from Spotify
When users want to switch from Spotify to a different music streaming service, they may choose to disconnect Last.fm from Spotify to avoid any confusion or inaccuracies in tracking their listening history. Besides, the fact that people would like to unlink them is also because of its negative effects.
What Are the Cons of Scrobbling Spotify with Last.fm
Despite the fact that there are several pros of scrobbling Spotify with Last.fm, its potential downsides shouldn't be ignored:
Privacy concerns: As Last.fm is tracking user's listening habits all the time and the data is not shared with the public, it is possible that your listening history or account details might be used for commercial or illegal purposes.

Unstable connection: Due to an added software layer, you may encounter disconnection or even stopping working issues, which force you to reconnect it.
Unlink Last.fm from Spotify
Having known the cons of Last.fm, you may want to disconnect Last.fm from Spotify out of privacy concerns. Follow the steps to unlink:
Tips: Disconnecting Spotify from Last.fm will not directly delete existing recorded data in Last.fm. Previously recorded listening history data will remain in your Last.fm account.
Step 1. Go to the Spotify website on any device and log into your account.
Step 2. Click your username on the page, then select Account.
Step 3. For PC users, click Apps on the left side menu; for mobile, tap
Account Overview > Apps.
Step 4. Scroll down to Last.fm Scrobbler and choose the Remove Access button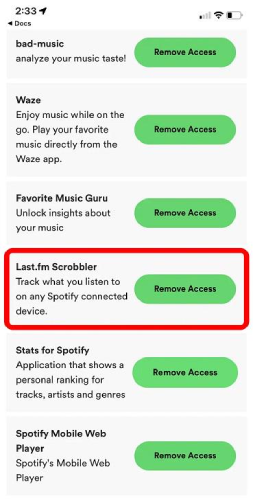 Tip: Download Your Personalized Spotify Playlists Without Premium
When using Last.fm, it will recommend some personalized songs or playlists based on the user's preferences. However, if users want to download these songs for offline listening, there are still some restrictions on Spotify. For example, only Premium can download the songs, and even if they are downloaded, those songs are DRM-protected files and can only be played on the Spotify platform. But, by using TuneFab Spotify Music Converter, you can easily download these songs and play them on any of your devices at any time.
TuneFab Spotify Music Converter can help you download Spotify songs without Premium to common formats such as MP3, M4A, FLAC, WAV, AIFF, AAC, and ALAC. It applies an efficient built-in player and intuitive interface that allows you to finish converting within clicks. And its amazing 35x downloading speed will offer you a smooth download experience. With TuneFab Spotify Music Converter, you will obtain access to enjoy the songs recommended by Last.fm immediately instead of bothering to pay for a premium subscription.
Conclusion
Through this article, you will surely be able to have an in-depth understanding of this platform. Last.fm scrobbling enhances your Spotify music experience by providing personalized recommendations and interesting insights into your musical preferences. By following the steps outlined in this article, you can easily scrobble Spotify music with Last.fm on all your devices.
TuneFab Spotify Music Converter
Batch convert Spotify to MP3 320kbps in lossless quality
Was this information helpful?
TrustScore 3.5 | 4