"I recently plan to try Groove Music, but I heard Spotify is better than Groove Music, which one should I choose?"
Groove Music and Spotify are the strongly powerful competitors of Apple Music. That is to say, both Groove Music and Spotify are streaming music. For serving their users better, both of them have their own unique features and devote to improve streaming music service quality. They are similar but also quite different. If you plan to use one of them, you shall know something about them so that you can make the correct decision.
CONTENTS
Part 1. Brief Introduction to Groove Music and Spotify
Formerly known as Xbox Music, Zune Music and Microsoft Groove, Groove Music is a digital music streaming service developed by Microsoft. It offers music streaming service through subscription or song-purchasing through the Windows Store. Groove is available on iOS, Android, Windows 10, Windows 10 Mobile and Xbox One.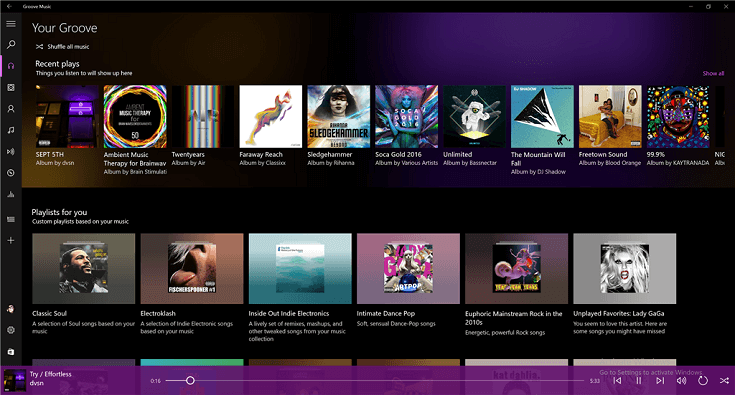 Spotify is a music, podcast, and video streaming service that provides DRM-protected content from record labels and media companies. It is a freemium service which lets you listen to streaming music for free. But if you become a subscribed member, you can download Spotify music for offline listening with excellent quality. It is available for most modern devices, including Windows, macOS, and Linux computers, as well as iOS and Android smartphones and tablets.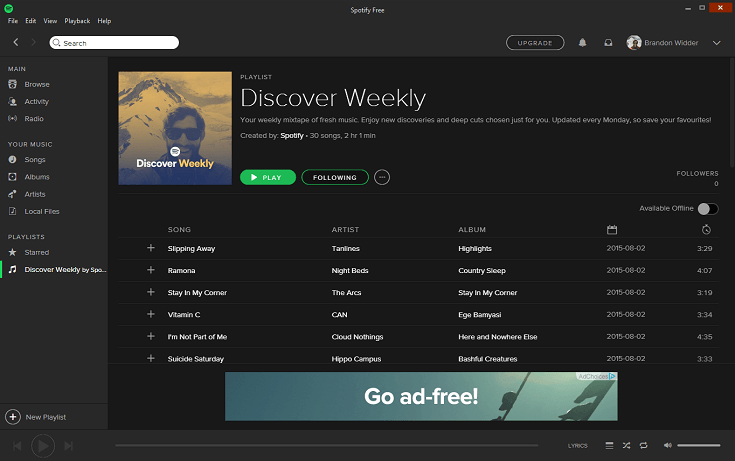 Part 2. Features of Groove Music and Spotify
1. Subscription and Fees
We've known that Groove Music and Spotify are streaming music services. That means you need pay for the subscription when you decide to enjoy them. The same point of Groove Music and Spotify is 30-day free and cancel anytime. When the free trial ends, Groove Music charges you $9.99 per month or $99.90 per year while Spotify charges the individual user of $9.99 per month, the family of $14.99 per month and discount for a student of $4.99 per month.
2. Ads-free Listening
With a free Spotify account, you can listen to anything in the catalog, but you'll hear ads between tracks and there are some on-demand limitations depending on your device. Unlike Premium account, you won't get adverts or any limitations, no matter what device you're using. Things are a little different with Groove Music, no matter you choose free trial or buy Groove Music Pass, there will be no adds when you listen to the music.
3. DRM Encryption
Before you subscribe to Spotify or Groove Music, you should note that all music purchased from both services are protected by encrypting Digital Rights Management (DRM). When the subscription ends, you are unable to get access to the music you paid before. But such limitation is easy to break. With a right tool, you can easily break the DRM protection and convert Spotify music to MP3 songs.
4. Music Library
There are millions of songs on Spotify and Groove Music. High-quality audio tracks make you fall into music deeply. You are free to listen to your favorites and find curated playlists that suit your mood.
Part 3. Which One Is Better
To some extent, Spotify is better than Groove Music supported by the following reason. With Spotify Free, you only can shuffle songs online while Spotify Premium allows you enjoy online & offline playlists with unlimited skips, ads-free, and high-quality audio. With Groove Music, you can stream music online or download millions of songs offline on a total of 5 devices at a time.
After the comparison, we can find that both Groove Music and Spotify have cons and pros, which causes you to make choices with difficulty. Now that both of them allow you to try for 30 days, you'd better take advantage of them. Just download the two apps and get familiar with them, use them carefully, write down the problem occurred and remember your feelings when you enjoy the music. Then make a comparison by yourself and I believe you will make the right decision.
Was this information helpful?
TrustScore 5 | 1